In the vomit-inducing blur that is my mind, I recall discovering Balint Hamvas, aka Cyclephotos, several years ago. Loved his CX images and sometimes wished he shot some of the road classics—his style suited them. I also vaguely remember (perhaps incorrectly) his site not being updated for quite some time and thinking he stopped shooting. Fast-forward to today and Balint's sitting firmly on a print book whilst establishing himself as one of the hottest CX photogs in the business.
Cyclephotos (@Cyclephotos) is the embodiment of the "5 Questions" ethos: capturing the race, not simply documenting the action.
Tell us about the featured shot:
This photo was taken at Hamme-Zogge, one of the most boring courses in the calendar. Pair that race with Niel, the other yawning-inducing race on the same weekend and it's a recipe for the most boring weekend of the season. I had been dreading that weekend. I remembered those courses from the last season and I know that there was NOTHING interesting there.
So I was pretty happy to see the haul on Sunday. It was a good weekend with good photos. This photo was the last one before I made my mad dash for the finish line. This race was at the beginning of Sven Nys' insane winning streak and I wanted to show somehow how dominant he was, that the others weren't anywhere near him.
The other thing about Hamme-Zogge is that there is a middle section that the course zig-zags across many times and it is jam-packed with spectators and therefore it is a nightmare to get around. I wanted to show both things in one frame, hence the victorious Sven Nys, emerging from the sea of spectators.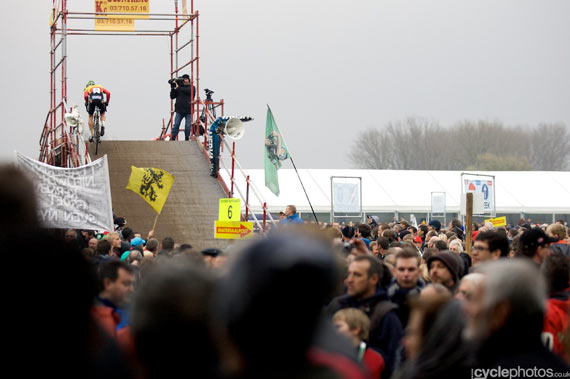 What got you interested in photographing cycling?
Both cycling and photography had been a long time interest. I did my time in the dark room at secondary school and toyed with a few smaller point and shoot digital cameras when small digital cameras became affordable.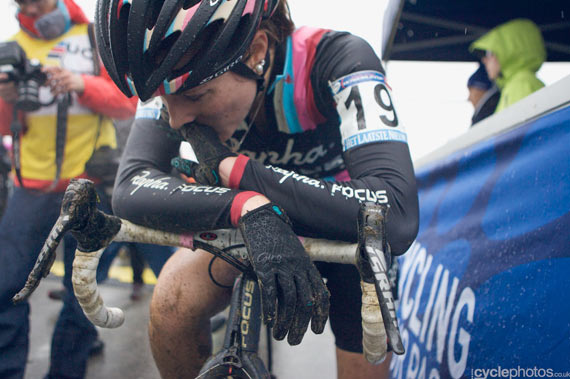 I quickly realised that I wasn't going to be mega-talented photographer, I struggled to find my own vision, if you like. At the same time I used partake in amateur races and I was part of a team. After a crash I was recovering and and my teammates invited me to a bigger race – and I took my camera with me. Shooting the race turned out to be an exhilarating experience, something clicked and I knew that this is what I wanted to do. So a long and never-ending journey to get better at it had started.
I looked back the other day my old photos and it was amusing to see the different phases of development. First, you are very happy if you managed to get a few sharp photos. Then the photos got sharp more and more often and that's when I started to focus on composition, trying to make sure that it's not only sharp but the photo itself is interesting, too. Then I started playing with lighting, using off-shoe speedlights.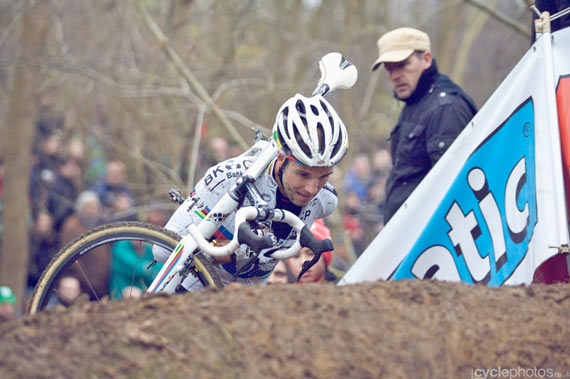 The challenge for me now is to capture incidental shots, photos that capture not just the action but the atmosphere of the race. It's a balancing act because you can't miss the action as your clients need the photos of decisive moments but focusing on action puts me in a mindset that I end up chasing only action and no atmosphere.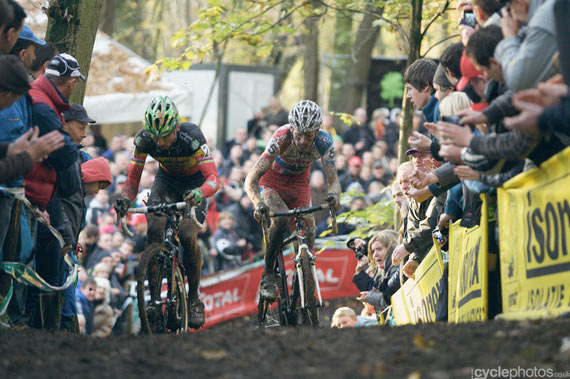 I think I've shot all disciplines of cycling and there have been plenty of magical moments, I will never forget one of Sir Chris Hoy's Olympic Gold from Beijing, the 'I am legend' race at the 2010 MTB Worlds with all the legendary riders from the first twenty years of mountain biking but the my true love is cyclocross. There is nothing that can match the intensity of that sport and for that I deeply love it.
What are your favorite cameras/lenses for shooting races?
I use two Canon EOS 1D MkII bodies, one for a long lens and the other for a wide angle one. These are old bodies, but apart from the low-light performance, they do the job perfectly. I've got good selection of lenses and I use always the one that a situation needs but my favourite is the Canon 28mm f/1.8. It is a wide-angle lens but the 1.8 aperture allows me to play with the wafer-thin depth-of-field. It's not an ideal lens for sports photography as the speed of the autofocus is atrocious, it's not waterproof, etc. but with some finesse you can achieve really good shots.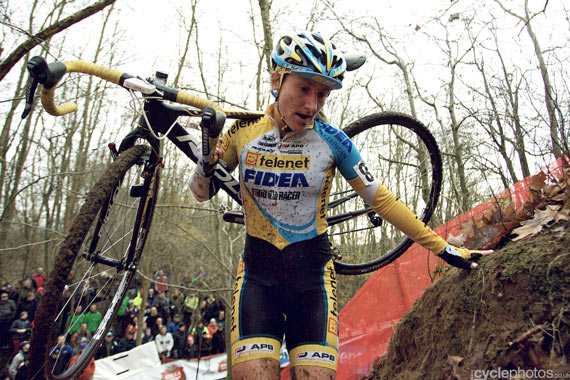 Every now and again I bring along a film camera, a simple, disposable camera, just for fun, I love the unpredictability of film.
What's your post-processing routine?
I use SD cards as my Macbook Pro has got a SD slot, so there is no need for a card reader – one less thing to worry about. I use Aperture to store all my photos, every season is a different library.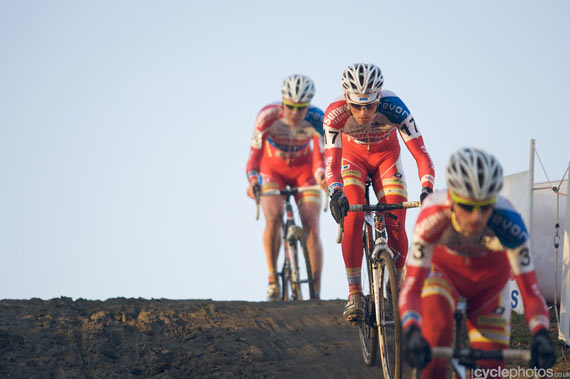 Once all the photos have been downloaded, I start evaluating them. 1* – delete. 2* – ok-ish, sharp and fine from a technical point-of-view but nothing exciting. 3* – a good photo, not my best work ever, but if someone's after a particular rider or race, these images are fine. 4* – these are the ones that are being sent to clients and/or make it to the blog. The good or interesting ones. 5* – the best. I'm happy if I shot one 5* per during a race. Portfolio-material.
Then all photos get tagged, so if someone needs a photo of Sven Nys at a Superprestige race in 2011, I can find a few in two seconds.
I like experimenting with different settings and tweaking photos but at the same time I have to deliver the photos not long after the race so I aim to get the photos right in the camera, so they don't require much tinkering afterwards.
Any tips for capturing the perfect cycling shot?
Try to find unusual or unique angles. Often, photographers flock a certain part of the course and all shoot the very same photos. I try avoid these spots and find angles the others haven't thought of. Sometimes it works, sometimes it doesn't. But when it does, you've got something no one else have.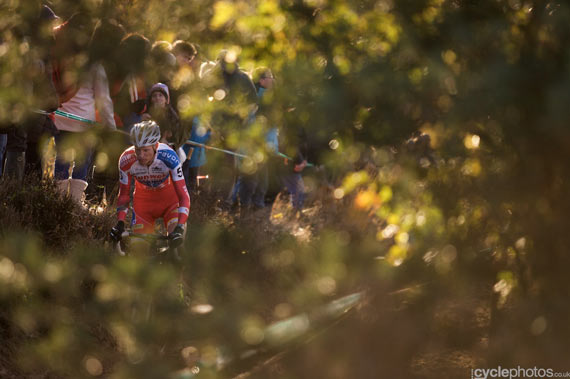 My other tip is to copy really good photographers. Try to emulate their style. You won't be able to do so completely but that's not the point. The point is ,that trying to find out why you like about a particular shot and how it was shot, forces you think about composition, lighting and other aspects and makes you more conscious about shooting and, eventually you'll end up with a slightly altered (and hopefully more unique) style.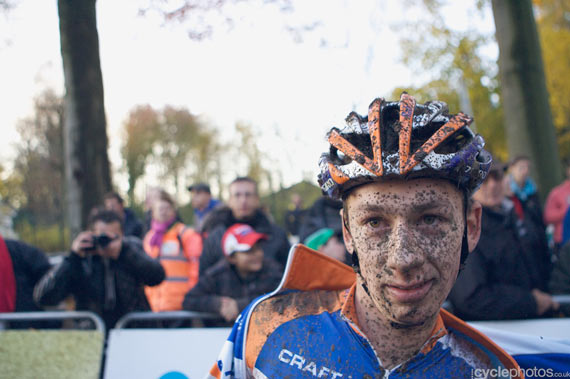 Social Media links and Websites
Web: cyclephotos.co.uk
Twitter: twitter.com/cyclephotos
Facebook: facebook.com/cyclephotos
Instagram: instagram.com/cyclephotos
Book (yes, book!): Cyclocross 2011/2012