Don't Steal Shots Bro!
Backstory: Typically when I create a new site background, I just scavenge a shot from the net crediting the photographer on the image. Not the greatest solution, but not the worst. As I was scouring teh netz for CX shots to poach, everyone I found was someone I knew through Twitter. For once, it didn't feel right to simply grab a shot w/out asking first. As I was about to DM Joe for permission to pimp use his image, my brain made big thoughts. A thought bubble said, "Why not do this as a regular feature?" Why not call attention to a photographer I like by making one of their shots a featured background? My brain was onto something. Another bubble appeared, "Why not convert this post fuel into a mini-interview as well?" Winning! Check out the big brain on Boredom! So I came up with a set of 5 standard questions to ask each photographer I feature.
5 Questions With: focuses on cycling photographers whom I think are pushing the envelope. In a field rife with traditional race documentation, these snappers not only see the race they capture the race. I intend to celebrate them with this series.
I hope you enjoy this first edition with Vancouver-based Joe Sales.
Tell us about the featured shot:
The image is from the 2010 USA Nationals in Bend and features Barry Wicks with about 3 laps to go riding his guts out to 6th overall. There were so many interesting characters at the run-up that I hung around that spot for at least a full lap. I had shot the stairs off to the left side for a lap and then I went down to the bottom of the stairs to try and get a different angle of the awesome spectators and racers. The last two Nationals in Bend were really great for crowds, easily the best of the 8 or so USA cross nationals I've been too It helps that Gumby showed up.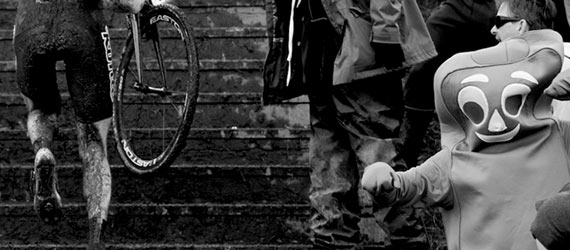 What got you into photographing cycling?
I've always both had a camera and been a bike person but until a few years ago I never really gave much real thought to cycling photography. About 6 years ago I crashed my cross bike really hard while training with some juniors and I broke my left thumb and destroyed my right shoulder as well as getting a big concussion. I had to have two surgeries over the course of a year which meant I was off the bike for a long time. As part of my convalescence I bought myself a DSLR and took it to all the cross races I was missing. Hardly anyone had a digital camera then and I began helping out the junior RAD Racing Team with images for grant and sponsorship requests. My pictures were terrible but I was hooked and started to learn more about photography. As I progressed and improved opportunities started to come my way I've been had some great experiences behind the camera the last couple of years.
My primary career is being a dad. This year marks my 21st year as a full time domestique to my wife. Photography really helped me keep my head up when I was dealing with my crash injuries and not being able to ride my bike and at the same time it allowed me to stay connected with the cycling community in a new way. As my kids get older I have more time to dedicate to photography and now almost all my spare time is spent either taking photos or learning about photography. My idea of a perfect day is riding with my kids and friends, carrying a camera and stopping to take pictures. My kids always tease me and say I use the camera as an excuse to stop and catch my breath on a ride. I'm not doing as much race photography lately but I'm always taking pictures and I'm currently trying to decide which photographic direction I should move towards next.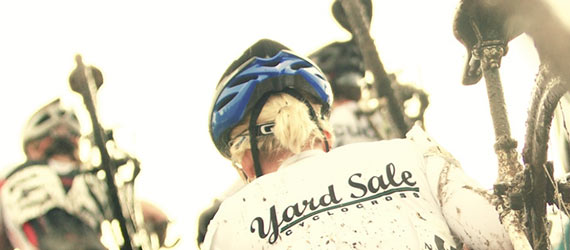 What are your favorite cameras/lenses for shooting races?
I don't really have a favorite camera or lens, I like just about every camera I've ever used for one reason or another but my lens tastes have evolved considerably. Right now I pretty much only shoot what are considered normal lenses, the equivalent of a 50mm on a full frame digital body or a 35mm film camera. About 90% of the images I've shot in the last year were with a normal lens. I prefer images that don't draw too much attention to the equipment used and put the emphasis as much as possible on content and subject. Also, I don't like carrying around tons of a gear which makes a 50 mm prime really attractive to me.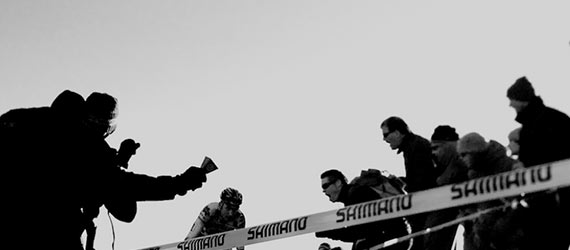 I shoot film and digital. Digital allows me to take chances and film makes me be more deliberate. My digital cameras are Canons, I've been using 1D bodies because the weather seals are awesome. I've shot in torrential rain and they just keep working, a feature that is really ipmortant for cyclocross. Digital is great for a lot of reasons including containing costs, super high iso performance and instant feedback but I also really like film. This last year I've been shooting 35mm, medium format, 4X5 and instant film. My favorite film camera is my Konica Hexar RF. Its a sweet little camera, really versatile and a joy to use. I try to have it with me all the time. The camera I shoot the most is probably my phone. Cell phone cameras are quickly becoming quite good. I take thousands of phone pictures and I really enjoy connecting with friends and family through image based social media.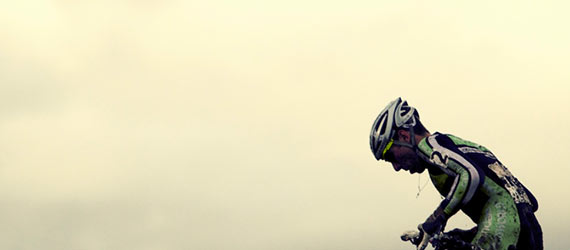 I'm not immune to new camera hype, there are a bunch of cameras I'd love to try to see what I can do with them but I don't think it matters that much which camera you use just as long as you know the strengths and weakness of what you have and use it accordingly.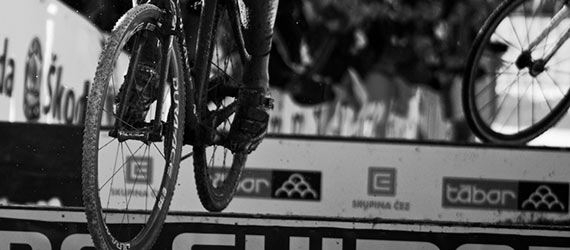 What's your post-processing routine?
I use Apple's Aperture for all of my processing. I always shoot RAW but sometimes when I need to output a gallery really fast I shoot both RAW and jpegs at the same time and everything always goes straight into aperture. In aperture I sort, tag and rank my images and then I start to process files. If I want black and white images I export to a plugin, usually NIK silver EFEX pro. I rarely use photoshop. All my film scans go straight into aperture as well. I don't do a lot of post, I'm just not into it that much. With so much readily accessible and relatively cheap processing software its tempting to over-work an image but I really prefer images that are subtly processed and as honest as possible. My biggest struggle is getting digital colors the way I want them. That is one of the appeals of film for me, I really like the look of color film and I know pretty much exactly what the film I choose will look like when I scan it. I have quite a bit of black and white on my main website but I actually have a strong preference for color images and I'm working hard at being a better color photographer.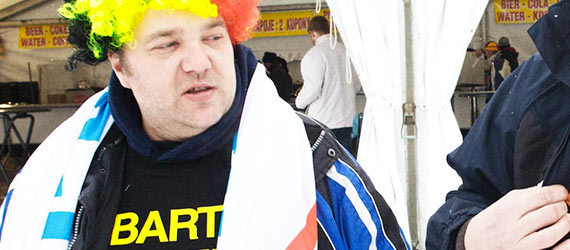 Any tips for capturing the perfect cycling shot?
The perfect shot? I don't have a direct answer to this question. For me what is great about cross, more than anything, is the proximity of the riders to the spectators and the relationship and vibe that develops between them over an hour long race. I love this aspect of cross and lately most of my cross pictures have been about this interaction and connection that takes place during a race, from a single hand gesturing over the tape to a mob of people screaming at a back-bencher. That's what the picture you have featured here is all about; people on and off the bike having a great time celebrating human physical achievement on two wheels. What I often see in the fans and feel myself is the emotion and excitement of an adrenalin dump that you get when racers are really hanging it out and racing at their absolute hardest. When you photograph anything you are telling people about yourself, what it is you value and what kind of a person you are. Same with when you value one image over another. All I really want my bike images to say is: bikes and bike people are awesome. So I suppose my suggestion would be to simply think about what is you want to show people about cyclocross. For me it's a beautiful and exciting sport full of interesting people.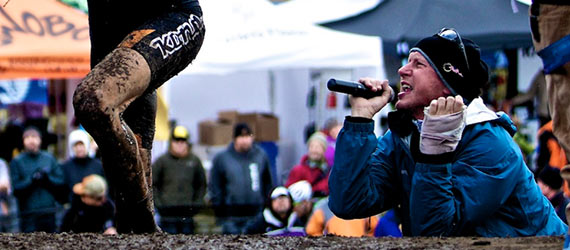 Final thoughts and links
There were a surfeit of images I wanted to include in this post, but that would've rendered Joe's portfolio unnecessary. Yet, I still had a tough time deciding which ones I wanted to include. Then I realized the dilemma was due to the fact most of his shots were indicative of what I'm looking to convey with the 5 Minutes With series. Joe conveniently describes this perfectly on my last, and admittedly fluff (but nevertheless effective), question. I guess I chose well.
Please make a point to visit Joe's portfolio site, and if you appreciate his work let him know on Twitter.
Website: joesales.ca
Twitter: @JoeySales
Tumblr: thejoesales.tumblr.com
Instagram: JoeySales