Quick, we haven't much time! There's so much to regurgitate in a semi-original manner and the Prologue begins in a matter of hours!
Wiggo, Wiggo, Wiggo, YEAH!
Bradley's been built up so much for this Tour he's already talking about the defense of his title in 2013. In fact, based purely on the numbers, he's already won this edition.
Even Stephen "Zip Up Yo' ****" Roche has used the words 'outstanding' and 'favorite' in the same sentence.
Regardless of the boasts, I'm enjoying this Wiggo. In fact, I'd go so far as to say I'd like to see him win. As much as I enjoyed Cadel's win laatste jaar, he's simply too quiet of a champion. Bradley would be irrepressible. Speaking of which, here is is being just that.
Old Man Jorge
Meester Hincapie is riding in his 17th July classic. For his record-setting ride BMC have given him a nice bici. That bici is below. No word as of yet what his leg veins were given.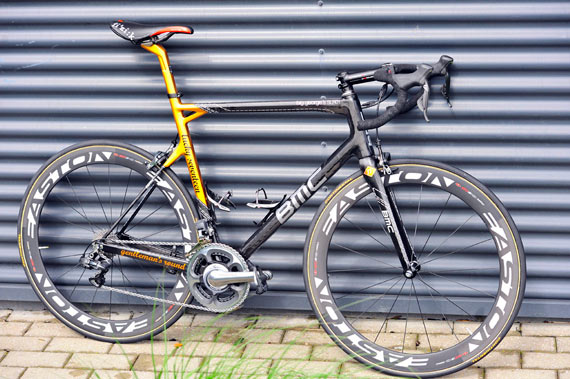 This is where things went dark…