Señor Powers returns triumphantly, resplendent in his stars and stripes for us to marvel and stare slackjawed in awe at Rapha's immaculate design sense. Or, is that resplendently triumphant?
Yes, this post has already jumped the shark.
E01: CrossVegas and USGP Day One
NachtCX for the industry elite and depraved. You know who you are. J-Pow looked impressive. Ryan Trebon and Tim Johnson were flying. So was Ben Berden.



Speaking of the elite and depraved, I spied two familiar faces in the crowd. First, recently interviewed Emily May (@emily_maye) snapping some of her fabulous shots of that evening (middle). Emily represents the elite. Then we have Neil Browne (@neilroad) trolling Jeremy in the foreground. Neil obviously represents the depraved. He killed cycling, you know.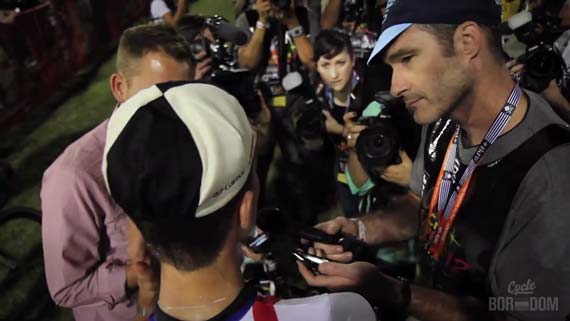 E02: USGP Day Two and Flückiger
Off mech day for J-Pow as their pump completely fuxed the race. Pressure's important in CX and the Natty Champ was feeling the pressure since they couldn't get a grip on the pressure. The pressure packed episode concludes with a fireside chat with Lukas.