Pre-Rambling
Despite my rambling bitchfest post below, I was UNBELIEVABLY proud of my daughter, and I let her know. She conquered a slew of fears (as did I) and felt great doing it. We both couldn't have been happier. #Dadlife
Pre-Countering the Counters
As I write any post, I see all the counter points to the point I'm trying to make. This is when the paralyzation starts and the writing ends. However, I feel this is important enough to attempt to complete. So, in an attempt to pre-counter the counters, here are some vital points:

– Yes, there are areas MUCH worse than what I'm about to describe.
– However, there are areas in Arlington MUCH better than what I'm about to describe.
– I live in an urban environment with a strong emphasis on alternative transportation so it's not out of line to expect better.
– The Arlington Views neighborhood is old.
– The Arlington Views neighborhood is essentially a cul-de-sac nestled in the armpit of Raging Road, Busy Boulevard, and Hellacious Highway.
– Getting to AV by anything other than a motorized vehicle is dangerous, because Columbia Pike.
– The intersection and bridge at Raging Road (C-Pike) and Busy Boulevard (Washington) is undergoing a MAJOR transformation into what should be a much safer way to navigate a ridiculously dangerous section of road.
– The construction/roadwork here is forcing some traffic onto unfamiliar streets due to road closures.
– Because of the construction/roadwork, this section is MORE EXTREMELY DANGEROUSER.
The Rest of the Story
My daughter (The Bug), has recently conquered the conservation of angular momentum (balancing/pedaling a bike). So this year for Bike To School Day, she decided she wanted to participate. We've been riding together on the sidewalks of Columbia Pike to get to a local park that's a few blocks away. And while I'm not a huge fan of the 2 aggressive intersections we typically navigate, she's familiar with them as we've been walking them all her life. The sidewalks, for the most part, are wide and free of obstacles. Even those that haven't seen any modernization are relatively easy to navigate. This is what I was envisioning for the trip to her school, which is less than a mile away.
What follows is our experience.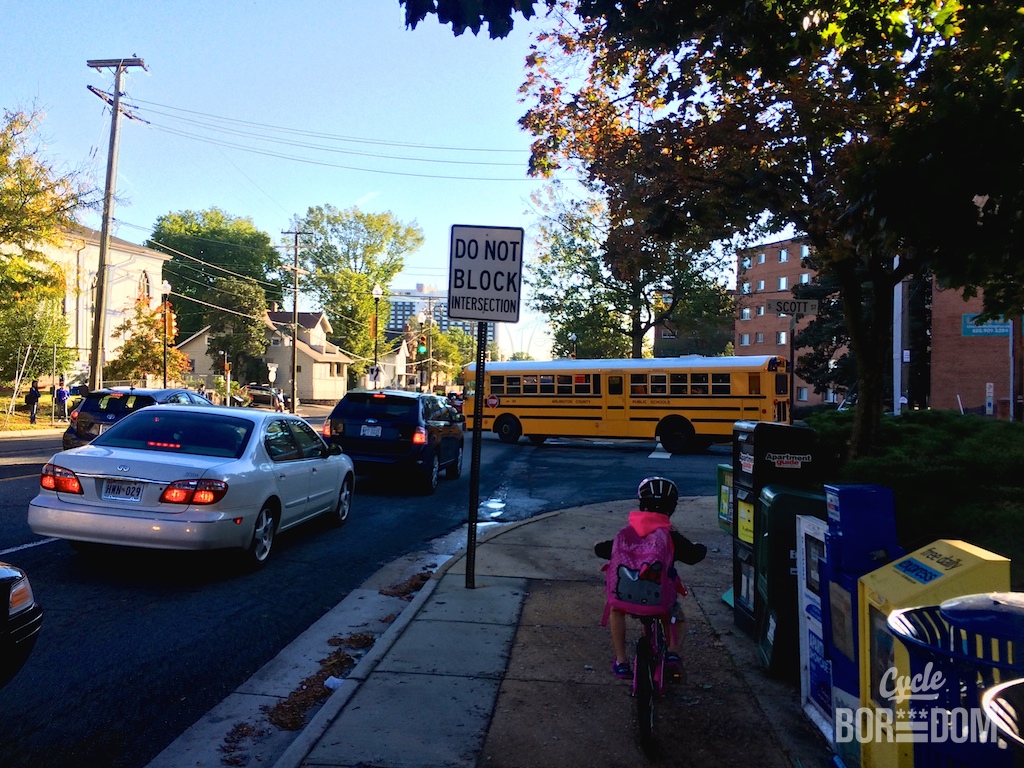 Starting off down Columbia Pike during rush hour is a frightening prospect.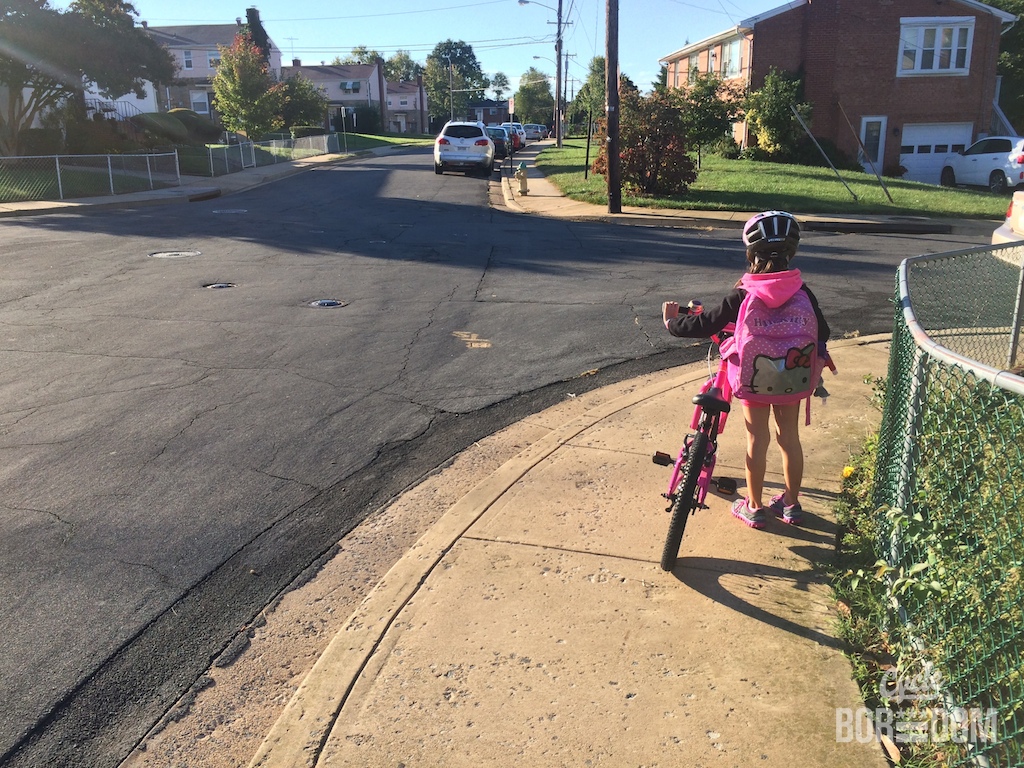 What does one do if they're wheelchair or mobility scooter bound? Time for us to dismount.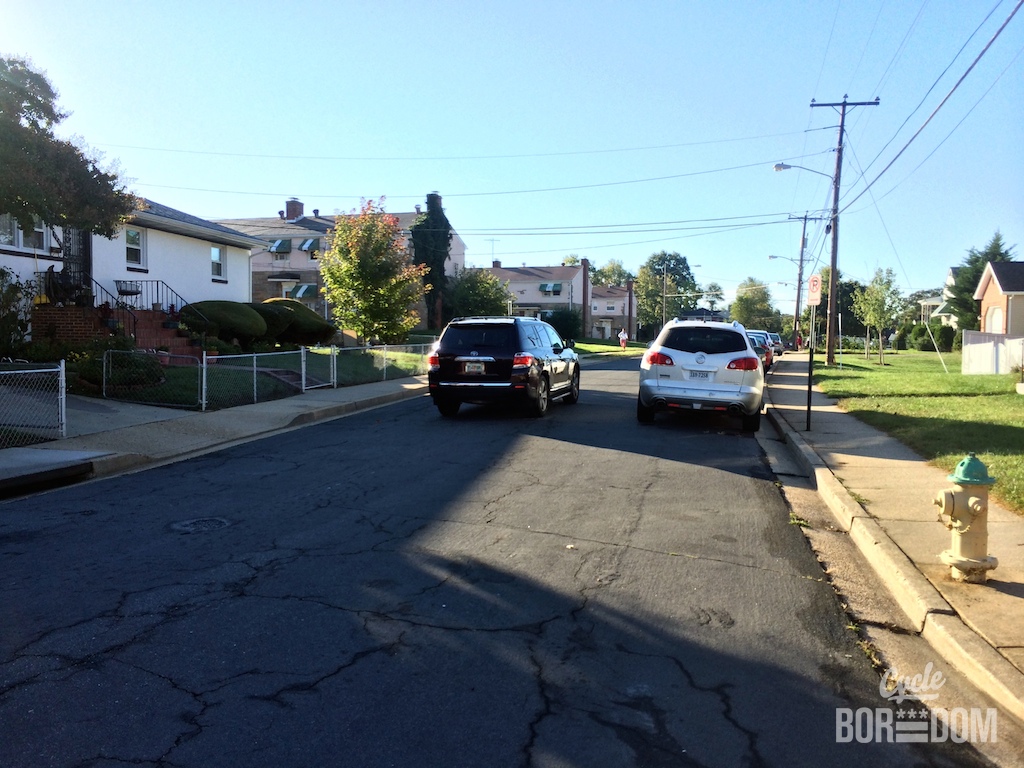 Definitely was speeding. Street parking, sometimes on both sides, still doesn't slow anyone down. It's more of a gauntlet, a challenge to see if they can maintain their speed.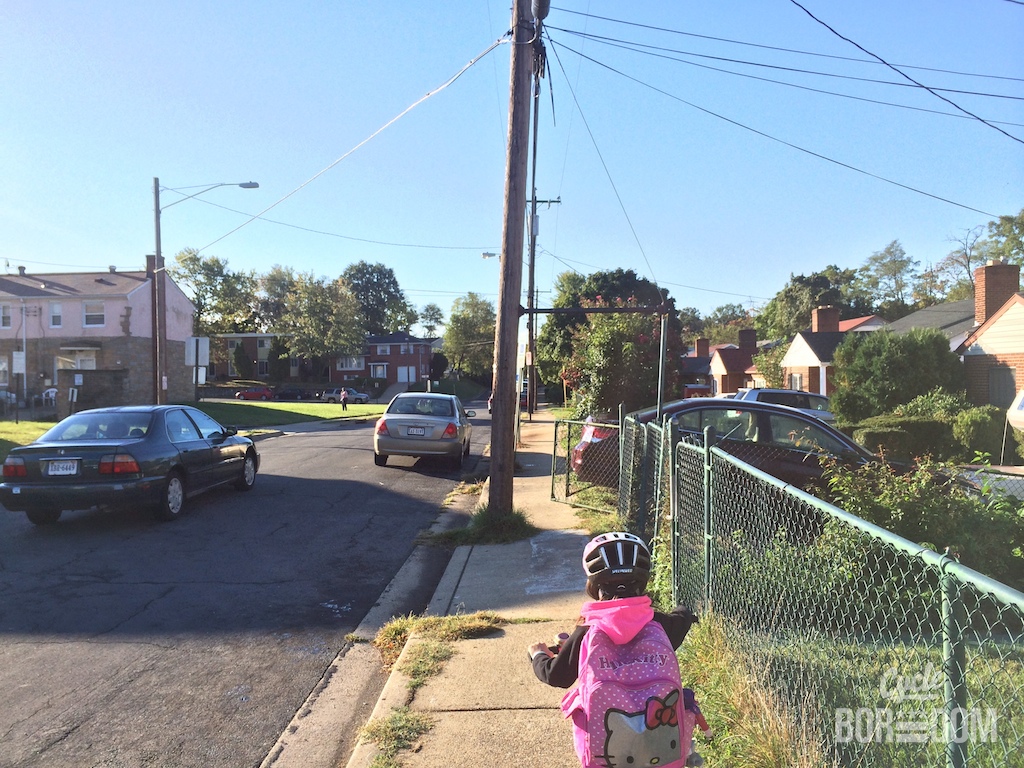 Speeding car, telephone pole, open gate with car butt sticking out. Boss level must be coming soon.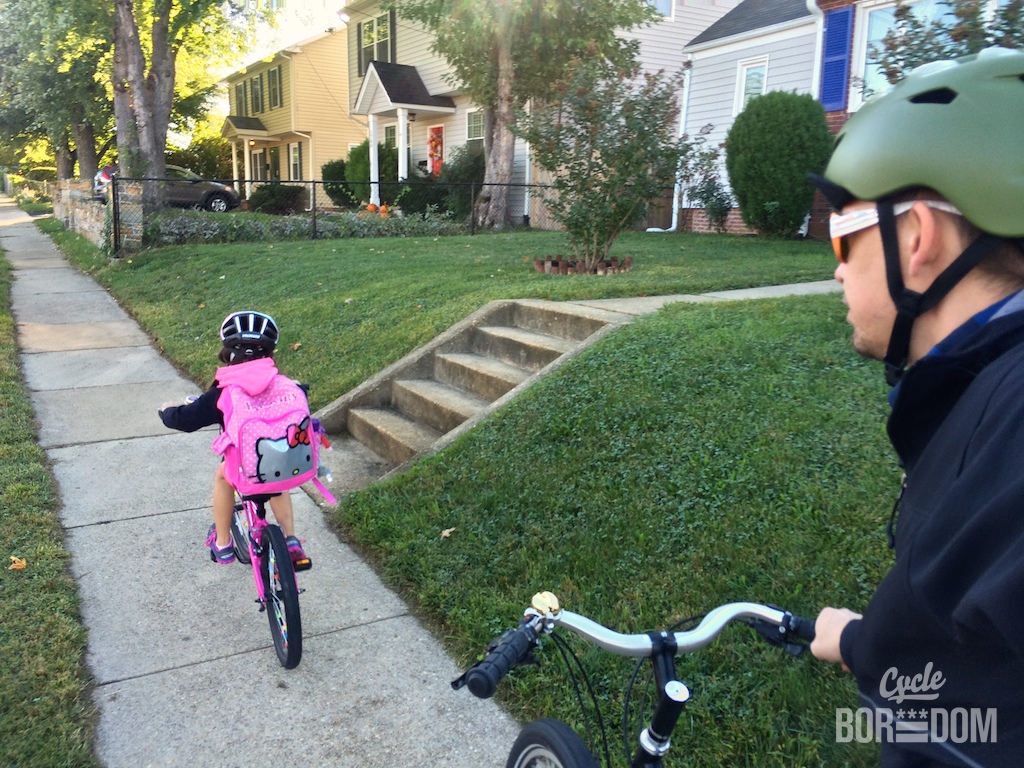 Best stretch of sidewalk by far. Also, I think the only block where the sidewalk was back from the street.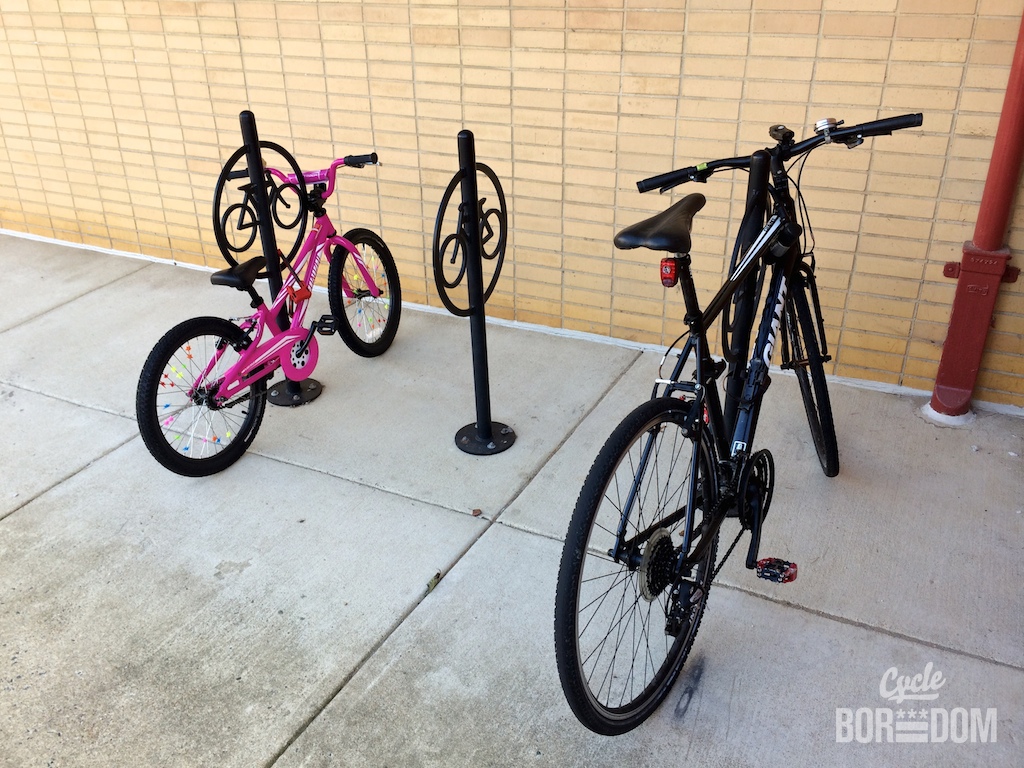 Bike parking was sparse. It also happens to be on the opposite side of the school where drop off/pickup is. Only a slight inconvenience, but it definitely shows priorities.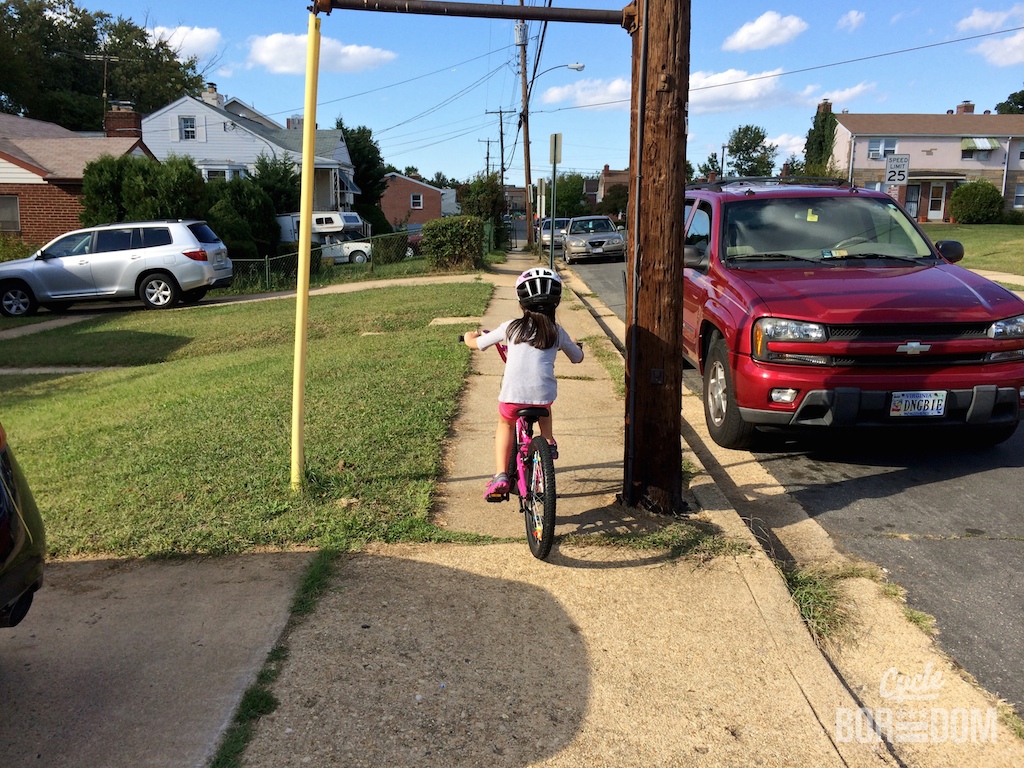 Riding back home—doing the level in reverse.
Beginning the slalom course. To the left…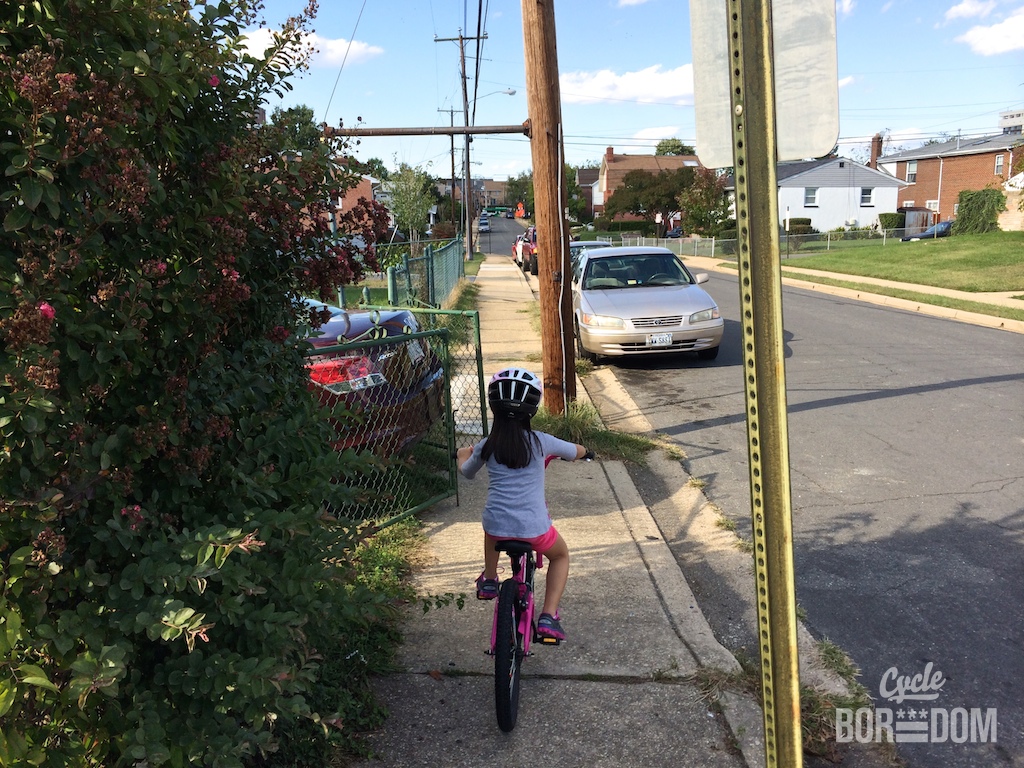 To the right…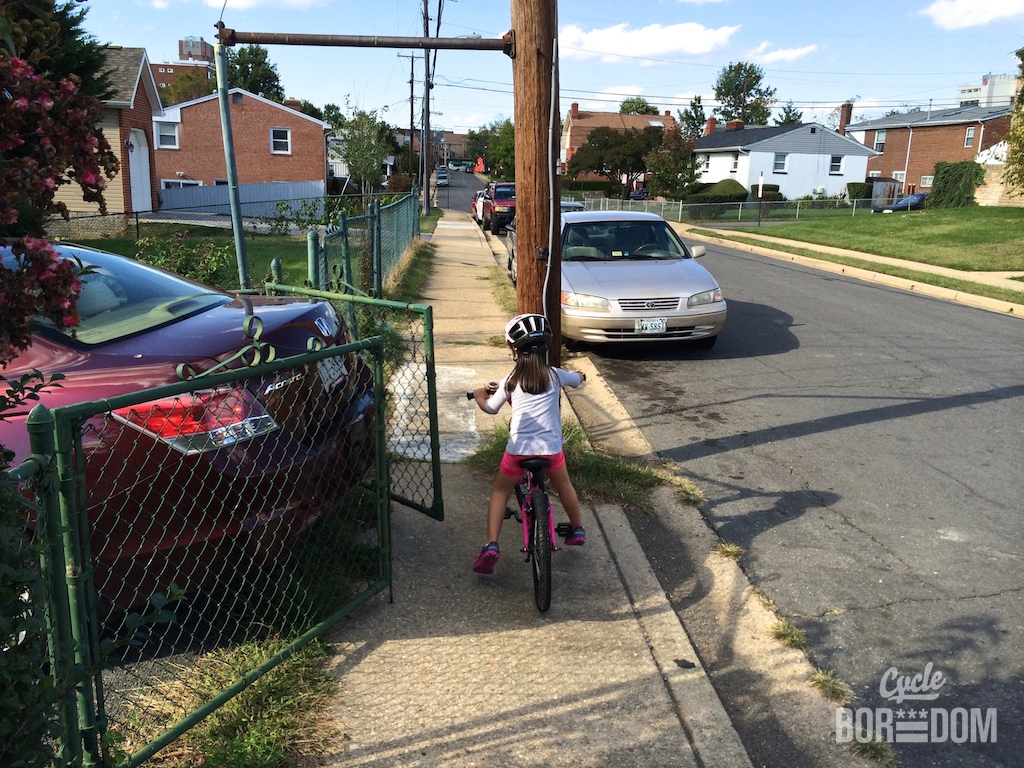 To the left—using the patented "quadpod" technique to circumnavigate the obstacle.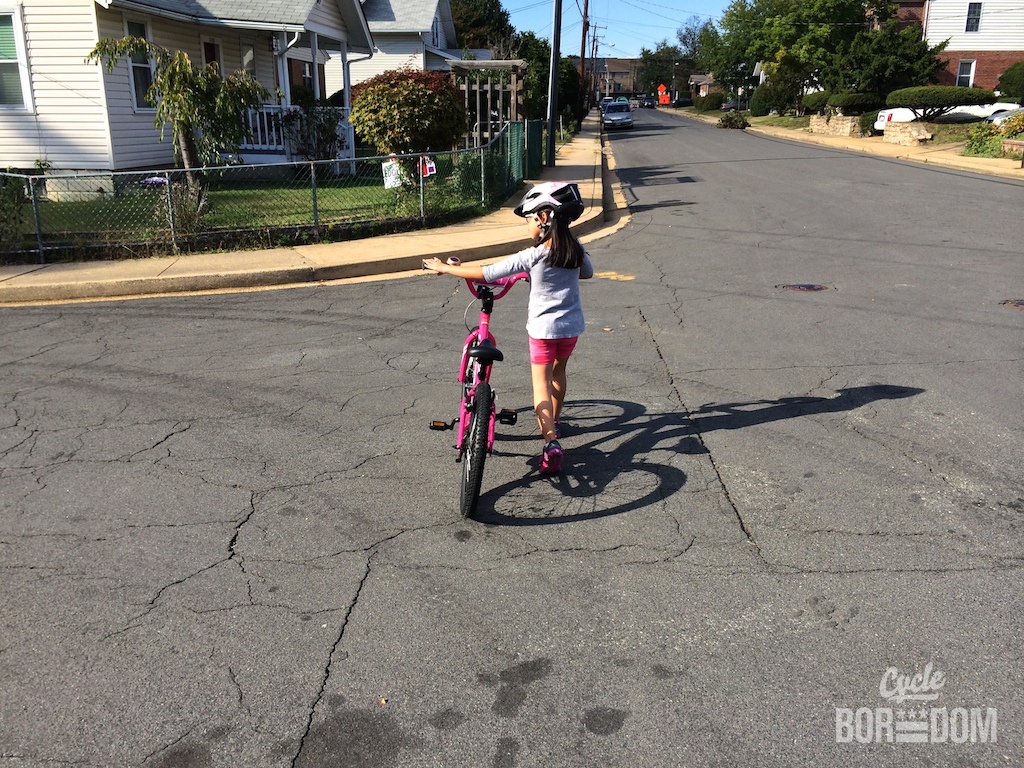 Pushing seemed like a great choice until…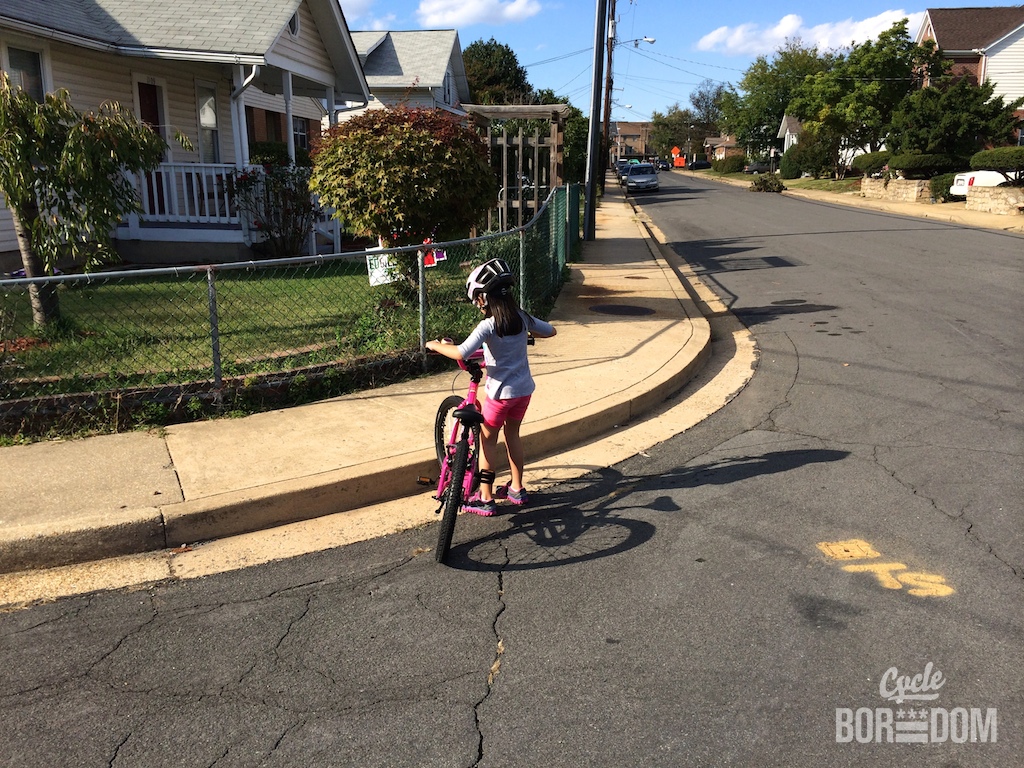 Upon reaching the barrier, it's obvious shouldering the bike would've been the more prudent choice.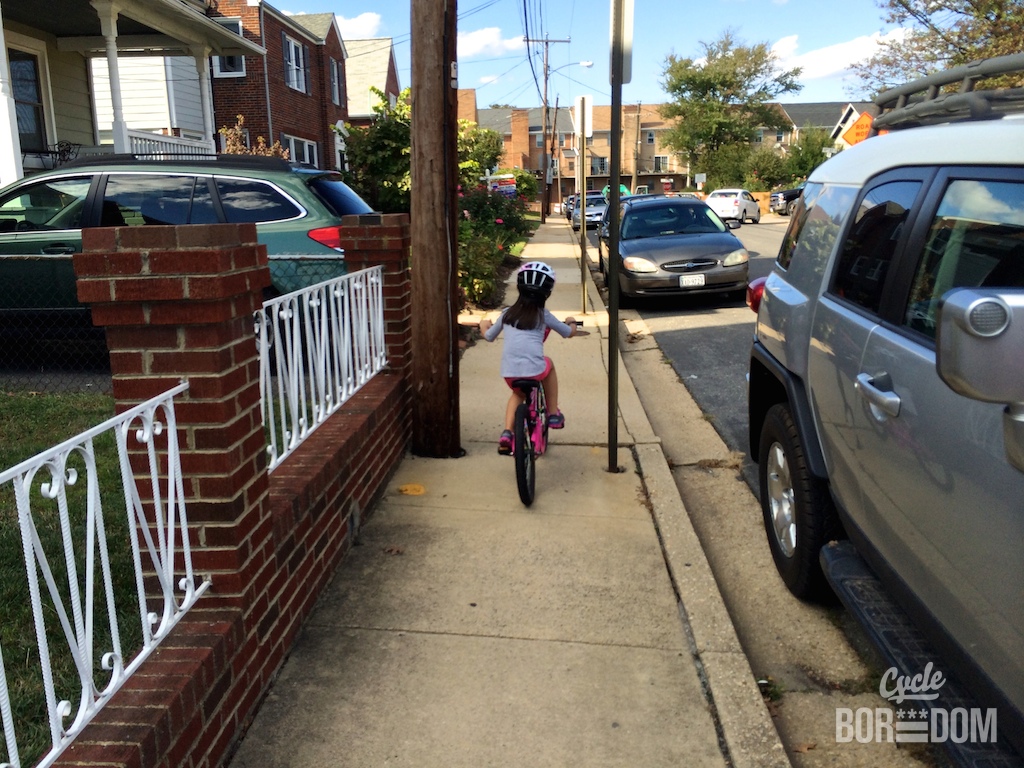 Railing through some sweet singletrack. Need to check those bar ends when blasting between the trees, though. Otherwise reverse gnar-shreddage.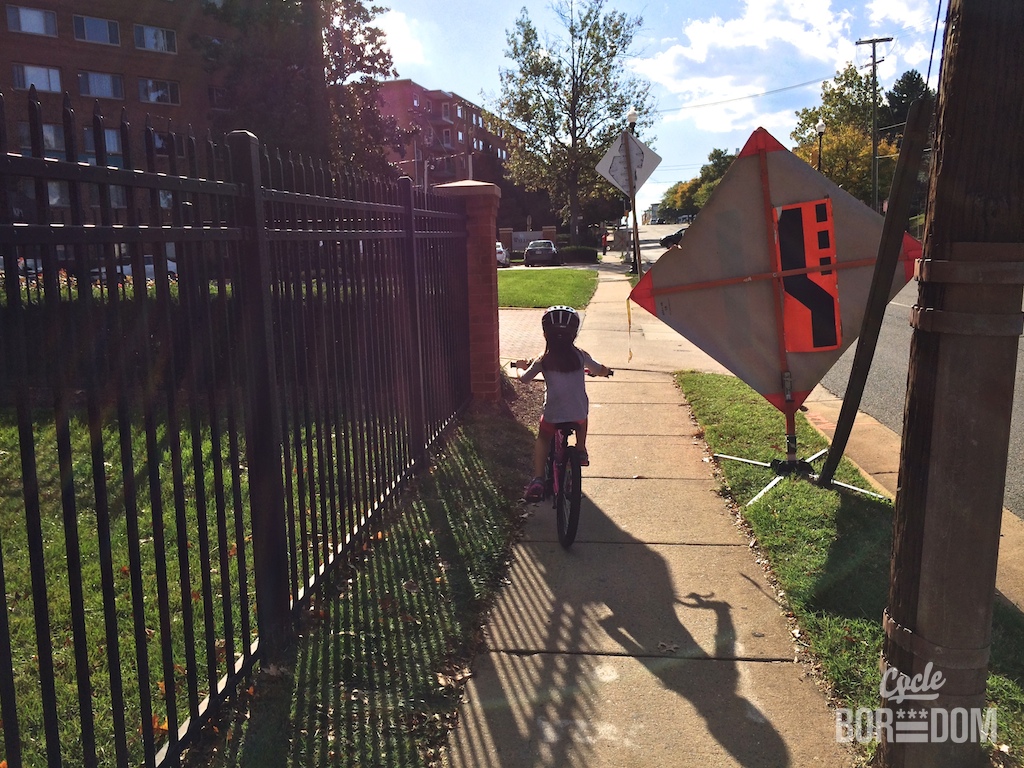 She deftly avoids this drunken heckler leaning too far out into the course. It's late in the day, hi-viz bro is excused.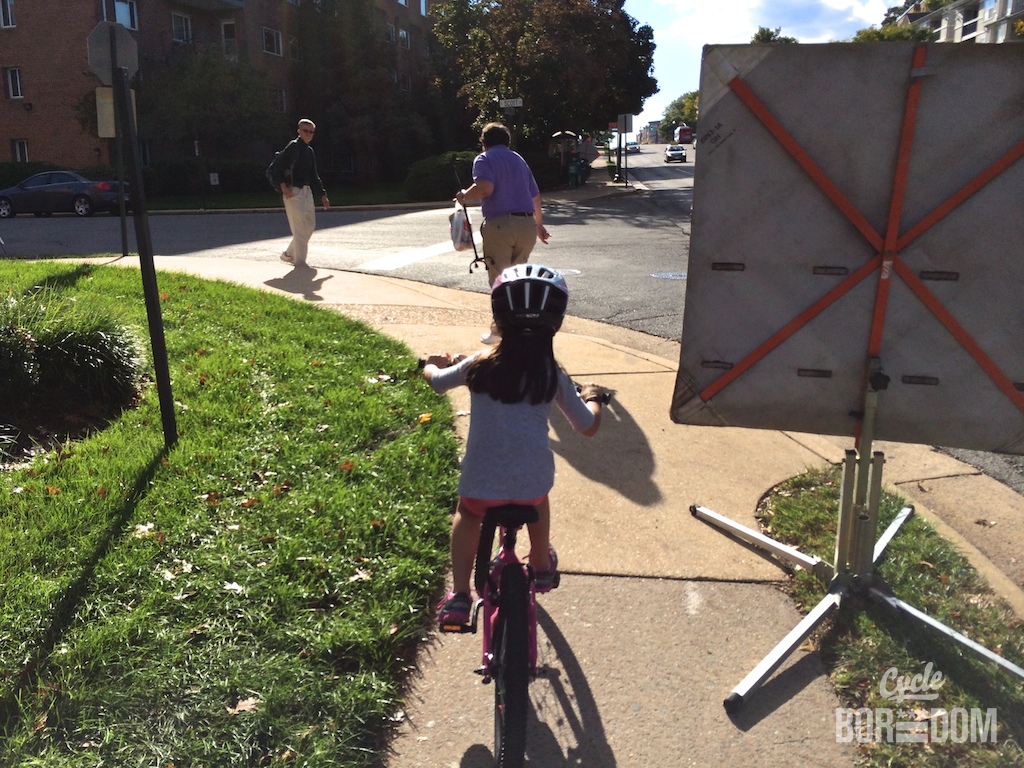 Another drunken heckler and two spectators barely managing to clear the course.