First things first. Okay, second things first. I've already knocked myself out of contention in the second edition of @Gypsybug's Coffeeneuring Challenge. However, let us revisit that in a few moments.
Back to first things second. The 2nd Annual Coffeeneuring Challenge (7 Cups, 6 Weekends) by @Gypsybug is brewing. This seems like something right up my well-defined cycling niche: bikes, coffee, and riding bikes to get coffee. Which brings us back to the second thing we talked about first. Notice the word "Weekends" in the title? This first challenge, and subsequently the reason for this already laborious post, was executed in the middle of the week.
Why would I do such a thing? I have no idea if I'm going to be able to ride on the weekends since La Familia Boredom always has something going on. So I gots to take my rides when I get them, and that's typically during the week.
Regardless, I like the Tweeter known as @Gypsybug and I want to promote this challenge to the wereld through the Boredom Social Media Vessel.
Now, onto the coffee and the neuring.
Challenge Stop: Espresso @ CycleLife

At least once a week I'm at the CycleLife USA Café enjoying a 1/4 ride espresso. I always wanted to run a shop with an espresso shop or machine in it, and since I was vetoed on this very subject waaaay back in the day, I head here. [Note: Ironically, after I left the veto shop they attempted to add a coffee device. It used pods…]

CycleLife recently switched their coffee over to local Annapolis roastmeisters Ceremony Coffee. The change is noticeable. Before, the espresso simply did the job, whereas now it's a pleasure to sip. There's still an ever so slight bite of bitter in their pulls, but I think that's more a machine issue than beans. Or, it simply could be all the little things that a dedicated espresso shop would be aware of. Like I said, it's slight. Also, I've gotten picky about my shots again.
You know, because of the third wave of coffee.
Ride & Challenge Details
Simple ride up the Cap Crescent and back to Hains for some LAAAAPZ totaling just over 42mi on Thursday (10/4). Doing this one sans pan so the pace was relatively slow. It was warm and humid but heavily overcast.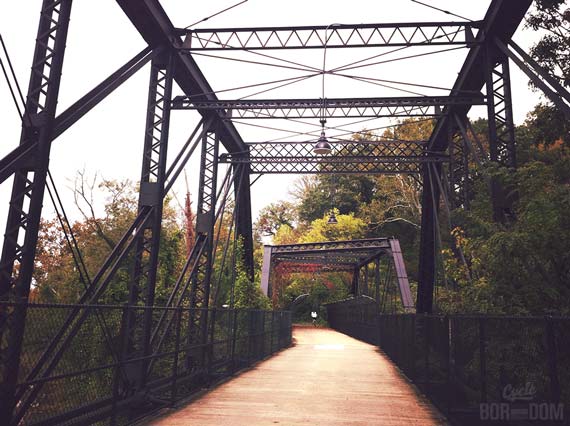 And if you're a numbers geek, here's some Strava for ya. Definitely no achievements for this ride—any PRs would crack me too soon making the ride home unbelievably difficult. Yes, that was a mansplanation for my lack of personal records and/or KOMs.