I Entered My First Bike Race and All I Got Was This Overwhelming Sense of Achievement.
I Entered My First Bike Race and You'll Never Guess What Happened Next.
I Finally Got This Monkey off My Back and I Feel Better Than Ever. Here's How I Did It.
Okay, shitty Upworthy headlines aside, I get it. It was a novelty race of mishmashed (dare I say, a hodgepodge?) novelty bikes in what essentially was a novelty race series, but it was everything. For someone who lives their life on teh net posting endless selfies I am cripplingly introverted in actual, real life. So, for me to actually register and line up in a race, no matter what kind, was a huge step.
[NOTE: All shots below of this race were taken by Bruce Buckley. Make sure to visit his galleries from the Night Spins if you haven't already. They're all fantastic.]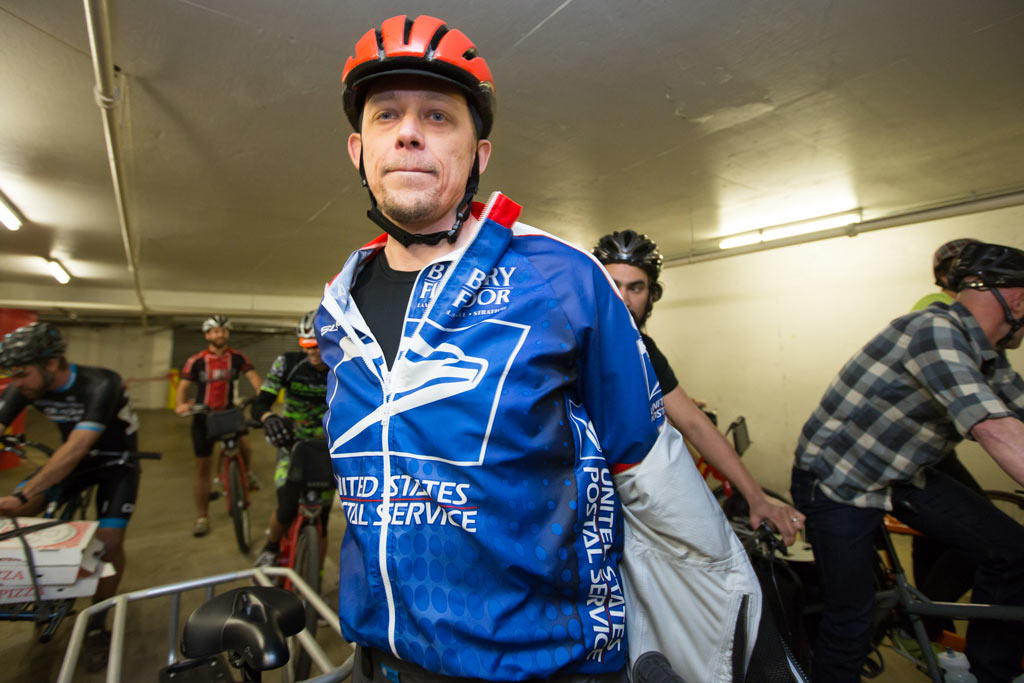 I really need to work on my stripper facial expressions. This one is horrid.
In honor of my transition into cycling adulthood, I opted to don the kit of the only kit that could troll so deep and haard that it would represent Cycleboredom p/b Snaark—obviously, US Postal. I had to take it a step further and recreate a CX race start line ritual of throwing your warmup kit to your pit mechanic (my girlfriend and the kids). I even pulled the official and hilariously unsafe USPS Giro Atmos out of the vault along with a pair a Hincapie-esque Racing Jackets.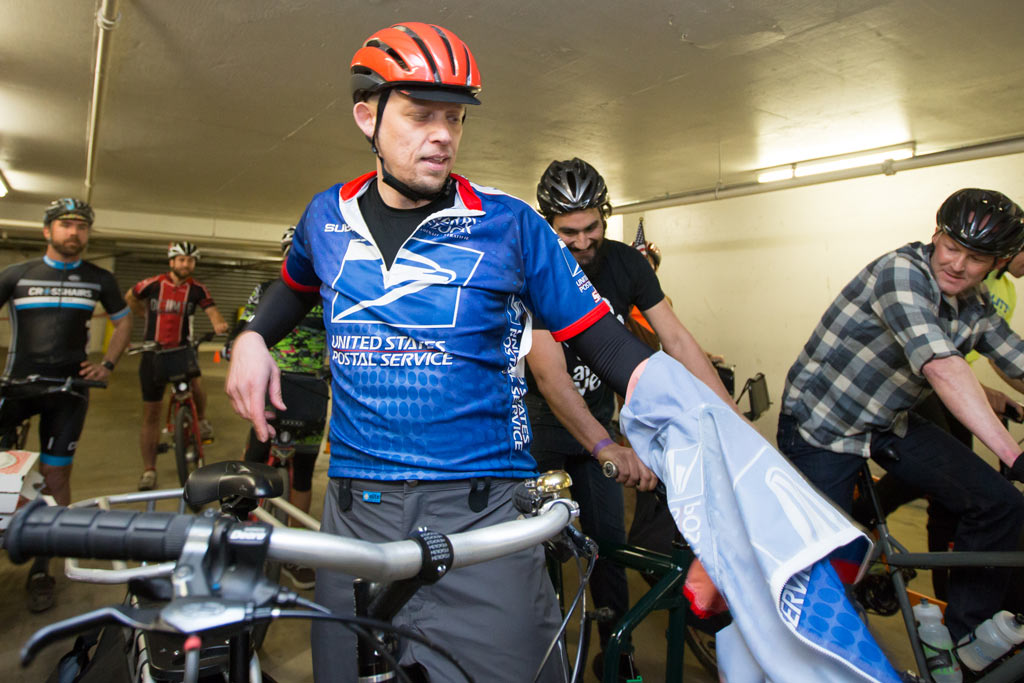 Still, WTF is going on with my face. I know I was nervous, but DAAAYUM.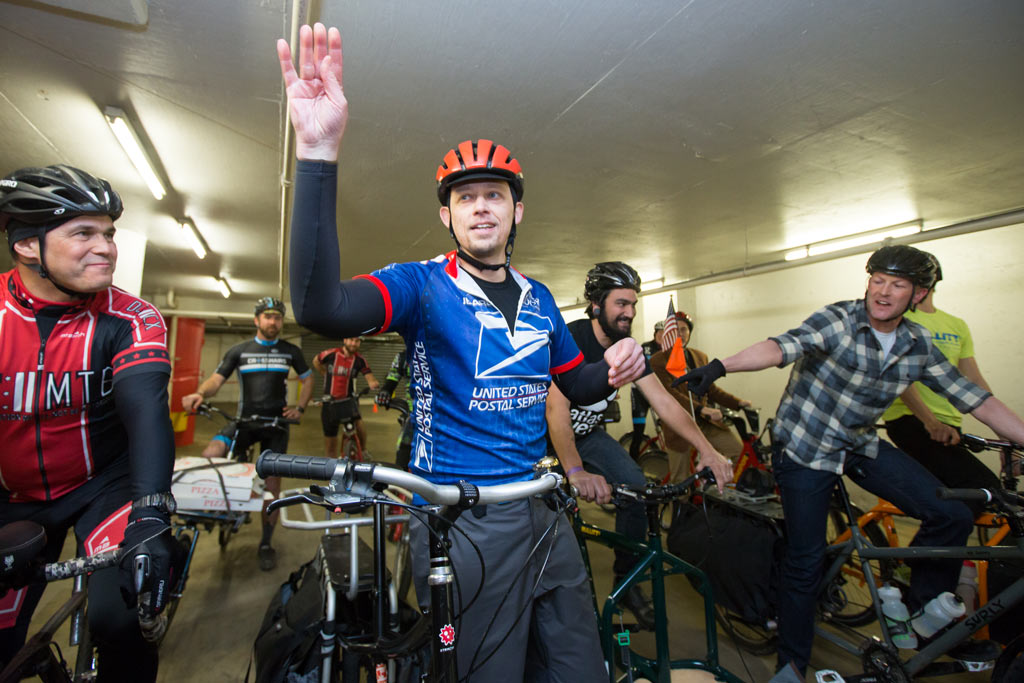 Thank you, wide-angle lens, for making my hands look like I should play center voor de Wizards.
What's crazy about racing (I talk like I've done this forever), is once you start, everything else is a blur. You focus on your body and applying whatever skills you may have into not crashing. My body went hypoxic immediately because fat and out of shape, but I thoroughly enjoyed pushing the Xtracycle Edgerunner around the slippery turns of the parking garage. Coming through the finishing straight you definitely get a burst of awesome from those cheering you on or running next to you wielding syringes or giant angry Sheryl Crow faces, but the best feeling came from seeing The Bug jumping up and down in a ridiculously large, 2003 USPS wind jacket yelling, "GOOOO DADDY!!" That's a definite #dadlife win.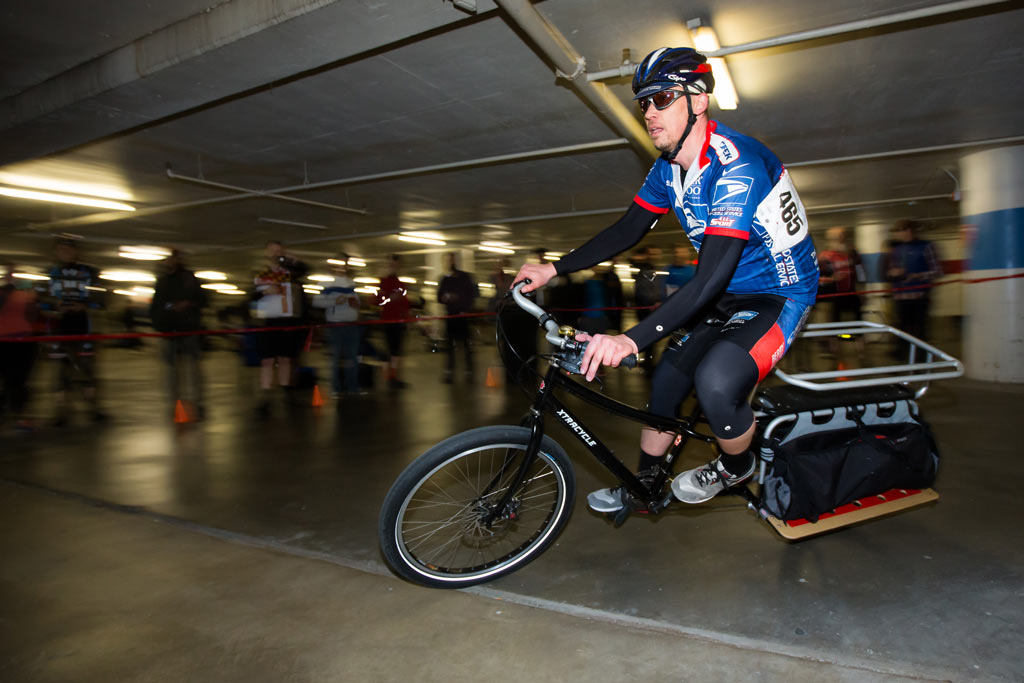 First: 'DAT LEG ACTION. Second: 'DAT BELLY ACTION.
Finally got that monkey off my back. Next stop, Super 8!! I'm gunning for Weston and Jared this jaar.
Here's a few other shots from the race: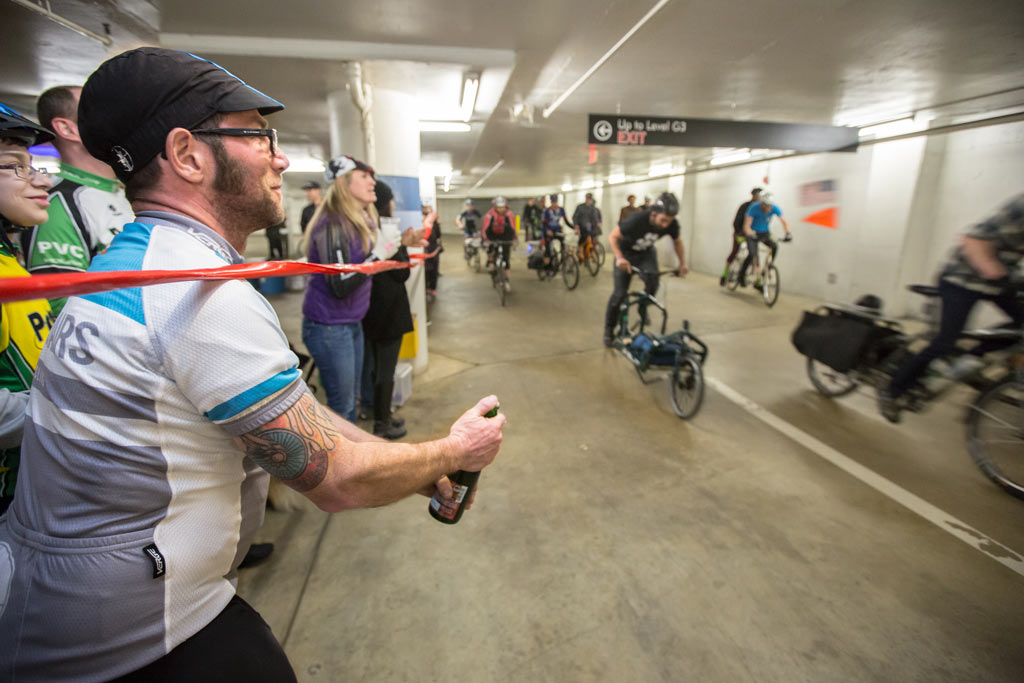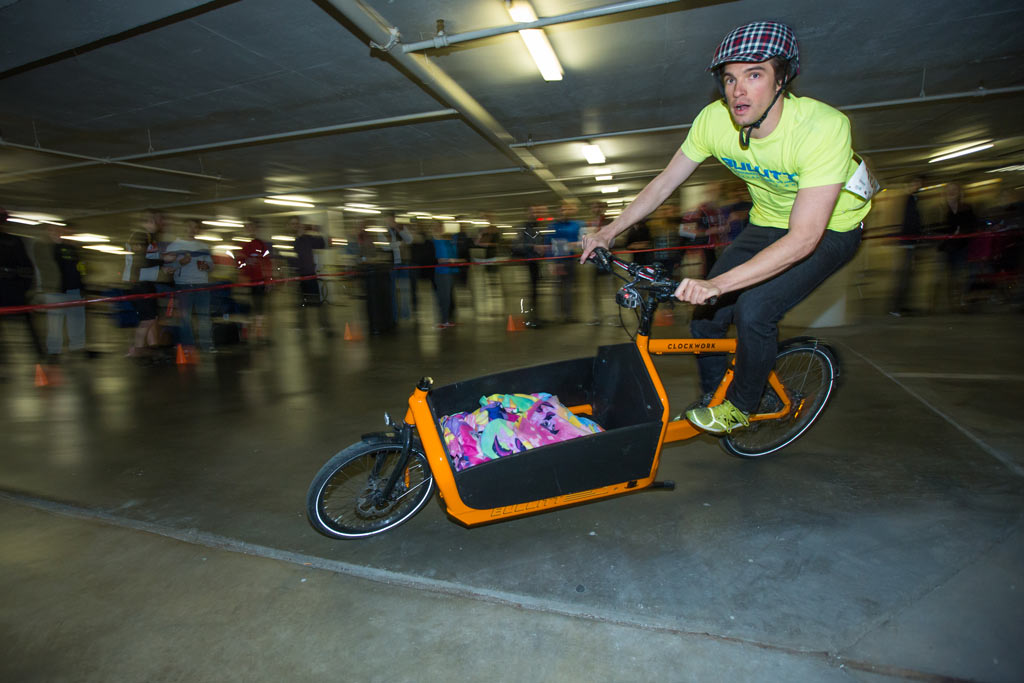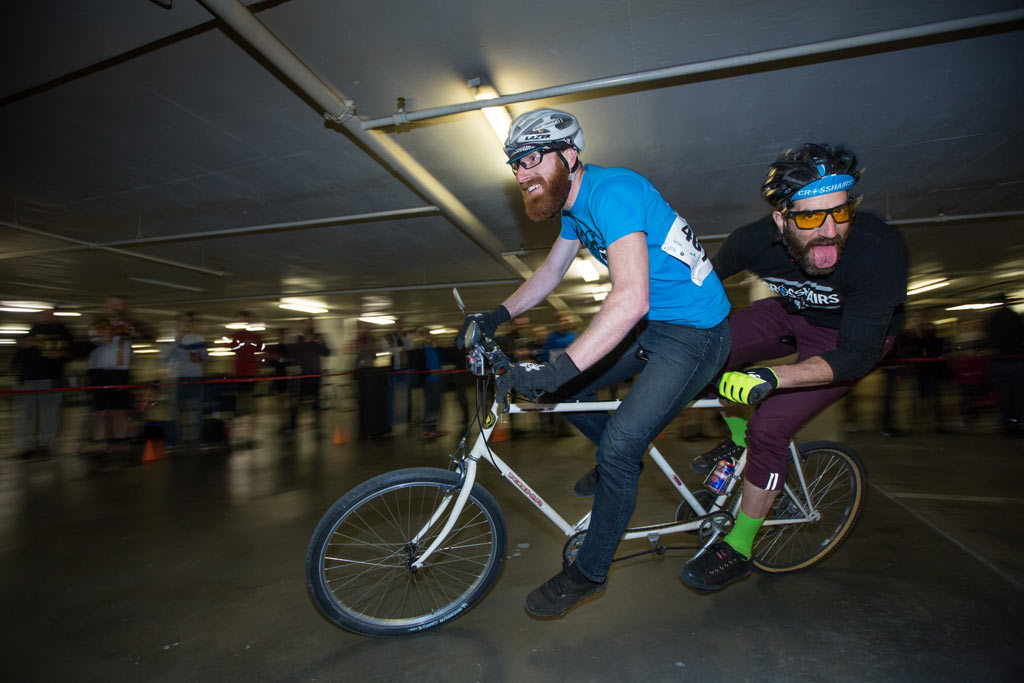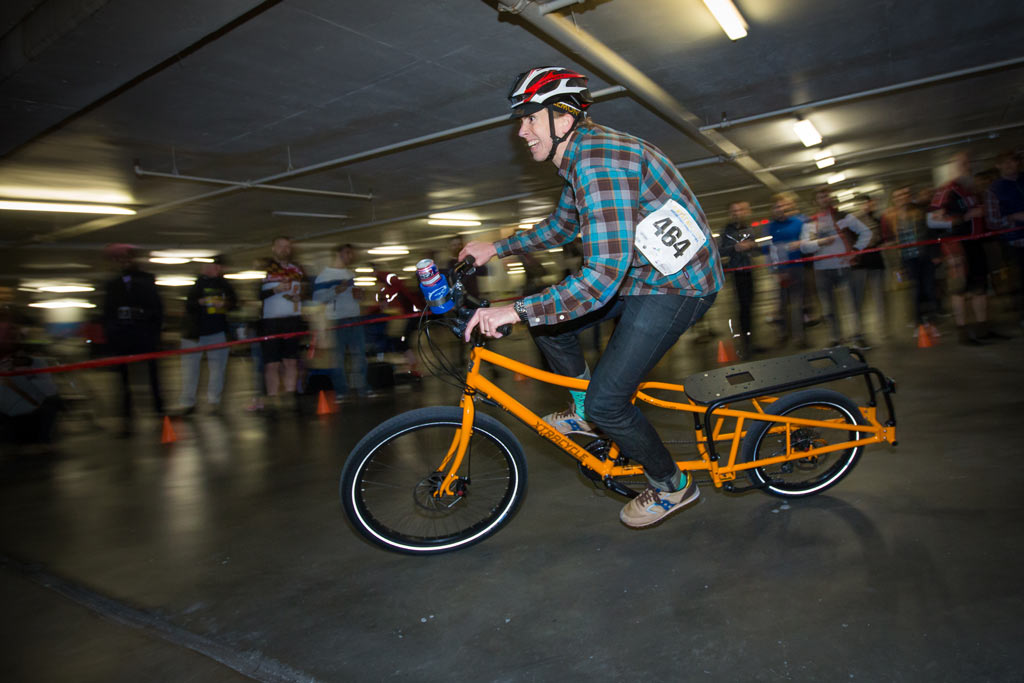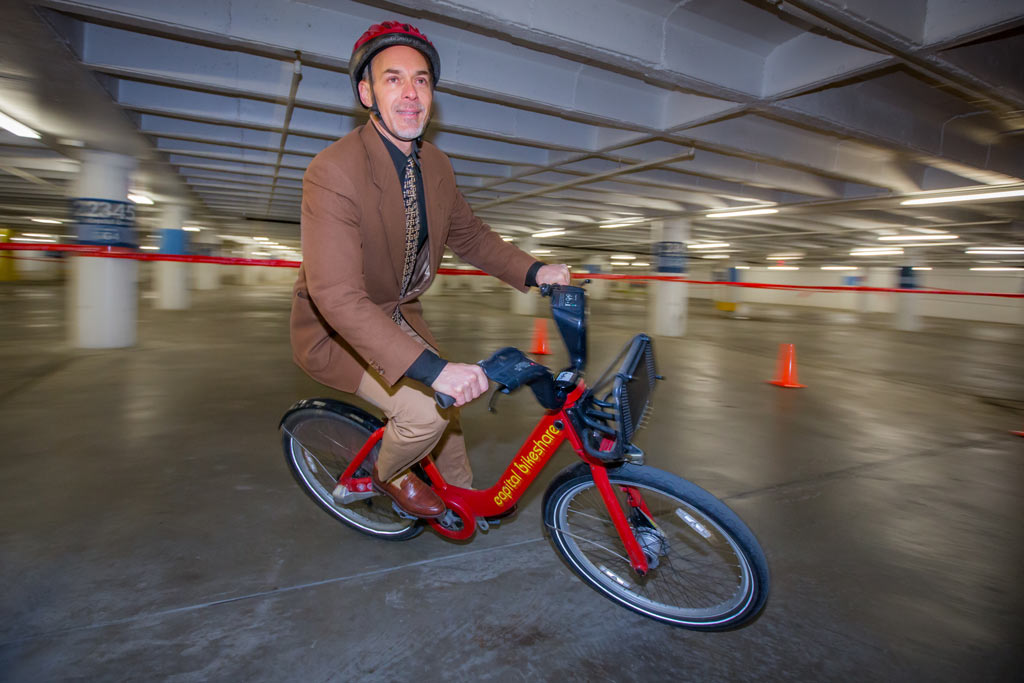 Interlude: A Brief Typology of CCWNS Bikes
I love seeing what everyone rides when they come to these events. Everything below was shot by me.