Look at me! I'm wearing a blog tee!
Scenario: You're at the bar/pub (for mah British homies) wearing your American Apparel made, form-fitting Cycleboredom logo tee. This girl/guy that you've been eyeing from across the room actually strolls up to talk to you. You're giddy with anticipation. Your mind envisions a night of beer soaked debauchery since this person's obviously making the first move, when they ask, "What's a cycle-bore-dom?" Giddiness gives way to the numbing realization you'll be spending the night alone & online catching up on the latest cycling news as you answer, "Oh, it's a blog." Fail. Sweet, sweet fail.
At least it's not a browser tee.
Some info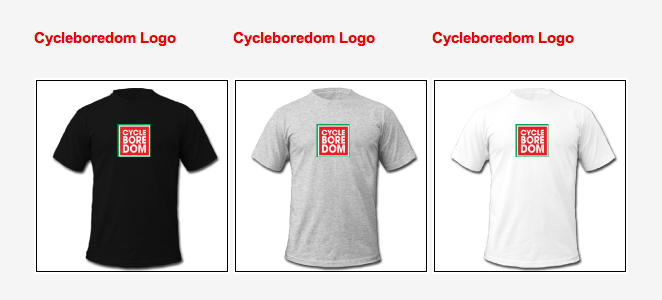 Cycleboredom shirts are in fact generously displayed upon American Apparel hipster coverings. They are digitally printed by none other than Spreadshirt. I'd want nothing more than to screen these myself, but the cost, space, and time are incredibly prohibitive.
If for some herculean lack of foresight on your part you actually click the 'Submit' button after entering your credit card number and shipping address in the forms provided resulting in one of these repugnant hairshirts actually being delivered to your living place, please let me know what you think!
And yes, that is my Twitter background. I was lazy.