Legendary, infamous, yellow (pink in July), and continuously shouted at, Team ONCE earns a permanent spot on a shirt of Boredom. Bitchslappers as much as they were Tour bridesmaids, ONCE was always a force to be reckoned with. Their singleminded focus in TTT simply reinforced their already intimidating presence due to a wicked angry looking team kit. You like this? Buy one now—VENGA, VENGA, VENGA!!
ONCE Legend: Manolo Saíz
Unfortunately, or fortunately in my case, this team most known for it's irrepressible directeur sportif, Manolo Saíz. Notorious for fielding teams of dopers as he was for yelling, "VENGA, VENGA, VENGA!" at his riders during time trials, the man from Torrelavega has cemented his place in annals of pro cycling (or inserted in the anal?). ONCE, a Spanish lottery for the blind, was the sponsor of the Saíz bred led team from '89 until '04 when Liberty Seguros took over. Amazingly, Astana is the present iteration, so doping's in the genes.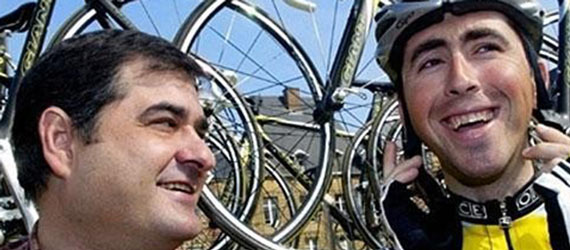 ONCE Legend: Laurent Jalabert
There are more than a few famous ONCE riders, but by far my favorite is Ja-Ja. Laurent Jalabert fashioned his legacy while wearing the yellow and black, and sometimes pink, and early on some green… Jalabert not only won the 1995 Vuelta a España golden jersey, he scored the trifecta by also securing the climber and points classifications. French baller.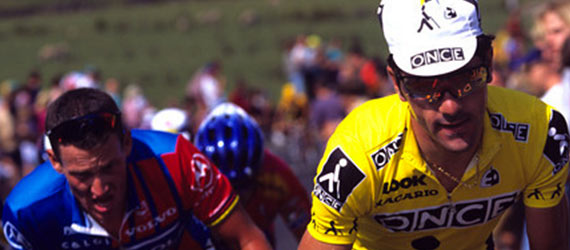 ONCE Legend: Joseba Beloki
Victim of one of the dramatic crashes in Tour history, Beloki unfortunately is remembered more for forcing Armstrong off into the fields rather than his palmarès. Moaning horrifically at the side of the road, cradled in the arms of Manolo Saíz, Beloki's career was effectively finished. Before that moment he was truly pushing Armstrong to the edge. The preceding years saw him podium twice, 3rd in '01 and 2nd in '02. A troubled attempt at a post-injury comeback was derailed when he was implicated as one of the Operación Puerto boys.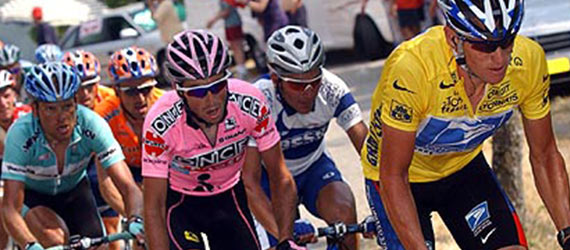 The Cycleboredom/ONCE Remix Shirt
Yellow shoe-covers not included.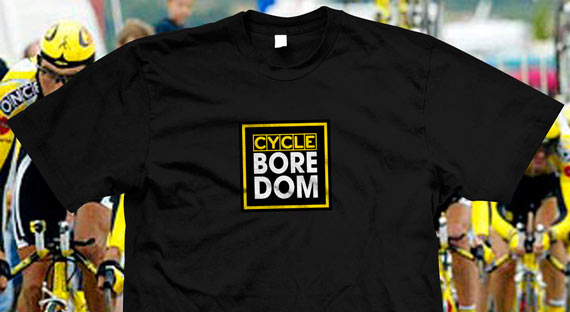 Note: none of the proceeds from these shirts go to any charity, because I make no proceeds. These are simply for personal amusement.
Like it? Make it yours: US Store / UK Store
Image credits: Cyclingnews.com, Volny.cz, Graham Watson