Essential 'Grams With @jbraynard
A mere hour and a half drive from our previous Essential 'Grams profile in Munich, Salzberg Austria offers an unlimited wellspring of cycling opportunities for exploration. How do I know that if I've never been there? The next profile told me through photos and ever increasing videos.
@jbraynard, who works for a major brand's social media department is pretty bullish when it comes to what he posts, as he explains below. So let's take a look at what it takes for #roadslikethese, mountain passes, and #foreverbuttphotos to get onto his feed.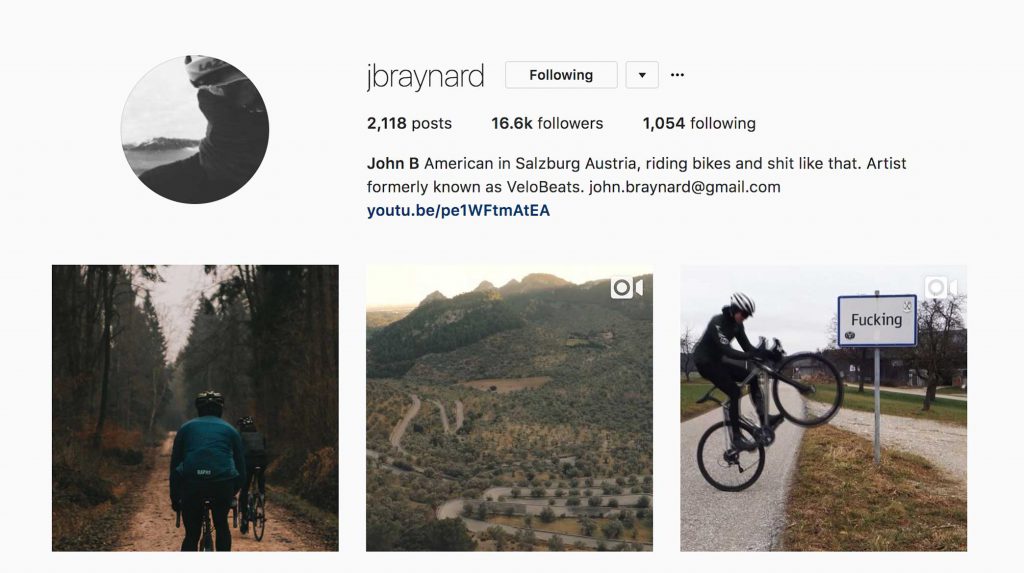 @jbraynard
Tell us a bit about yourself.
I'm originally from South Carolina but moved to Washington DC for a bit where I picked up a bike and raced a bit. For the past 5 years, I've been living in wild ole' Salzburg Austria.
I really always enjoyed taking photos and got back into it when I moved to Austria. The past few years I've done a lot of traveling doing photostories for some magazines, blogs, and brands. I really find that the part of cycling I enjoy is the exploring and adventure – and photography is one of the best ways to document and create reasons for exploring.
Lately, I've started to focus more on video – which is a great way for me to learn new things and explore different possibilities of cycling storytelling.
How or why do you use Instagram?
Professionally, I am in the social media game for a large brand – so it's my everyday thing.
In my personal time, I really love it. People sometimes talk about taking time away from social media, which I would absolutely never do. I've met so many great people through Instagram and Facebook. Some of my closest friendships sparked from a random like or comment on social media. I also really enjoy consuming Instagram as much as I enjoy contributing. I like to see what's happening in different bike communities around the world. With Instagram Stories it's even more intriguing to be exposed to the rawer side of these circles. Also, social media makes this confusing world simpler when I know people in Taiwan or Colombia or Saudi Arabia do the same things I do.
https://www.instagram.com/p/Bdp7nqpnsTc/?taken-by=jbraynard
What do you shoot with?
I have owned so many damn cameras. It's silly. But, I think I've finally settled on a setup I am extremely satisfied with. However, It also all depends on what I am shooting and the epicness potential of the adventure that day.
I really enjoy the Sony RX100. I have the M2 which is perfect. It is just the right price to not stress over dropping it and destroying it. The image quality is really great and it fits in the back pocket.
For kicking it up a notch I use the Sony 6500 with an 18-104 2.8 G Series Lens. The autofocus on this thing is amazing. Also, the video options are amazing. You can go from snapping 11 FPS raw photos to killer quality 4k video in a matter of seconds. People always ask how do I carry it… I use the strap that came with the camera ;).
Finally, I love the GoPro Karma system as well. I own the full system and swear by it. The Karma Grip is the easiest gimbal I've ever used and paired with the right mounting kit you can get some really unique perspectives. The drone isn't the best, but it does the job.
What's your post-processing routine?
Straight to my laptop and into Lightroom or Premiere. I have a few custom presets I have made based on other presets or by messing around and making my own. I make adjustments from there based on the particular photo. Lately, I've really been really trying to handle and manage contrast a bit better… Well, then I Airdrop it to my phone.
https://www.instagram.com/p/Bdp7nqpnsTc/?taken-by=jbraynard
What's your selection process for posting an image?
I pick by colors, vibe, and what is optimized for Instagram. I would be lying if I said that I don't pick photos and publish for performance. I do social media for a job, so I just have that mindset.
QUICK—NAME 5 IGERS THAT PROVIDE THE STOKE FOR YOU!!
@satchscratch (love the vibe on his stuff)
@szymonbike (he lives the life)
@donalrey (great dude and great photographer)
@e_climber (Japanese bike beauty)
@mo.chiu (mind-blowing Taiwan street shooter gone cycling)
Social Linx
INSTAGRAM: @jbraynard