Essential 'Grams with @wattage_cottage
For this next Essential 'Grams I'm switching things up. As much as I enjoy Instagram for the pursuit of the perfect image just for the sake of photography, I also enjoy it from the standpoint of leveraging the platform for business. This can present itself in a multitude of ways but we'll be looking at it in the form of a person as the business. Influencers have rapidly become one of the most powerful marketing tools in social media.
Austin, Texas is the home of @wattage_cottage and the subject of this Essential 'Grams profile. It's been interesting watching her evolve from being a damn good brand ambassador into an influencer with her own business selling personally branded products and building her own team of ambassadors.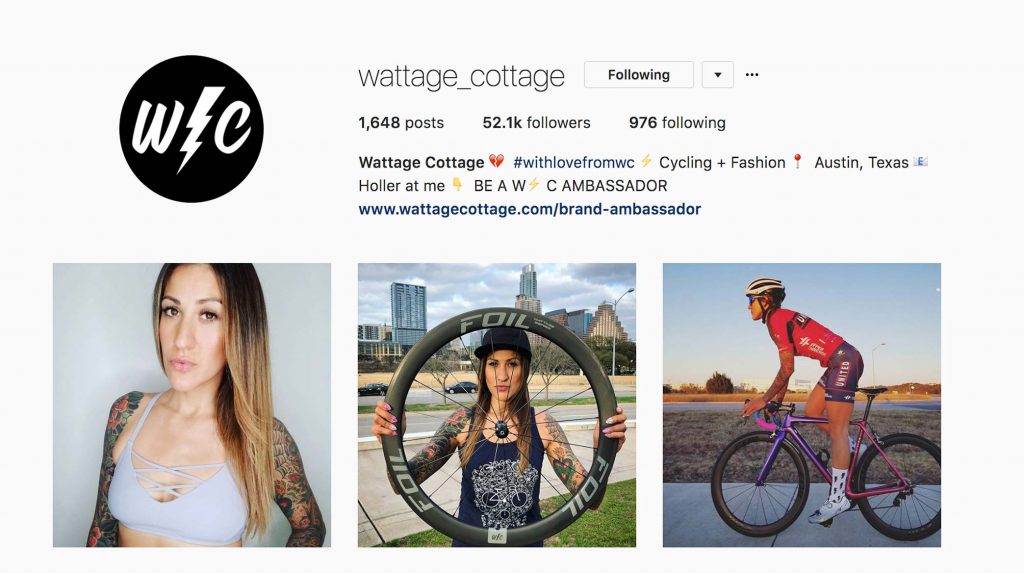 @wattage_cottage Profile
Tell us a bit about yourself.
I am from Austin, Tx and started racing bikes 6 years ago. Before that, I worked as a group fitness instructor would occasionally ride for fun in a local club. Cycling changed my life and helped me get through a very difficult time. It's my mission to share my experiences and inspire more people to ride, race or just live a healthier life. I am currently shifting my focus to ultra racing, as it brings more opportunity for travel and learning–I also thrive from suffering haha. I have an 8-year-old son, Liam, who is the most important person in my life–he is a mini-version of myself. I love to cook (especially bake), but I don't cook meat because I am a vegetarian.
https://www.instagram.com/p/BdYpBAVjZMf/?taken-by=wattage_cottage
How or why do you use Instagram?
Instagram is my profession. I started out by becoming a brand ambassador for various cycling-related businesses while I worked at a bike shop. I was recently divorced mom and had no real job history. Initially, I made no money from Instagram but was compensated for my photos with products–products I couldn't afford on my own. This worked out great for a while until my following/demands mushroomed. For all the time it took out of my day to create content for these other brands, I was still making no money.
https://www.instagram.com/p/BMXSgQ6FL1W/?taken-by=wattage_cottage
Most of the cycling companies began setting strict guidelines as to what I could post or would refuse to let me post anything about a competitor. I found myself feeling trapped. Instagram became a chore and began negatively affecting my personal life and overall happiness. So, I changed my approach and branched out to other categories in the health/fitness industry to find partnerships that paid me for my time. This worked well enough for me that could quit my job and focus on Instagram and I even launched my own sock line a couple months ago to earn a living as a small business owner!
https://www.instagram.com/p/BbSoMXlg2fG/?taken-by=wattage_cottage
I still work with cycling companies, but now I approach things differently. The industry is changing as influencers are gaining more respect as a real marketing tool for business. Now, all the cycling companies I rep are mutually beneficial partnerships which allow me to promote my own brand as much as theirs. This is where I am now, and am grateful for the opportunities Instagram provides–it's accessible to everybody and the harder you hustle, the more return you get.
What do you shoot with?
Just my phone (Samsung Galaxy 8)
What's your post-processing routine?
All phone. I use the Instagram app to edit all my photos.
https://www.instagram.com/p/BfYxLlpnK1W/?taken-by=wattage_cottage
What's your selection process for posting an image?
I choose photos based on quality (like it can't be blurry). I prefer simplicity and straight lines and lots of light.
QUICK—NAME 5 IGERS THAT PROVIDE THE STOKE FOR YOU!!
@northsidewheelers
@sean_sako
@theradavist
@caroferrerb
@patbailey
Social Linx