There was a time where any type of pack or bag on my fiets was expressly verboden. As a rule, I vehemently argued against such things, long before "The Rules" were written. There was no way I was attaching anything remotely resembling a pack and or a sack.
That was before I started obsessively documenting my rides using a minimum of 5 separate devices. That's not even counting the tripods, a gimbal, extra batteries, and, when I'm feeling extra #outsideisfree, coffee making paraphernalia. No longer is simply holding up an iPhone to snap a quick selfie enough.
Obviously, 3 jersey pockets don't cut it.
The Apidura Compact Saddle Pack
Since I'm no bikepacker, it's been difficult to get bag makers to send me samples to test. Apidura was cool enough to take a chance and send a couple products my way.
The Apidura Compact Saddle Pack ($110USD*), at 11L is the smaller of their standard saddle packs. They say it's "ideal for endurance road racers, randonneurs, commuters and other cycling enthusiasts." That's spot on. It's large enough to carry clothes and essentials for work, and it's been indispensable for carrying my equipment on my rides.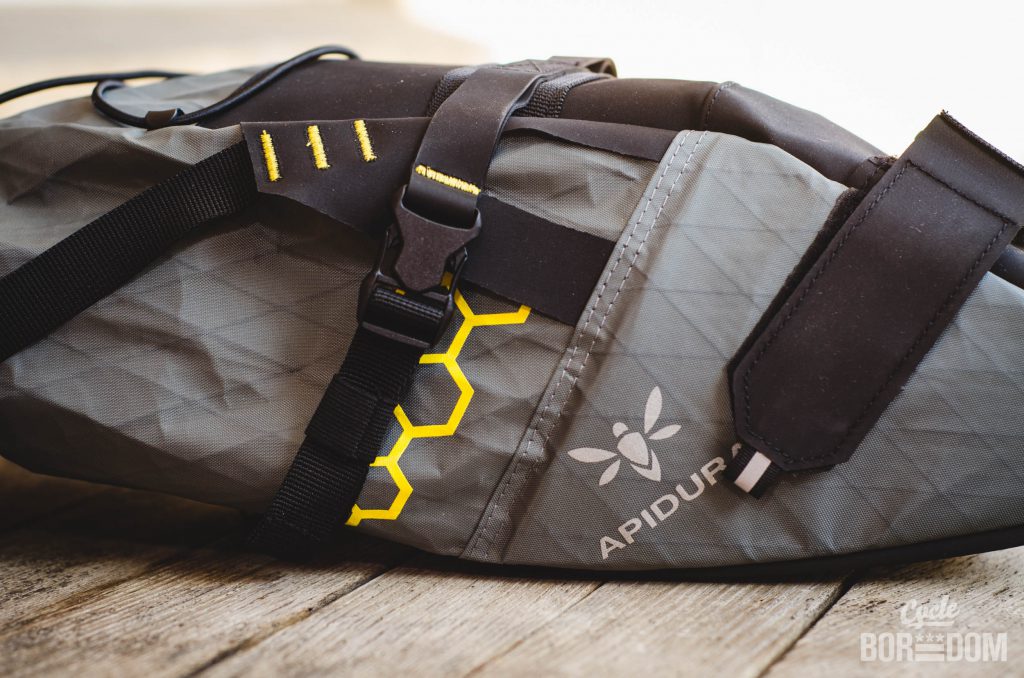 The construction is sound but not heavy whatsoever. 4-ply laminate fabric is waterproof everywhere except for the seam stitching. If you're looking for a dry sack, they recently added 2 sizes to their lineup. However, I've been in multiple downpours and a snowstorm and have yet to see any evidence of moisture creep.
When properly and thoughtfully secured, the Apidura Compact Saddle Pack doesn't move much. There will always be some type of movement considering how much you're able to carry in the thing. However, the strap system does a more than adequate job of cinching down based on capacity.
As with most of these "First Look" posts, I've already had extensive use of the product, but not enough to provide a rated opinion. I'm also hesitant to rate the first product from a category I'm not widely versed. Once I get a few more packs I'll be able to compare and contrast their features and benefits.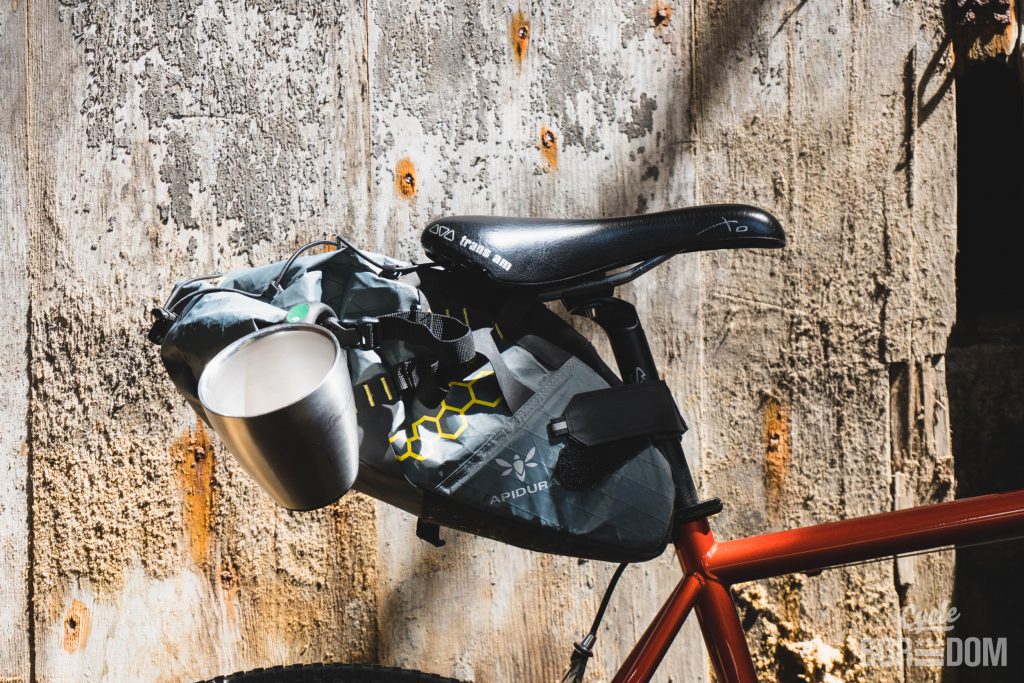 3 Points About The Apidura Compact Saddle Pack
• It's incredibly light for its size. And incredibly tough for its weight.
• It carries WAY more than what you expect. You can go overboard quickly.
• It's been completely out of the way. Legs have yet to touch it despite full capacity.
Follow along on Twitter/Instagram/Facebook as I test the Apidura Compact Saddle Pack.
* Pound conversion to dollar is obviously in flux at the moment. Plus, I didn't calculate the VAT reduction. I may be completely wrong on the price.