I've been sitting here staring at the screen, completely at a loss of what the lede to this post should be. So, I'll take the "high" road and…
Dammit.
Teed up jokes aside, CBD may be the answer you're looking for when seeking alternatives to NSAIDs and opiods to manage pain. As you'll read in the press release below, Floyd swears by it.
FLOYD'S OF LEADVILLE INTRODUCES CBD HEMP OIL NUTRITIONAL SUPPLEMENT
An All-Natural Pain Solution To Get You Back Into The Competition, Now Shipping Internationally
LEADVILLE, COLORADO – floydsofleadville.com – Floyd's of Leadville, a Colorado Based maker of CBD pain management supplements introduces CBD Hemp Oil soft-gel capsules. As a former Tour de France champion, Floyd Landis is an expert in pain management. Years of racing at the sport's highest level left Landis with chronic pain and serious motivation to find a non-addictive, natural recovery solution. After discovering pain relief through natural sources, Landis launched Floyd's of Leadville CBD Hemp Oil, an effective soft-gel capsule that gets rid of pain so you can get back into the race.
"The therapeutic uses for CBD can't be ignored. For years I relied on opioid pain relievers to treat my hip pain. With this hemp oil, I find that I can manage my pain and have a better quality of life. We need to give people a safer alternative."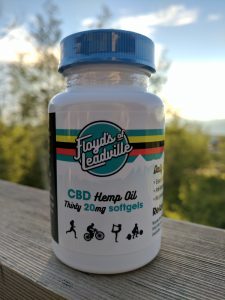 Floyd's of Leadville CBD Hemp Oil enters the all natural pain and anti-inflammatory relief industry specializing in pesticide free all-natural hemp. Know for its relaxing effects, hemp oil also contains essential fatty acids that offer additional health benefits. With all these positive effects in one small soft-gel capsule, Floyd's CBD Hemp Oil is the perfect remedy for any athlete's aches and pains. CBD Hemp Oil soft-gel capsules are now shipping internationally and available at select bicycle dealers and specialty stores.
What Makes The CBD Hemp Oil Different?
Natural: No preservatives or additives in the capsules, only natural CBD hemp oil. 100% Hemp based and non-psychoactive.
Effective: Utilizes the best anti-inflammatory formulation.
Healthful: Includes essential fatty acids such as Omega -3, 6, and GLA.
Product Features:
Daily supplement soft-gel capsule
20 mg of cannabidiol (CBD) per serving
480 mg of hemp oil
Essential fatty acids (Omega -3, 6, and GLA)
Anti-inflammatory and stress formula
Relaxing effects
No preservatives or additives
MSRP: $49.95 (30 servings)