Night & Day
The cultural dichotomy between Arlington, VA and Whiteford, MD is vaast (Flemish version). Even though I was raised in the northern territory, living in DC and Arlington since 1996 has made it seem alien. So, what's the best way to integrate yourself into the local populace after a long absence? Wander around the countryside on a pushbike dressed like a ninja scuba diver. Bear with me as I reminisce ever so slightly during my journey through the ol' stomping grounds.
The gauntlet was thrown down & immediately run over
Cue: Right on Rt-136 (Whiteford Road)
Feeling cocksure and ready to face the locals I snapped the shot below and loudly tweeted:
Alright hicks, watchu got?! 🙂 campl.us/hefH

— Cycleboredom (@Cycleboredom) December 25, 2011
Their answer was swiftly sent in the form of a ludicrously oversized 4×4 buzzing me as they illegally passed a turning car on the shoulder. It's something you expect out here so I was positioned in the grass, but it was a gentle reminder that I'm cycling in the land of the car.
See that rise way in the distance? That's Whiteford Hill. Living on Rt-136, it comes 2.5 miles into the ride and hits 8.5%. It makes the heart and lungs do funny things. The shoulder disappears when the slow lane starts at the base of the climb forcing you to go anaerobic while cars are passing within feet of you. Thrilling!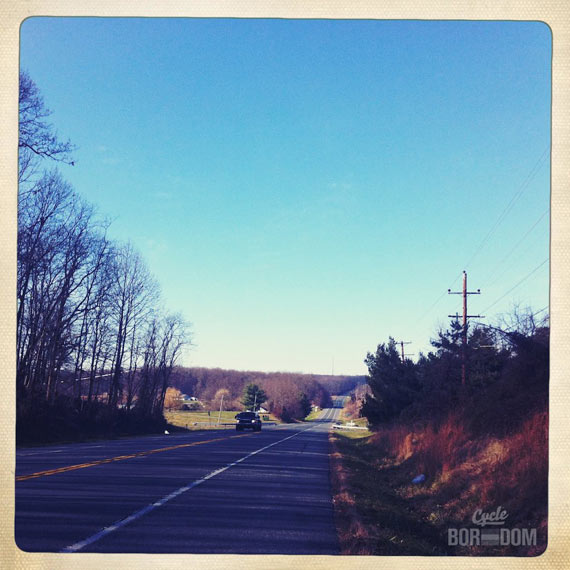 Memory Stop: Slate Ridge Elementary School
Cue: Right on Main Street
After the lung-busting ascent and subsequent hope-and-pray decent, I turn onto Main Street for my first stop—the proverbial little red school house. And by red, I mean brick. And by school house, I mean converted apartments.  People are sleeping in my childhood memories.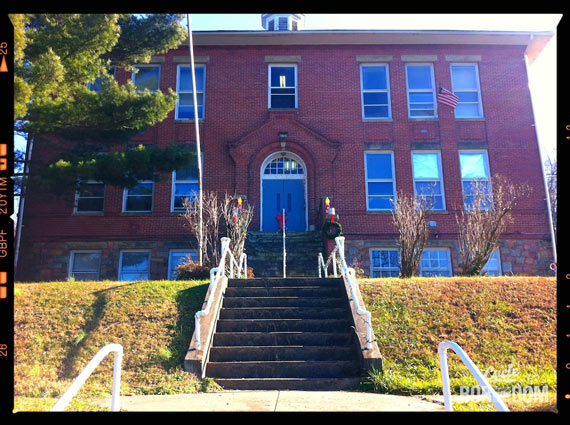 As you enter from the street you pass the white retaining wall of the house sharing the parking lot with the school. In my first act of public vandalism I drew a line the entire length of the (then) pristine white wall with a giant carrot I had been gifted during our visit to the Whiteford Packing Company down the street. I ended up having to wash the wall as punishment. In an ironic twist of all ironic twists, the owners of the wall ended up being my sitter for 4th and 5th grade years. They had forgiven me by then.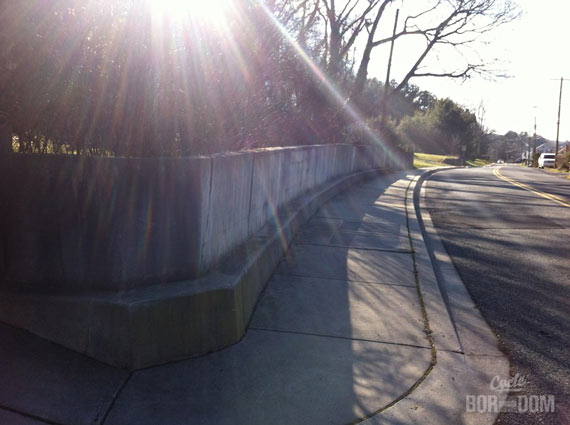 Never truly appreciating its significance when I attended, the fonts over the gym doors are magnificent. Inside, the many horrors of gym class were born. Especially that damn climbing rope…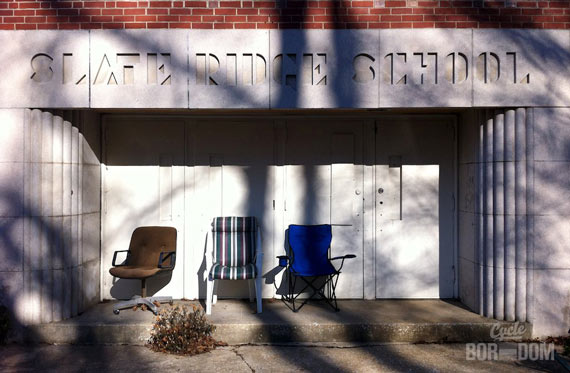 About 100 yards or so down the street is the view below. Lots of memories of that route to school. I remember jumping across gaps as I balanced on the brick/stone walls in front of these houses. Some were too far to when I was really young, but I distinctly remember the exhilaration once I was able to clear them as I got older. I also recall one of the houses on the right was that creepy one you never wanted to go near. Pretty sure it's a meth lab now. Some things never change…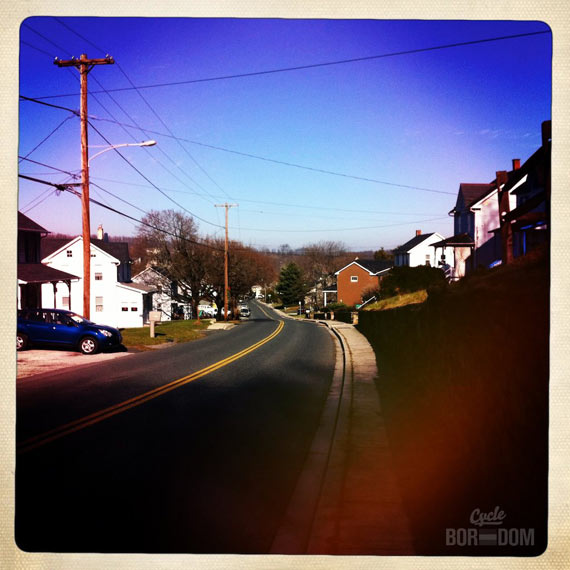 Memory Stop: Delta/Cardiff Feed Store
Passed this every morning and afternoon on my way walking to/from school. During the busy season the air was suffocatingly thick with dry corn dust. It smelled amazing.
I loved this Mason-Dixon marker as a kid. It always felt like a historical relic from ancient times. It turns out my feelings were correct as this M-D marker was probably erected in 1765.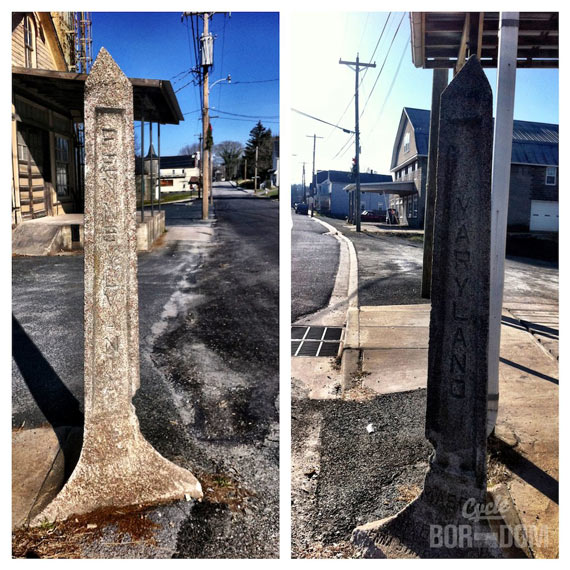 Cue: Left on Dooley Road.
Once a wretched hive of scum and villainy, this former gas station/live bait/liquor store is a mere shadow of its former glory. Which makes the fact they have such city-slicker beer like Fat Tire Ale all that more surprising. Although, they might be superimposing dreams of massive 4×4 mudders rather than puny MTB tires.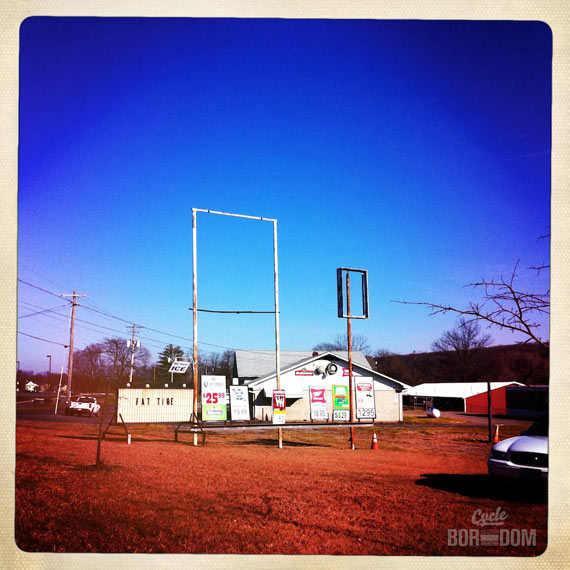 Cue: Left on Rt-165 (Pylesville Road)
This stretch of road was, and I think still is, where you could find out how fast your car can go. That's life in the middle of nowhere.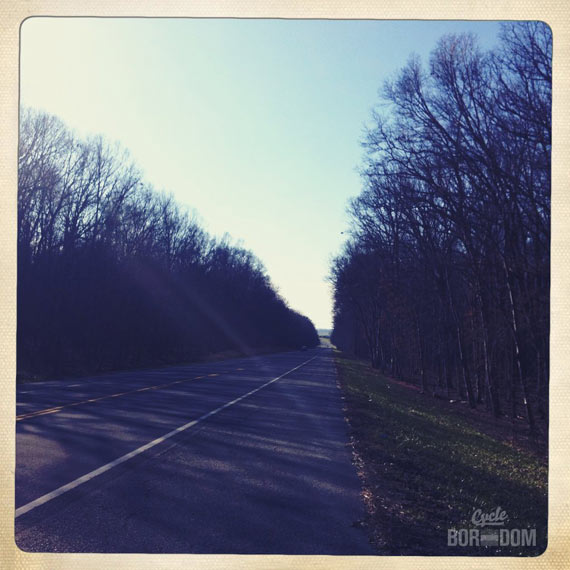 Waaaaay in the distance is our local John Deere dealership, solidifying our ruralnicity. But just before that and just after the tree line ends, there's a clearing. Which makes that section of road a deer crossing extravaganza, inevitably leading to…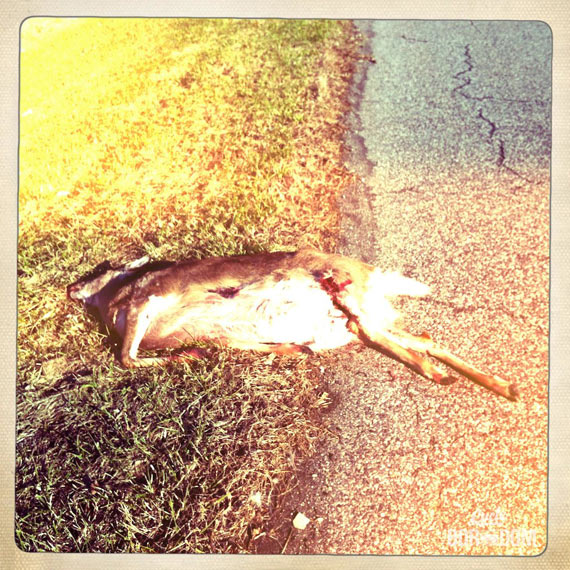 Memory Stop: North Harford Middle School
After a few miles of familiar old fields interspersed with alien looking new housing developments I arrive at my former middle school. Ma Boredom taught here when it opened and only just recently retired after an incredible 40 years of educating. Chapeau!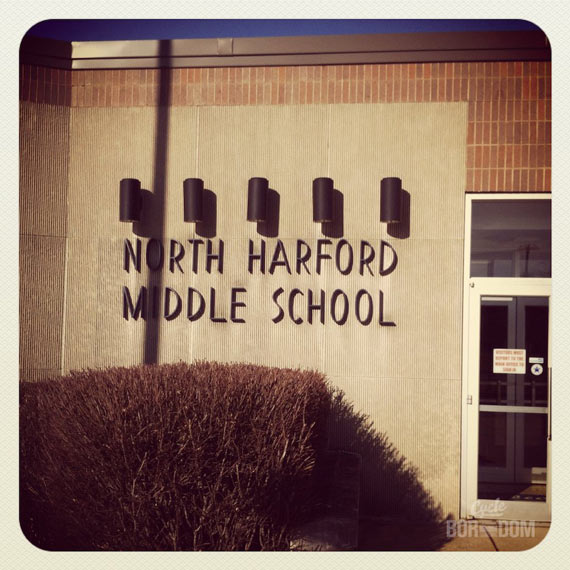 Although, I don't remember this being necessary back then. Thank you, nonsensical fear.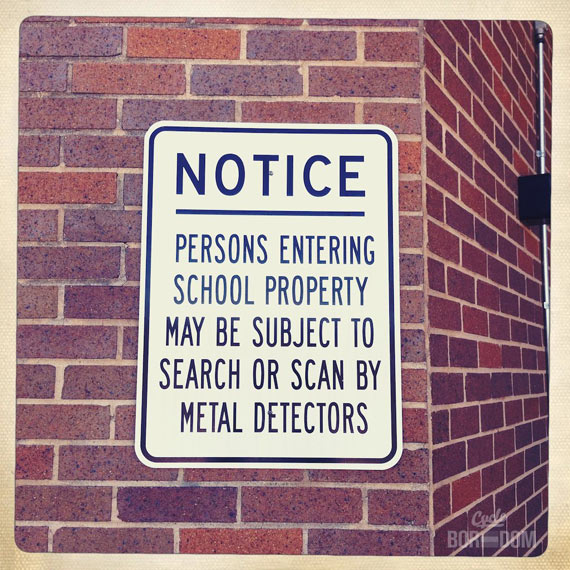 Cue: Turn back at roundabout, stay on Rt-165
Bad Memory Stop: North Harford High School
Across the street is my high school. Bad things happened there. Dark things in dark halls. But with the '07 makeover it looks like a happy happy 90210 school—at least from the outside.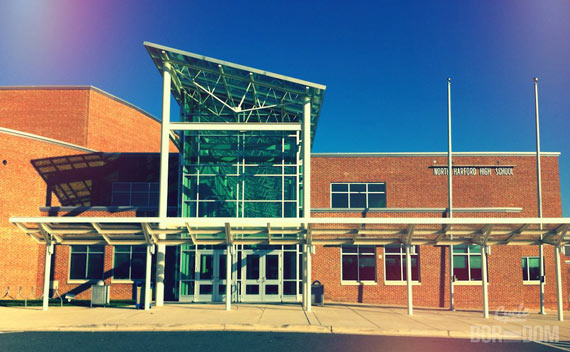 Since the Xmas drivers were getting nuttier and more numerous, I decided to take the road less travelled.
Cue: Right on Old Pylesville Road
Immediately after turning off I snapped this shot of a familiar post-school stop: Halsey's. All I remember is chocolate chip ice cream cookies. I always seemed to be hungry immediately after school let out.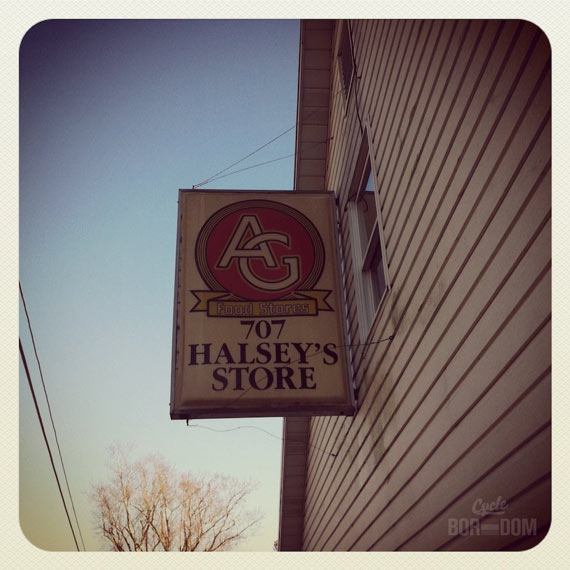 A little further down the road less travelled is another store of convenience. This one, however, has certainly seen better days. Now it's a meth lab.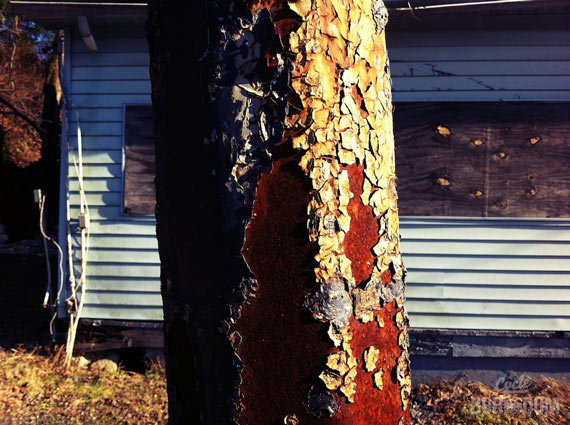 Scenic overlook, maybe. Sadly, many of the local farmers are getting too old to run the farms and are selling their properties. Housing developments are showing up in the strangest places.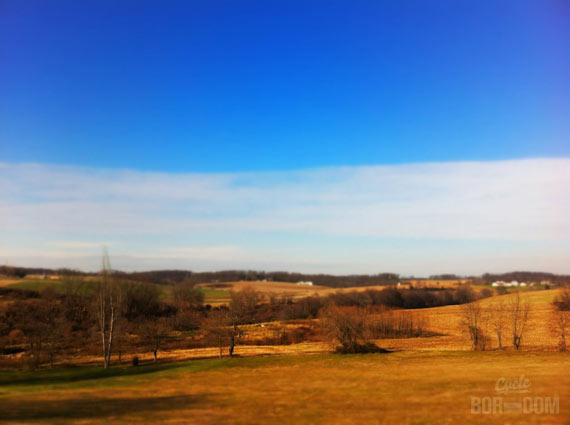 Whiteford Hill…Again.
Cue: Right on Rt-136
After a few decent out of saddle efforts on the previous road's rollers, I was debating whether or not to hit Whiteford Hill again. Deciding to go for it, I put my head down with no intention of stopping for a shot. This GoogMap screener will have to suffice. Fun fact: the speed limit is 30mph, but most travel 15-20mph above that. Notice the complete lack of shoulder. Again, thrilling.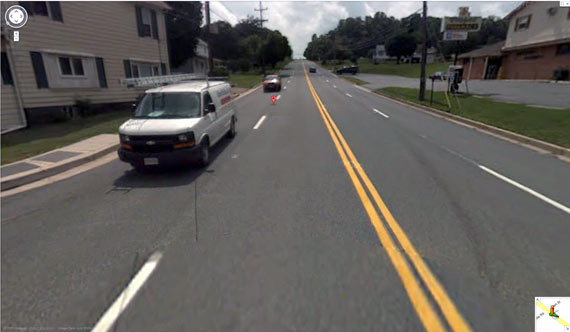 Cue: Left on Jones Road
At the top of the hill, and once I recovered from my greyout, I make a quick left onto a road that I never travelled on in the 23 years I lived here—Jones Road. It's one of the few remaining dirt roads in the area and I relished the opportunity to get all Rapha Continental on it. My Specialized Roubaix Armadillo Elite did NOT disappoint! Super smooth over rocks, potholes and other various country nastiness.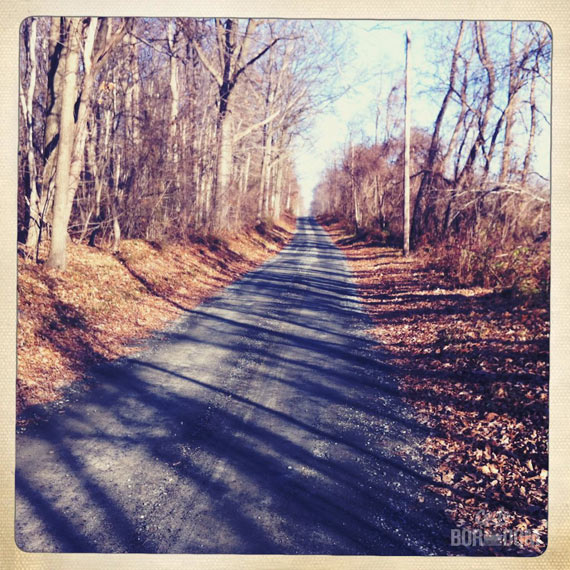 Cue: Slight left onto Ridge Road
Quickly off of Jones then onto Ridge Road I decided that I had to cross back over using another oft unused road. Back in the day Slate Ridge Road was a fantastic place to hear dueling banjos. But today I was astonished to see some massive houses where Ned Beatty might've knelt. In the first 50 yards of the road the grade hits a sweet 9.0%—and my legs started to get pissed.
Cue: Left on Slate Ridge Road
Some Strava evidence, FWIW. Let's just say I'm not at my ideal climbing weight when compared to my power output. Those two elements will never align, sadly—I'll never be that skinny!

With nearly everything named after slate, there has to be a reason right? Well here's why: there's actual slate on a ridge. No longer in use, the mine yielding slate once deemed the best in the world (Crystal Palace Exposition of 1850), operated from 1734 until 1944.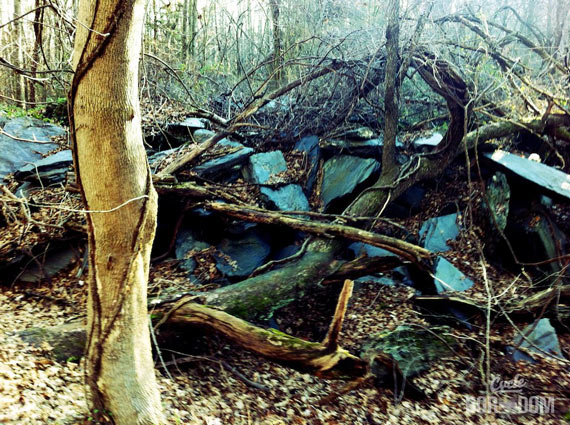 Cue: Right on Main Street
The rest of Slate Ridge Road drops down into Cardiff but not before providing some descending thrills. I made a right back onto Main Street again this time continuing on into Delta, PA. Starting with staying with the sitter to go to school, all the way up to my debaucherous high school days, this street played a large part in my "development" as a human—for better and for worse. The picture below has nothing to with any of that, though. I just wanted to get a shot of the service bear before it rusted through. Also, I think the shop is now a meth lab.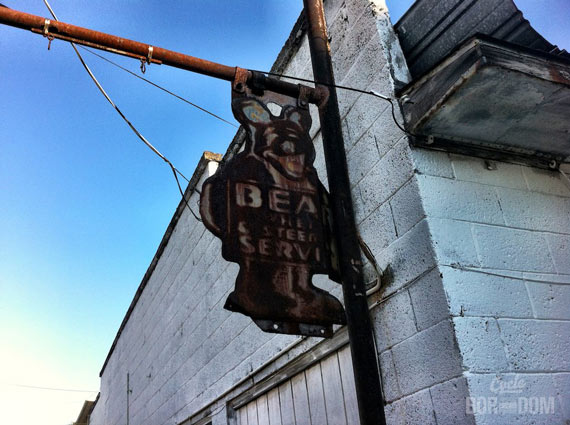 Yes, that's a genuine, fully functioning general store!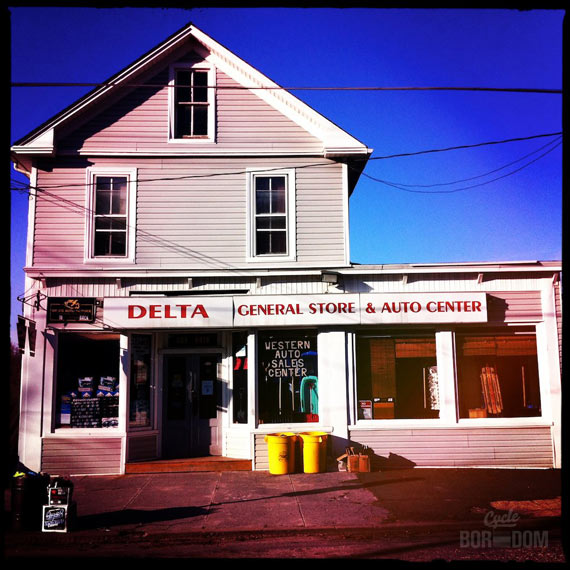 As I've touched on a little earlier, Delta, PA is an old Welsh slate mining colony that ended in tragedy when the remaining inhabitants ate each other in a vain effort to stave off famine during the great blizzards of 2010. Okay, the first part is truthful as evidenced by the evidence provided below as well as the slate pictured 3 shots above.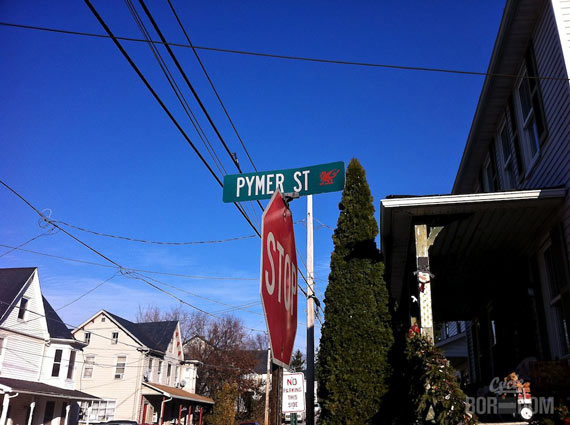 In this land, the sidewalks are paved with slate.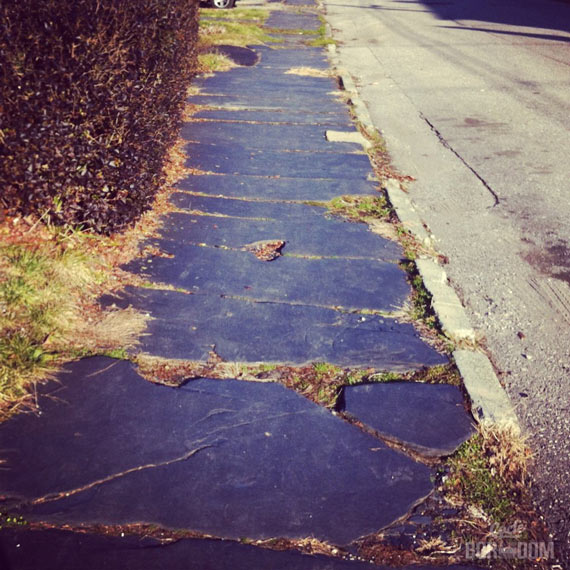 This African American church has always felt like an embassy in an unfriendly foreign land, but it has thrived since 1900. It should be noted the Confederate flag is still proudly flown in the region, regardless of their location north of the Mason-Dixon.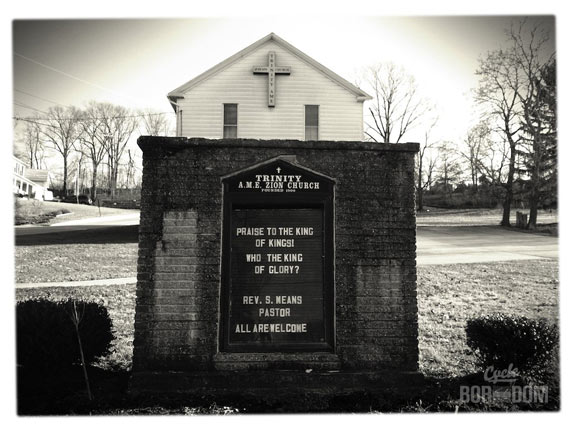 Immediately to my left: "We're Knights of the Round Table, We dance when ere we're able!"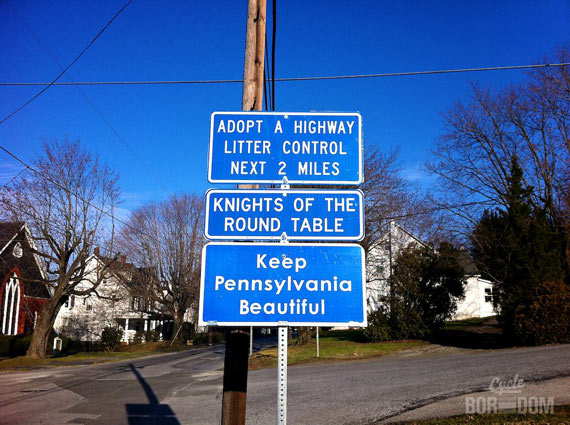 Cue: Continue on Main Street as it turns into Atom Road/Peach Bottom Road
Slate is everywhere, and it's not always in slabs. Sometimes it's in chunks. Drove by this for years and never noticed it. Bikes get you closer to your surroundings. And by surroundings, I mean this creepy haunted house.
Going in for a bit of detail, you'll notice that amazingness is involved. That's slate people—its sole desire is to break into slabs.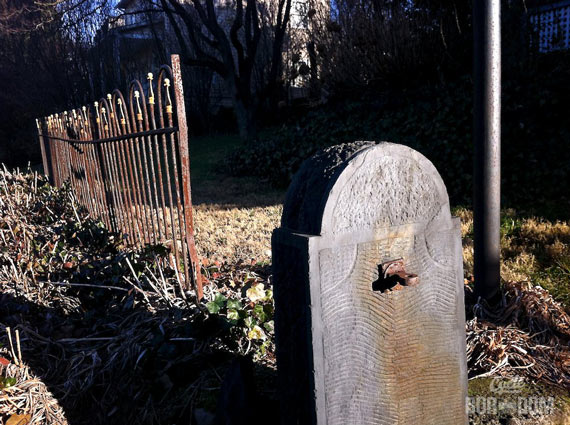 Cue: Right onto Slateville Road
Making the final stretch of what I consider the back way to getting home, I'm greeted with this National Geographic-esque facial of Americana. Or, at least, that's what I think when I see it.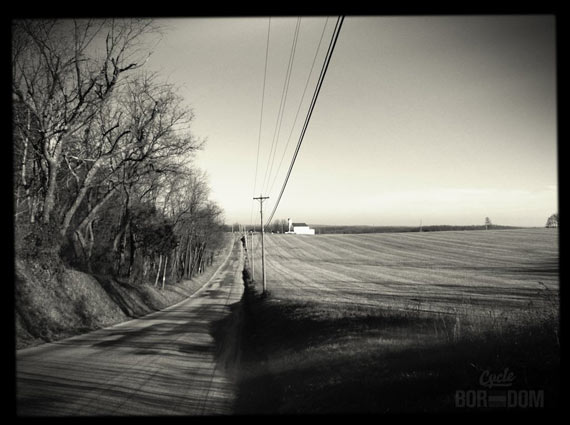 Cue: Turn right on Prospect Road
Make it to the church, turn right and you're faced with this. I love these expanses.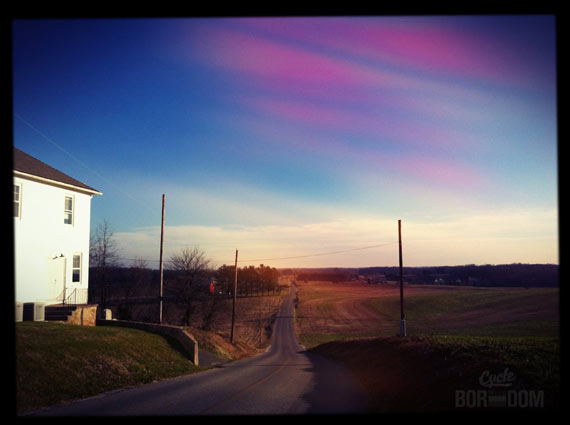 The final miles of the ride are played out on unmarked, crap chip-seal rollers with a nasty pop waiting at the end. It hits 10%, but at this point of the ride and considering how bad my legs are feeling now it might as well be this:
Again, no shot considering I approached this climb with fear-driven speed only to cramp halfway up. Amusingly, there's no Google Street View shot since this is too remote for them to consider.
A few more turns and I'm home. I was too tired to snap a shot where I got plowed by a car in 6th grade while riding my bike. It's very close to home, and seems to be a nexus of disaster. The house whose driveway I bolted into the street from burned down last year. Creepy.
Finally, if you've read this far, I'm sorry.
Huy image by: Claus Moser on Flickr.