Pac-Man is essentially the yellow jersey on a lone breakaway, relentlessly pursued by a multicolored peloton. Then, just as he's about to be reeled in, our maillot juane hero chomps down on a pulsing power pill left at the roadside by his soigneur who's promised it'll make him "strong like bull." Now invigorated by this fresh injection of morale, the artificially powered and obviously glowing protagonist proceeds to attack the peloton, eating any and all in his way. Now that the competition has been devoured and the road's been cleared, he's free to finish the stage solo. Then, just like le Tour, they wake up and do it all over again.

Anyway, here's Ritte's Special Edition "8-Bit" ($92USD jersey/$109USD bibs) kit that's available for pre-order until August 4th.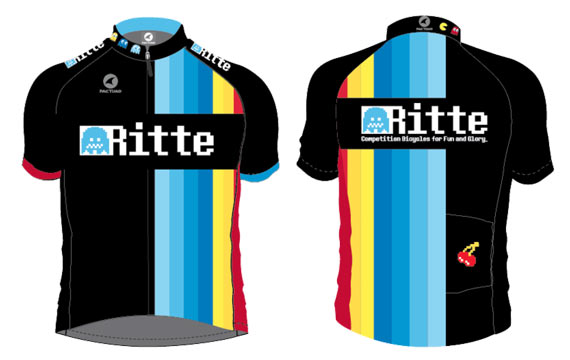 The Pactimo made jersey boasts a plethora of technical features: a front, a back, side panels, a couple sleeves, a collar, rear pockets and a zipper. Colors have been added to make these features more attractive.
The same attention to detail can be found on their bibs as well.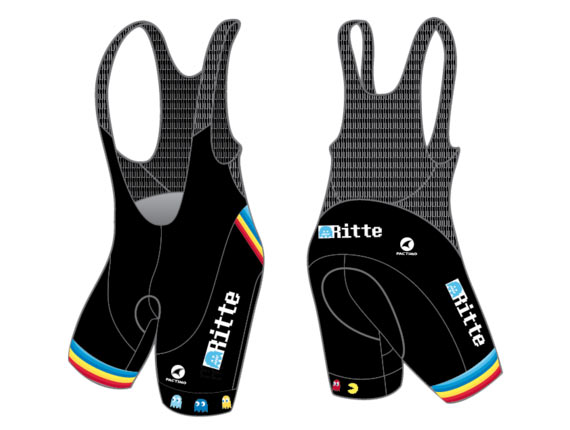 Ritte knows how to treat the ladies. Did you know they have a wereldklasse ladies cycling team? Women's kit shares the same deets and prices as stated above.