Marco Pantani – Eccezionale Scalatore Puro
Granted, this isn't much of an homage to one of my favorite riders but I had to get something out there.
Eight years passes quickly. Still remember reading about his passing on my phone as I was walking to eat tapas with the future Mrs. Boredom and my parents. While I was initially shocked at the news, I wasn't surprised. It was one of those things you knew was possible considering his mental state. Must've relentlessly eaten at him being the media's doping scapegoat while Armstrong continued unabated artificially destroying the peloton.
Omaggio Il Pirata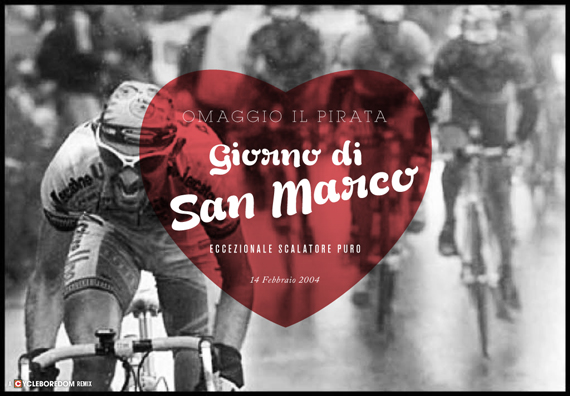 The Oropa Video – Giro d'Italia 1999
Want to witness the firepower of this fully ARMED and OPERATIONAL battle station blood doping? After a mechanical (dropped chain) during the climb of Oropa, Marco procedes to absolutely DECIMATE the field. Look at the riders he passes like cyclo-tourists on his way to the finish—astounding. Sadly, six stages later he'd be dramatically removed for a (obviously) high hematocrit level. This was the beginning of a tumultuous end.
Marco Portrait by Jordygraph
Found this fantastic illustration by the artist Jordygraph on DeviantART. His business/portfolio site is Giordanoaita.com.