Supremely stoked fer 'Merica, supremely crushed I couldn't attend. Then again, who would've called the race on Twitter if I wasn't here?
Enough of these trivial sentimentalities, it's time fer racin'!!
Ras voor de Wereldkampioen

BEGINNEN!! No Van der Holeshot today. I'll think he'll be fine in the end, though.

From what I could tell, Louisville wasn't all that bad. Hell might be a bit strong.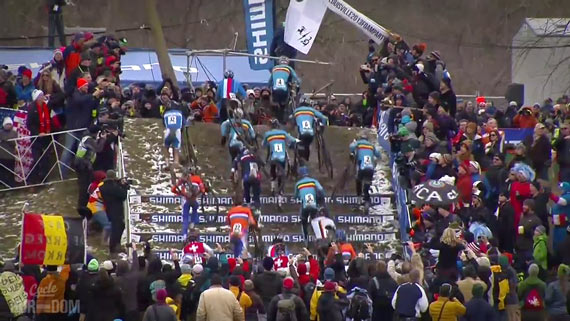 First time up the stairs and it's nothing but blauw. Also, FOAMPARTY.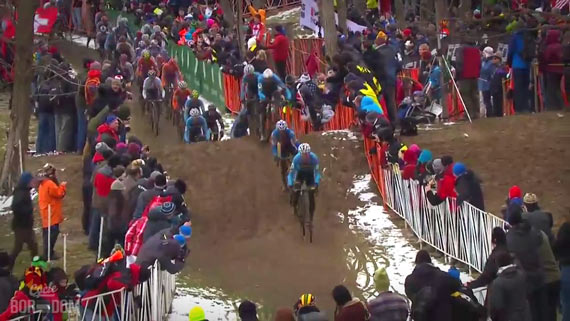 Apparently this cyclocross race was located somewhere in the United States. I call bullshit.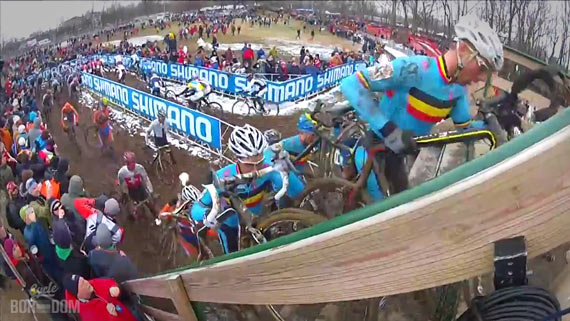 Nys lets Niels know how his day is going to go by putting him into the rail first time up the stairs.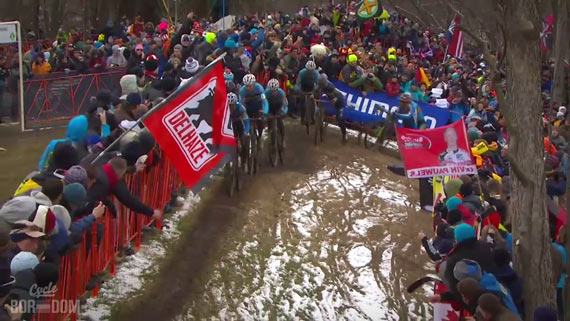 I can't get enough of this shot of the DELHAIZE sector—perfect candidate voor de word epic.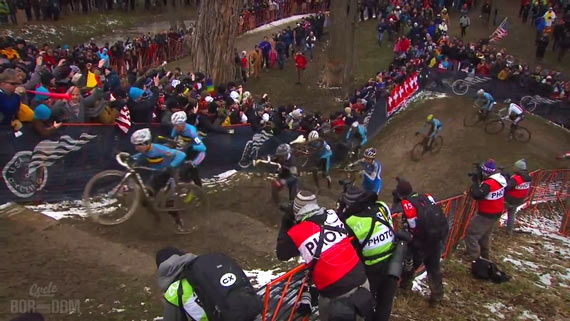 Weird off-camber-hill-thingy and the stone stairs caused problemen every race. It decided this one.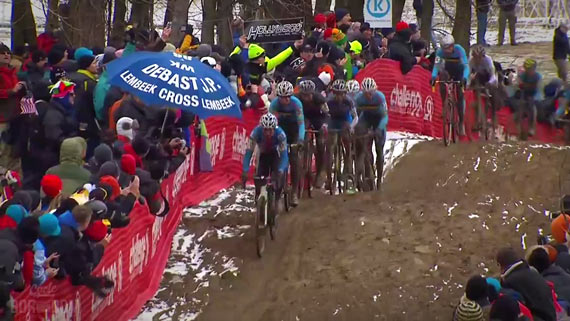 Louisville, I officially dub thee: Looiebeke. I will have umbrellas made.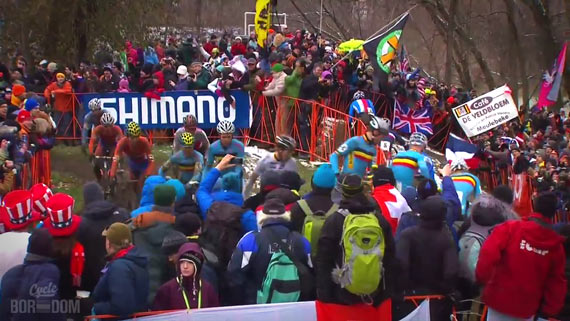 'DAT CROWD!! Looiebeke, you done well. Loved this strange little off-camber turn and run thingy.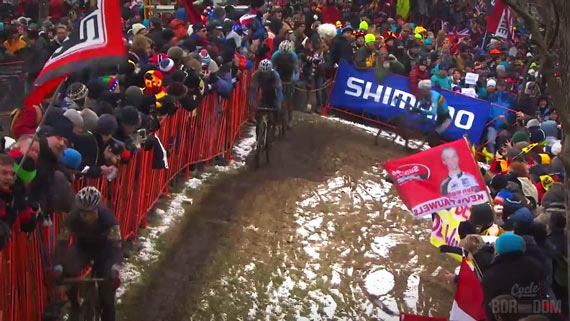 Mourey making mooves and making Belgians woork.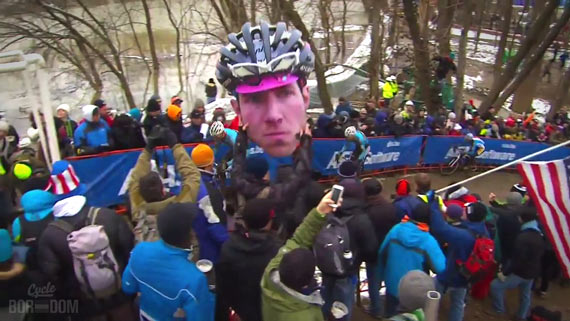 Unfortunately, this was the only time we'd see J-Pow with the Belgians.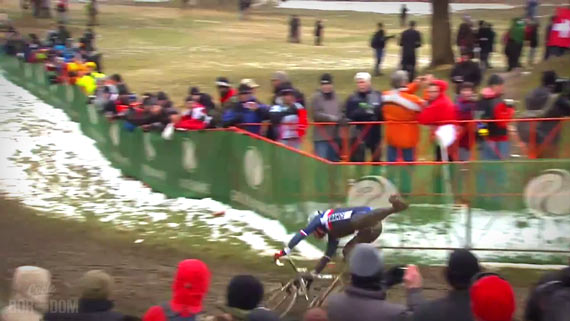 Post-race, the Prophet Nys said he'd wait until Mourey made some mistakes.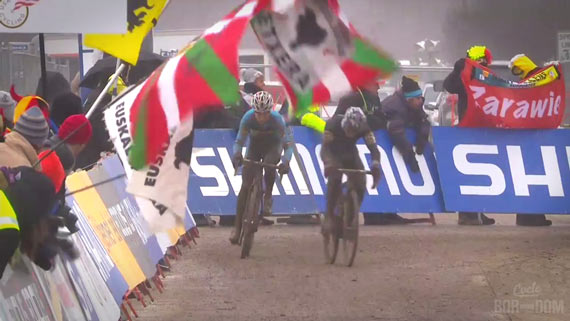 Pauwels catches Mourey with nog 5 ronden. Also, Basque Separatist Flag is the new Dirk Hofman.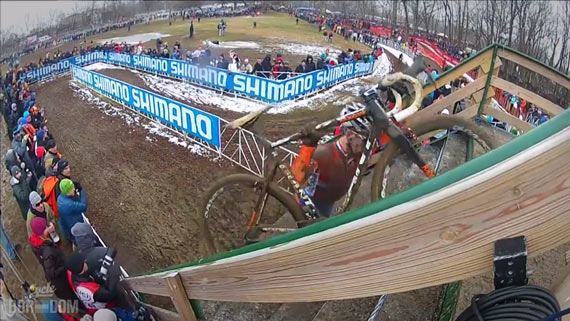 Lars van der Haar woorking haard alone, just behind…

…Werkgroep Franco/Belge. Status quo voor several ronden.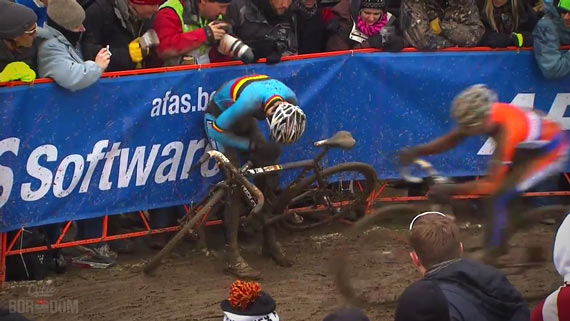 Pauwels makes the tragicomic mistake of taking a pit bike from Sven's mechanic.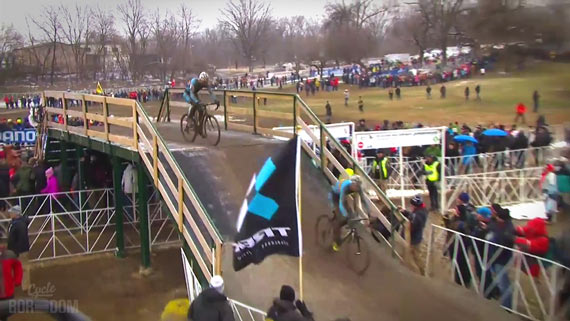 Klaas and Sven alone in front. This is your race voor Wereld Kampioen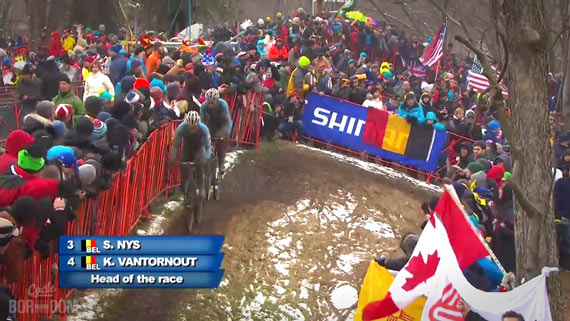 Nys and Vantornout continue to distance Victim and VDH. Save for a few stretches of the elastic, these two were matched evenly.
LAATSTE RONDE!! ALSO, HTRWW™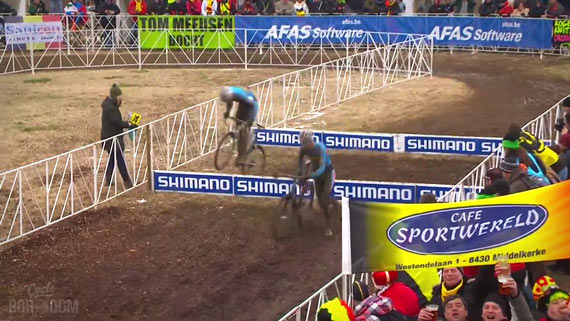 Two different approaches to the barriers. Race not decided here.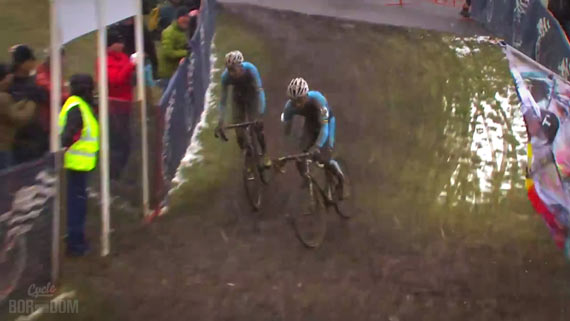 Nys moove by Sven—cutting the turn sharply getting into the weird off-camber-hill-turn-thingy first subsequently puts Klaas under pressure.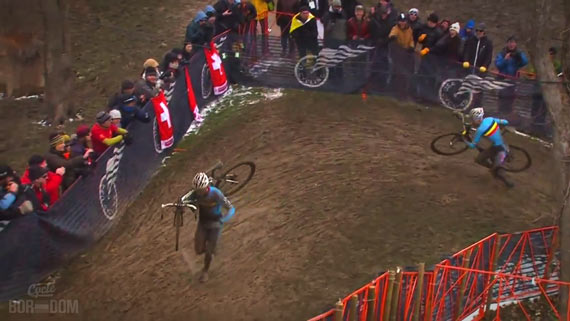 Klaas makes his first mistake. Wrong line into the weird off-camber-hill-turn-thingy gives Sven some sweet gaap. Klaas suddenly senses something is different, something is changing—a transformation perhaps.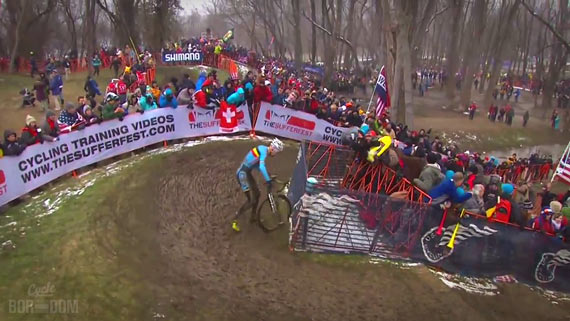 Pushing haard to close the sweet gaap, Klaas cuts the corner too close catching his pedal on the fencing. Race over. His transformation into Victim begins in earnest.

OVERWINNINGS!! Also, saad Klaas as Victim.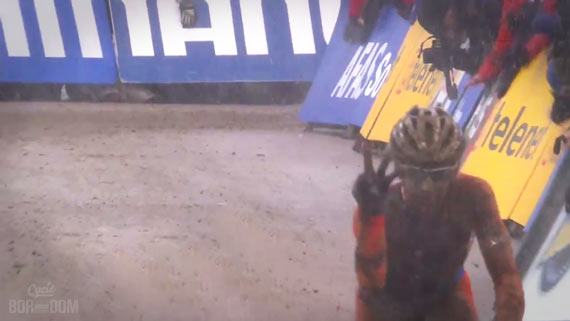 Lars van der Drie shows his appreciation for acquiring the third and laatste unclaimed podium step.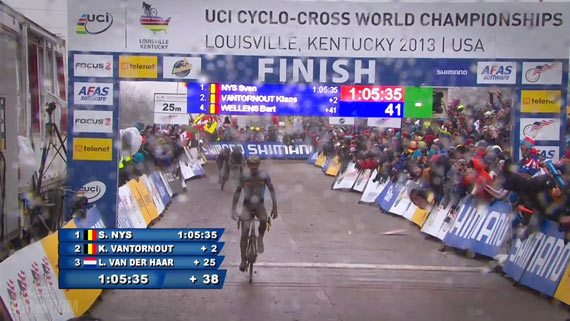 Out of fuggin' nowhere, Bart-Fuggin-Wellens takes fourth!!

The only time Klaas smiled on the podium was when McQuaid was booed—soundly. Lars' expression is PRICELESS. "Ooooo, They Booin' Pat!!" Klaas then immediately resumed his replacement stint as Victim.

Apparently, this gentleman from Rasmussen Bike Shop is demonstrating proper techniek voor Contrôle Anti-Dopage. Unfortunately, all available chaperones are looking elsewhere—this controle is inadmissible.