2016 DVV Trofee Scheldecross Cyclocross
It's your boy Boredom returning with that GIFcap recap! Been dying to do these for a while but my own videos took precedence. My season's over, theirs isn't, so here we go!
Mathieu van der Poel and Wout van Aert have been throwing down some pretty epic battles this season, but this weekend (including Namur), in particular, was amazing. Also, Kevin Pauwels has continued his traditional rise to mid-season form, holding his own with the two wunderkinder.
ProTip: let them load. These files ain't small.
LET'S GIF IT ON!!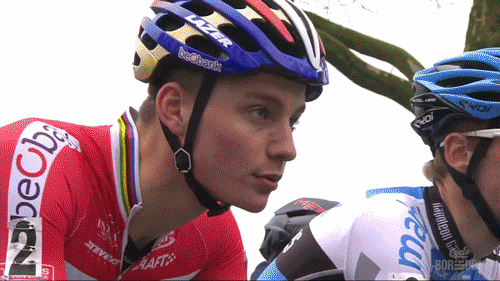 <sound of shoes clipping into pedals>
First time up the up and downs. Let's call this, "The MvdP Secteur" which also includes the barriers.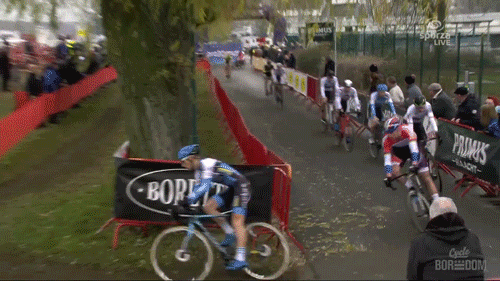 Yooo, that u-turn nasty, b.
This was a shitshow all day. The consensus was it was a last minute addition for UCI compliance. Whatever it was, it was genius. Watching the progression of how they executed this turn was fascinating.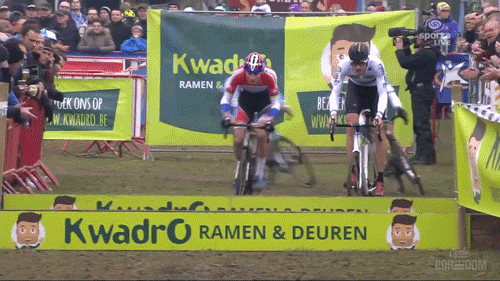 Wout and the barriers. He's been getting better all season but it's still an issue, especially when compared to the speed in which Mathieu clears them. While it wasn't a decisive element, it definitely put Wout at a disadvantage when trying to catch MvdP after he would get a gap at the beginning of "The MvdP Secteur". Lastly, watch his setup—he has to slow down significantly, enough so that Michael Vanthourenhout passes him like he's standing still.
Midway through "The Wout Secteur". That boy can run.
#flickboi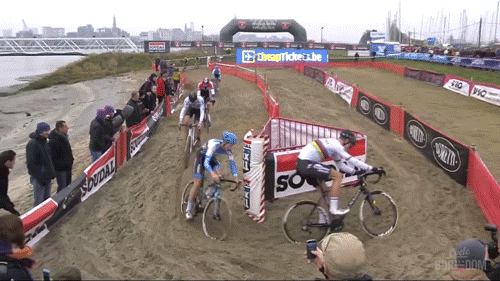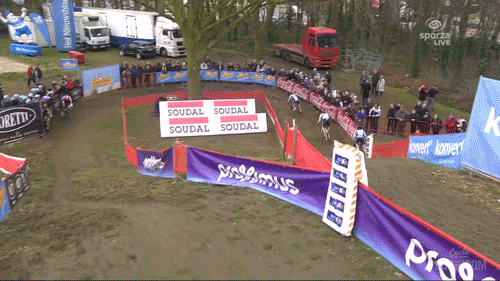 MvdP had his eponymous secteur dialed. He consistently built his speed up at the bottom so he didn't have to use #strugglewatts at the crest like almost everyone else. Multiply this by 3 and there's your gap.
It took an entire ronde voor Wout to catch MvdP.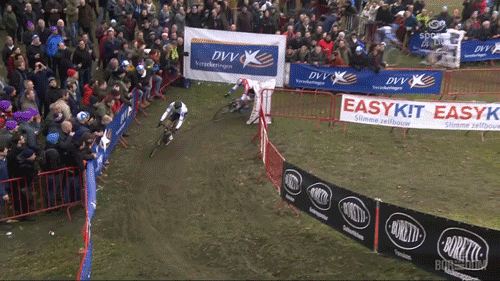 This time he makes sure to set the tempo by getting to the Secteur first.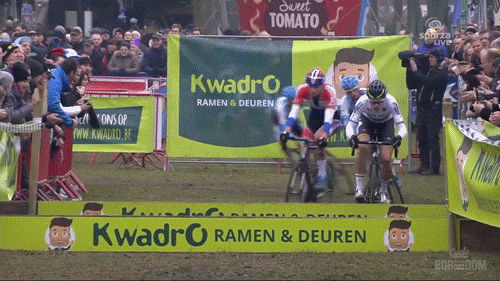 #whipz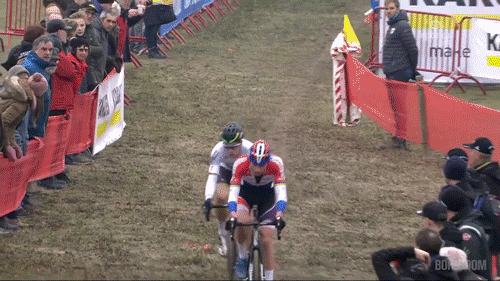 Wout making sure.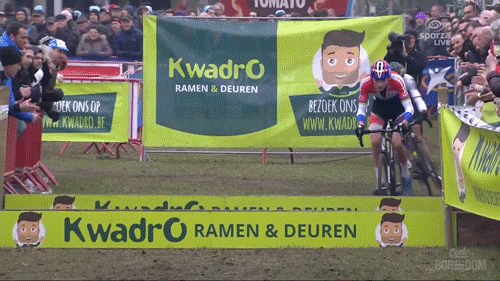 #disparitydoping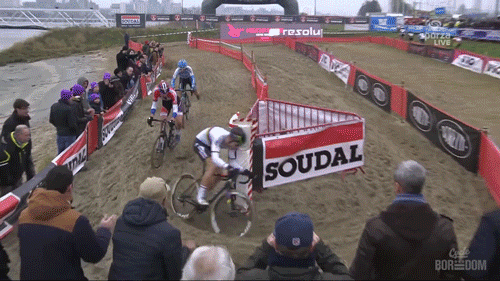 #wheeliewatts
MvdP gets there erste and Wout's all, "CANNOT COMPUTE!! DANGER KEVIN PAUWELS!!" <robot voice>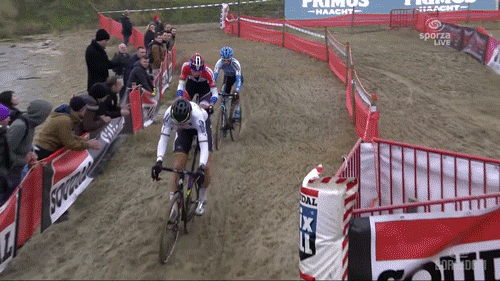 FINALLY. Dismounting before in anticipation.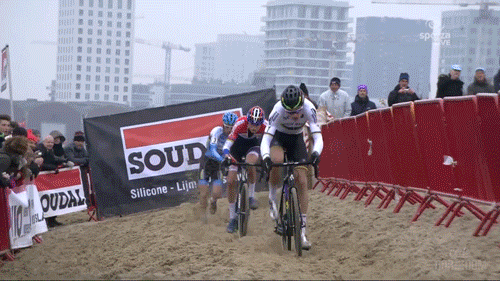 HASHTAG #DISMOUNTSHOULDERINGGOALS
"You did a dismount! You did a dismount! EVERYBODY DID A DISMOUNT!"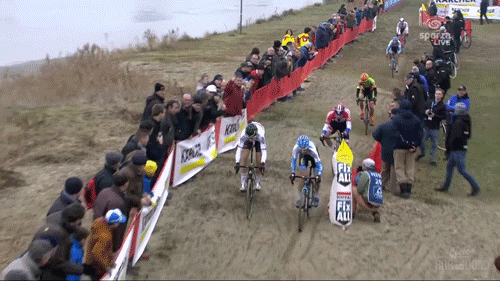 Wout *really* making sure. Clever use of Pauwels to gap Mathieu going into the sand. While Kevin isn't slow, he doesn't have the monstrous kick the other two have.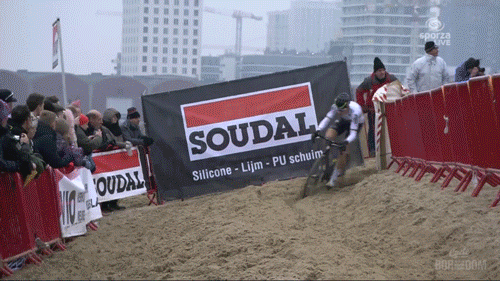 Kevin has to dismount earlier than usual giving Wout even more daylight to use his run to his advantage.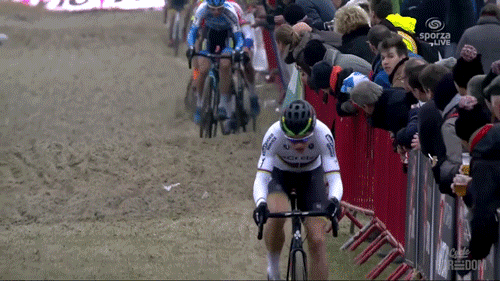 Van der Poel knows he has to close it and blasts through the loose sand to pass Pauwels. Genius level racing from Wout.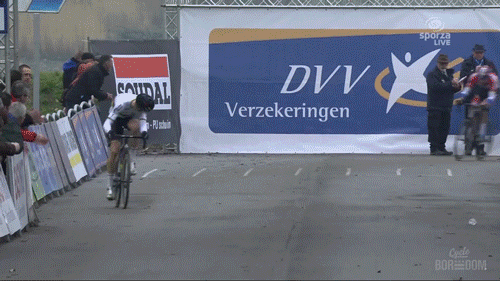 LAATSTE RONDE!! That gap holds coming out of that sand section. MvdP knows he can't let Wout do this next time through.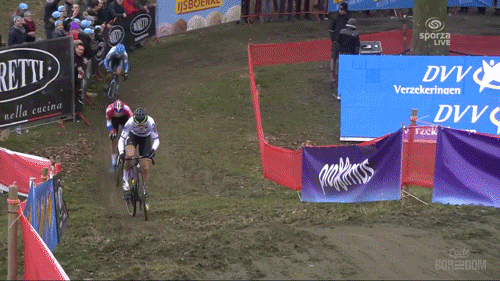 Van der Poel and Pauwels make contact on the third hill just before the barriers.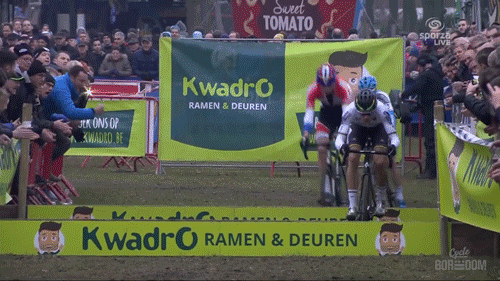 All together.
This moment will go down as one of the best of the many these two will create together as they build their legend. Van der Poel goes all out into this turn to make *absolutely* sure he gets the inside line and into the run first thereby negating Wout's advantage. This, however, is not the winning move. It's more of an aggressively decisive setup.
A few steps later everyone's together, but it's MvdP's position that's crucial.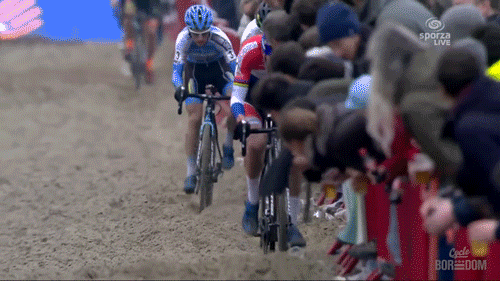 This is what all 0r nothing looks like. Gaps have been forming off this section all day and Van der Poel crushes it to see if Wout has an answer to the pace. A few squirrely shifts off his line and Van Aert loses MvdP's wheel. #winningmove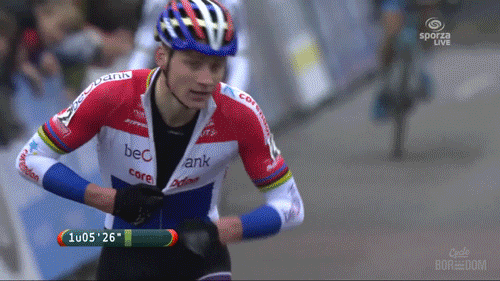 #overwinnings