"No matter how old you are feel look…"
"Achieve great things despite the years"
"Master's Champion shocks field half his age"
"An old man enters a bike race, what happens next…"
For some reason, I had no idea Milan-San Remo 2014 Winnar, Alexander Kristoff, was a young'n. I thought he was a few heartbeats away from Pappy Horner. MSR is terrible for your complexion. If you're ever in a spa, NEVER get the Sanremo facial.
Alright, let's take a look at the profile.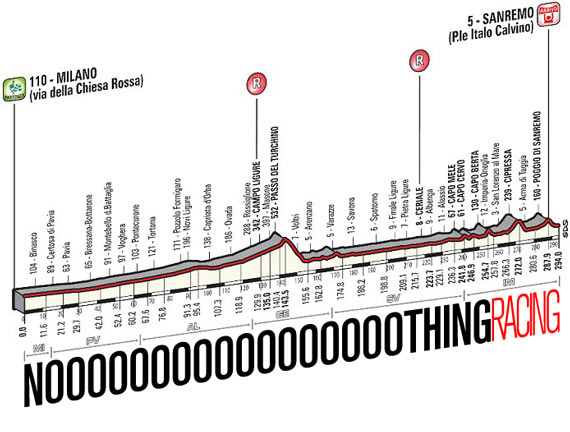 Note: In a perfect world, the "R" in RACING on the graphic above would start at the base of the Cipressa. So yeah, not to scale. If you're paying attention, this scenario was covered in my MSR Ras Prep.
Let us pray—Merciful Merckx, GIF US NOW OUR WEEKLY RECAP!!

Milan-San Remo 2014: Didja Know Sean Kelly Won La Primavera Twice?!