Horrifically late, again. The Cycleboredom offices were in a state of disarray the past week(s) as we moved things around. Yet, seeing as I made the effort to capture these screenshots, I figured I'd take this attack to the finish regardless if I'm a week or so beyond the time limit. As for the race, it didn't unfold in the fashion I envisioned, but it was exciting regardless.
Things Happening Before the Race Was Won™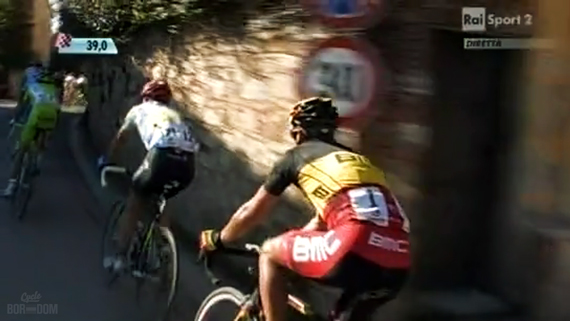 Ahh, Philippe. At first the joke was gonna be, "They spelled grupetto wrong." Then, sadly, it devolved simply into "The Gilbertto."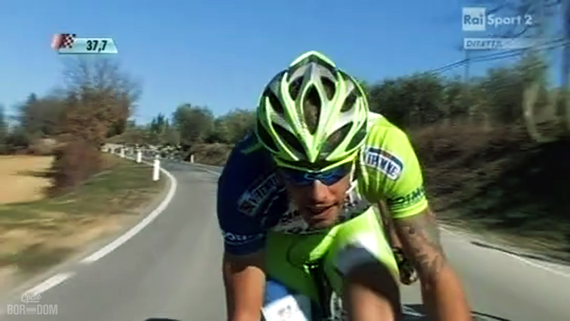 Daniel showing you his Oss-Face. He's being a very useful engine indeed.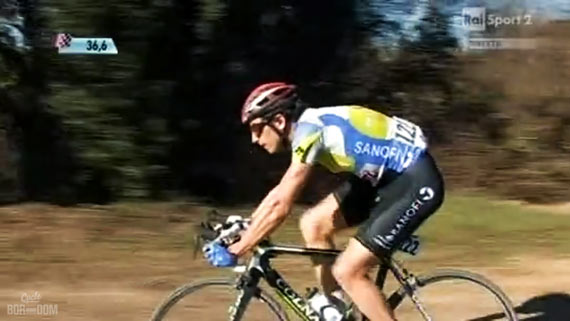 Briefly, a club rider found his way onto the parcours. He looked pretty swift.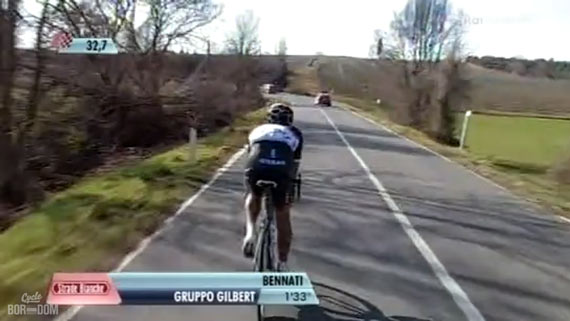 In Italy Daniele is simply known as Bennati. He is also Fabs' doppelgänger (@NYVelocity). Note the mention of "The Gilbertto."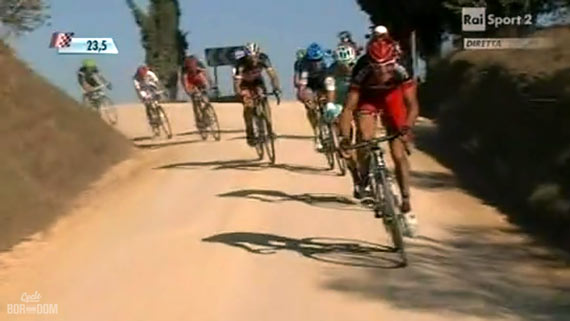 Greg Van Avermaet likes to move it, move it.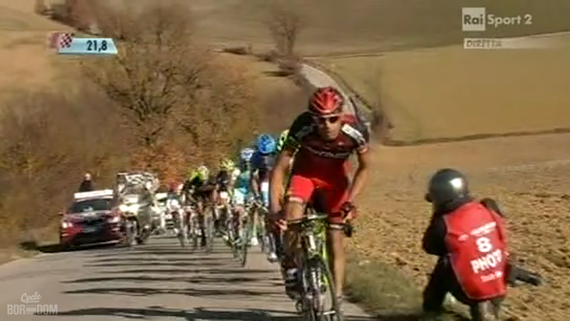 Montova or not, I still gots some love for A-Ball. Here he (briefly) looks like his "old self."
How the Race Was Won™
No secret here. Greg Van Avermaet attacks on Segmento 8, and Fabian Cancellara counters—destroying the field.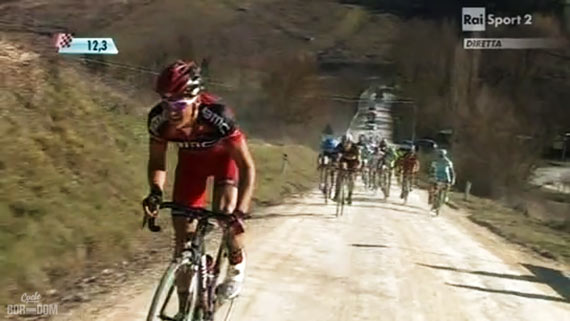 For a fleeting moment everything was epic. Greg Van Avermaet in full flight.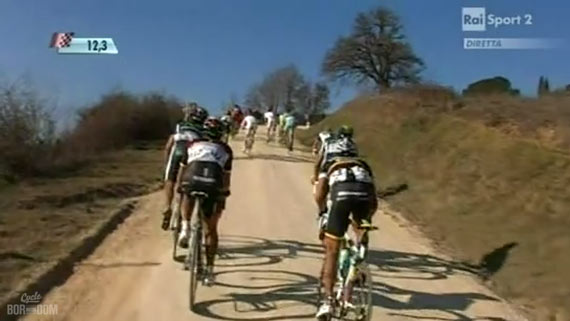 Instant race detritus as GVA makes for the attacking.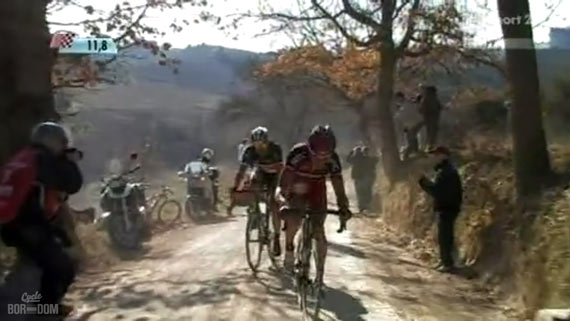 Fabs pops out from the back of a red-lining GVA and begins his crushing.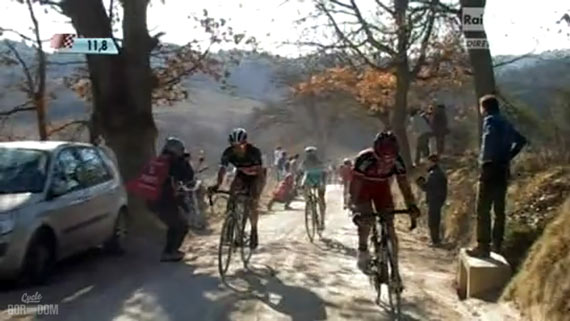 Greg is clearly doomed here. The Fabs makes ground quickly.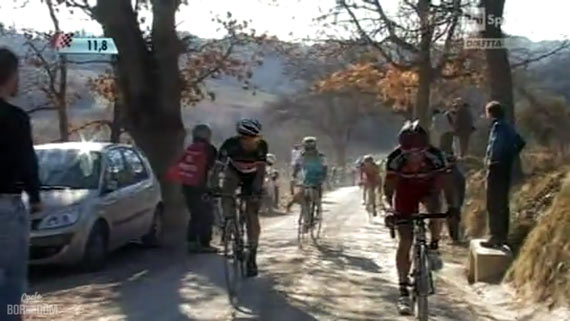 Fabs checks what gear GVA's in, then asks him if he needs a planket.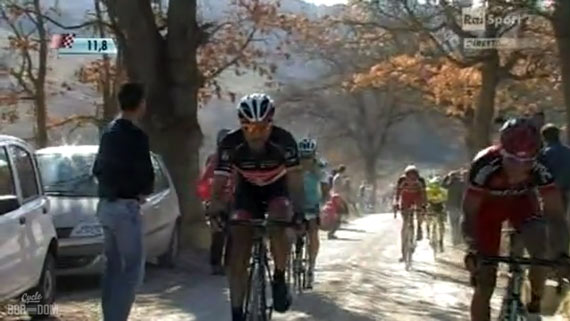 Fabs continues the passing as Van Avermaet gets out of the saddle, signaling the engine room for emergency power.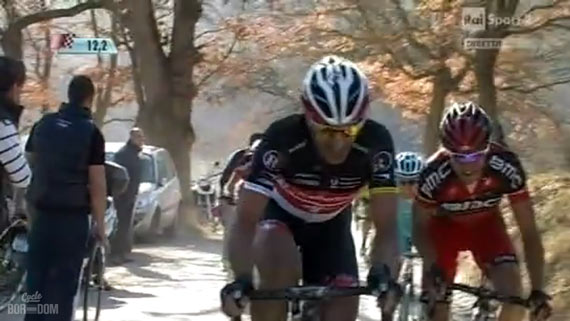 But, alas, there is no more power. Fabs motors by GVA with ease.
Things Happening After The Race Was Won™
Once Fabian crushed GVA it turned into a descending and TT #FabsClinic—lucky for the Frändy Twinz Mr. Fabs is on their team. Some additional things transpired during the #FabsClinic. I have interspersed them with images of the #FabsClinic.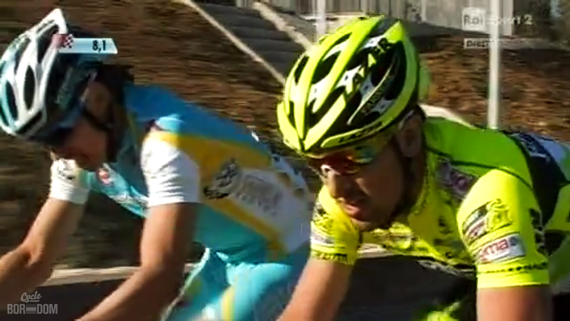 MY EYES!! THEY BURRRRRRRN!!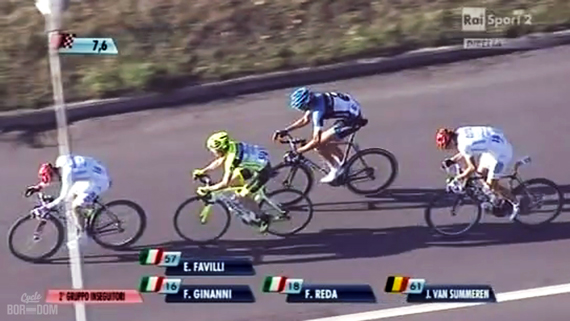 (One of) My pre-race pick(s), Van Summeren, deep in the antipasto.
Fabs motorpacing. #FabsClinic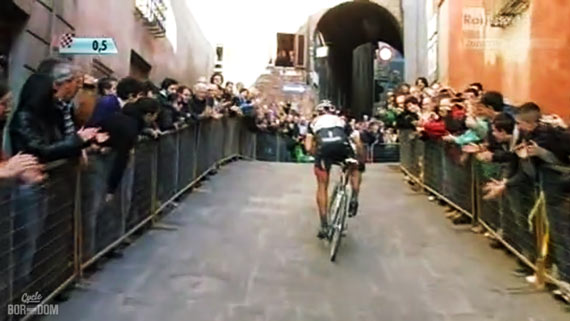 Fabs briefly quits #FabsClinic to grind climb into the piazza. He climbs as well as Frändy descends.
This guy was apparently vehement about something.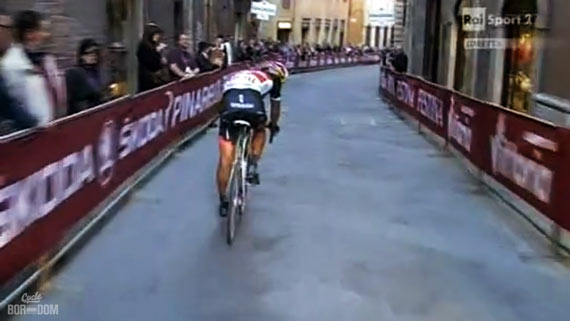 Fabs restarts the #FabsClinic, immediately spying a fetching pair of podium loafers.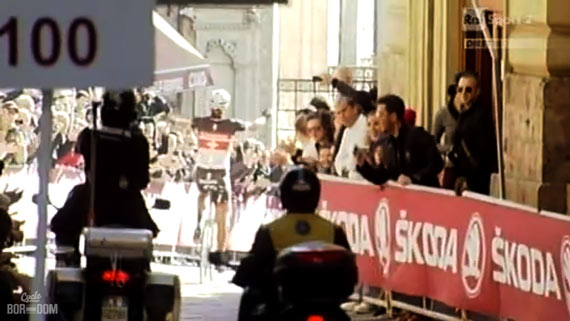 #FabsClinic concludes with traditional #weening ceremony.
I applaud any of you who've made it this far. I lost interest in this years ago.