You may have noticed the gaping hole in your life, but not know from whence it came? It's the glaring lack of Screencap Recaps in your life. The racing has been lackluster and that's not even when the action's been neutered by the atrocious weather. As seen by laatste week in de Ronde, there was no action followed by a furious quickie on the Paterberg, with no cuddling afterwards. Solo until overwinnings.
That's like totally different and like totally in the past now. In a hail (or is it swathe?) of synth sounds, our beloved Queen Paris-Roubaix has made it all better. Action when there wasn't action, and when there wasn't action, there was action! Racing until the bitter end.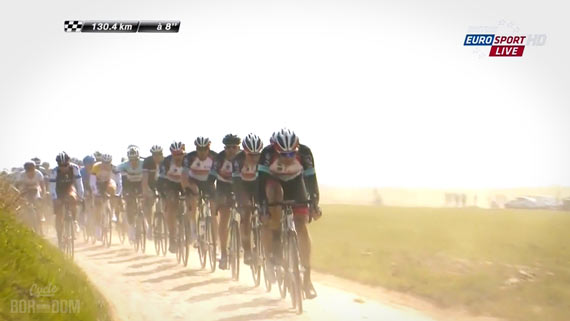 Setup shot to get our race started. Radioshack actually riding as a team. No seriously, photographic proof above.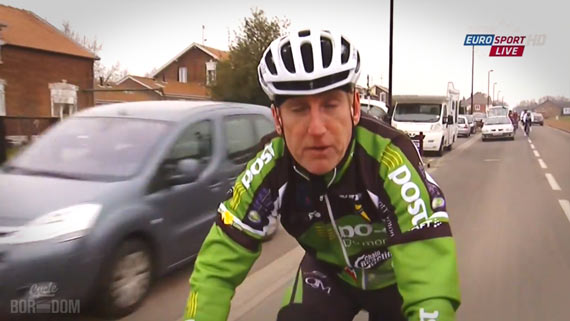 Kelly throws down the gauntlet by calling out the entire peloton declaring he can ride the Trouée d'Arenberg with his eyes closed.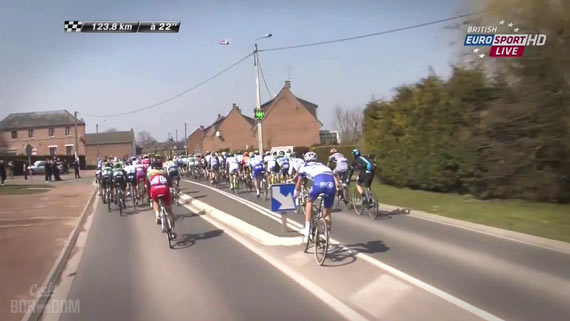 In an act of unbridled coincidence, the traffic island arrow points to the exact spot where Johann Offredo should place his knee should he desire to crash spectacularly.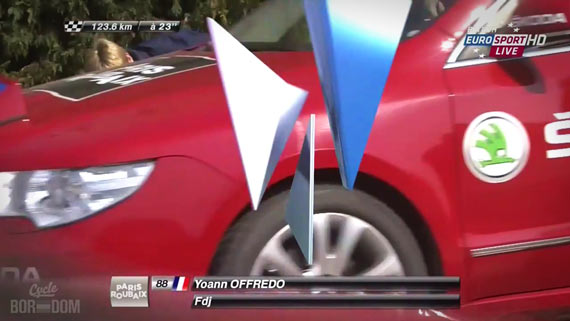 Luckily, Offredo managed to get off to the side of the road moments before der commissaire's car blasted through destroying the screen graphics in the process.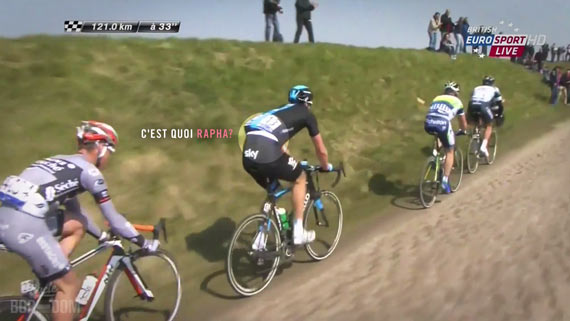 C'est quoi, Rapha? Care to comment on Hayman's #unclass jersey creep?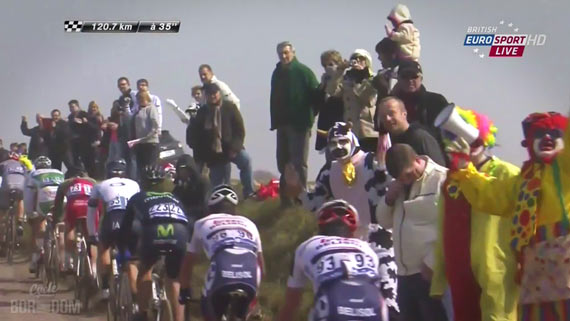 Sad spectator is sad. He did not receive the memo re: Roubaix Cosplay.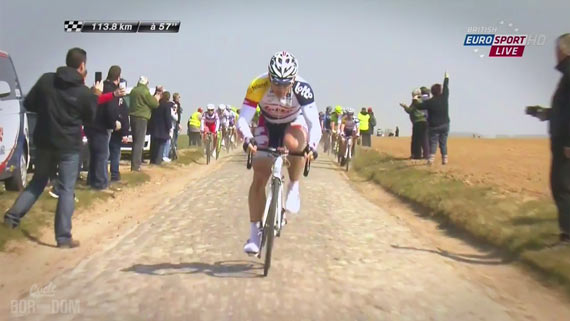 When Gorillas attack. This amounted to nothing, but it was awesome voor a few moments.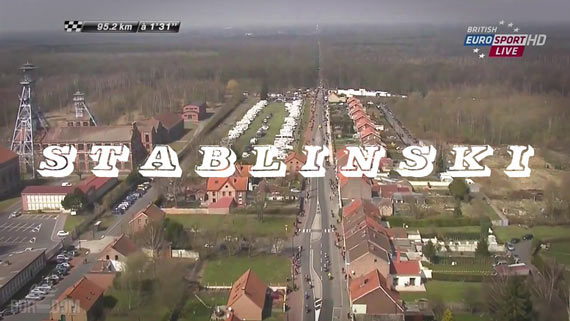 STABLINSKI! #drink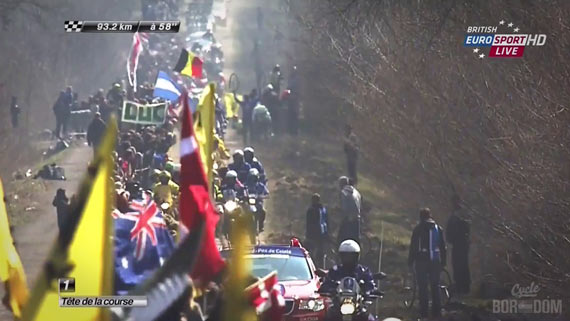 Although not as selective voor the protagonists anymore, it still can make your day haz a sad. Just ask Geraint…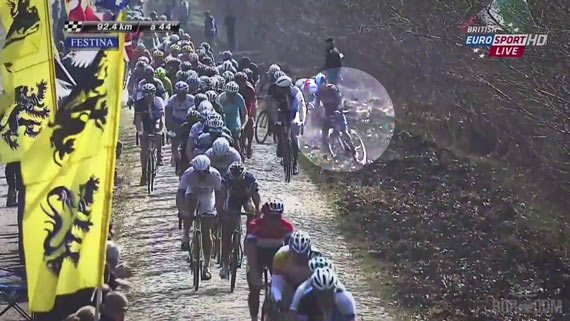 Geraint Thomas in his favorite spot: the wrong place at the wrong time. Every. Single. Time.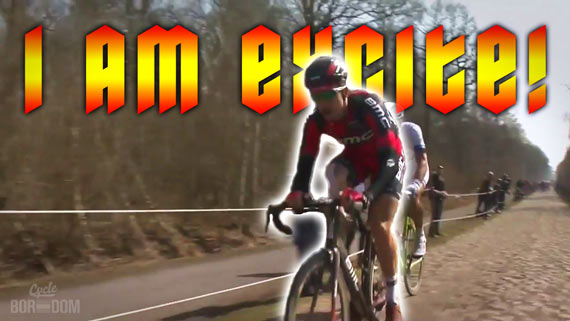 Taylor Phinney blew off the front as the peloton entered the Arenberg. Sean Kelly remarked that he might be nervous. He's not nervous, HE'S EXCITE!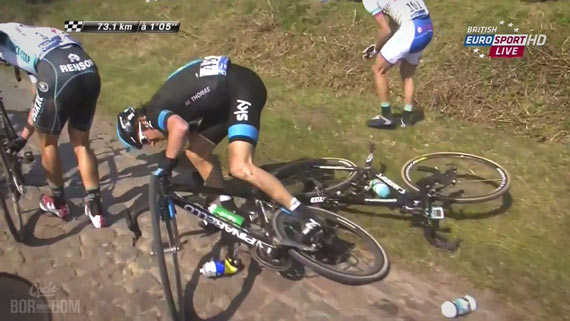 Wait, that can't be… No, his jersey clearly says, "Mr. Every Single Time". Le sigh…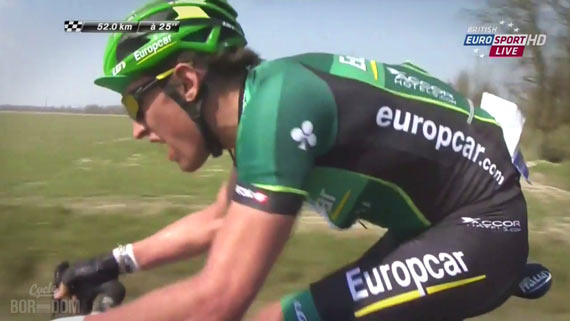 My "Who the F*** are YOU?" rider of the day goes to Damien Gaudin. The man rides his bike like he's trying to wrestle an animal to the ground after jumping on its back. But it WORKS.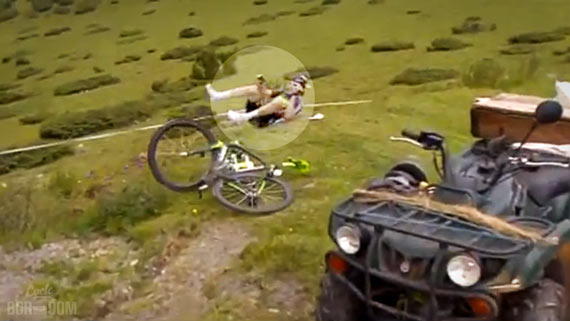 Mere moments after remounting, Geraint Thomas came a cropper on La Hourquette d'Ancizan.
Alright, time to begin #Fabsclinic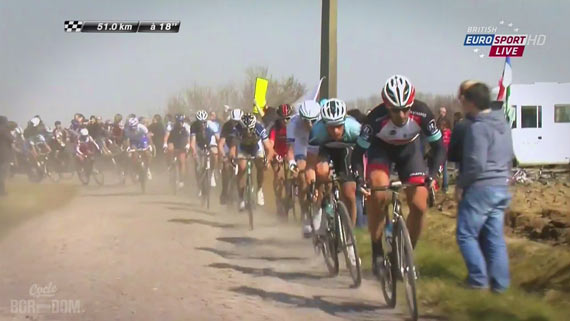 Finally, #Fabsclinic begins. The peloton is strung out like Lindsay Lohan. Okay, LiLo's low-hanging snaark, but I honestly can't think of anyone else more synonymous ATM.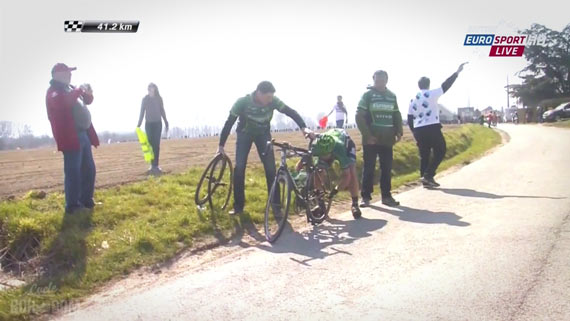 Turgot also races bikes. Sébastien clearly giving his mechanic a vote of no confidence. As the winning move continued down the road, he gave his chances a vote of no confidence as well.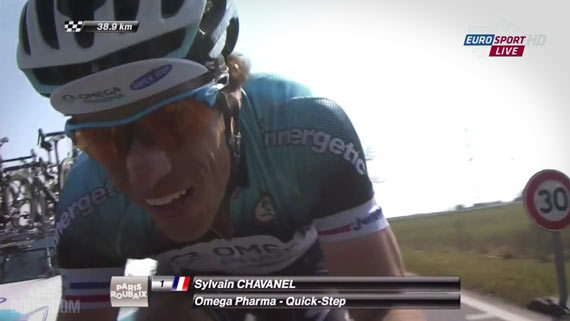 Oh hai, Chava.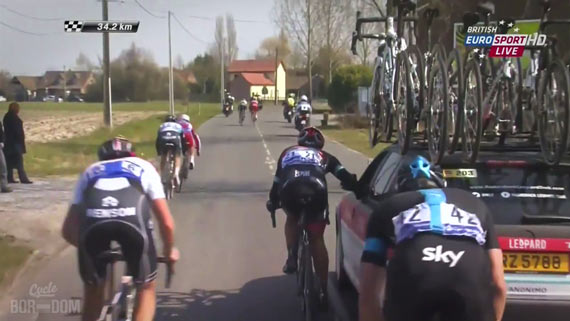 Fabs telling Dirk he's letting all these breaks go so he can Armstrong on Sestriere the s*** outta them. "Give me handsling to maket look I am tiered and really K.O. I also take sip from bidon. There eyes will be full fokus. Take a picture of littel Boom when I show the reallity."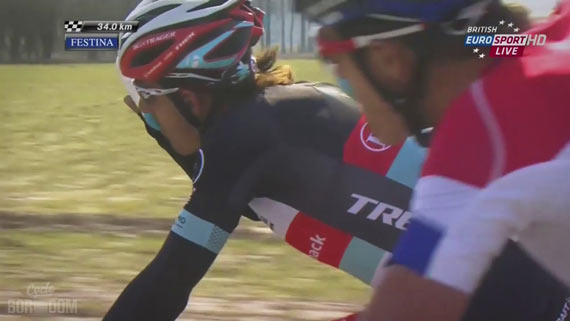 *DING*

*DING*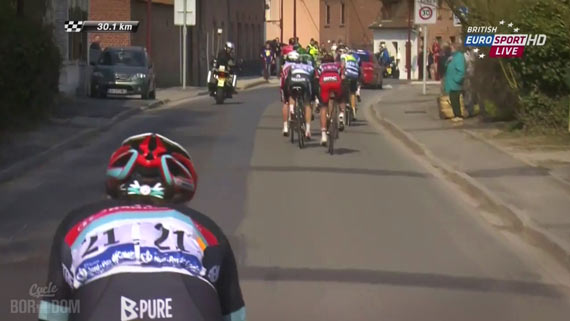 Fabs about to catch Fernando Escartín and Ivan Gotti.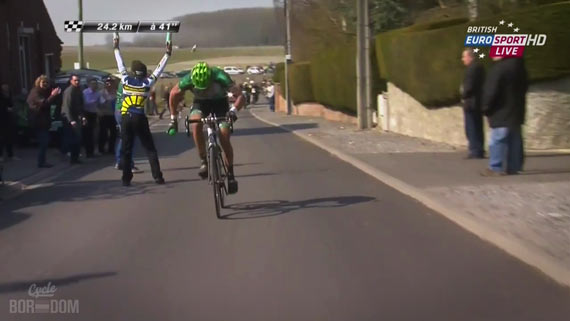 Gaudin snatches a bidon, promptly breaking its neck. Gel pack flung helplessly into the air.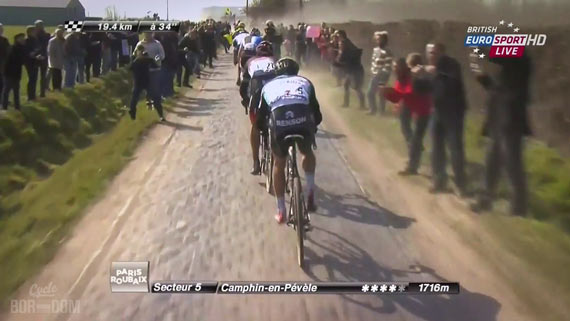 After catching then breaking everyone except Zdeněk Štybar, #Fabclinic catches Stijn Vandenberg and Sep Vanmarcke.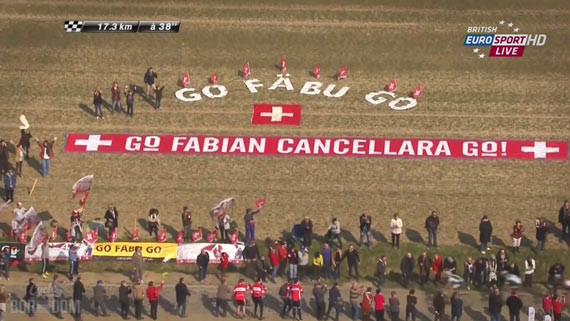 Oooo, very nice. #roadsideartdoping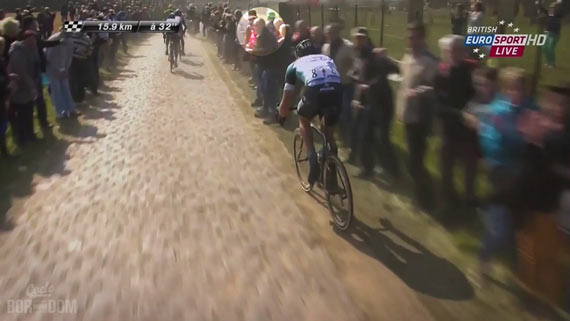 This guy's about to make Stijn's day suck.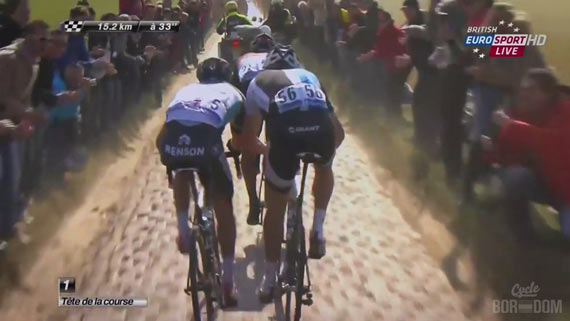 Stybar and Vanmarcke battle in the theatre of awesomeness known as #Fabswheel.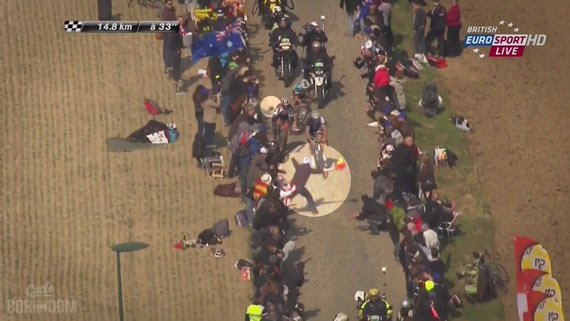 Stybar and OPQS' luck ends here. Thing that Zdenenk hit (top) falls to the pave while some insane dude jumps out in front of Sep (bottom). Insane dude tries to push over the moto behind Stybar after the riders pass. WTF?!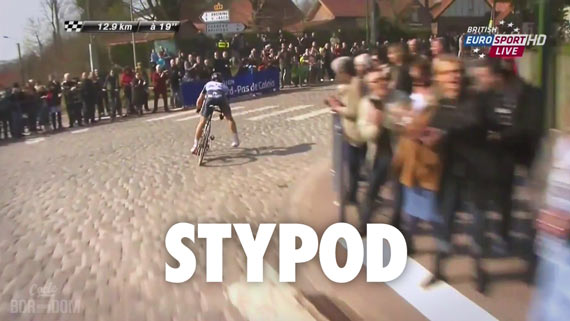 CX crossover: Zdenek performs a STYPOD as he desperately tries to catch Seb and Fabs.
Then there were Two—Master and the Learner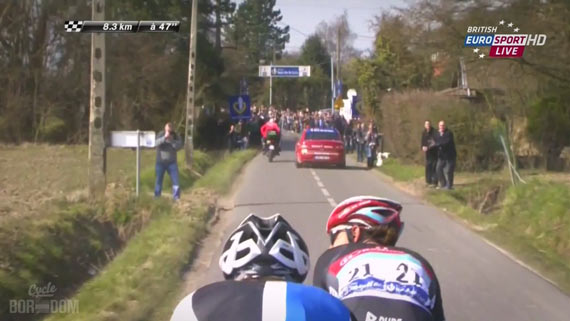 The master uses his Fabianese mind tricks to rattle the young padawan. All Sep needs to do is remain calm…

Dammit Sep! The cave, remember your failure at the cave!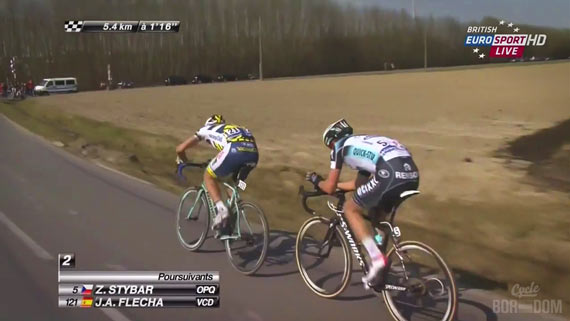 Flecha, after catching Zdenek, hilariously, flicks his arm for Stybar to pull through. Forgive Flecha, for he does not know.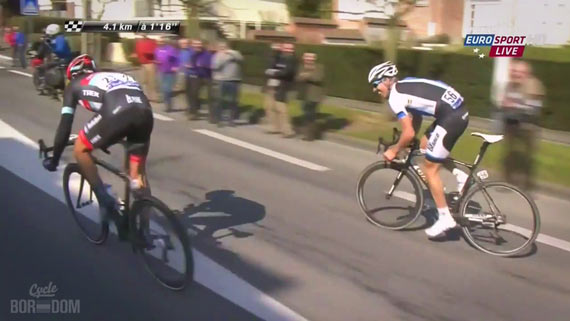 Master Fabs uses some dark side trickery to shed his rival.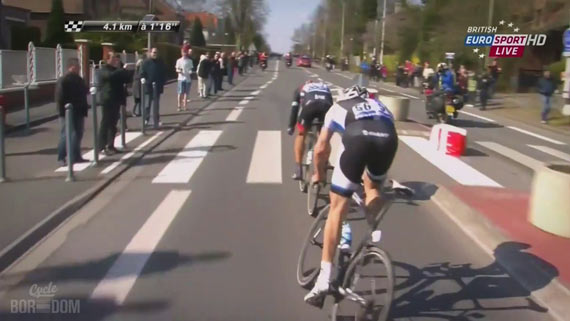 Padawan Vanmarcke isn't such a bad pilot himself. He manages to avoid the Offredo trap.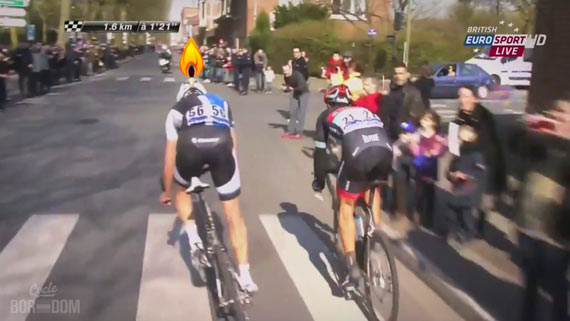 Master Fabs says with a wave of his hand, "This is not the pace you're looking for." Sep pulls through and burns another match.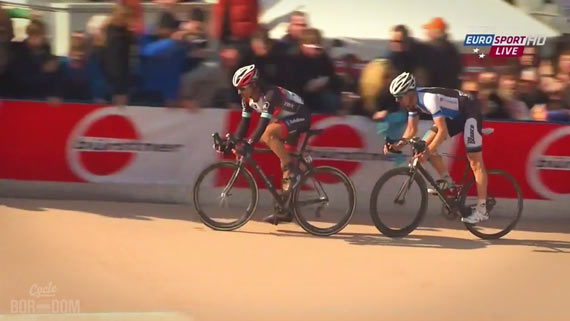 Master Fabs has drawn the youngling into the Roubaix arena. Vanmarcke sensing danger, grabs a fistful of *rear* brakes. 'Cuz he released the front. You know, 'cuz we're all carbon now, no issues.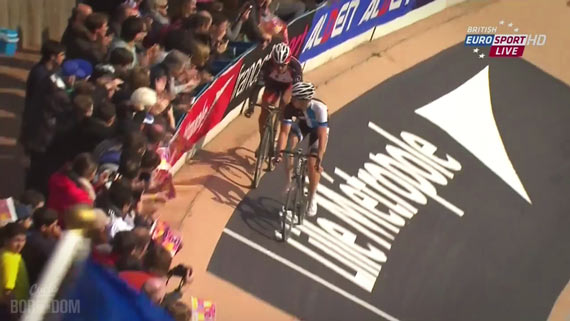 I'll give it to Sep, he did everything he could against Fabian. For all intents and purposes they were evenly matched. #nosnaark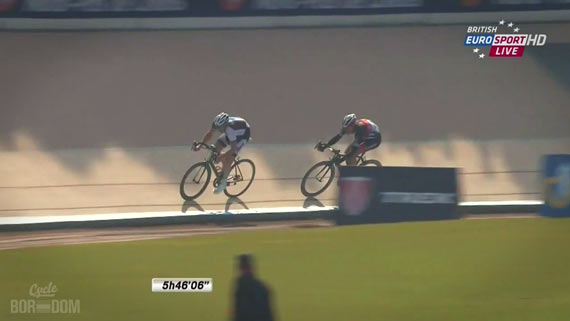 It begins. <cue sweeping orchestral string soundtrack>

Fabs finally gets out of the saddle during the sprint just as Sep's legs give out.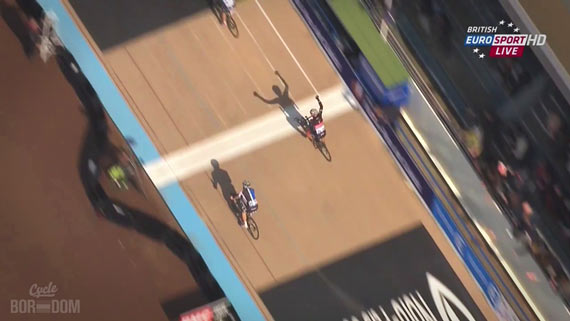 Fabian Cancellara vanquishes Sep Vanmarcke by a shadow to win Paris-Roubaix 2013.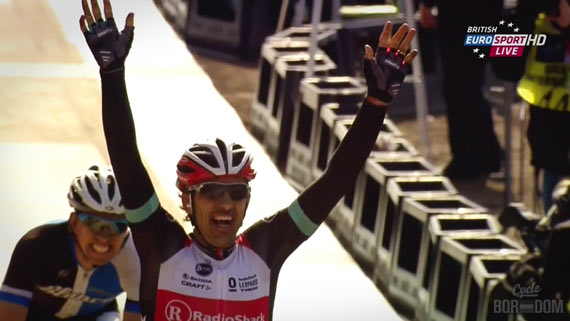 Overwinnings at 60fps.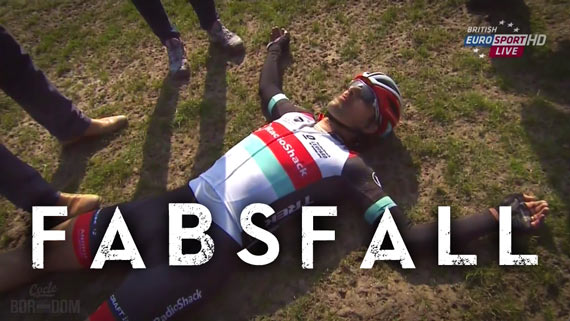 I am tiered and really K.O.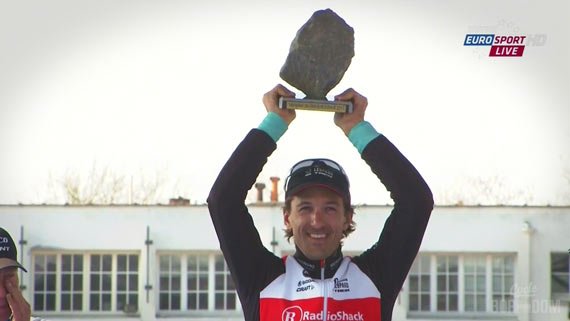 Seb so sad. No doubt how much he wanted this win. Gutted.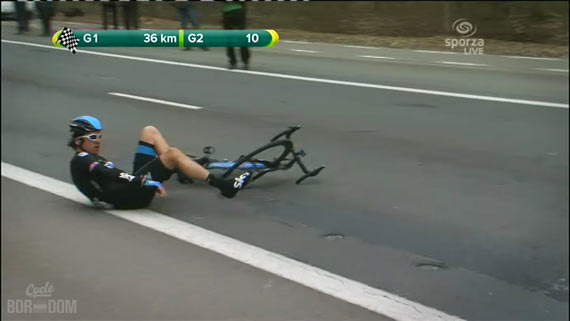 Chasing back for the umpteenth time, Geraint crashes so hard after the Koppenberg he changed the broadcast to Sporza. Despite hitting the deck 27 times, Thomas managed to finish 79th. Chapeau!
Annnnnd, we're done.