Writing De Recaap
Been sitting here watching the replay, snapping shots, and trying to decide how I was going to start this. At first I was all, WOOOOO!! TOMMEKE!!. Then, Monday, it all went south as the typical hemoglobin slinging started in earnest. Normally I wouldn't have a problem with that, adding to the "festa di insinuation" myself. But in this case, I've been silently pulling for Meester Tom as he's been going through some emasculating seasons. It's been a pleasure to watch his resurgence. So, part of me took exception to this. Plus, seeing as I've reverted to an "awesome until busted" mode of interacting with cycling, it pains me to watch others wipe their ass on the sport they love. Yet, I'm also on the anti-doping side, so this back and forth in my head look very similar to Vader deciding between Luke or The Emperor.
But in a continuous GIF.
Like, forever.
Apparently there was a Race
Like I tweeted during the race, Boonen's attack is gonna make this recaap soooo easy.
So, there was a break.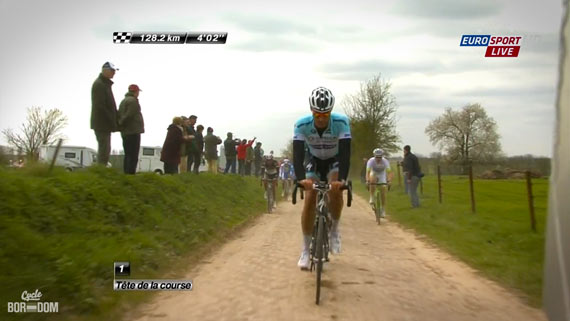 OPQS height doping—again…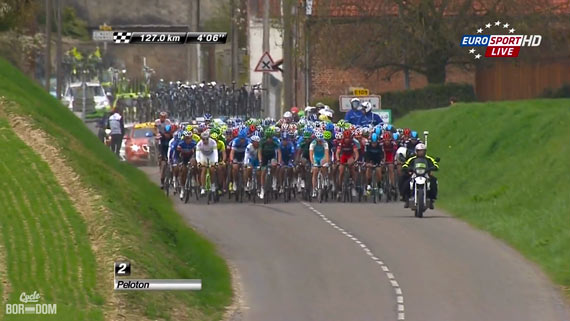 Lovely pelotonal view.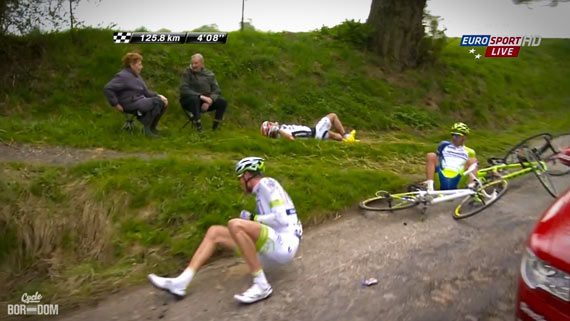 Old dude looks like he's saying to his wife, "Fancy having a bit of a go at one of these boys? This one's wounded…"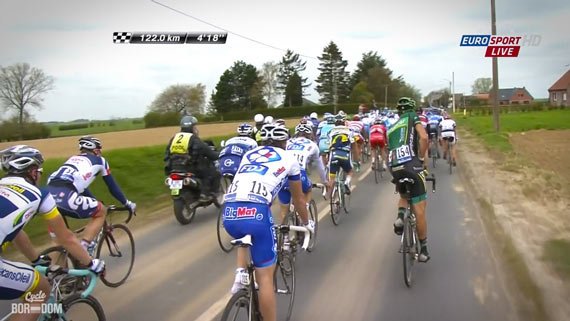 Caught in the natural break act!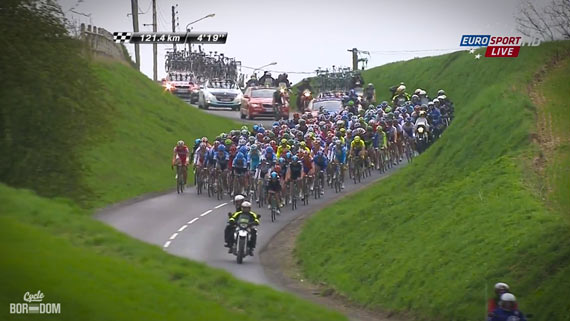 Moar lovely pelo.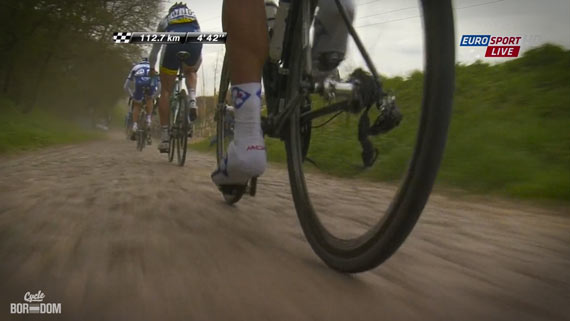 The kasseien is a ferocious dance partner.
La Trouée d'Epicberg
Definitely not as selective as it's been in the past, but as NetApp rider Grischa Janorschke demonstrates, the Arenberg trench still ain't nothing to **** with.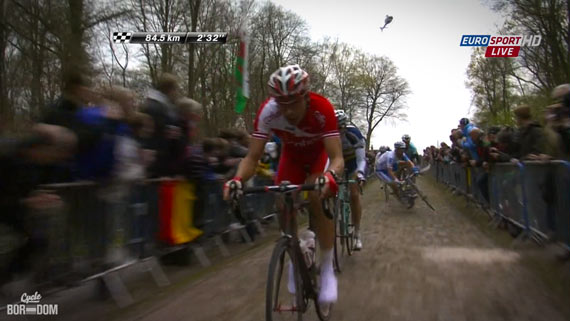 Oh SH***********!!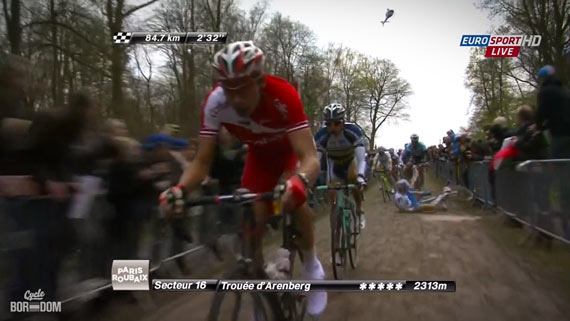 Owwwwch!!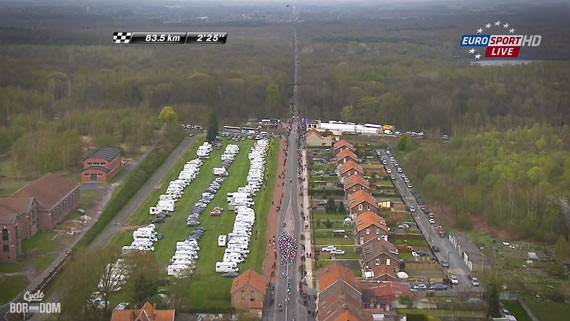 Ahhh, the Epicberg Forest. Simply conceiving the epicnicity of this secteur is epic. On the scale of epicness, from 1-10, this rates as an epic. How epic is that? I trashed three keyboards trying to write this epic caption.
The traditional OPQS height doping has no advantage here.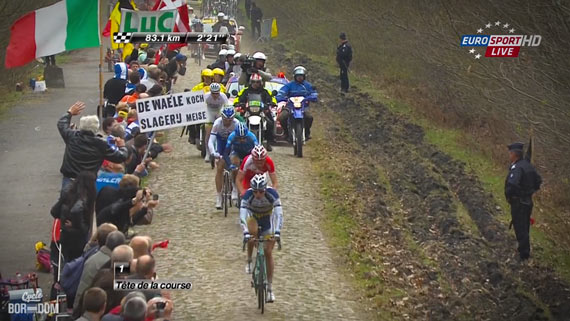 Yeahhh, not Dirk. Sorry…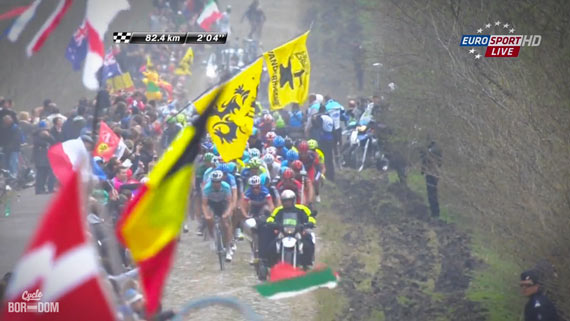 Boonen and Chavanel pretty much the ****ing kings of the peloton right here.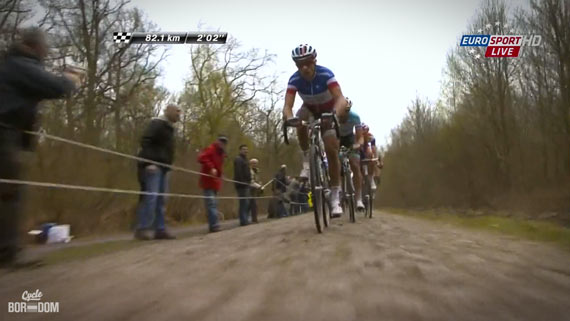 Those OPQS Vermarc kits must be hella strong to handle Chava's giant stone crushing stones.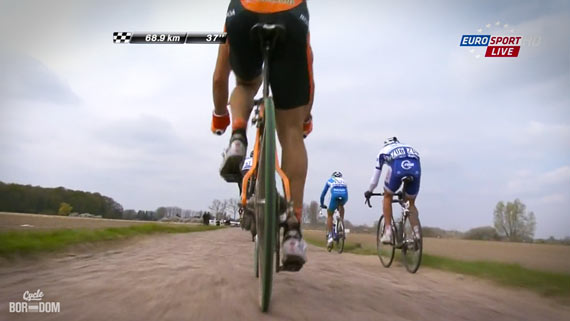 1) Incorrect 2) What's the last thing you see before you crash?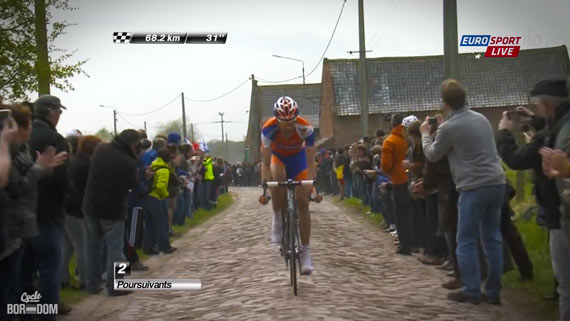 Apparently, Rabobank have also discovered the serum of exceptional height. Additionally, look at those friggin' kasseien. Nasty.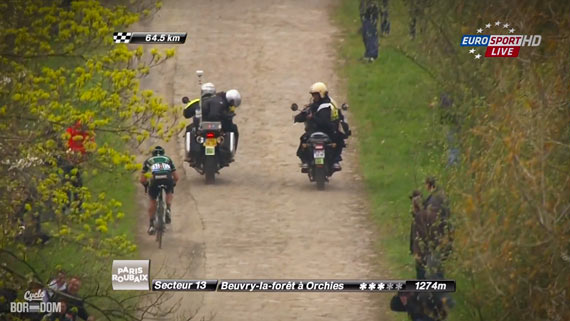 Sébastien Turgot launches one of his 127 attacks on the day. French guy, Italian bike—why not?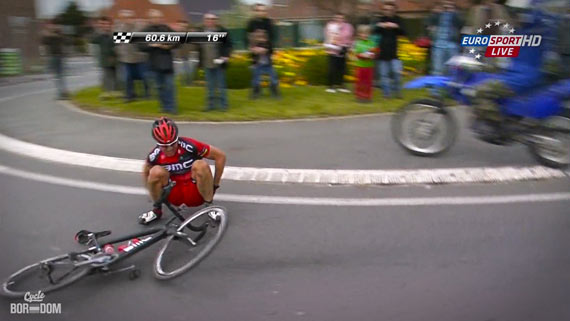 Oh hai, Thor. You have #ompoop?
Geaux, geaux, turbo Turgot!
How the Race was Won™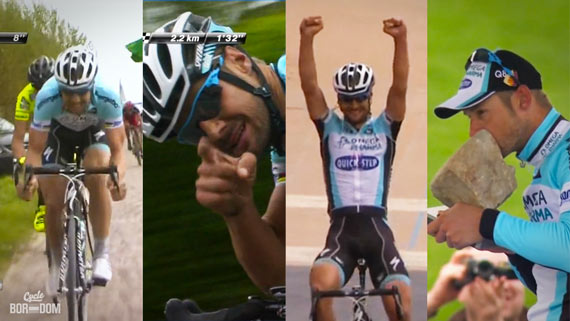 There's your 2012 Paris-Roubaix champion, folks. Until next year, I bid you adieu.
What, you need moar?
How the Race was Won™ – Moar Edition
Studying our 1000fps slow motion footage reveals the secrets of Tommeke's nail-biting win.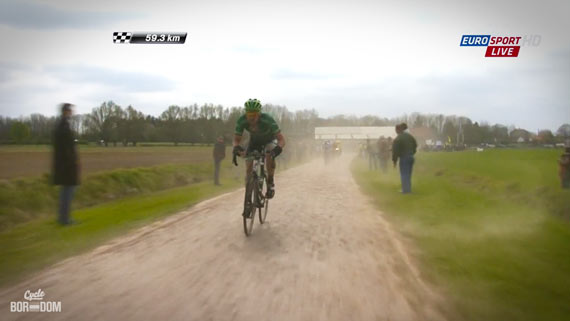 First, Turgot attacks.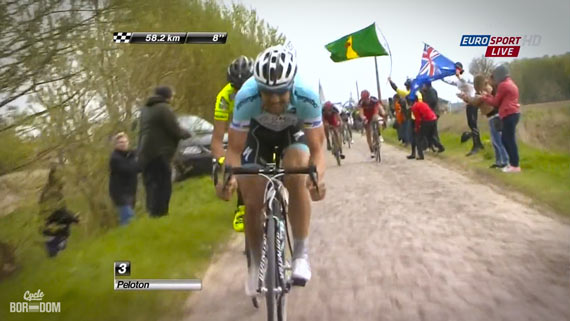 Second, Boonen attacks with Pippo stuck to his wheel—Ballan in the distance.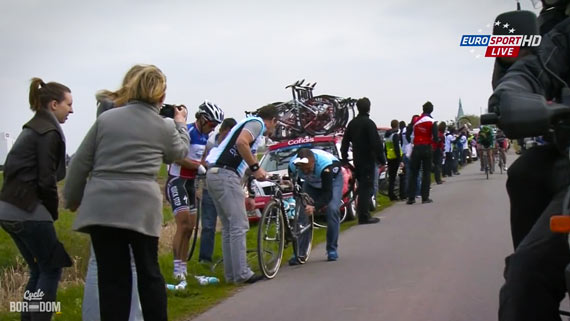 Simultaneously, Chavanel punctures at the worst possible moment. Okay, maybe not the *worst* possible moment—that would be in the velodrome and losing the race.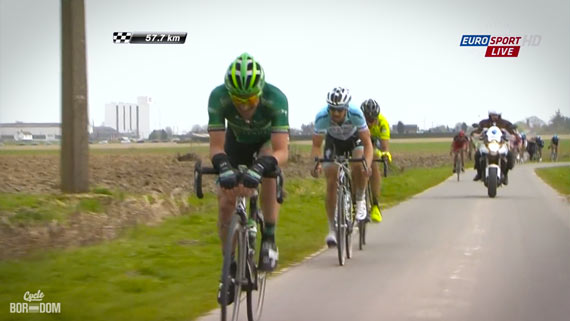 Then Turgot, looking awfully Fabs-like, is caught by the Tommeke/Pippo train. Ballan, the 'lil Red Caboose still trails in the distance.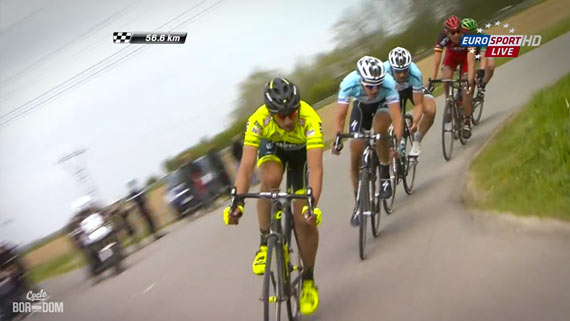 1km down the road, and the major players are together. Pippo, Boonen, Ballan, Turgot, and Terpstra form "The Move."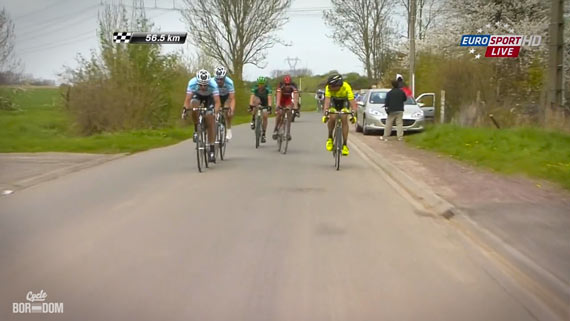 New Pippo was suddenly replaced by Old Pippo at this exact moment. Pozzato swings off to force Ballan to pull through.
Pippo waving Ballan through. Unfortunately, he was waving his chances through as Terpstra and Boonen start to gap. Turgot looks as though he's thinking, "WTF?!" but in French.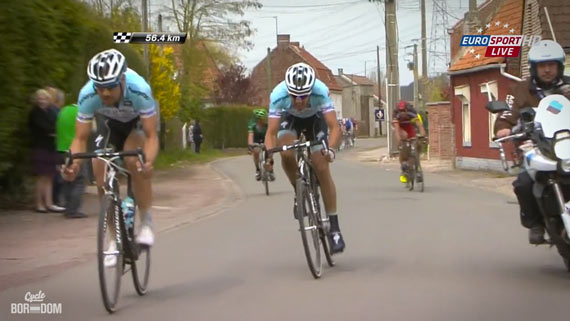 Ballan resoponds with classic Italian cycling tactics—pulling through by pulling off. Just like that, the race was won.
The amount of questioning, second-guessing, and frantic wondering was staggering—and that was just from the Twitterati. Pozzato and Ballan both feared this move was from too far out, not wanting to relive the events of just a week before. Their decision to hesitate was strengthened by the collective force that was just behind them. Boonen himself looked unsure as the initial moments of "The Move" played out. But, seeing both Pozzato and Ballan marking themselves out of the race he decided to force the pace and take a chance.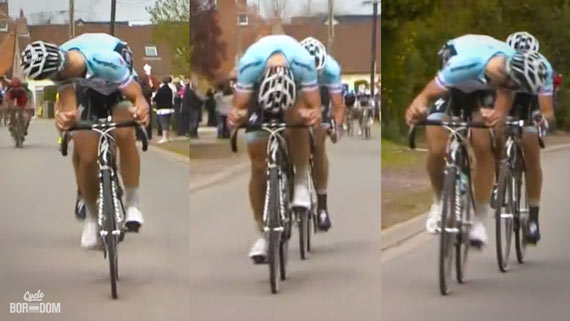 Tommeke SchleckNecking™ to make sure he was truly seeing what he was seeing.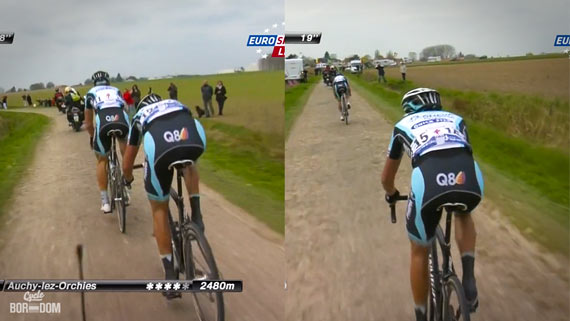 Terpstra cracks. Tommeke is now kop van wedstrijd.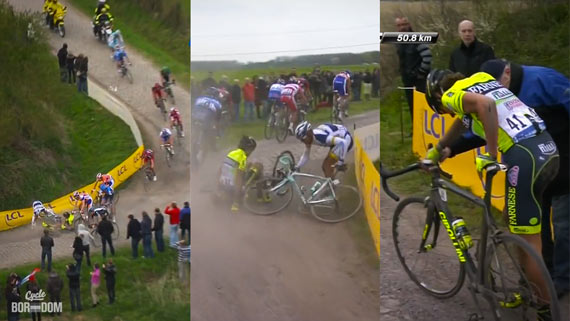 The suckage for Pippo continued. As the chasing group chased, Pozzato crashed in a loose corner, effectively ending his day.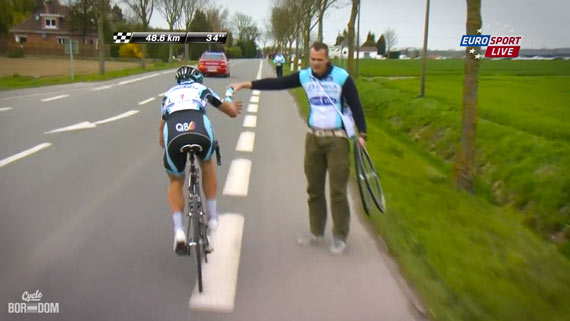 The Coolness.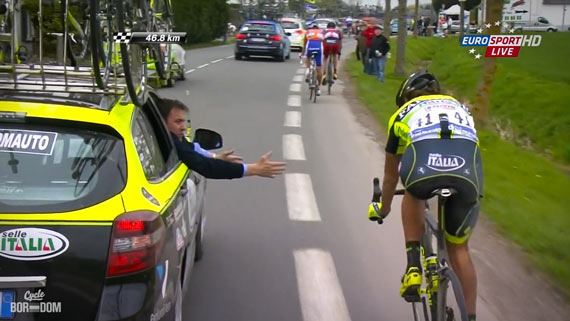 Meanwhile, in Italy… Hey! Whatsamatta you?! Where'sa the New Pippo?!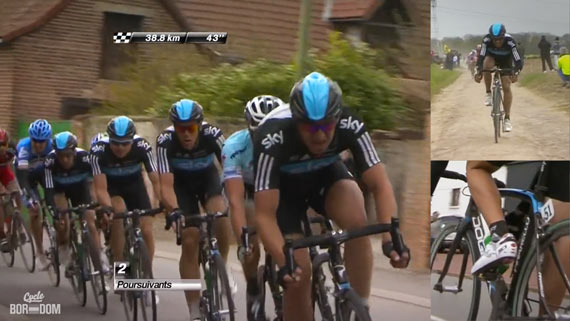 The chasing SKY train was powerful, but were derailed by several key factors. 1) Flecha kept sending himself off the front to disrupt their rhythm. 2) Their socks were perilously short. 3) Flecha kept se…
Fast Forward to the Actual Overwinnings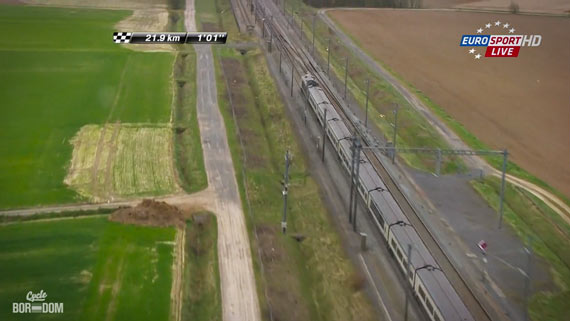 French TV bringing the doping insinuation LOLZ. They so jelly.
Aight playa.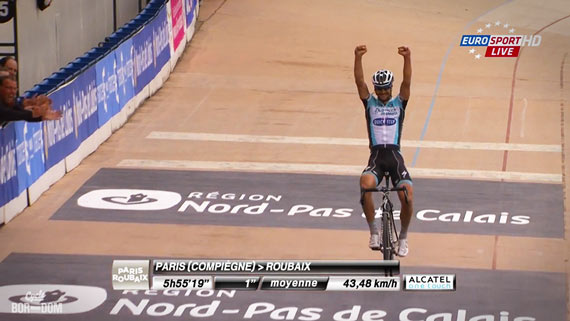 Overwinnings! Annnnd, we're done.
Moar stuff happened, but this post is already too friggin' large. I will, however, leave you with this interesting parallel: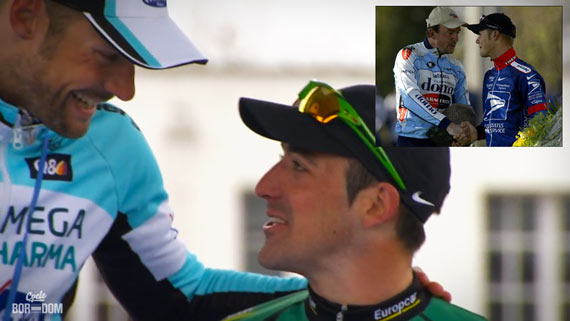 Boonen congratulates a surprising Turgot, 10 years to the day that Museeuw did the same to a surprising young Tommeke.
Linx of Interest
OPQS Team Site: Episode 7: Paris-Roubaix Victory
Cyclocosm: 2012 Paris-Roubaix – How The Race Was Won™ (The Original)
Cyclingtips: 2012 Paris-Roubaix
Kristof Ramon: Paris-Roubaix 2012 Flickr Set
Jered Gruber: Paris-Roubaix 2012 Flickr Set