Veranderingen in de Ronde van Vlaanderen
Initial reaction on the race in general: battle was good, but it felt like something had been amputated. Obviously I'm not a fan of the removal of the Muur. I'm also not a fan of how these new changes made the race feel. Barriers on the Paterberg, the finish in Oodenarde, the new parcours resembling nothing I grew to love as De Ronde. The finish especially felt alien. But races change, and the Ronde's meandering Flandrian parcours has been altered many times. We got another of these to see if the weirdness changes before we can vote the Muur back in.
Cutting to the Chase
Fabian Cancellara crashed out and the race changed. To some this was too much to bear, as Fabs was a major protagonist. But major names have always suffered a race altering mechanical, flat, or crash throughout the history of this race and all races in general. Onto the race.
Stuff Before the Race got Real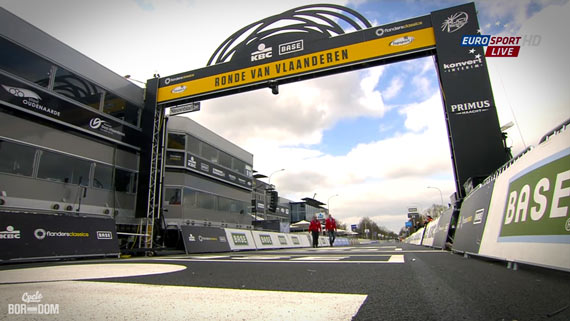 Opening with the finish. What?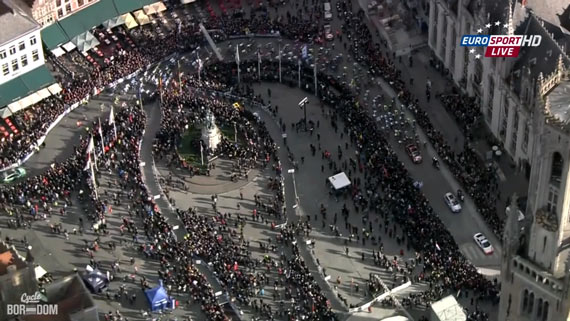 Aerial view of the start in Oudenaarde—breathtaking.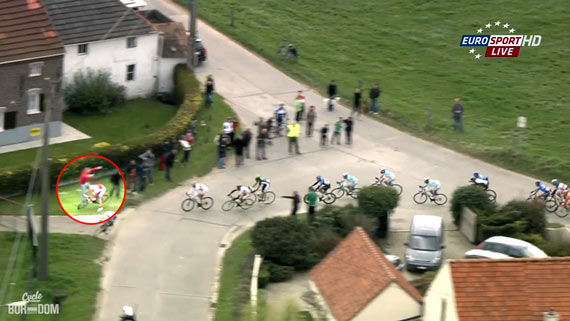 Ronde rider goes full-Johnny, sweeping a spectator's leg. Do you have a problem with that?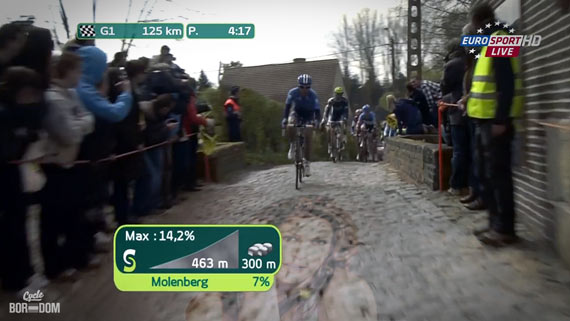 Horrible Photoshop hack-job, but you get the friggin' point. MOLE-nberg.
Every time I see the Molenberg, I think of Cindy Crawford.

— Cycleboredom (@Cycleboredom) March 31, 2012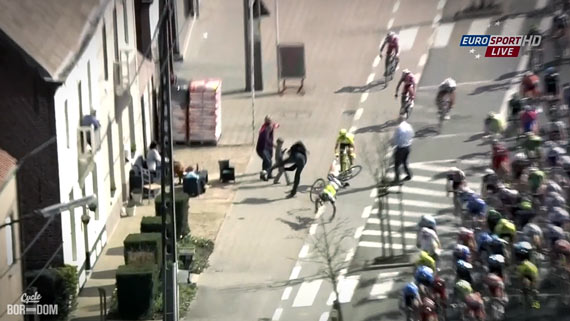 Horrifically spectacular spectator crash takes Langevelde out. Pippo miraculously avoids doom.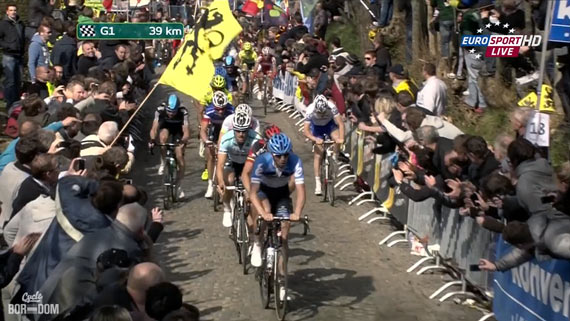 The big names marcking Vanmarcke on the Oude Kwaremont.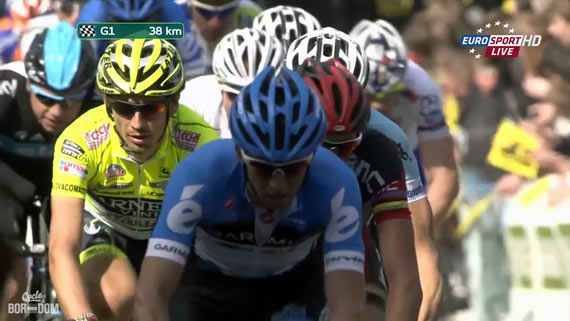 I'd crap myself if I was Sep and I looked behind myself as I attacked to see this.
The Paterberg – The Race Gets Real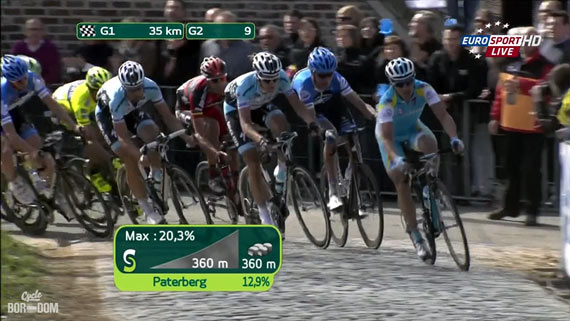 Terpstra and Vansummeren get nice and close…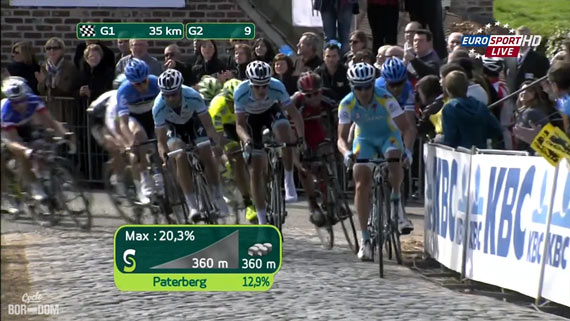 Niki teaches Johan what centrifugal force means.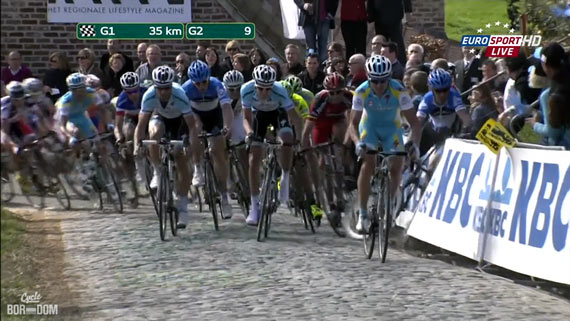 The poo's about to start flying and the fan's been turned on.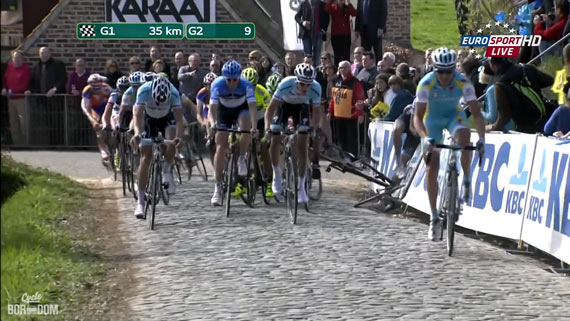 Vansummeren's bike makes no noise at it hits the ground. However, Summe's clattering skeleton causes Tommeke to check his gearing.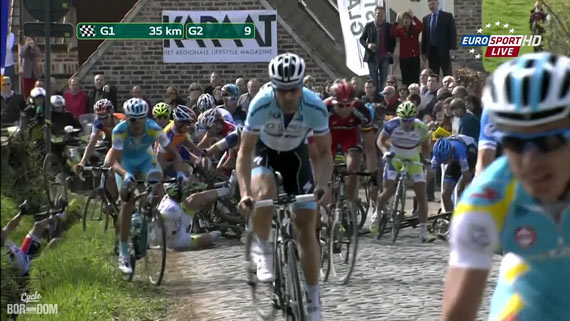 There it is—the poo officially hits the fan.
Speaking of poo, a Lotto-Bellisol rider takes a forced natural break in the ditch.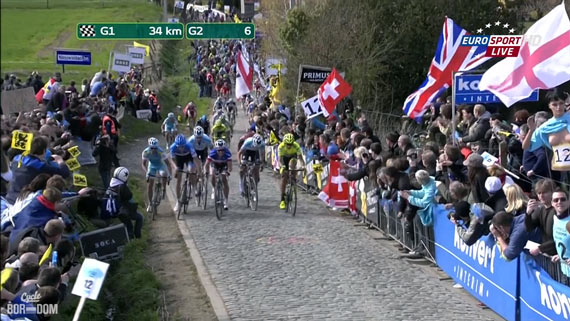 Further up the Paterberg, the main contenders form the traditional Cobble Line.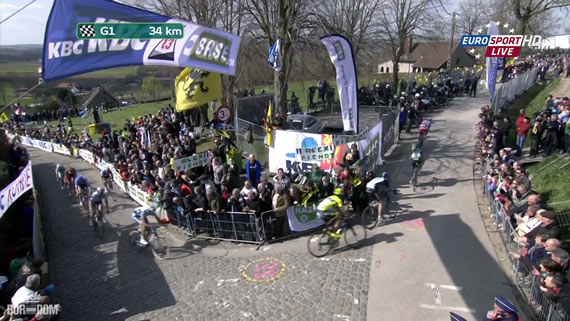 Sporza knows their camera angles. Circuits do have their plusses.
Oude Kwaremont – The Race Gets More Realer
Haaaaa, psych! It all came back together again. Look at the bunch with 18k to go—freaking ridiculous. Luckily Terpstra knew this. A-Ball also knew this. In fact, he knew this more than Terpstra and displayed his knowledge of more by showing Niki his skinny red ass.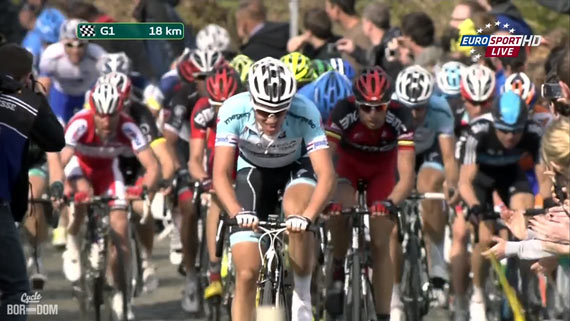 Terp Dog shows his strength on the Kwaremont. Ballan recognizes the strength.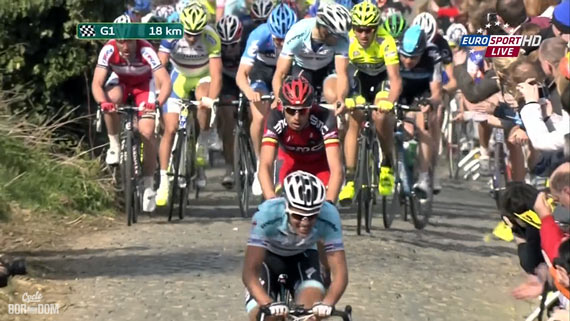 Terp Dog's face is pain. Ballan is cool, calculated. The move is happening…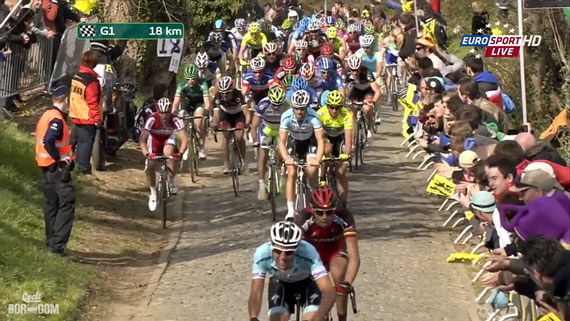 Just like that, A-Ball's caught Terpstra.
Terpstra assumes the role of dropped as Ballan kicks it into overdrive. The Players Club's queueing up behind.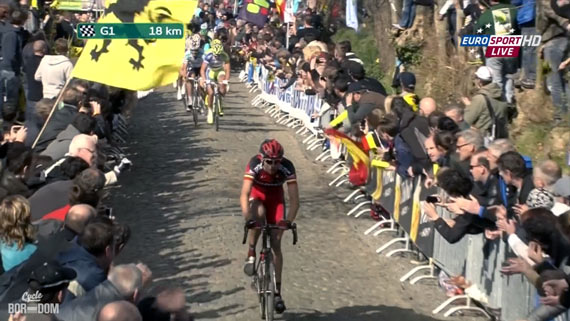 THE MAN OF MONTOVA FLIES UNDER A FLANDRIAN FLAG FLYING OVER HIM!!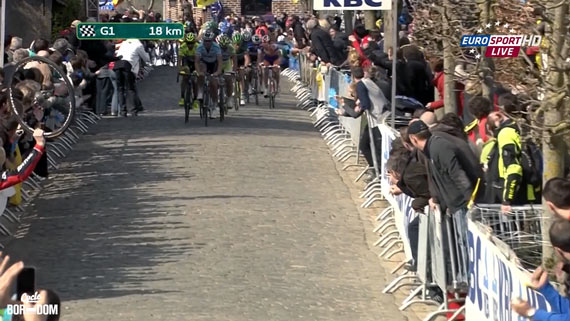 Uhhh, waar ligt Alessandro?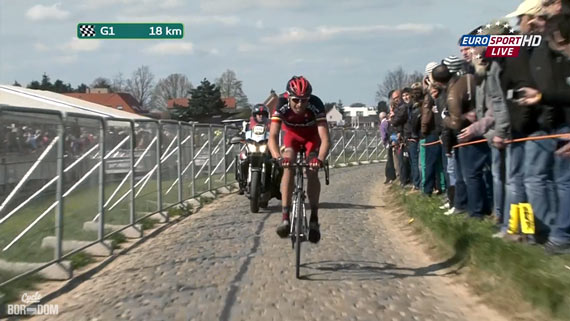 Alessandro's move looks hella serious right here, but…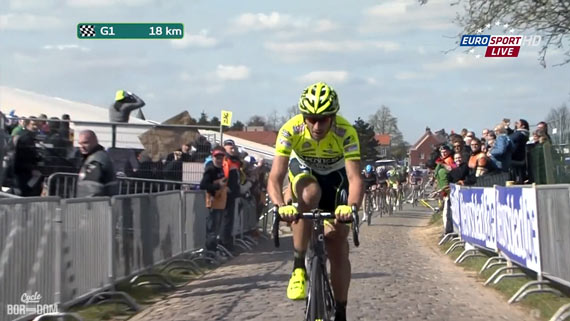 Then Pozzoto got all awesome on us. Tommeke's behind him in stoker position.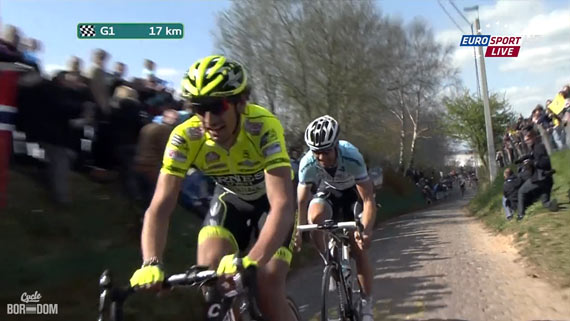 Yeah, this hurts.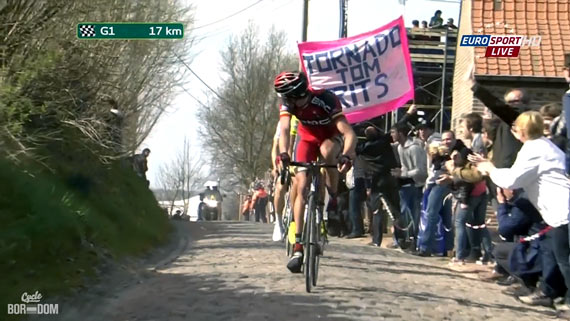 A-Ball checks whether the sign says "TITS" or "FRITS".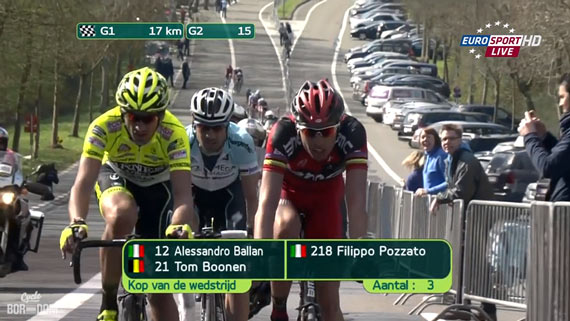 15″ and growing. Big names making big moves.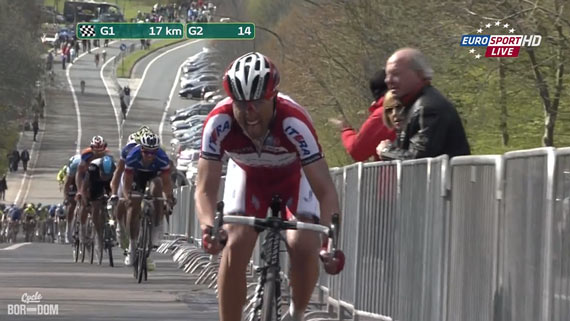 Luca Paolini desperately trying to bridge. LP was super strong today.
Laatste Paterberg – The Race Gets Wicked Hahd
Ballan, Pozzato, and Boonen hit the Paterberg for the 3rd and laatste time. With only minor gaps of 12″ to Paolini, and 18″ to the chasing bunch there wasn't time for playing about. Luckily, these three race bikes real good like.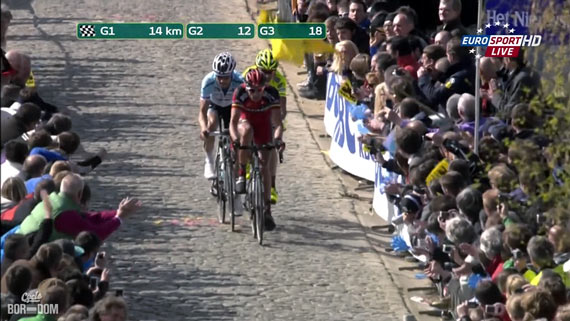 A-B-P all together as they begin the ascent of the kicker.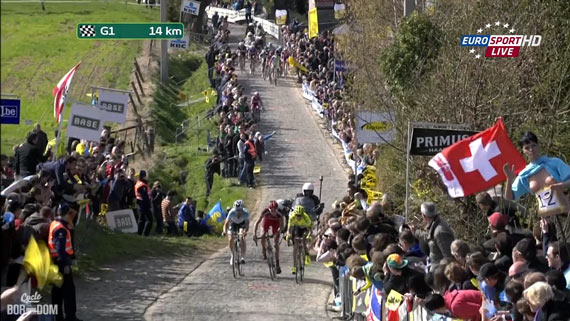 Ooooo, muy macho!! 3 across as A-B-P do the Paterberg Maarch. Paolini and bunch in the distance.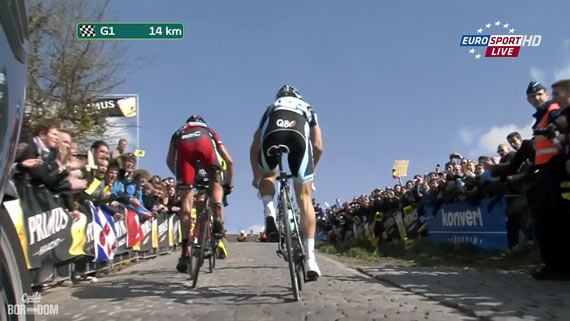 Pozzato shows his strength and begins his move. Ballan follows quickly, but Boonen struggles to wind up his massive, taught buttocks.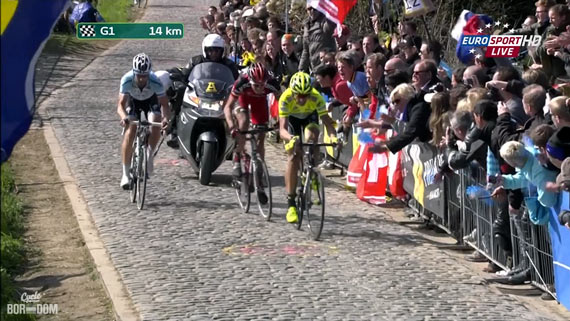 Boonen actually looked shaky here. Reminiscent of how he looked trying to hold Cancellara in '10.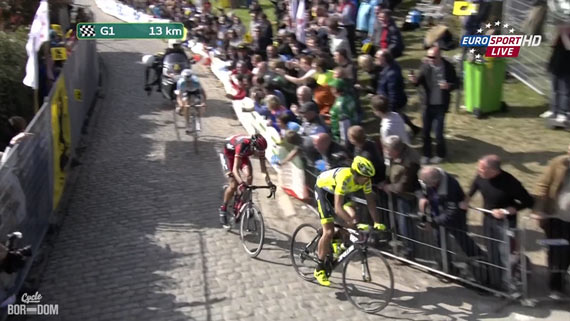 Gappage! Actual gappage showing here.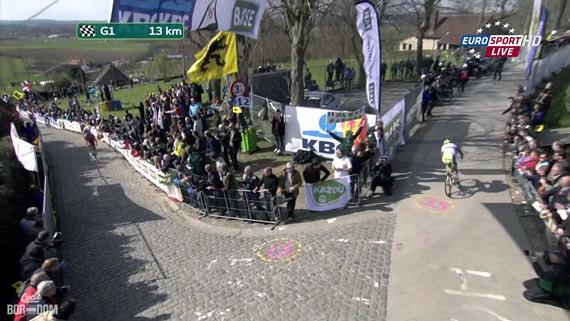 Gap, Sagan, Gap. The boy is strong, he just needs a few more races to sharpen the senses.
To Oudenaarde We Will Take You
A-B-P begin pushing the gap out after they crested the Paterberg. Everyone behind was now racing for 4th. When you think about it, it should be: B-B-P, shouldn't it? Or, A-T-F. Whatever.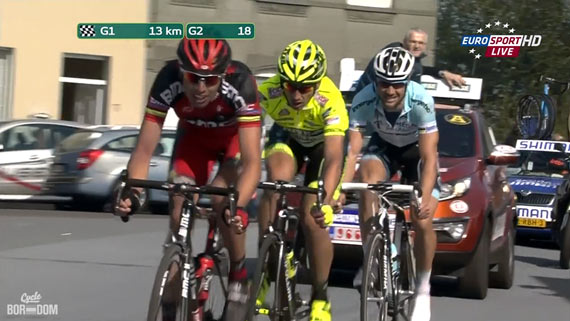 Werkgroep.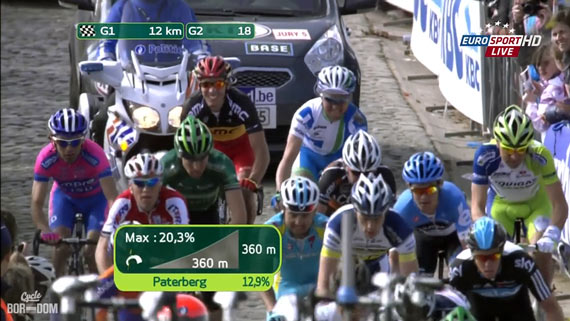 Meanwhile, at the back of the race… Where is PhilGil?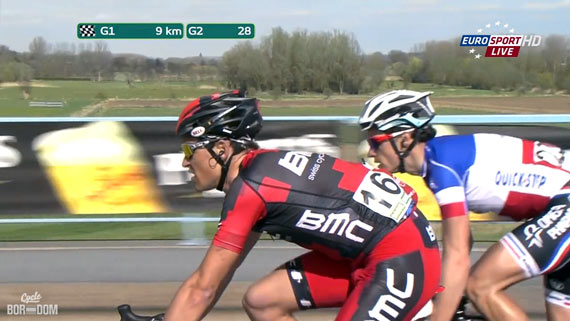 GVA and Chava—glass cranking.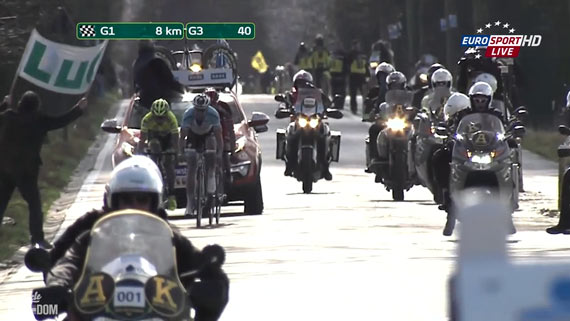 Not too much going on here.
Ballan's attacks resembled a newborn baby giraffe finding its legs for the first time.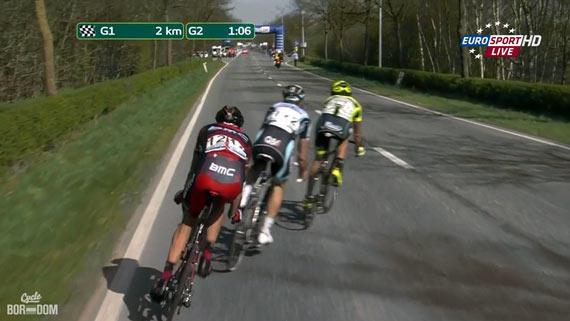 With a gap of a minute plus, there was time for playing. Track skills exhibition.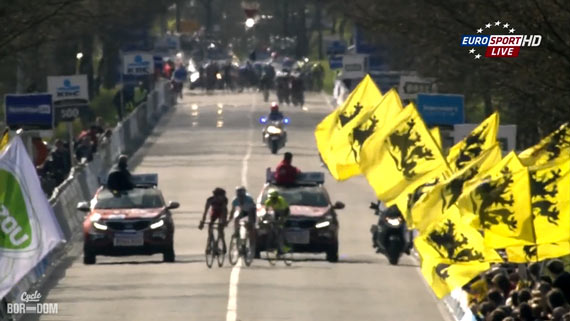 Tommeke and Pippo wisely force the newborn giraffe into the lead for the sprint.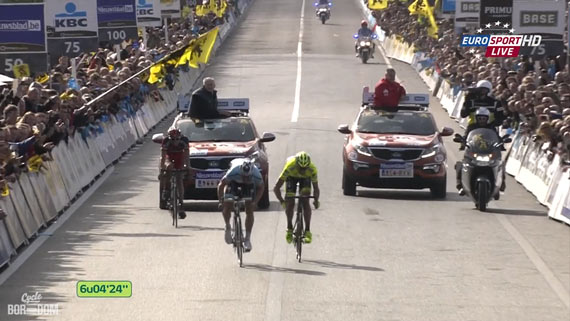 The newborn giraffe pulls up lame while Tommeke and Pippo battle it out.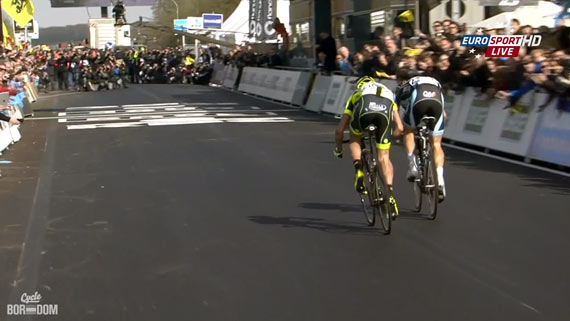 Approximate viewpoint of Alessandro.
Buttocks of overwinnings.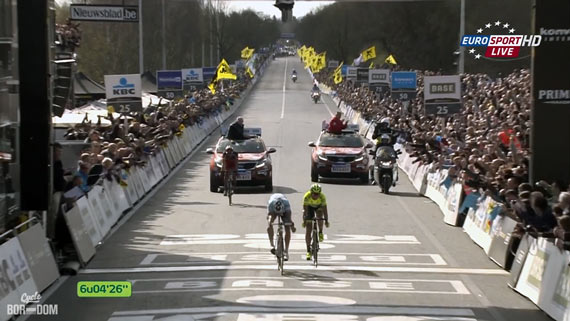 It looked closer than it actually was—Boonen wins De 2012 Ronde by a bike length.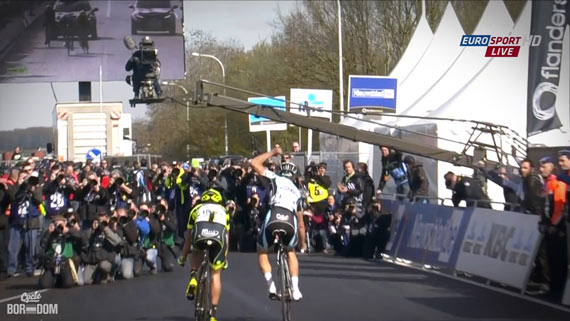 Moar overwinnings from the rear.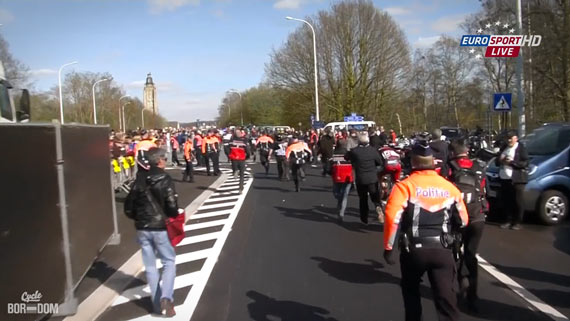 Post-finish mayhem—these Politie ain't polite!
When Hondos attack: 'Roid Rage!!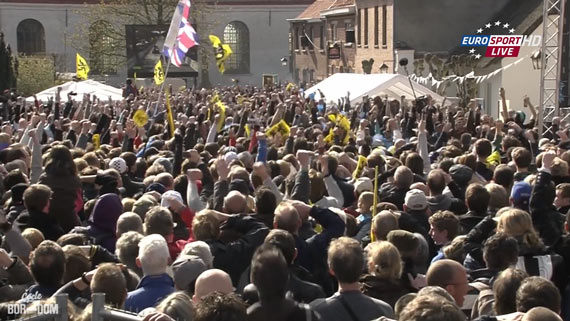 Wooooooo!! Belgians like their Boonen and their bike racing.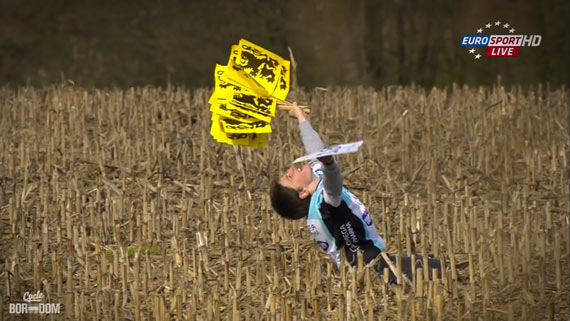 DAT KID!!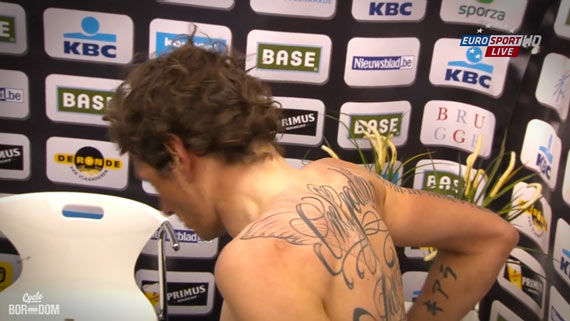 You like Pippo back? Here's some Pippo back.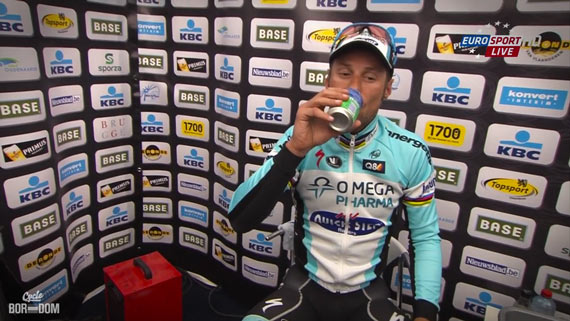 Tommeke's amused by Pippo back.
Eddy, however, is not amused. He may be reading legal documents, though.
De 2012 Ronde Winnaars.