Huge thanks to Anna for offering to take some shots and write her account of her time at Cyclocross Nationals! Will it assist in the healing of the horrific emotional scar of not attending myself?
No…
Awkward silence and far off gaze aside, enjoy @BloomingCyclist's good time!
@BloomingCyclist's  Account of #CXNats2016 in Asheville, NC
[dropcap size=small]W[/dropcap]hile it pains me to admit it, I don't think I've watched a single pro 'cross race this season. Nor have I been following the success and/or failures of those at the top of the 'cross scene. However, I was still beyond excited to travel to Asheville
Cross Nationals are always my favorite races to go to. The atmosphere at nationals is always amazing. The spectators, the riders, the venue – all of it adds up to an electric atmosphere. Everyone seems extra friendly, the cheering extra loud. This year was a great course, with perfect conditions, and wonderful people, as usual!
When Chris said he couldn't go to Nationals, I was heartbroken on his behalf, as I know how much it meant to him. Since having a Nationals post seemed like the right way to top off his season, I offered to take some pictures for him. But then I realized that would push me out of my comfort zone a bit, as I usually get obsessed with the racing and forget to look at other ways to capture the race. However, I welcomed the challenge to think outside my regular photo taking box!
To be honest, I struggled with finding a good topic to write about for this post. I find writing difficult if I don't have a fire burning in me that can only be calmed through putting my thoughts on paper. I love blogging and I love how my words touch others, but I'm crap at general blogging, which is why I'm terrible at posting regularly.
But, I like themes and grouping pictures together, so below are my pictures grouped by theme!
Mud
The mud was so red in Asheville. When I was going through my pictures, I thought "this is so red, people will think I manipulated the color!" But I didn't, I swear! It was that red!
The Course
I was impressed with the course itself. It was cleverly designed to ridable for a variety of skill levels. They added and subtracted different sections and run-ups, depending on the skill level of the racers. That is such a great way to make a course that is accessible to all different levels, amateurs to pros. Often, because so many different levels are riding on the same course, there are comments that the American Nationals courses aren't as challenging as European courses. But Asheville showed you can have the best of both worlds!
Cemetery Hill was so challenging in so many ways. First, the descent off Cemetery Hill was fast and slick.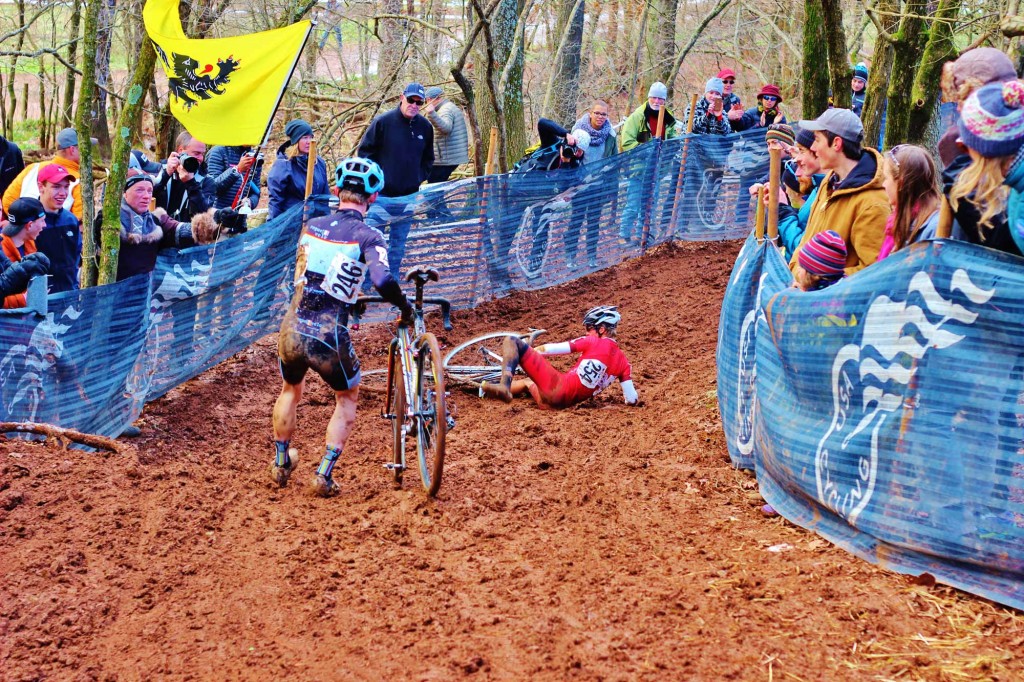 Then, the turn off the hill to the descent was tight and narrow, as the fastest line required you to thread the needle between two lumps of mud…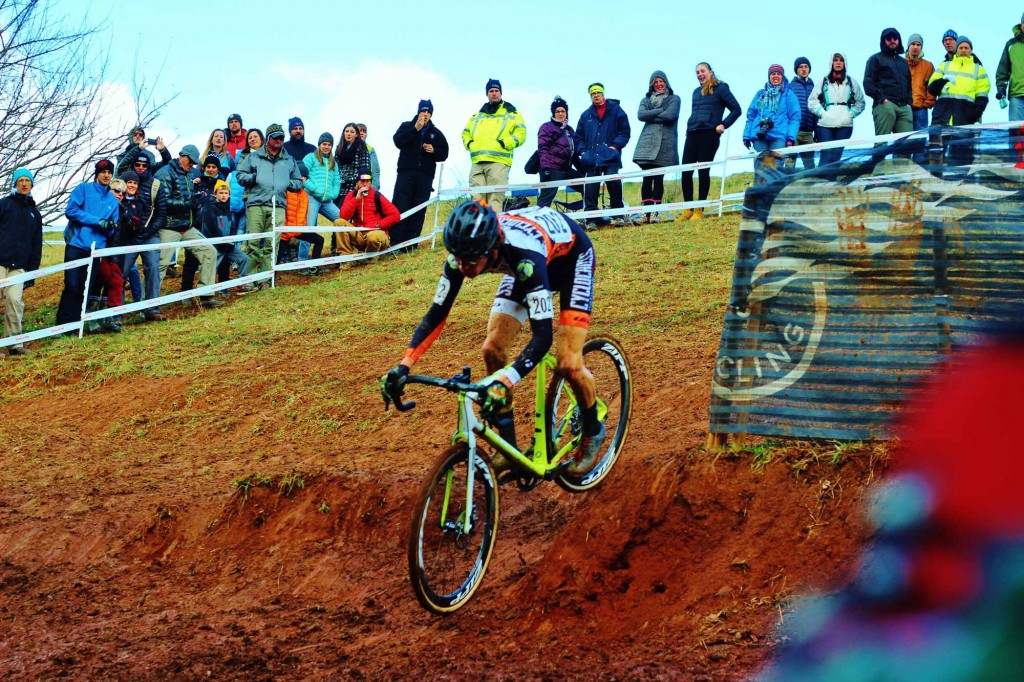 If you missed threading the needle, you would be crashing, right into the conveniently placed tree.
And to top it all off, the approach was a massive off camber with a variety of lines worn in. If you didn't pick the right line, you risked lost time and/or crashing.
Kask Climb
This was a killer runup that everyone did, even the youngest riders. It was steep AF and long! Saturday was a little muddy, but clumpy and mostly dry, so it was possible ride up it, if you got enough speed. After the rain on Saturday night, it turned into a slip and slide! The earlier races (non-UCI categories) had a rope they could use to drag themselves up with!
The Scenery
The location of the course on the Biltmore estate was to die for. As a flatlander who grew up in the Midwest, I am always by fascinated by mountains – just can't get enough of them!
Donut Race
I didn't stick around long enough to see who threw up after/during the Donut Race, but I have no doubt there was upchucking happening. I took a bacon handup once and it almost made me throw up. So I can only imagine what racing on donuts would feel like…
Wilderness explorers
One of the amazing things about cross is the lengths fans will go to watch the race from the best spots. We trek through the woods, march through mud, climb trees, climb the steepest hills, risking life and limb to cheer from the gnarliest parts of the course. Mud adds to the challenge but never deters us.
Support
Even when you're racing on the very amateur level (like myself!), cross can be pretty equipment and accessories heavy. Even if all I have is my one bike and one set of wheels, I still need to bring a lot of cold weather gear, because you just never know how cold it will be and layers are key. But the higher you go, the more gear you need and if you're at the point where you're racing at Nationals, you have a lot of shit. Teams have large footprints to keep bikes, clothes, warmth, food, warm up equipment and everything else. The name of the game is creativity, and it's fun to see how different teams solve different problems.
Fans
I think we can all agree that after the riders, the most important part of any cross race are the spectators and fans. Without us, the racers are just riding around in circles, in the cold and mud. And that's something only weirdos do. But once you add fans and spectators, they become fighters, battling through the chaos, cheered on by rowdy spectators. Which is way cooler. Fans add that special spice to the race and are the main reason I LOVE going to Nationals every year. The fans in Asheville this year were no exception! I made some friends at the top of Heckle Hill and it's so fun having someone to cheer with, I stayed with them the whole of the pro races!