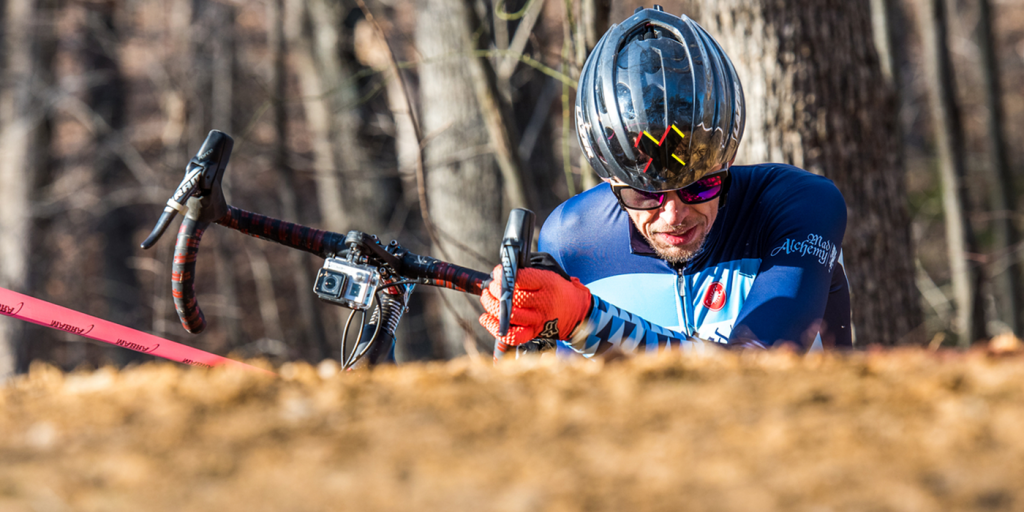 [dropcap size=small]S[/dropcap]tanding there on top of the hill, the warm midday gaze of the late fall sun silently streaming through the trees, mitigating the crisp bite of the air chilled by the growing shadows—I indulge in the most benign battle playing out on my face savoring the warmth as the cold reminds me winter's not far off. Disregarding the growing knot in my left quad, I pour half a Genesee down my throat, then attempt to wipe a bit of the dried whipped cream from my cheek…
Wait, WUT?!
How did I get here?
Where did I get this beautiful beer?
Why I haz a creams on my face?
Who is this taking my picture in the middle of the woods?
How do I work this bike with the zip-tied shifter?
The slow, dirty realization that I've involved myself in a singlespeed cyclocross event hits me. A wry grin creeps across my face, I hand the rest of the beer to Ben Kristy, the photographer standing in the middle of the woods, remount my singularly limited Van Dessel heading off to barrel down "The Chute".
CAPITAL 'CROSS CLASSIC: PRE-RACE
Let's backtrack a bit here and see what it took to get Boredom out of the 4/5 and into the midday shitshow of awesomeness.
I had just finished packing everything into the car, strapped the bikes to the rack, and #TheBug strapped herself to her seat. Upon entering I was greeted with a sickeningly familiar sound that made my stomach turn—a blinking coolant light and the dreaded "STOP" warning. This car, its cargo, occupants, and everything riding on making it to this last stop of the series, wasn't going anywhere.
FACT: I had just gotten the car repaired for this very problem.
The intensity of emotions flooding through me was insane. Anger, extreme anger, sorrow—all the expected reactions. But then another one set in, the feeling that this whole thing was kicking me in the teeth for some reason. Like everything was going too well, and I really wasn't supposed to succeed. It's amazing what the brain can do. I admitted defeat. Sent out the requisite sad sack status, sitting there wondering what was next.
Suddenly, like the beacon of Amon Dîn, hope burned bright—Boredom will summon the Rohirrim and ride one laatste ronde!
But then, de nieuwe Boredom brain kicked in. I may not be able to race, but I'm sure as hell gonna make it out there to at least cover the final race of the series. Then, just as these positive thoughts self-generated within me, the community reacted. Solutions were thrown my way. Positive vibes poured in. Paid Uber fares were offered to get me there. Then the best suggestion of those 10 or so minutes: Alex Harisiadis (AKA: @monsterriffs of Team BBC) said to call UberXL, bring one bike and do the singlespeed race. Suddenly, like the beacon of Amon Dîn, hope burned bright—Boredom will summon the Rohirrim and ride one laatste ronde!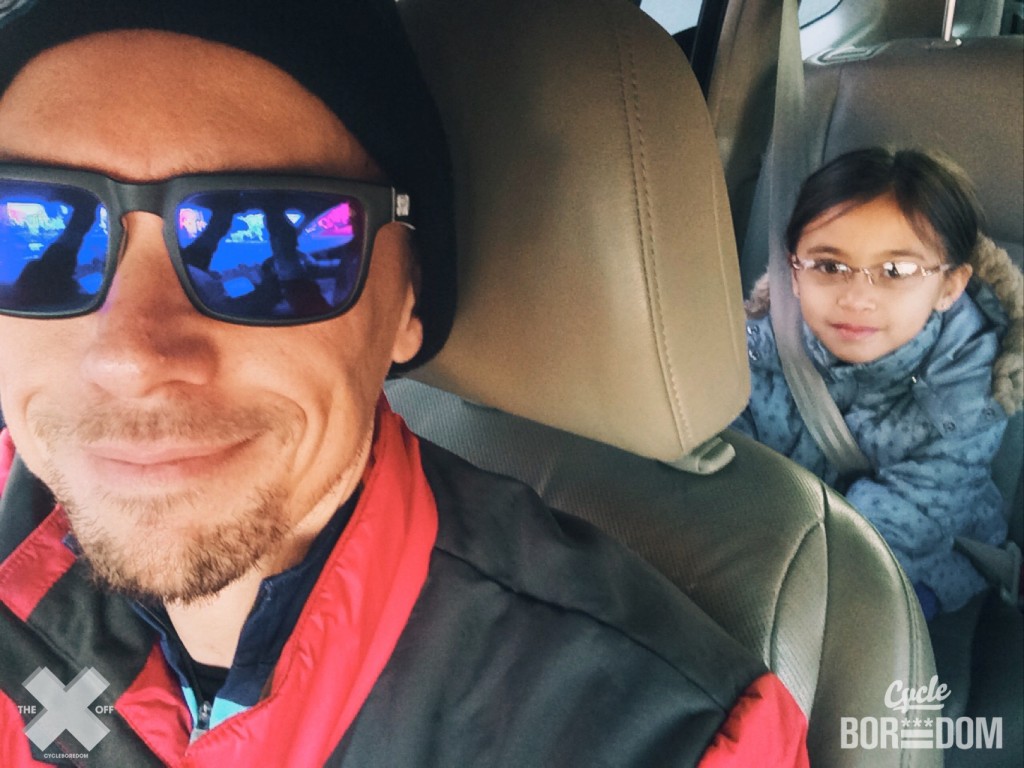 Quickly, #TheBug and I consolidated our (my) gear into a ridiculously fortuitous IKEA bag the former Mrs. Boredom had loaned to carry a bunch of Syd's bags a few days earlier. Then, upon checking the SUV Uber was sending, it looked as though I had summoned the futilely sized CR-V. Seeing as it is on the low end of the "utility" spectrum, I feared both my bike and daughter wouldn't fit. Hell, I even cancelled the first call to see if I could get the other vehicle I saw circling on the map. However, Alem wasn't having it, saying he was on his way. When Alem showed up, the CR-V turned out to be a more than adequately accommodating Highlander! This is gonna work!
So for those who were wondering: yes, that was me who took the Uber to the race.
CAPITAL 'CROSS CLASSIC: RACE DETAILS
Category: Single Speed Cat 1/2/3/4/5
Start Time: 1 PM
Weather: 51ºF/Sunny
Field Size: 42
Bib Number: 890
Start Position: No idea.
Course Condition: Dry/greasy/muddy/uppy/downy
Tire Pressure: 25 front/28 rear
Gear Ratio/Gear Inches: 40×22 / 47.9
CAPITAL 'CROSS CLASSIC: THE RACE
OKAY, TECHNICALLY STILL PRE-RACE
Truthfully, the pre-race continued for several hours more because I was more concerned about my upcoming race than running around the course to get shots. I managed to get a few, but they were all centered around the Crosshairs (thanks for the space!) tent where I was camped out.
I pre-rode more than I ever had before. I couldn't get enough of the course.
Turns out this was the best field to do the single speed race as:
1) @CXHairs Bill was making his racing return after 3 or so years.
2) Nearly the entire Crosshairs Cycling team was joining the Crossfather for this special event.
The prophecy continues to unfold, doesn't it?
The story doesn't end there though. After pre-riding to learn the course as well as decide which gear to use on the Van Dessel, I decided on shifting down just one gear, because hills and because not strong. Although, that's not the "story doesn't end here" part. Moments before zip tying the SRAM Force CX-1 shifter into its 1×1 status, I quickly glanced at the cassette to confirm it was still in the pre-ride gear. Apparently bright sun was bright, and bright reflection made it difficult to see the gears. Not realizing this, and thinking it was in first gear, I shifted down one before sealing the deal with an extra hefty zip tie.
Yep, you guessed it—I shifted into the next hardest gear. I discovered this just as I was about to roll towards the start line. Yet another element to add to this already ridiculous story.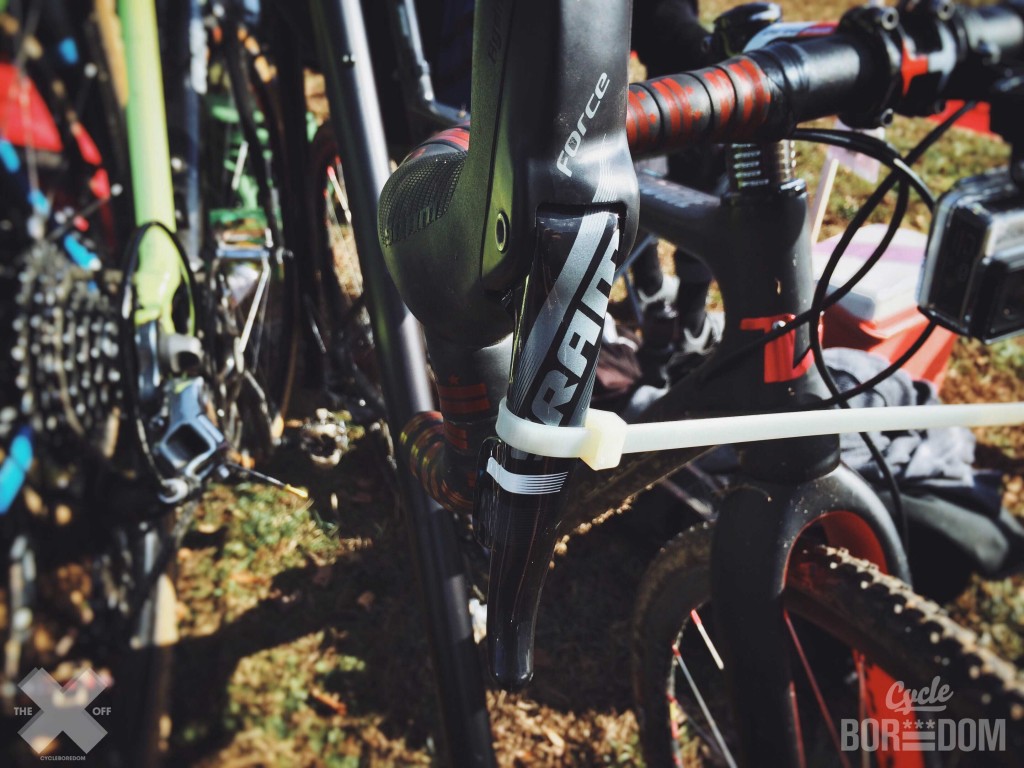 OKAY, ACTUAL RACING
First lap was pretty goed. The change in gear was obviously a benefit on the flats, and wasn't an issue (yet) on the hills. I pretty much rode what I normally would with #allthegears, and ran what I normally wouldn't. Everything was going well. Second time up the stairs and around towards #KillBillHill (#KBH) I was just under where I normally wanted to be for my threshold. A floppy pizza wielding Bruce Buckley got the fuck you death stare as I crested the nasty #KBH pop just before heading down "The Chute". So yeah, right where I wanted to be for my heart rate. After rolling the flat section, the hill on the far side of the course was clear enough to ride this time. Let's say the change in ratio was noticed. I made it, but I was well aware I did a thing.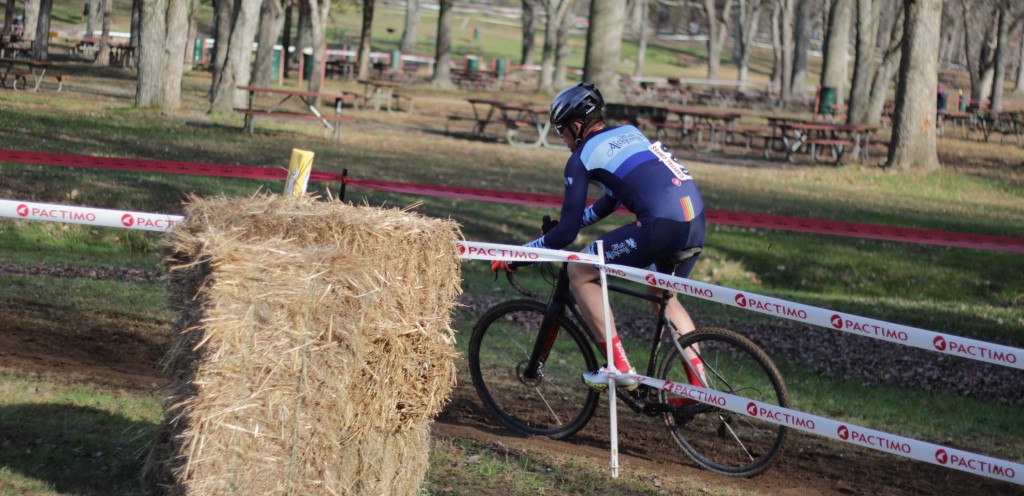 Things get a bit fuzzy here. Third lap I think was the one where I caught Bill and for a brief moment the Cycling Internet of Things were "railing" some turns and running the barriers together. After the singularity, I pushed it going into the stairs and up the hill and that's when I noticed that my left quad was talking to me. Not too bad, but enough to realize things were going to suck more sooner than later. As I continued on, I jammed my thumb into the offending muscle in a desperate attempt to slow the inevitable.
FACT: Jamming your thumb into a cramp whilst racing may or may not work but it feels like you're at least doing a thing.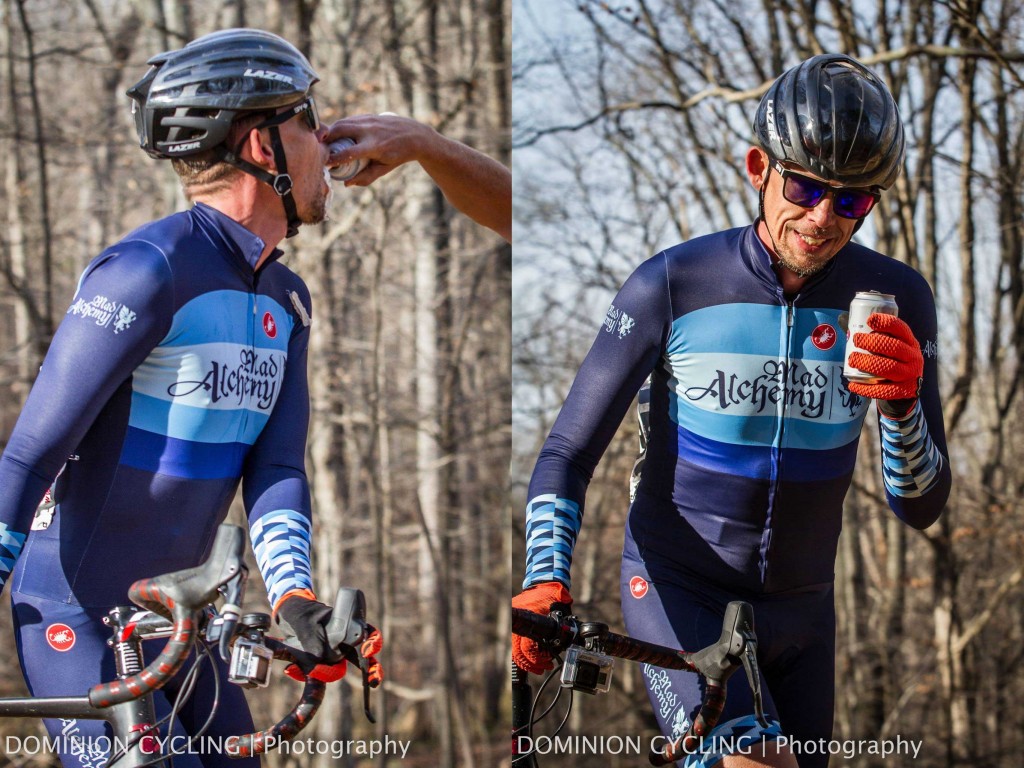 After making it through this ronde, the shift from being a "serious CX racing dude" to the "this is the laatste ronde of the season and you haven't taken one damn beer handup yet dude" transpired. From that point, every handup I refused earlier, I gravitated towards. The Crosshairs Crew (beer cup), The Bike Lane squad (entire Genesee beer), and finally Bruce at the top of #KBH who had switched from floppy, vomit inducing pizzas to whipped cream. This is exactly what I needed. My body had given out a few weeks ago in terms of being "competitive". While that aspect is certainly CX, being soaked in beer and receiving a whipped cream facial was the missing element of CX I sorely needed to add to my experience and season. Hell, at one point I even stopped tape-side and chugged the beer as I cheered the Masters riders that were lapping me.
FACT: Genesee tastes pretty damn goed in the middle of a CX race. Hydration is key.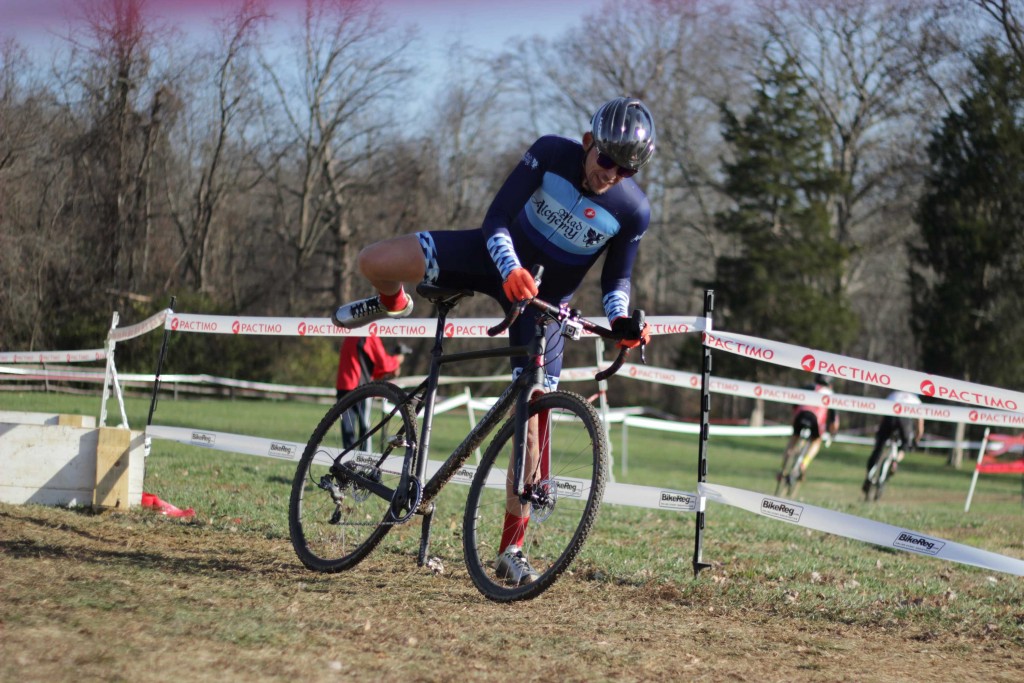 Despite my apparent singlespeed epiphany, leg cramps were still on the menu. I had given birth to twins—both of my Vastus Medialus decided to rebel and it was getting to the point where I couldn't control them. For the second time this day I was faced with the decision of whether or not to quit and for the second time I said to myself, "A day may come when the courage of Boredom fails, when I forsake my fans and friends and break all vibes of cyclocross, BUT IT IS NOT THIS DAY!" And as if on cue, Jon "@WTFKits" Burns handed me a beer, saying the rest was waiting for me when I finished.
The laatste time up #KBH was the killer. Right in front of Darrell Parks both legs locked up completely—I went full Frankenstein's monster. Once I reached "The Chute" I knew I wanted to carry as much speed into the flat, muddy section at the bottom so I railed the descent as fast as I could.
Once reaching the top I was essentially walking the course like a newborn foal trying to figure out how legs work.
It turned out to be my fastest time down according to Strava. Miraculously, the legs felt fine as I powered through the flat on last time, casually greeting the passing 1/2/3 riders now pre-riding the course. However, the hill on the backside again proved to be my nemesis. Once reaching the top I was essentially walking the course like a newborn foal trying to figure out how legs work. It was here @CXHairs Bill caught up with me again.
I coaxed myself through the final section of the course, barely making it across the line but completely stoked by everything that lead to this exact moment.
CAPITAL 'CROSS CLASSIC: POST-RACE
I've put you through enough in this post, so I'll try to be brief.
Cyclocross again managed to provide obstacles and I again managed to overcome them. The satisfaction of doing this when in the past I would've simply quit from the beginning, and the monumental fact it was with my daughter at my side, giving her a prime example of perseverance in the face of adversity, is indescribable.
FACT: Having her at the race is one of my favorite things. Her cheers are my form of doping.
Special recognition has to go to Anna "@BloomingCyclist" Doorenbos for hanging out with #TheBug while I raced, taking shots while I raced, and ultimately for the much needed ride home. Which, again, was part of the prophecy—she originally wanted a compact ZipCar but ended up with a Jeep!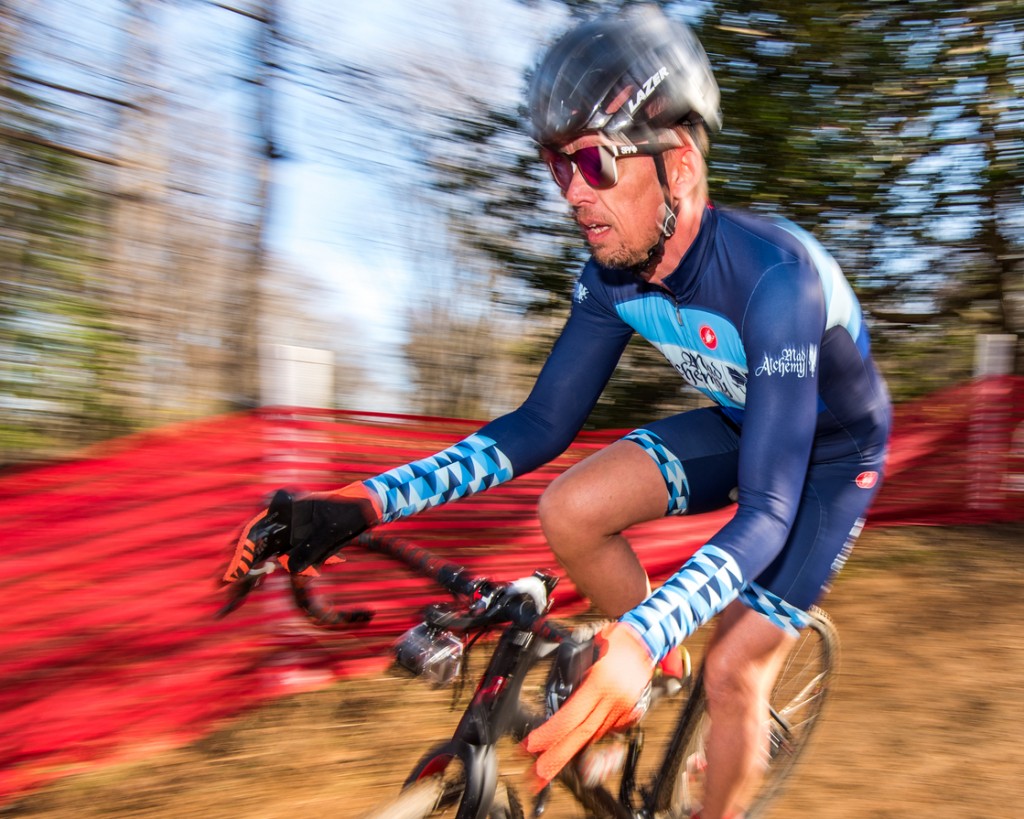 Check out Darrell Parks' shots from the Capital 'Cross Classic 2015 being hosted on Bruce Buckley's SmugMug site. Also, Darrell has a fantastic calendar for sale filled with shots from this past USA road season.
WAIT, WTF IS THE CXOFF?
The CXOff Project is a culmination of numerous elements of my life coming together. Bloglife (reviewing product), a midlife crisis need-to-race-now alert, a daughter who wants cheer on her dad, and a special person who sparked a life altering, emotional transformation within myself. For all the details, visit the Official Project Launch post.
SUPPORT BOREDOM
Love, like, or barely tolerate what I'm doing here with #TheCXOff project and the rest of the site? Then the best way to show your support is to share these posts. Retweet them on Twitter, Share them on Facebook, and post them to your GeoCities site. And lastly, click and visit the companies advertising with the site. All of this helps (well, eventually) keep this effort going. I'll have more merchandise in the coming months as well for now, visit my Spreadshirt Shop. Thanks, as always, voor reading.