[dropcap size=small]W[/dropcap]hile the DCCX report was filled with monumental emotions, there was another element becoming the overarching theme: community. The mini "Why Cyclocross?" interviews I've been doing began to reveal this as well as my interactions throughout my day at the races.
Each weekend you meet up in some field to do the same crazy thing and instead of "Nice to finally meet you.", the conversations become more familiar. Things from previous races (forgetting helmet/shoes) are brought up and used against you. I've been thanked repeatedly for my coverage. More people have come up and introduced themselves to me and thanked me for what I'm doing.
We're bound by this thing of ours, this cyclocross.
Fact: Course tape is the only thing keeping us from being thrown in the insane asylum.
Ed Sander Memorial CX: Pre-Race
Multiple times in my #EdSanderCX pre-ride I found myself saying, "Holy shit…" Post-race and smiling I was, "HOLY SHIT!!" Nothing like #CX.

— Cycleboredom (@Cycleboredom) November 2, 2015
That pretty much sums it up. The two sections at the far end of the field where they dropped down from the ridge was something new to nearly everyone I was surrounded by when pre-riding. Since it had been raining both sections were nothing but a frictionless shitshow. Regardless, I dropped in on both just to see what would happen. Also, because there's no stopping in CX.
Fact: I rode the entire bottom section during the pre-ride, but during the race there was always someone around that forced me off to run the hump to get out.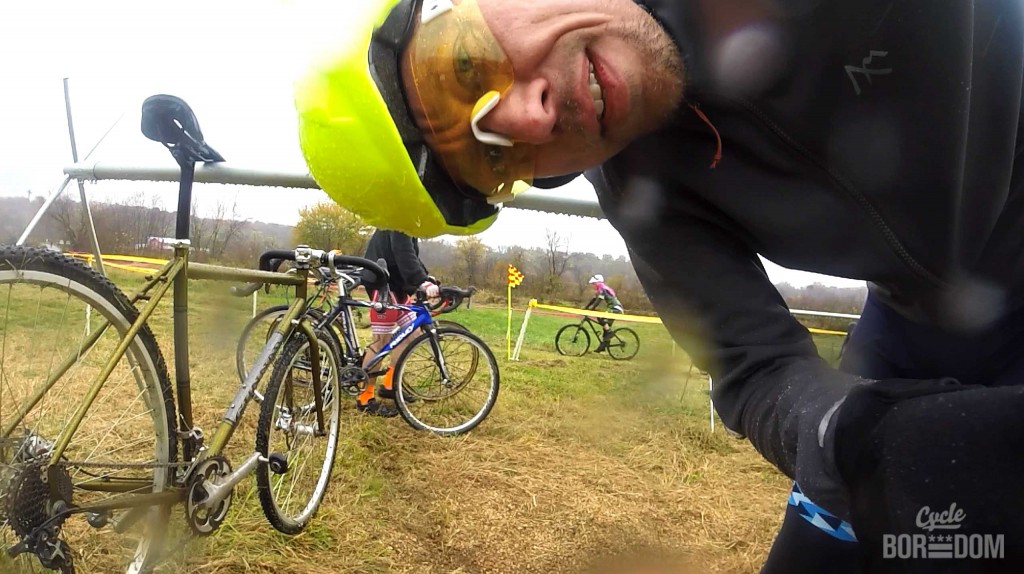 Ed Sander Memorial CX: Race Details
Category: Men's 4/5 Beginner
Start Time: 8:15 AM
Weather: 54ºF/Rain
Field Size: 70
Bib Number: 145
Start Position: 5th row.
Course Condition: Mudfest.
Tire Pressure: 26 front/29 rear
Ed Sander Memorial CX: Racing
Damn These Fuggin' Starts
Again with the starts. Going uphill full gas with a bunch of diesels trying to make up their late registration call up and hearing tires rubbing way more times than I wanted caused me to back off. I'm sorry, but this is NOT where I want to crash. Who knows if I'll ever get used to this (I probably will).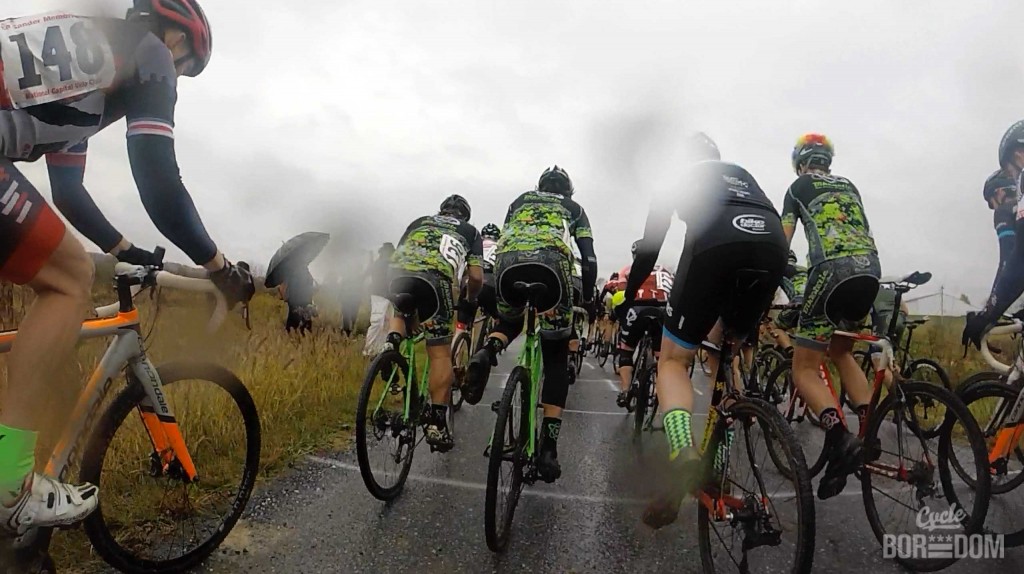 The Downing Then Then the Upping
The first time through the fun at the far side of the field was exactly what you'd expect for the 4/5 field: a spectacular shitshow of turtles sliding down, then struggling to claw their way back out. Once out of the swamp there was more little off-camber asshattery that was ridable during the pre-ride but a no go with the full field there. So, now the shouldering and the running.
The Shouldering and the Running
It's not something you initially think of when choosing, then purchasing a fiets voor cross, but the ease in which you can put a bike on your shoulder suddenly becomes a thing when it's a thing. I've always had to think twice when shouldering the SuperX, but when I reached down to grab the Full Tilt Boogie downtube and throw the top tube onto the shoulder I'm blown away by the ease. It basically feels like two smooth moves: picking up and placing as one, then wrapping my forearm around the head tube and grabbing the handlebar as the second. Obviously this involves many different moves done in succession, but with the Van Dessel, there seemed to be WAY less resistance than what I typically got with the Cannondale. The bike simply was instantly on my shoulder and I wrapped my arm and found the bars as if I've been doing it voor years (I haven't).
Fact: I self-generated watts by the incredibly pro style in which I shouldered and started running. Hell, I even envisioned graceful Niels Albert steps as I was doing it. #mentaldoping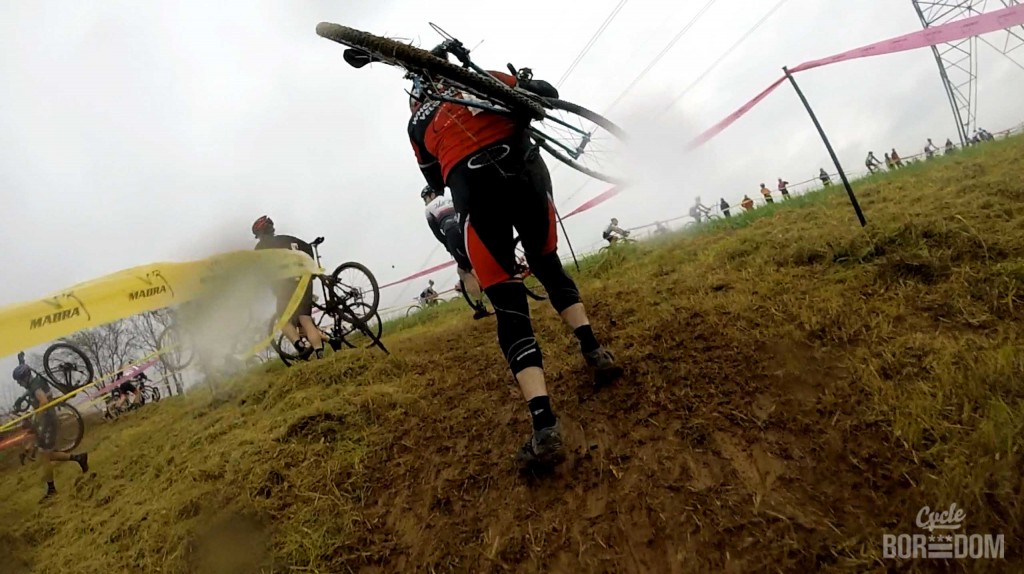 Fact: The Giro Empire VR90 shoes are by far the best shoe I've ever run in. That's including several other $300 MTB shoes I've tested.
The Gravel Pit
The advice for the gravel pit section was, "Take the ________ line, then ________." Saw all kinds of things here. Me, I took the long outside sweep then carried the speed in as straight a line as I could. If you turned, you stopped. I tried to make sure I didn't run this in the race after doing so in the pre-ride, finding out that it took another minute or so smacking my shoes against my pedals to get than damn gravel out. First time through there were multiple riders stopped, throwing me off my intended line. Next 3 laps I was clean.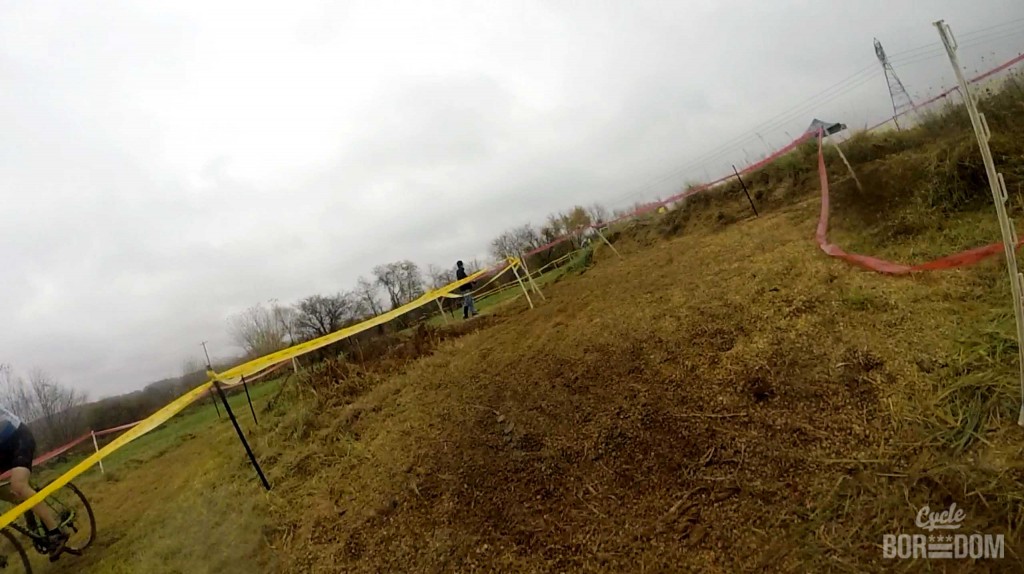 The Actual Lily Ponds of Lilypons
I'd say this could've been beautiful if I raced it in any condition than we did. But it's CX, so rain and mud is what Doctor van Hup prescribed. However, riding at threshold next to big holes filled with murky water and stuff growing in them wasn't really that striking but it was still pretty cool riding out there. Super quiet.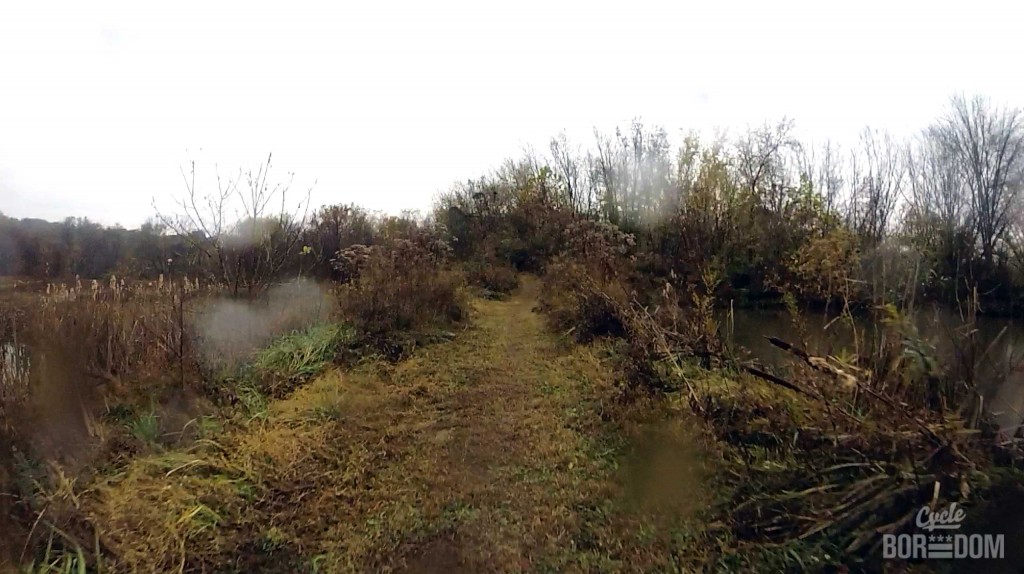 Basically, the tactic out here was to avoid the slop. I'd ride the outside line on nearly everything when possible. Anytime when I missed the intended line, the mud reminded me why I was avoiding it by trying to take my bike away from me.
Ed Sander Memorial CX: Post-Race
Again, the handling is pretty good. I'm confident in handling everything the course throws at me, even the nieuwe elements. When everything's clicking I'm making up huge chunks of space/time on the riders in front of me. My problem is still the long power sections. The short punchy stuff you typically need to train for isn't much of a problem. It's that long, soul-sucking, slightly uphill grind where I lose tons of spots.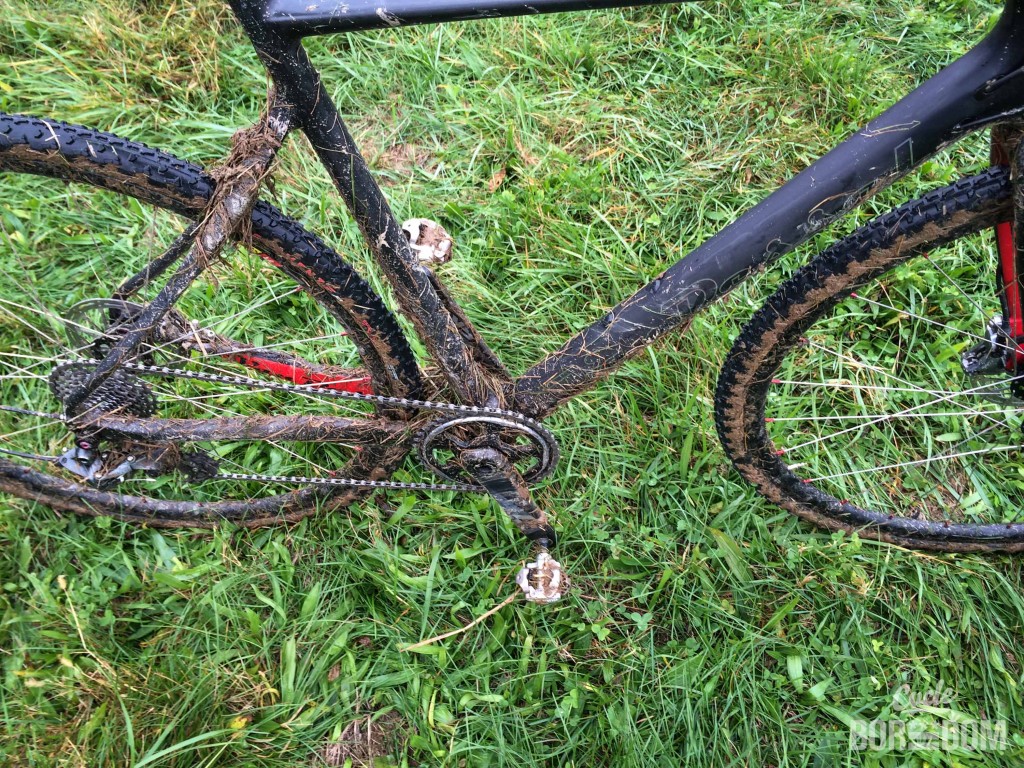 In order to train for this, I've added the TrainerRoad session, The Owl into my weekly workouts. Combined with the Wahoo KICKR Snap trainer on Erg mode there's no hiding from this 30 second, big gear grind, followed by 3 minutes of torture just under FTP. As you'll see from my last session, I've had to dial back the intensity because I simply can't maintain that level for that long. Eye-opening to say the least because I can crush the punchy training sessions in comparison.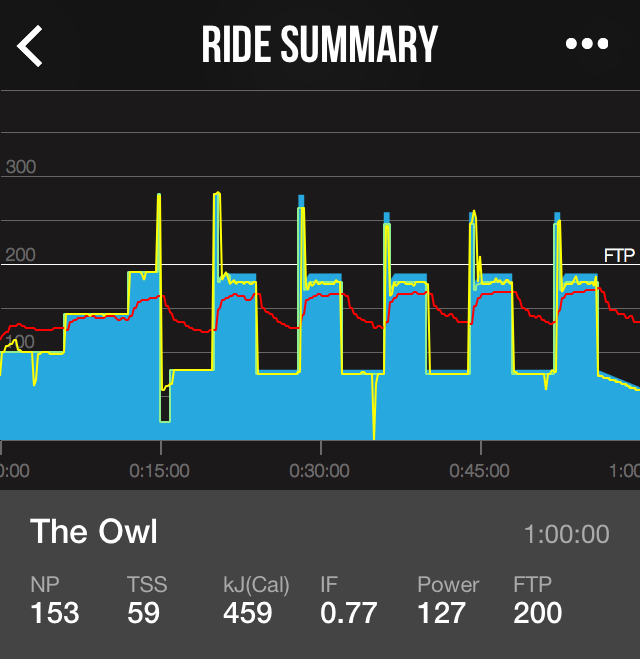 Wait, WTF is The CXOff?
The CXOff Project is a culmination of numerous elements of my life coming together. Bloglife (reviewing product), a midlife crisis need-to-race-now alert, a daughter who wants cheer on her dad, and a special person who sparked a life altering, emotional transformation within myself. For all the details, visit the Official Project Launch post.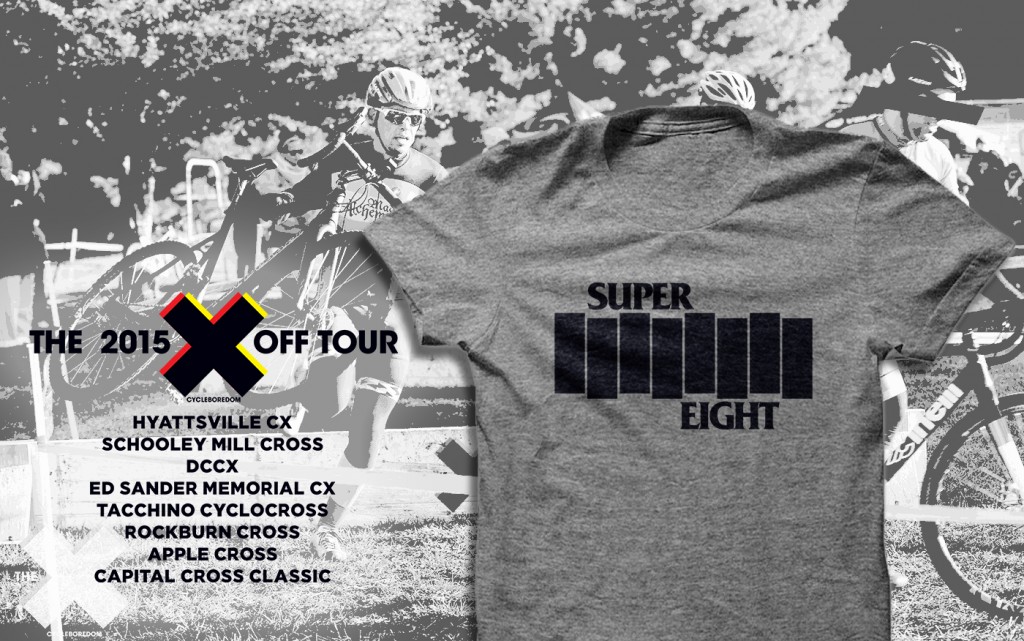 Support Boredom
Love, like, or barely tolerate what I'm doing here with #TheCXOff project and the rest of the site? Then the best way to show your support is to share these posts. Retweet them on Twitter, Share them on Facebook, and post them to your GeoCities site. And lastly, click and visit the companies advertising with the site. All of this helps (well, eventually) keep this effort going. I'll have more merchandise in the coming months as well for now, visit my Spreadshirt Shop. Thanks, as always, voor reading.