A PODIUM SPOT FROM A COLLECTIVE OF MINOR WINS
As I started this post I had a bunch of random thoughts I didn't feel like forming into cohesive paragraphs, because tired/lazy. So, bullet points.
Each week builds upon the last. This collective of racing experience is formed from physical changes, skill changes, and process changes. I feel stronger each week. I feel more confident in my technical skills. I'm more refined with my process for getting to and ready for a race.
I put together the most complete race I've had of the season so far, and I ended up exactly where I place every race—middle of the pack. At this point you can decide to get frustrated that nothing changes, or you can focus on the multitude of incredible things you did to make it feel like your best race yet.
I felt more in tune with the race than I have to date. I felt as though I was putting together sections better.
There were definite points where the confidence level was peaking allowing me to use that to my advantage.
As someone who's never raced any of these courses before, there's always a point in the pre-ride where what you think is the final bit of course that'll connect everything back up, shoots off into some other giant section of pain and anguish.
Had 2 separate discussions about the phenomena that exists within a CX race where things calm down after the start and everyone settles into their own level of suffering and you find yourself locked together with a few other riders for most of the race. It's a strange process of moving ahead, falling back, and staying on each others wheels as your different strengths and weaknesses are matched throughout the course.
ROCKBURN CROSS: PRE-RACE
In last week's episode, I alluded to the fact I need to warm up before my start, possibly adding the trainer to the pre-race routine.
"HAHAHAHA!!"
Ain't no 4/5 got time for that! That being said, I did manage to put in some good efforts during my pre-ride. The balance is going hard-ish on terrain you've never seen. So, you have to pick and choose where you're pretty sure you're not going have any surprises thrown at you. It seemed to work pretty well this time.
What also worked well was de nieuwe Helen Wyman Signature Recon Overpant Velocio Apparel sent me to test. Sadly, I wasn't able to take any shots of myself in said pants, but being able to put these things on over top of your shoes, go get yourself hot and bothered to race, take them off moments before your start while still wearing your shoes, then storing them in a bag so as not to forget them on the start line and have someone walk away with them, is a stupidly unfair advantage. Although, @CXHairs would've like to have seen me race with the suspenders on.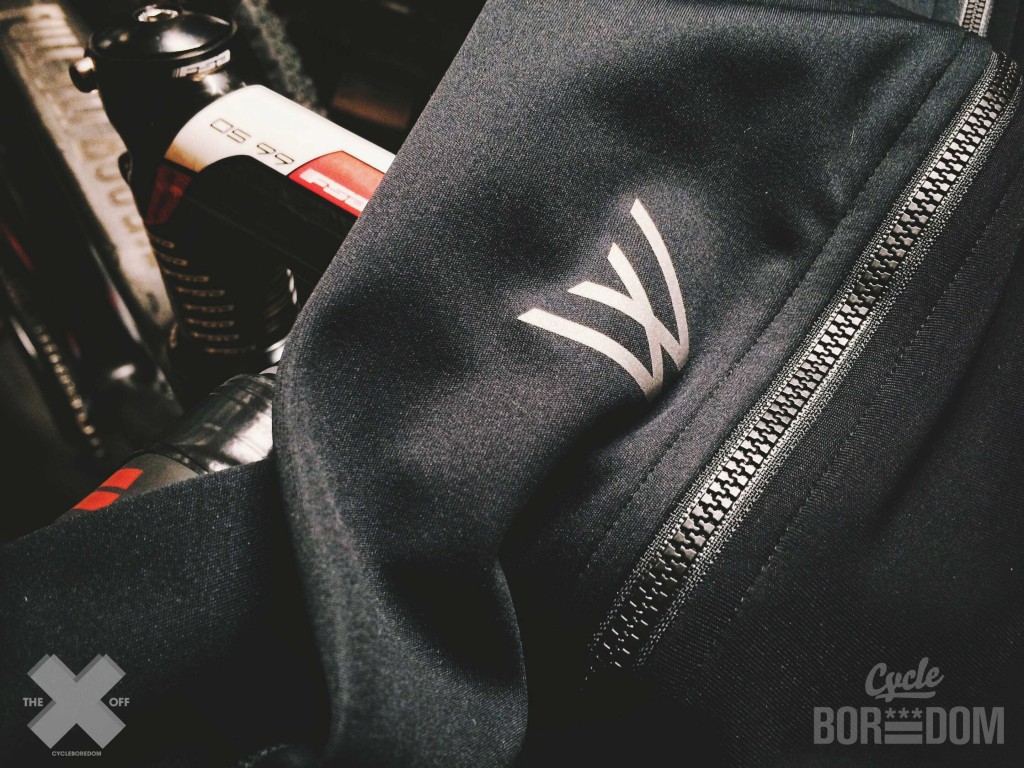 ROCKBURN CROSS: RACE DETAILS
Category: Men's 4/5 Beginner
Start Time: 8:15 AM
Weather: 43ºF/Sunny
Field Size: 90
Bib Number: 761
Start Position: 7th row.
Course Condition: Greasy in spots (as always).
Tire Pressure: 25 front/28 rear
ROCKBURN CROSS: RACING
This was by far my best race yet. I discussed much of that above, but I definitely finally felt a shift from getting through it with intent, to actually racing. Not to say I wasn't racing for the first 5 of the Super 8, but the tenacity to go way beyond your perception of what's physically possible to stay with or catch other racers became a reality.
Fact: Not once did I hit Zone 5 during this race. No idea what that means, because I definitely was one breath away from projectile vomiting.
Also like I said above, I was putting my sections together better than ever. Race brain was thinking of what was coming next, if/how I can use that to my advantage based on my skill level, how hard I could go, and where I could recover. I've also begun searching for, then dictating my line rather than allowing others to wander in. It's slow progress but it's fun.
ROCKBURN CROSS: RACE GIFFAGE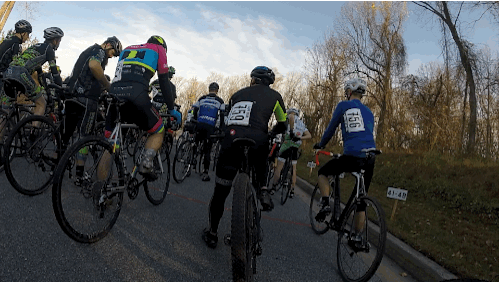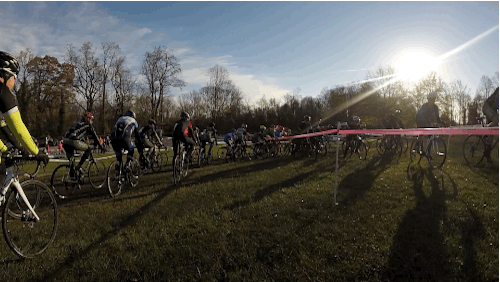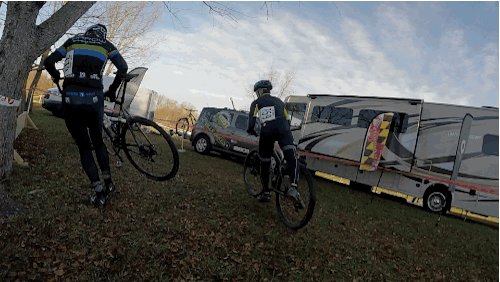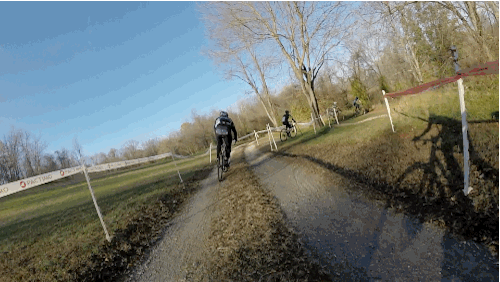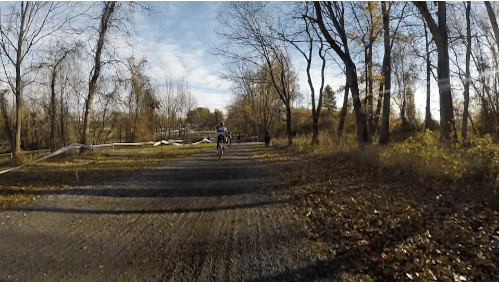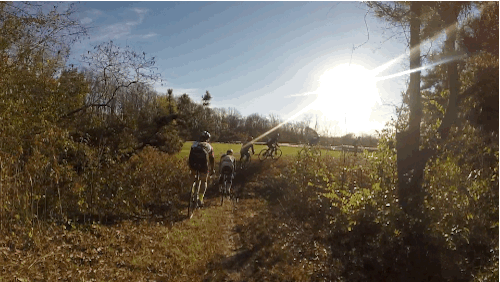 ROCKBURN CYCLOCROSS: LAATSTE RONDE
Have to say these last 4 minutes of Rockburn were the best I've put together yet. Juan's been itching to catch me in these races, and he finally did. I couldn't let that go though, I'd never hear the end of it at the shop. Michael Minnis stars in this video as we pull back the two in front of us, while I critisize my braking technique. At the end, I manage to pull off an ill SICKKK WHATTT move at the last turn. Enjoy.
[Note: first video produced in Adobe Premiere Pro, so go easy on me. I did no audio adjustments…]
ROCKBURN CROSS: POST-RACE
<outside voice> I MAY OR MAY NOT LOVE RACING CYCLOCROSS.
<inside voice> Each week I come away from the experience feeling more positive than I did just 7 days before. The confidence grows, I get stronger, I get smarter, and that's just the racing. Covering the races afterwards continues to be one of the most enriching activities I've ever engaged in. The community is amazing and I feel more embedded each time we all come together. The amount of positive feedback I keep receiving is mind blowing and incredibly humbling.
I will admit the weekly race followed by standing for the rest of the day is taking a toll on my legs. The "don't fuck with me" burn continues until Wednesday even if I roll and stretch them. Thursday is the first day I can get a training session in on them, otherwise they feel as though they'll tear in half. Plus, the post-processing and creation of content from all the media I collect is also super draining, but it's rewarding.
Sadly, the Super 8 party's almost over. But, not yet! 2 more to go!!
Wait, WTF is The CXOff?
The CXOff Project is a culmination of numerous elements of my life coming together. Bloglife (reviewing product), a midlife crisis need-to-race-now alert, a daughter who wants cheer on her dad, and a special person who sparked a life altering, emotional transformation within myself. For all the details, visit the Official Project Launch post.
Support Boredom
Love, like, or barely tolerate what I'm doing here with #TheCXOff project and the rest of the site? Then the best way to show your support is to share these posts. Retweet them on Twitter, Share them on Facebook, and post them to your GeoCities site. And lastly, click and visit the companies advertising with the site. All of this helps (well, eventually) keep this effort going. I'll have more merchandise in the coming months as well for now, visit my Spreadshirt Shop. Thanks, as always, voor reading.