Tom Olesnevich Jumps On #TheCXOff Tour for a Day
Before I get started, I have to mention that most of the shots you'll see below are taken by Tom Olesnevich (@TomOlesnevich). Tom contacted me a little while back and mentioned he'd be in the area and would love to shoot this race. I was blown away by his offer and obviously accepted. I'm typically the one taking shots of myself and others so it's an incredible opportunity to have someone who does it professionally to offer their services because they appreciate what you're doing. Long ago I posted about some of his shots he was doing during his commutes in NYC before he moved to Denver. I can't thank Tom enough, so make sure to visit his portfolio site as well as following him on Instagram.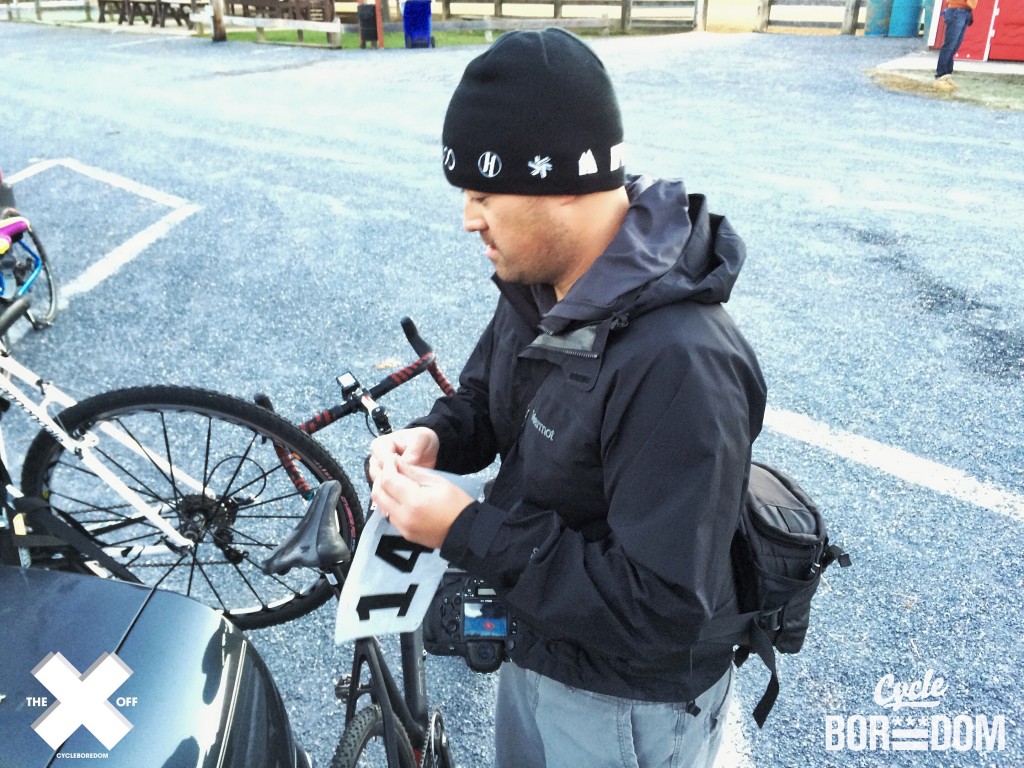 Pre-Race: Night Before
After watching everyone else have fun racing at Charm City CX, I was eager as shit to get back in the mix and push myself again. Despite smashing myself into the ground and breaking my handlebars on my thigh Monday, I was feeling pretty good. Only had one trainer session and one outdoor session, but both of those were fantastic. I covered this on my last post.
Unbelievably, I actually packed everything I needed the day before and loaded what I could into the car as well as getting the rack ready. I have no idea WTF got into me either. Those of you that know me know this ain't me. However, the lack of stress from having this completed didn't help…
Pre-Race: Morning
No idea WTF my problem was, but I didn't sleep. The sleep app I use said I got at least 2 separate hours of deep sleep but I honestly felt as though I was thinking the entire time. It wasn't nerves, it's just what my brain does when I really need it to not do that thing. So, instead of waking up at 5AM to get out the door at 5:30 (was never going to happen), I started the whole process at 3AM. Still left at 5:15, but I was completely relaxed knowing I had everything I needed.
I arrived at the venue early. I was so early that I was third in line to get into the park that hadn't been opened yet. Once the gate had been unlocked we proceeded into the lot. I mention this part because it's integral to my experience and my experience was confusing. The race email said to park in the lot immediately to your right. So, most of us did just that. However, the registration hall is nowhere near this parking lot. Most of us took the opportunity to drive up rather than walk. After a 30 minute wait to get my number, I drove back to the main lot. Which, of course, was filled. So, despite being the third person there, I'm now parking in the lot on the other side of the earth. Adding to the pain of my arduous peregrination (yes, I looked that up) back to the race venue, everyone started parking in the lots closest to the race.
Whatever (honestly, it wasn't bad at all :D).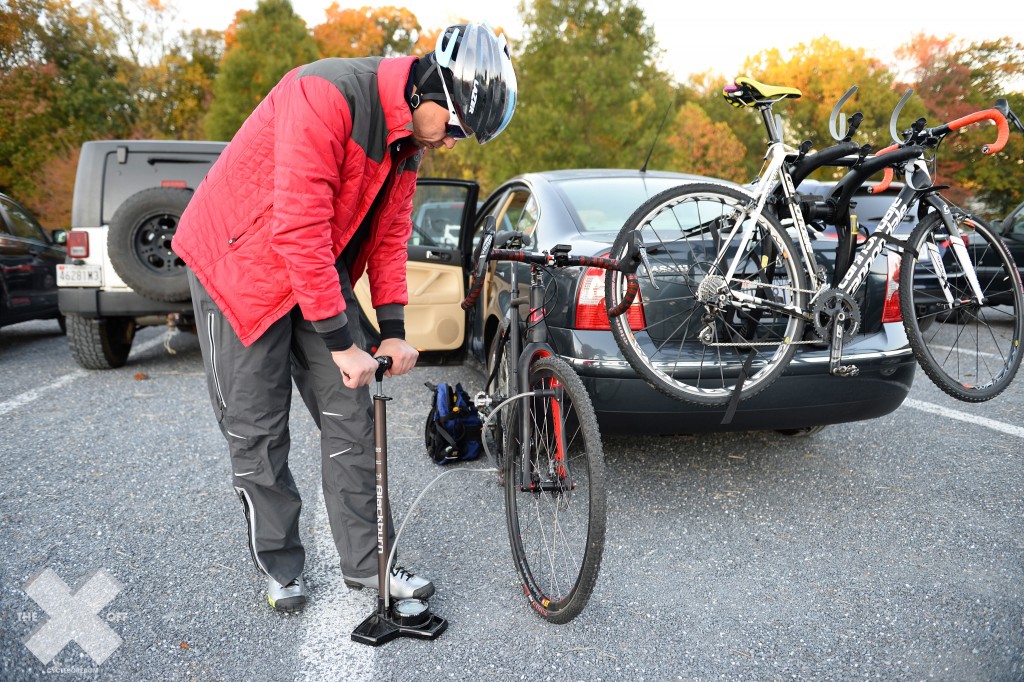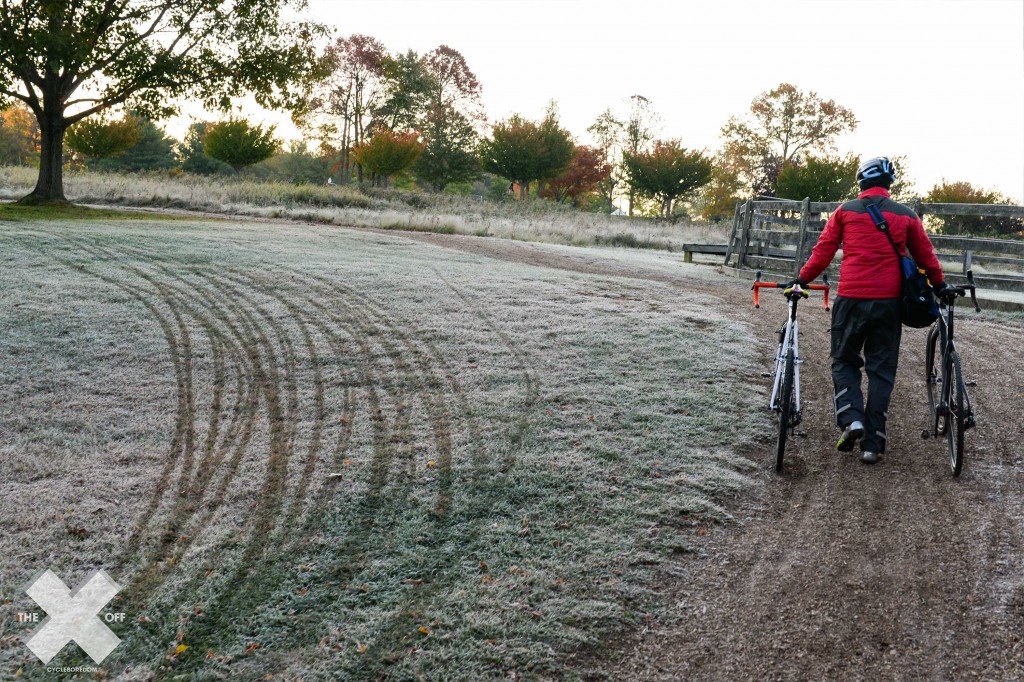 Schooley Mill CX – Race Details
Category: Men's 4/5 Beginner
Start Time: 8:15 AM
Weather: 31ºF/Sunny (So much #lightbro)
Field Size: 100
Bib Number: 140
Start Position: 6th (?) row/3rd from right (maybe?)
Course Condition: Dry, but grass was wet from FROST because FREEZING.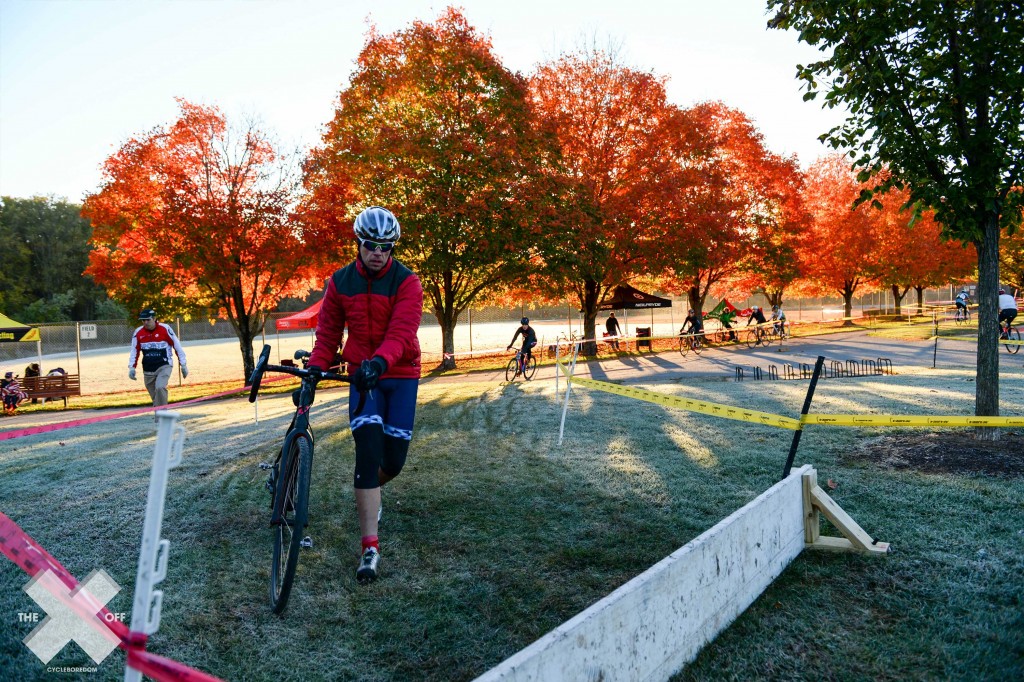 Race: First 3 Laps
I'm going to go on record as saying I ride my bike better than some but I'm slower than most. My MBA in retro-MTB studies is paying off. For some reason I'm able to drive my sweet fiets better than many I encounter on the course. I found myself having to brake in nearly every turn as I took better lines and trusted my skill and equipment to get through. I'm dismounting, jumping, and remounting pretty damn fast too. I was able to pass riders several times on the steeplechase groin popper and the normal barriers once I figured out to take the inside line.
My trackstand ability is coming in use as well. All those times where I was in traffic and had to stop or end up penetrating someones skinsuit from the rear, I was able to stay up and keep moving. Of course, there's going to come a time where I have to dismount and run but that opens up a whole can of fuckery in a field of 525 (100) riders.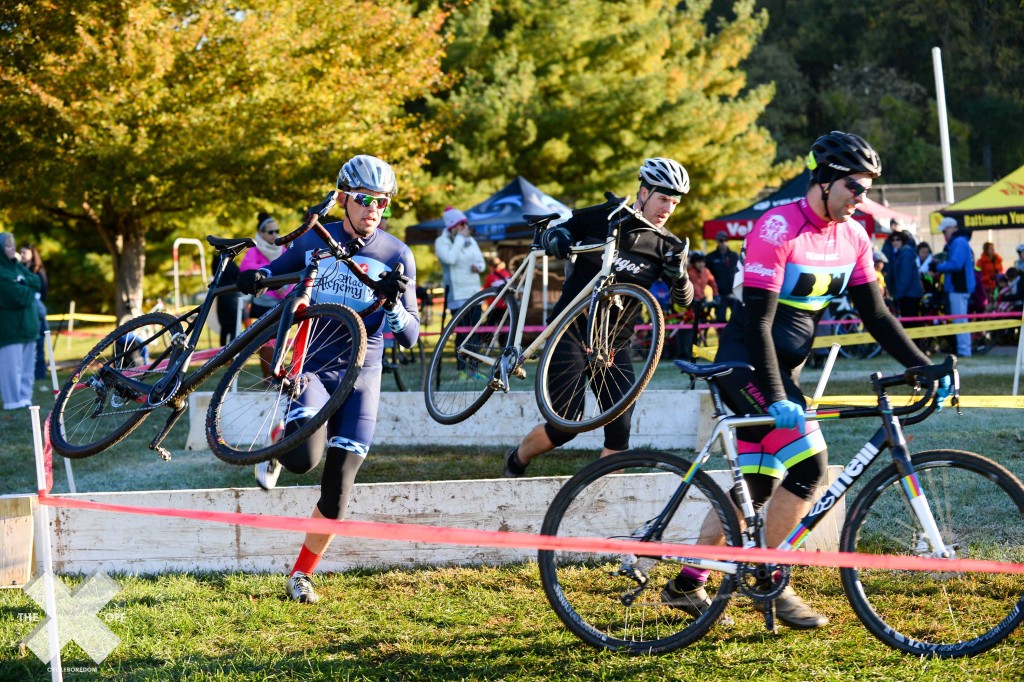 By the third time around there was a distinct moment where I went from simply riding to finish, to possibly, actually racing. I was way more aware of the riders around me and how they were performing.
Race: LAATSTE RONDE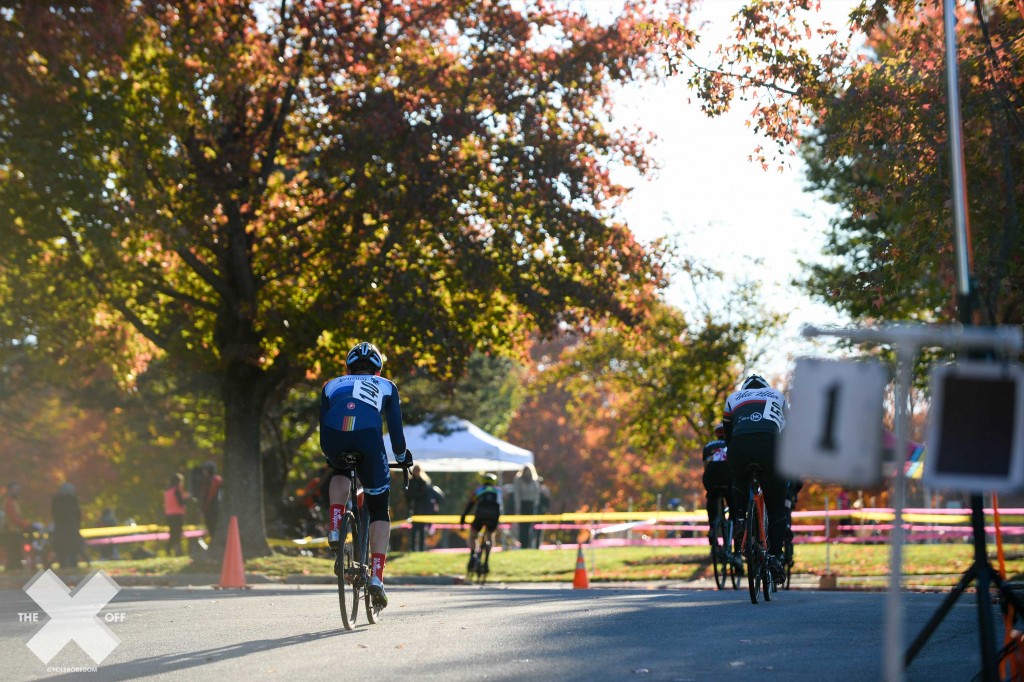 Last lap, I finally started trusting what I was feeling as well as my skills. I think that's called confidence.
Actual tactics entered my head for the first time. I knew I couldn't use just my ability to drive and do barriers get me the gaps, or should I say, allow me to pass because those with the fastness would end up passing me regardless. I had to pass them in the straights just before arriving at the point, use my confidence in braking later (the SRAM Force hydro brakes and Van Dessel handling making all the difference) as well as driving better. It *seemed* less taxing on my lungs and heart and the adrenaline of passing riders handfuls at a time spurred me on. Of course, some still managed to catch and pass me, but there were more than a few that I dropped.
On the barriers I finally got it through my thick head the slow line was to the outside, so I *finally* set up middle to cut left and passed a few there. Still need to practice setting up the pedals on dismount and finding them quicker on remounts, but I'm carrying my speed (this is a relative term) through the obstacle all the way through the remount. But yeah, need to find the pedals faster.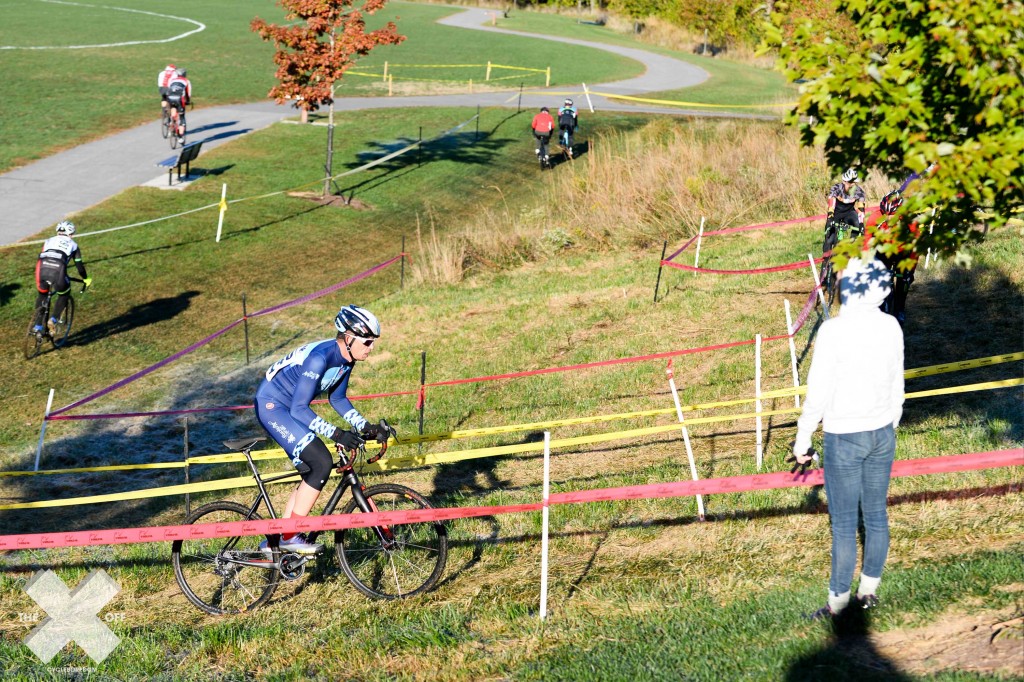 Ironically, Tom set up at the log to shoot and I missed it. The first 3 laps I nailed the bunny hop and carried speed up the hill. This time I nailed it. And by nailed it, I hit it hard enough that I would've flatted on clinchers. Regardless, I kept digging up the hill trying to catch as many riders ahead of me on the off-camber turns before the drag race down and back up the finishing straight. I know I caught and pass a bunch through the turns around the pond thing (was it a pond? I was always too hypoxic to comprehend anything at that point) and I was full gas (don't laugh) from the curb ramp to the line. I say don't laugh because at that point full gas looked exactly like every other moment on the course—I had nothing left except the will to not be caught by those I just passed. I couldn't get out of the saddle so it was head down until I crossed.
It's an incredible feeling to push yourself way beyond the limit of what you know is left in you. At this point it's all mental—willing yourself to GO HAAHDAH KID, engulfing yourself in a wave of pain. It sounds sadistic, but it's not a normal pain. It's a pain you have complete control of. You decide how long you're able to resist the rising temptation to shut everything down. The only thing keeping you from throwing it into neutral and tossing the keys out the window is how strong your desire not to quit proves to be.
I ended up 65th out of 100. So I went up a bunch of places from the previous week, but lost some numerical mass off the backend. Still firmly mid-pack.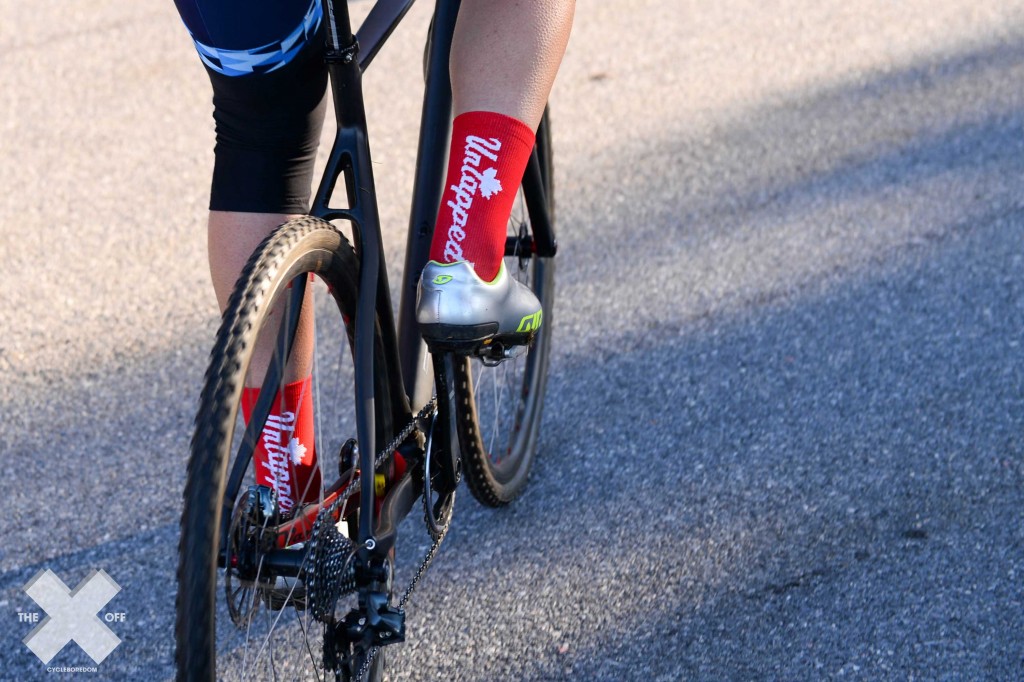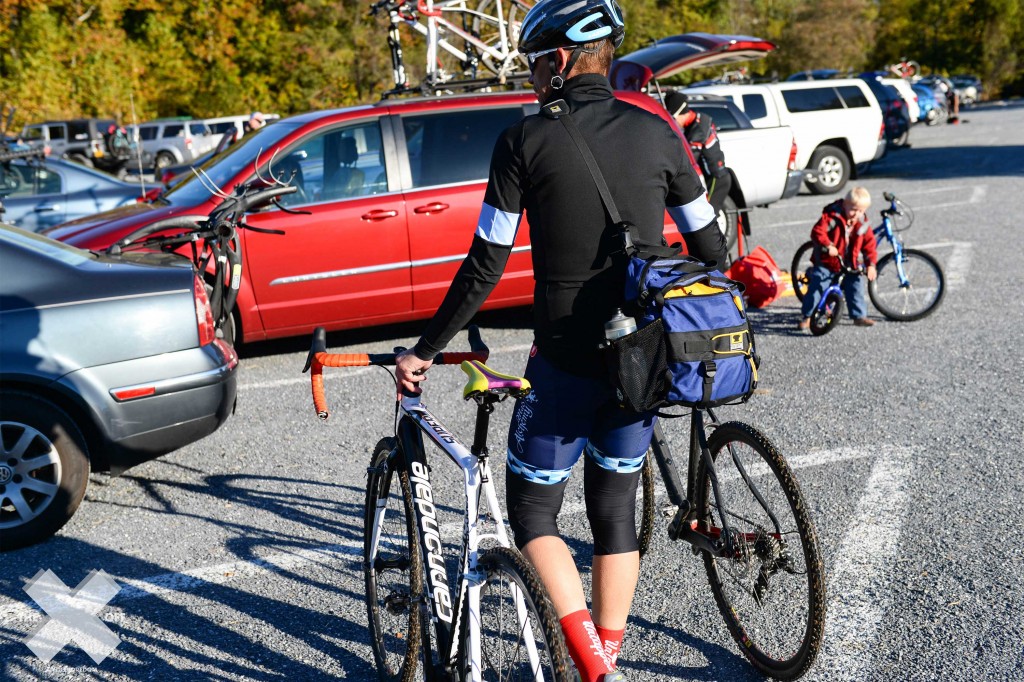 Post-Race: Technicals
Everything performed pretty much as expected. The only new thing to pop on the Van Dessel was the SRAM shift lever was sticking on its hood as it was returning. Should be a simple adjustment to remedy that. Otherwise, I'm still in love the the Force CX1 group and the hydro disc brakes allow for more aggressive racing.
I'm changing the bars this week. Can't do the 3T Ergonova Pros—they're just not shaped how I want them. I'll discuss this more and at mind-numbing length.
Just as it did last race in Hyattsville, my GPS app crapped out on me. I managed to record a warm up lap, but it seems to shit itself during the race. Can't tell if it's the Wahoo REFLKT head unit that's having problems or not, but I won't be using it this weekend in DCCX. I'll just run Strava by itself. I really want to record at least ONE of my damn races!!
Post-Race: Final Thoughts
CX is racing is awesome. I highly recommend it. You can pick and choose to what level you challenge yourself out there. Enough already, this post is long enough. Next race is #3 in the Super 8 CX series: DCCX! This is the one that got EVERYTHING started for me. I can't WAIT!!
Wait, WTF is The CXOff?
The CXOff Project is a culmination of numerous elements of my life coming together. Bloglife (reviewing product), a midlife crisis need-to-race-now alert, a daughter who wants cheer on her dad, and a special person who sparked a life altering, emotional transformation within myself. For all the details, visit the Official Project Launch post.