After a year's hiatus, I finally got my ass in gear to ride in my hometown and tackle the GGCSO (Gravel Grind / Chip Seal Ordeal – also, Part Duh). It's crazy to think it's been over a year now since the last time I did this ride and two since I documented it. Although, I will admit I thought about it a few times in the past 3-4 months, but I didn't want to kill myself during CX season—killing one's self is voor Sundays.
TECH DETAILS
Bike: Cannondale SuperX
Tires: Panaracer Comet Hard Pack (700×38)
Tubes: Specialized Butyl
Pressure: 35 Front/40 Rear
KIT DETAILS
Weather: 59ºF/Overcast & Rain
Helmet: Lazer Z1
Cap: Will Bryant x The Athletic Casquette
Glasses: Spy Optic Daft w/ Happy Yellow Lens
Neck Gaiter: Cutaway USA
Jersey: Velocio Apparel RECON Wool Long Sleeve
Bib Shorts: Velocio Apparel Thermal Bib Short
Base Layer: Rapha Pro Team Base Layer Sleeveless
Knee Warmers: Assos s7_kneeWarmers
Socks: Swiftwick Performance Seven
Shoes: Giro Empire VR90
Embrocation: Mad Alchemy Gentlemen's Blend
THE ROUTE
The next time I do this ride I'm mapping out 3,000′ of climbing in 30 miles. I've been saying I'd do this since I first attempted this route, but never have planned it. The addition of the drop down to the river padded the total quite nicely. Also, since since it was pouring and I could feel my core temperature dropping, I didn't climb over Slate Ridge road like I usually do. That would also kick the climbing totals up. I'll try again in a few weeks!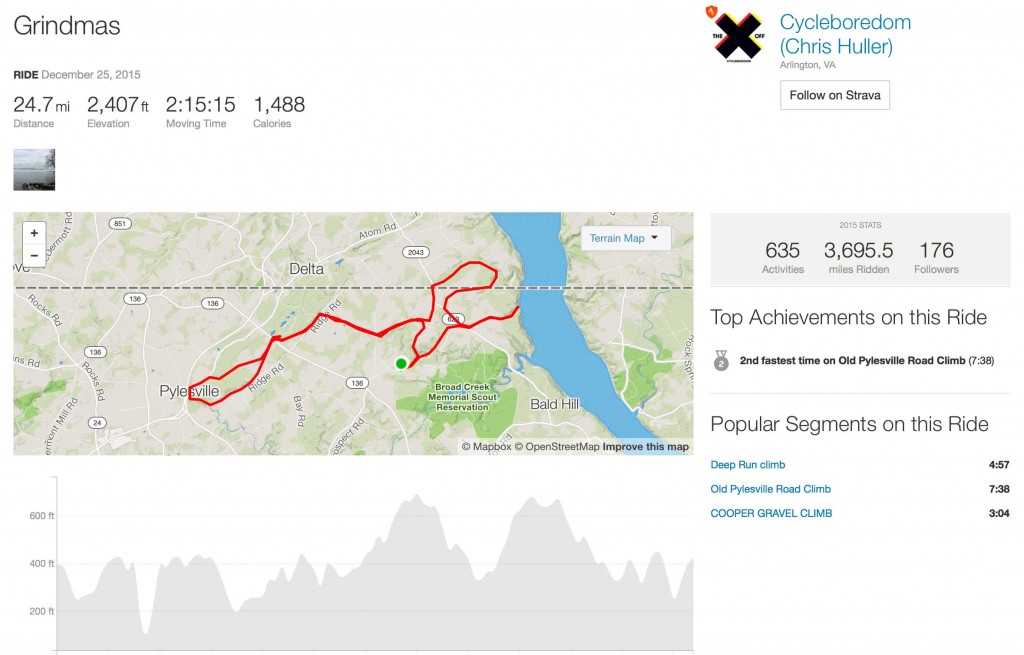 Ride Notes
First ride using nuun. Selected the Cherry/Limeade flavor of their energy line. Decent taste, although, I was very much aware I was ingesting a drinkable, albeit delicious, multi-vitamin.
Relieved I brought a bunch of Untapped products with me. I was burning through everything.
First time using the Blackburn Wayside HB Musette. The waxed canvas was waterproof right up until the moment it wasn't. I was riding in driving rain with no fenders so it reached a saturation point.
First time in forever using an actual camera to document the ride rather than the iPhone. Brought along my old Panasonic Lumix DMC-LX3. It suffered some minor display damage when the bag reached its saturation point. Still shoots though.
Relieved I brought along the Cutaway neck gaiter and the Assos knee warmers. Once I was soaked, the wind became an issue on every decent as it began to decrease my core temperature. Once I put them on I felt more insulated (obviously).
Thanks to Ma and Pa Boredom for being accepting parents as I chose to ride instead of eating Christmas dinner with everyone. They did have The Bug for entertainment, though.
PHOTO ESSAY OF INCREDIBLE LENGTH AND BREADTH