#DramaDoping
Not just two stages ago the main topic was crashes. Sammy Sanchez unfortunately suffering the curse of the carrot aside (seriously though, I haz a sad for him), we're no longer wondering if removing shoecovers at 50kmh is a good or bad idea.
Update: Seems as though Sammy's injuries aren't Olympic threatening after all!
Side note: Seeing that the shoecovers are what caused Viganò to have only one hand on the bars, doesn't Millar eat, drink, or perform a rolling piss during these races? I'm pretty sure unless they were gene doping or messing around with EPO types with halflifes, most of these riders have only two hands, meaning one is off to do the action, correct? Perhaps shoecovers wasn't the greatest idea, but what if it was opening a can of Coke when it happened? End side note.

No, the new Tour-amplified #DramaDoping is #WonderWiggo and the Flight of the Lemonheads. From crushing the field yesterday, to crushing the post-stage interview mic, Wiggo's got the Le Tour on Le Lockdown. In fact, the latest edition of "What Would Wiggo Say?" set the twittersphere alight. Not unlike an episode of Survivor, new alliances formed, enemies made, and a horse named Semantic was beaten (and still is) far beyond its last breath.
As much as I don't want to, I'll touch on this briefly: Don't want us bone-idlers dropping relentless accusatory D-bombs, forcing you to react by dropping linguistic cluster bombs? Then do EVERYTHING possible not to provide us ****ing wankers the #Tenerific ammo to do so. Start with the good doctor. Then ask Twitter what to do next.
Parler: TEE-BO PEE-NO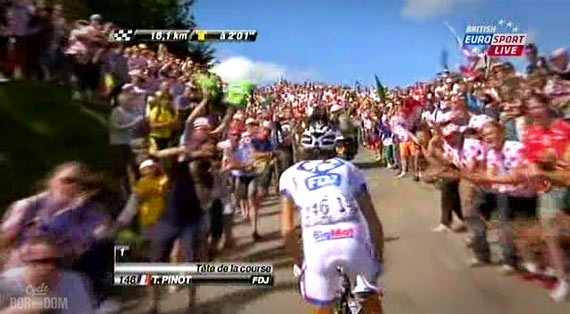 Before the above came to the fore, we were treated to some Frenchtastic bike racin'. How awesome was it watching a rabid Marc Madiot hanging out the window literally SCREAMING at his young charge Thibaut Pinot? The Justin Long lookalike caught Astana's Kessiakoff and subsequently held off the Swede by descending like a baws. Pinot and Madiot exude #TheFrenchness.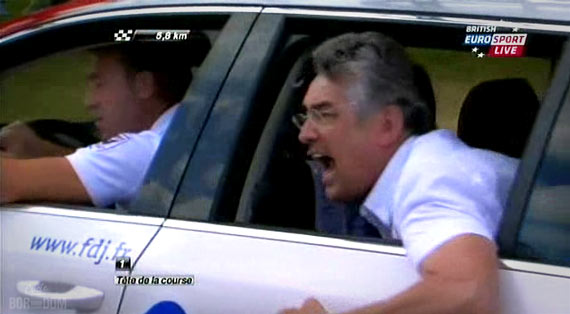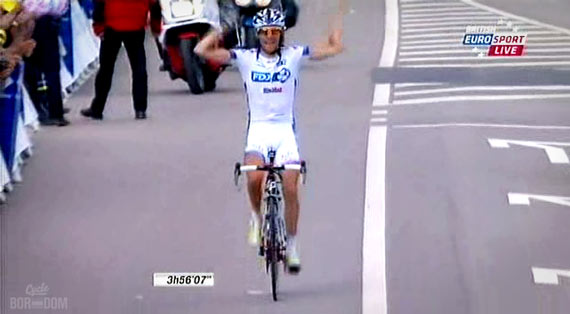 Also, BIKE RACIN'!
Only Stage 8 and the boys are friggin' battling. Cadel, VDB2, and Nibali all challenged Wiggo on the flight into Porrentruy. Bradley covered all that nonsense with ease. Listen to Horner say stuff about that nonsense: