Trying to write something original re: these crashes is an exercise in ****ing futility. So, let's start off with a few traditional platitudes.
Crashes are a part of bike racing.
The first week of the Tour is always nervous and chaotic.
You can't win the Tour in the first week, but you can lose it.
OMG, there's way more crashes this Tour than the last.
Dude, you're totally gonna stick to the sheets tonight.
Now I feel better.
Actual Thoughts on the Day
I hate (as does everyone) seeing the GC altered by crashes. But yeah, I realize that they are an inevitability. 'Cus, you know, it's the Tour.
The flip side is that someone else's favorite wins. Or a complete unknown takes the greatest victory of their life. There are still an abundance of riders to fill in those gaps. Maybe slightly harsh in thought when so many dreams and months of work were dashed in mere moments today. But, that's the reality.
Rumor has it that Lampre's Davide Viganò caused the pileup today when he was unable to brake while stuffing teammate Petacchi's shoe covers into his rear pockets (we'll revisit this later). Several riders took to Twitter venting their opinions into the internetmosphere—most notably (and unsurprisingly), David Millar:
Somebody partaking in the Tour de France knows they caused that crash. Whoever you are: THAT WAS NOT COOL.

— David Millar (@millarmind) July 6, 2012
At this point David probably didn't know exactly how said crash happened, but he was obviously pissed considering the devastation his Garmin-Sharp team suffered.
In one carbon-snapping, skin-shredding, GC-crushing moment, the Garmin-Sharp team saw Tom Danielson, already suffering a dislocated shoulder, hit the deck so hard he broke his bike in half. His body covered more by road rash than his team kit, Tom sat at the side of the road, head on knees nursing a second dislocation on his other shoulder. His Tour is sadly finished.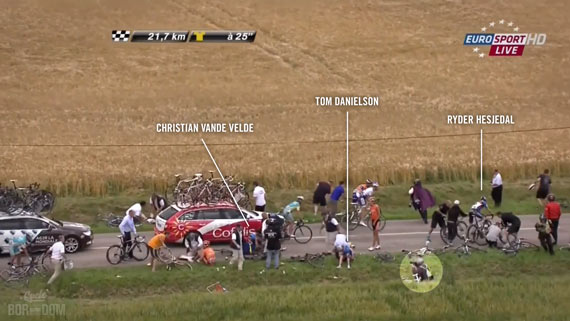 Also suffering horrific road rash, but remounting and finishing was Johan Van Summeran. Typically we want our heroes formed through athletic achievements, many times they are formed through the simple yet herculean task of survival. Today JVS rounded out his Paris-Roubaix winning hero status with a healthy dose of survival. Sadly, Garmin-Sharp's main GC hope, Ryder Hesjedal also fell victim to the incident. Once he finally crossed the line, he did so over 13 minutes down surrounded by the bulk of his teammates. It remains to be seen if Ryder and Johan start tomorrow.
Update: Ryder did not start Stage 7. Vansummeran, unbelievably, did.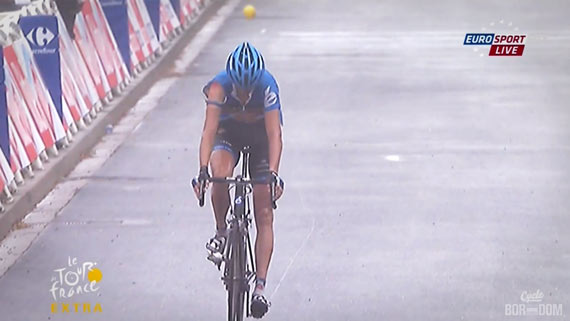 Now back to Viganò. Davide ended up in the roadside ditch, injuring himself enough to abandon the race.
Update: Millar eventually discovers Viganò was the cause of the crash.
In cycling, a good team isn't defined by how perfect it is in winning moments, but instead how it moves forward when all is shit. Onward.

— Jonathan Vaughters (@Vaughters) July 6, 2012
Mini Screencap Recap