As I craft this post, a primal urge wells from deep within, I look skyward unleashing a bloodcurdling, "MEHHHHHHHHHHHHHHHH!!"
I've been trying for what seems like forever. I logged into the secret Boredom webportal backdoor, then checked Twitter. I clicked, "Add New", then checked Facebook. I started to type a title, then I edited an image on my phone. I yearn to write something about today's stage—something meaningful, something so poignant that no matter what side you're camped on re: Chris Froome's ride to victory on today's Ventoux stage your inner monologue will say, "HOT DAMN. I TOTES DIDN'T THINK OF THAT. MY ENTIRE WORLDVIEW HAS CHANGED."
Alas, that ain't happening.
What has transpired here, is my WordPress version of Magritte's "Ceci n'est pas une pipe.", but replacing pipe with post and taking the idea literally, 'cuz this post about writing this post sucks.
Regardless, here's a remix of Froome's win on the legendary climb where we see (at least from this angle) the finish was actually hotly contested, but Tyson Gay was disqualified because he pinned his bib number to his chest. Silly Tyson.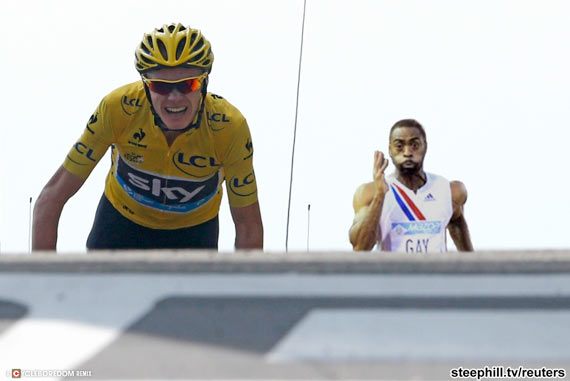 Source: Steephill/Reuters