Rapha hits me in the viscerals
Wants are typically born from an visceral emotion. A want is not typically needed. In order to close the all important gap betwixt want and need, one must add well-founded points of necessity. Let's take a look at the recently released Rapha Pro Team Jacket, and see if I can convince myself it's a worthy addition to my winter kit arsenal.
Niche spot in your winter arsenal
The Rapha Pro Team Jacket ($275USD) will more than likely fill a very specific spot in your winter kit collection. The Polartec® softshell should allow for a brief foray into wet inclement weather. However, Rapha specifically notes that the jacket is not waterproof and that their Rain Jacket is more suited for the task. Super-Roubaix fleece panels on the rear keep you warm and ventilated.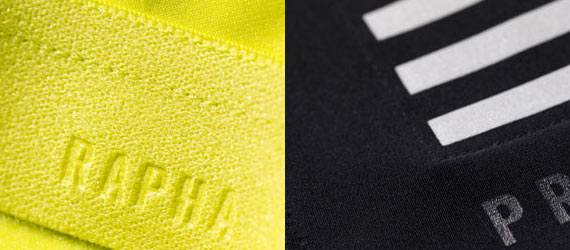 Conceptually, think hard efforts in some pretty wretched temps and dodgy weather conditions. You don't want anything bulky or constricting during an intense session, nor do you want it to be a personal humidor with limited breathability. Truthfully for me, this substantially overlaps their Winter Jersey that I own right up until the sky starts spitting. Once it starts to get wet, I have this covered with my 5 Y/O Gore Cosmo softshell jacket. At this point, if you're thinking there's no reason for me to consider the jacket, you'd be wrong.
So why do I need it?
2 things, that sound like a 90's Brit-Pop band, get me about this piece: the cut and the colorways. The "GTFO of my way while I'm charging up the switchbacks of the Col du Galibier" aero race cut produces a mighty-fine profile that I can't take my eyes off of. The fact that it's a partial softshell makes it all that more attractive. The traditional Rapha black w/ white is always a winner, but the addition of the hi-vis chartreuse color seals the deal. I may have the black Winter Jersey, and a black Gore softshell jacket, but I don't have either of them in eye-searing yellow! And THAT'S why I need it. The (infinitely more important) cold-blocking winter protection materials, or the trim tailored cut is just the icing, or gravy on top.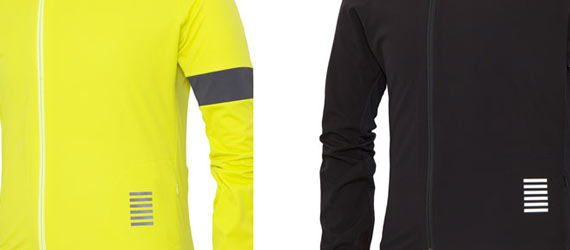 After re-reading this, I realize my color-based argument might be a little thin to convince Mrs. Boredom that I need this. I probably should use a highlighter to highlight the hi-vis yellow…
3 similar products to the Rapha Pro Team Jacket
Gore Bike Wear Xenon SO Jacket ($230USD Competitive Cyclist): Insulated "extreme cyclist posture" Gore WINDSTOPPER® Soft Shell jacket.
Assos Airjack 851 Jacket ($370USD Competitive Cyclist): Airblock 851 4-way stretch fabric designed with focus on "incredible anotomic contouring."
De Marchi Contour Racing 3L Jacket ($270USD Competitive Cyclist): Thermashield and ThermoRoubaix fabrics in a "form following cut."
All images courtesy of  Rapha.cc.