I may have found my next car. As we were watching the video for the Xtracycle EdgeRunner, The Bug exclaimed, "I want that one Daddy!" Of course, witnessing two kids sitting within the safe confines of the Hooptie Rack probably was the catalyst for her exuberance. Yet, as a dad, I'll admit I shared her exuberance. Of course, that's largely due to discovering a reason to buy/build another bike…
The EdgeRunner's no Dummy
Perhaps not the greatest title considering it insinuates that the Surly Big Dummy isn't a great option, because it is. However, what intrigues me the most about the Xtracycle EdgeRunner  and one of the main differences from the Dummy is the 20″ rear wheel. The lower center of gravity will definitely help maintain bike control while carrying huge loads including a squirming Bug.
Now, enjoy this video depicting an ideal family doing ideal things on ideal bikes.
It should be noted I already have a retrofantastic typewriter.
Speaking of the Dummy
Upon reading the FAQs on Xtracycle's site, it looks as though their first shipment will be just 75 of their Medium-sized framesets. They don't have a date for the next release which will be of Completes, Large framesets, and Electrics. Not sure if I'll be able to snag one of those initial 75.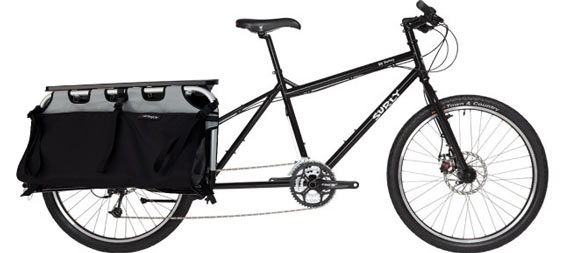 Considering I'm looking to get this sorted ASAP, Surly's Big Dummy would be the obvious alternative. It sits a little higher since it uses traditional 26″ wheels, but it's probably the most widely known longtail cargo bike and I know a few tweeps using them who love 'em. Plus, most, if not all of the Xtracycle accessories work on the Dummy—specifically the Hooptie.
Mission: #Carfree
Either with the EdgeRunner or the Big Dummy, I've made it my mission to be rocking a longtail cargo bike in the next few months. I'll keep you updated on my progress or lack thereof.