Bpost Bank Trofee – GP Mario De Clerq kicked the fo' realz Euro CX season off in Ronse on Sunday. And by kicked off I mean, EPIC MUDFIESTA. The rain and wind turned what was essentially a grass crit laatste jaar into an adult slip-n-slide with epic mudbutt as the consolation prize.
The U23 CX wereld shuddered and the Juniors breathed a sigh of relief as wunderkind, Mathieu Van Der Poel, upgraded and subsequently crushed the U23 field. Good luck with that, dudes.

Elite Vrouwen
The ladies race was dominated by the late Amy Dombroski's teammate, Nikki Harris. In what turned out to be a fitting tribute, Nikki crushed the field honoring Amy with her victory post. A fantastic last lap from Helen Wyman gave her second ahead of Sanne Cant to round out the podium.
Nikki pushing haard.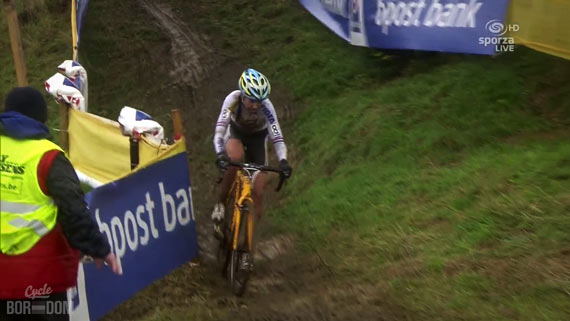 Nikki navigating.
Nikki shouldering on one of the many nasty hellingen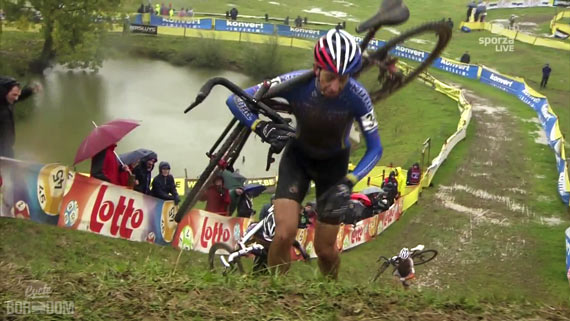 Helen Wyman puttin' in werk at the front of the achtervolgers.
"A" voor Amy. Nikki Harris' tribute to Amy Dombroski. – Image: Cyclephotos.
Elite Mannen
The pro men had the distinct honor, as they always do, of racing a course well worn by 3 previous fields. At this point it was complete slop; rutted and shredded with giant pools of poo-colored water.
Kevin Pauwels decided to get the party started in style by throwing himself down the big brown slide and into the barriers. Kevin knows how to party haard.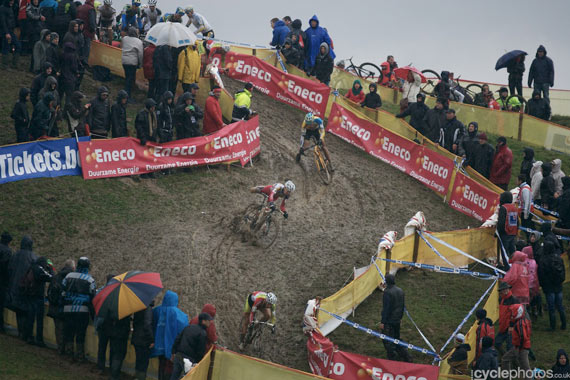 K-Pauw setting things off! – Image: Cyclephotos
All this brown cray continues voor awhile, so I'm going to jump ahead a few rondes to where the winning begins.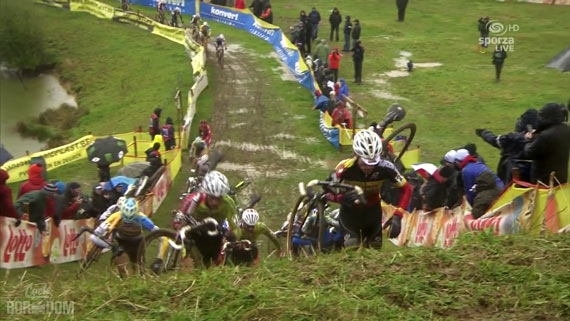 Klaas looking goed leading the field in the België tricolor.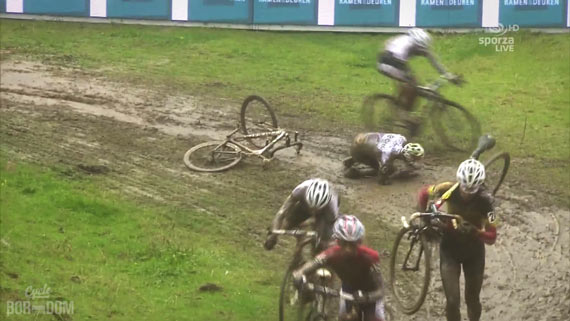 SVEN DOWN!! SVEN DOWN!! Wait, wut?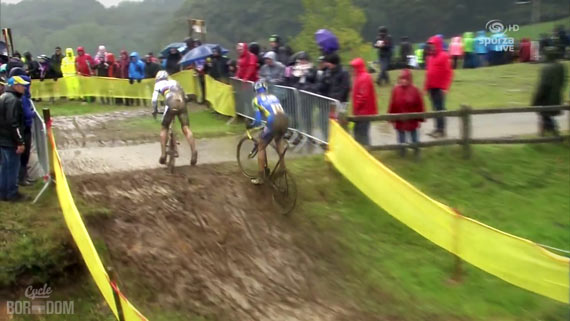 After remounting and restarting the chase, Sven fux this mini-hellingen and has to dab. WTF?!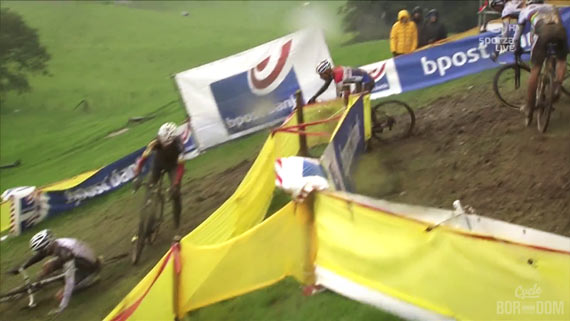 Miraculously, Sven has caught the leading groep precisely as Niels Albert decides to shred the gnar.
So, in less than one ronde, Sven has recovered from his craash/daab sequence.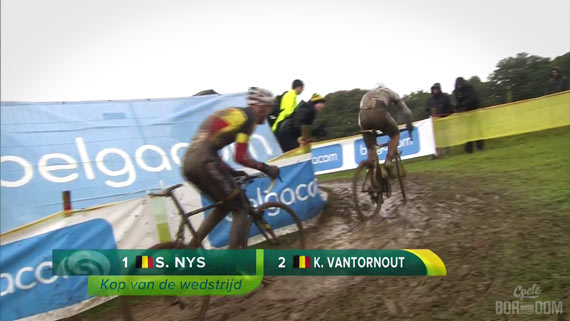 Nys pushing it here. Elastic clearly stretching as Klaas clings to Sven's wheel.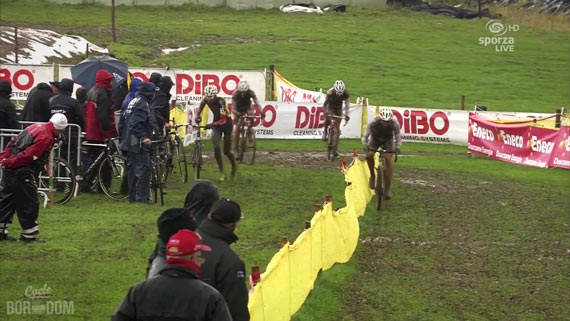 The moment the winning gap was created. Klaas pits as Nys rides, shaking his head as he exits. He knows…
Sven slowly adds to lead by doing the little things right. Catching this rut, voor example.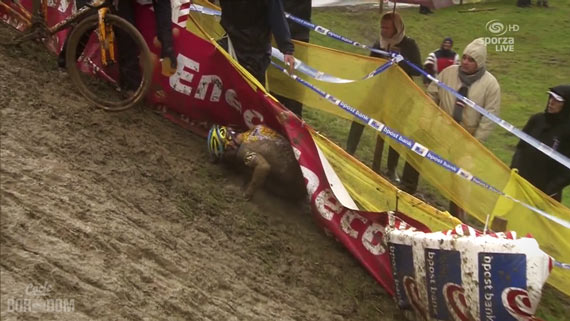 Which Meeusen, obviously, did not.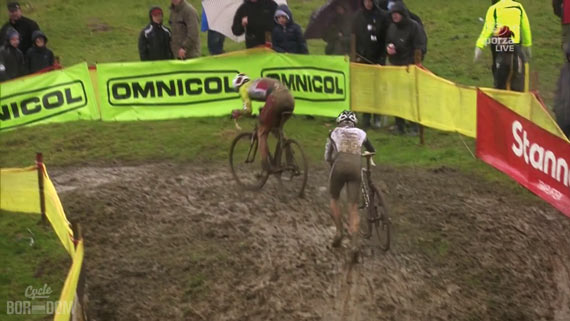 Niels dismounts as Bina powers the rise and gets a gap. 2nd and 3rd decided here.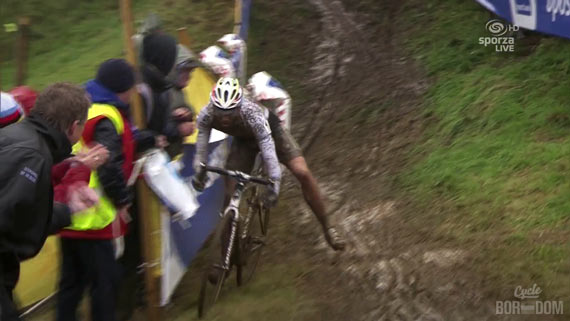 <Distinct sound of buttcheeks clenching>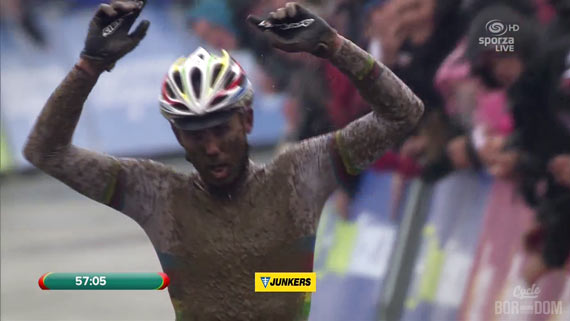 Nothing but brown on these wereldkampioen stripes.