The Louis Garneau CFS-300 are the Pierre Roland of cycling shoes. "Whom do you speak of?" you may ask. HEY, Pierre was on the freaking Europcar Tour de France team fer cryin' out loud! But, unless you're jock-riding French teams PR ain't getting much PR. So why do I bring this up? The CFS-300 is a $299USD pair of high-technology shoe devices. So it's already claimed baller status just by sitting in that price range. Yeah, there are other shoes costing much more, but like Pierre, the LG offering have made the show—Le Grande Boucle. Yet, until that fateful afternoon when Pierre rope-a-doped with Clentador you weren't seeing him. Then BAM! He's like all up in your face. That's pretty much how I feel about these shoes.
Overall Appearance of the CFS-300
For a pair of white shoes with black and red accents, they don't scream at you. The white still manages to draw attention, but there's not overarching aesthetic that is both captivating and repulsive. Looking at shoes from brands like Sidi or Mavic, so distinctive you can pick them out in the peloton. But that's not these, and that's not a bad thing. These shoes manage to adapt themselves to many different kit ensembles. They work during my heavy Rapha days, as well as keeping pace with my retro pro-team kits. That's the inherent beauty of black and white shoes; they match nearly everything.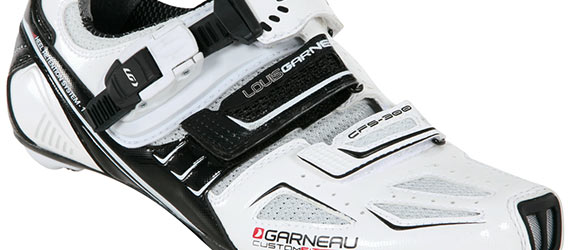 One distinctive element, however, is the air intake port located on the tip of the shoe. Almost like the grill of a sports car, this vent is essentially a ram-air injection port giving your feet a breath of fresh air on hot summer days. I'll cover its effectiveness below.
How the CFS-300 fits
Note: My particular fit needs include: high-arch support, semi-wide toe box (but not a wide width), and an extended buckle adjustment to accomodate high arch support (E-Soles). I also have a weird thing going on with my right pinky toe. It doesn't like being touched…
The CFS-300 wraps itself around your feet with a firm grip. There's no doubt that these shoes are on your feet. Starting off with LG's heat-molding Custom Fit System, you have many tools at your disposal to anchor these to your feet.
First, right after un-boxing your expensive shoes, you throw them in the oven. 150˚F gets them all toasty and moldable. Full disclosure: I played Wii while my feet had their way with the shoes' interior. I completed my customization with my E-Sole inserts rather than the cool HOT/COLD inserts LG provides. I know, I know—I'm a bit of a dandy.

One of my favorite elements in the shoe's fit arsenal is their widely adjustable strap system. The top strap's faceplate can be adjusted on the backside via hook and loop closure straps. If you need more volume and a longer strap, just let out the strap and reattach the small strips on the backside. Instant volume.
Next on the list o' fanciness is the last construction. The outside of the shoe wraps over and around the top of your foot, eliminating the need for a tongue. The inside portion then creates the snuggly-blanket-effect by wrapping over the outside as you secure the straps and buckles. Your feet feel very secure inside their microfiber cocoons.
Lastly, the heel cup not only really, really, really cups your feet (really good adjectives, right?), it secures it from slipping with some fabric trickery and witchcraft. The fibers allow for easy installation of the shoes onto you foot. But in turn, they're textured in the reverse direction making sudden-heel-ejection-syndrome a distant memory. Genius.
Only thing of note is the angle of the toebox. If you have sensitive little pinky toes like my ridiculous right foot, you may find the cut a little constricting. I managed to open it up a little after baking and customizing them and haven't had an issue since.
CFS-300 technical points
The CFS-300 weighs in at 290g for a smallish 41. I looked to compare it to one of the lighter shoes on the market, the Mavic Zxellium which comes in at 275g for a 43. So, LG used a smaller shoe to get the gram count under the 300 mark. If you're a gram counter, this is an egregious flim-flam. If you're a normal person, it won't phase you a bit. You don't notice the extra grams.
The strap system, as mentioned above, has ample adjustments. Even with my freakishly high, but tragically collapsing arch, the fit system manages to accommodate my podiatric mess (including my E-Soles). A single, easy to use ratcheting strap, and two hook and loop straps take care of everything.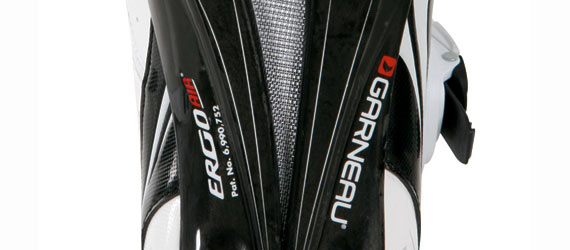 The EXO-Jet carbon sole does the job. It's almost unnecessary to describe carbon soles as stiff, thereby transferring every last ounce of  your magnificent power to the pedals during your hellacious sprint. But I did, regardless. There's supposed to be a carbon instep added, but with my hateful feet I couldn't feel it. Lastly, the soles are compatible with Shimano, Time, Look, and Speedplay pedal systems and cleats. It should be noted that the heel piece added for traction appears to be replaceable. I imagine you can acquire replacements, if needed, through the shop you purchased the shoes from, or by contacting Garneau directly. I did neither of these, so I don't have a definitieve answer for you. Yes, I know I suck.
The Ergo-AIR ventilation in the shoe is probably the most useful I've experienced yet. Not once during our ridiculously hot-n-humid 2011 DCMetro summer did I notice my feet getting hot. Granted, the shoes are white so they reflect a lot of the sun, but I could actually feel air flowing through the shoe. I imagine that some of the extra weight of this shoe is contained within the structure of creating the vents (extra material, stitching). I for one, like it. What's awesome is Garneau take it a step further providing windproof toe covers for those chilly fall/winter rides.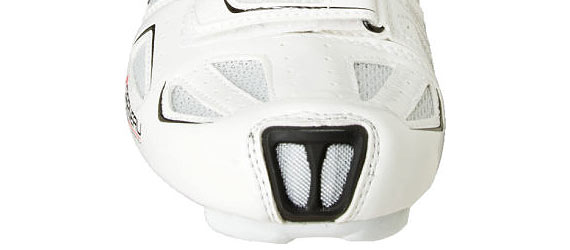 Final thoughts and rating
Let's be honest—the CFS-300 isn't a shoe that'll make you say "Holy ****!!" when you slip it on for the first time. But to be fair, I'm sure that's not what Louis Garneau is going for with this offering. These feel more like high-end workhorse shoes. Are there lighter shoes out there at this price point? Absolutely. Are there flashier shoes at this price range? Sure. So, why would you consider this shoe over the others? If you're looking for a shoe that's off the beaten path, has a high volume last, good ventilation, customizable molding, solid construction, and a highly adjustable buckle then the CFS-300 are for you.
PRO FACTORS: No-nonsense, highly adjustable, comfortable for high volume.
OPPORTUNITIES: May be a bit too heavy for gram counters, not as sexy as other top-end offerings.
RATING: 90% – A solid addition to anyone's monochromatic PRO kit assortment.

LINK: CFS-300 on LouisGarneau.com
CREDITS: Images are taken from the Louis Garneau and RealCyclist.com websites.