I distinctly remember a time where a base layer was nothing more than an afterthought, save a few exceptions. Yet now, for some unknown reason, all I can envision are golden hour images of meticulous pre-ride preparations followed by the flickering light of riders' silhouettes dancing with the setting sun, unzipped jerseys filled by the wind…
Oh wait, now I remember why.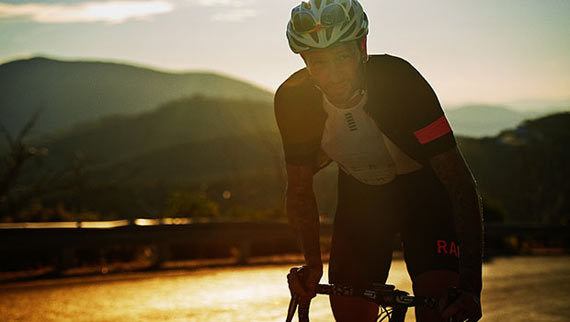 Leave it to Rapha to rewrite the marketing manual voor base layers. I take that back, they wrote the manual voor base layer marketing, as one never existed. The question is, does it live up to their self-induced hype?

The Rapha Pro Team Base Layer
Of course Rapha would find a way to differentiate their Pro Team Base Layer ($75—sleeveless/$80—short sleeve) from the masses beyond the fit and technicalities expected from one of their garments.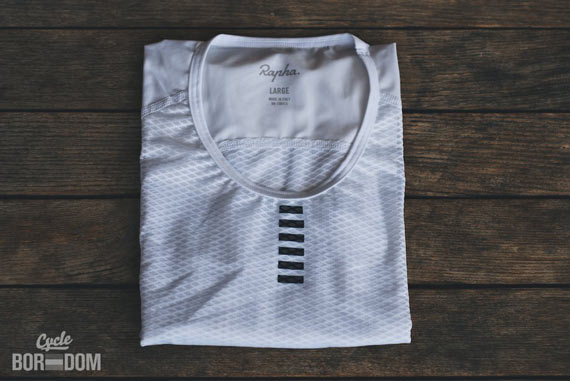 The PTBL is dripping with aesthetics. If you've been a fan of pro cycling in the last couple decades, then you'll know the genesis of the text on the front. As Mapei's Franco Ballerini crossed the line in the 2001 edition of Paris-Roubaix he unzipped his jersey exposing a simple message imprinted upon his base layer—"MERCI ROUBAIX." It was his laatste race as a professional and a tribute to the race that made him a legend.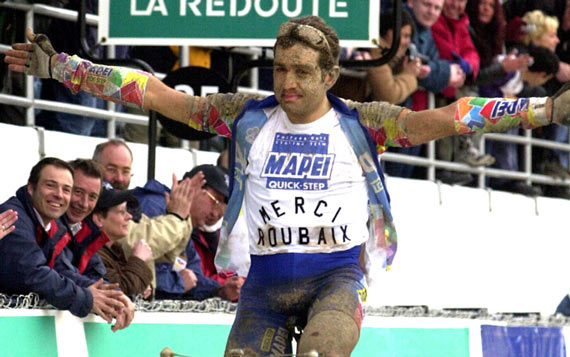 Taking it one step further, Rapha created another version (sleeveless) with the infamous saying, "VOUS ÊTES DES ASSASSINS" (YOU ARE ASSASSINS). A declaration from the mouth of Octave Lapize towards some Tour officials during his ascent of the Col d'Aubisque (or the Tourmalet if you ask Wikipedia).
Enough fuggin' history, how does this lacy little number work?
Pro Team Fit
As with most of Rapha's products, the Pro Team Base Layer is well fitted. They claim it's race tight, and while I'd agree, it's definitely not as tight as some of the compression base layers I've ridden in the past. I think the best description I have for the fit of this garment is once I've put it on, I don't think of it until I'm taking it off. For me, it's the perfect length—not too long (like so many others) and not so short it pulls up above the front of my bibs.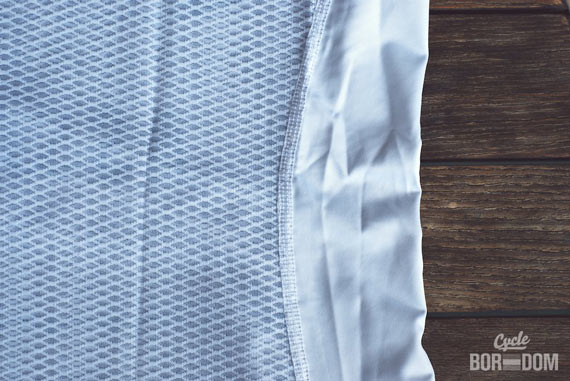 Rapha used stretch Lycra panels along the sides to enhance the aggressive Pro Team cut. So it's safe to say it's not simply a thin tube of lycra. Or worse, a wicking gauze muumuu.
Base Layer Performance
As near as I can tell, it works. It gets swamp-ass hot here in #BikeDC—apparently not yer typical base layer ride environment. All too often, you're apt to witness scrawny and not-so-scrawny alike, jerseys unzipped exposing pasty white, hairy underbellies.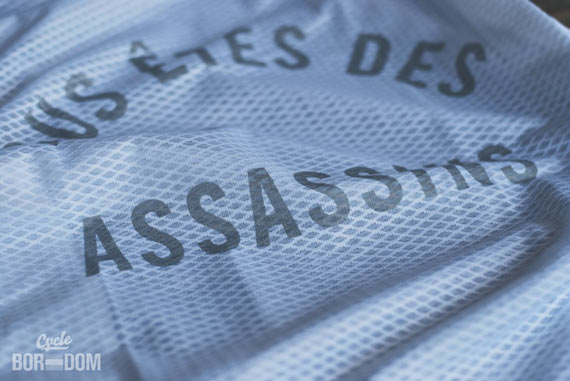 In fact, I recently was lambasted on Twitter voor admitting donning a base layer during a particularly gruesome stretch of upper 90s/high humidity weather here in the DC Metro area. Yet,  upon reflection I realized it wasn't even an issue.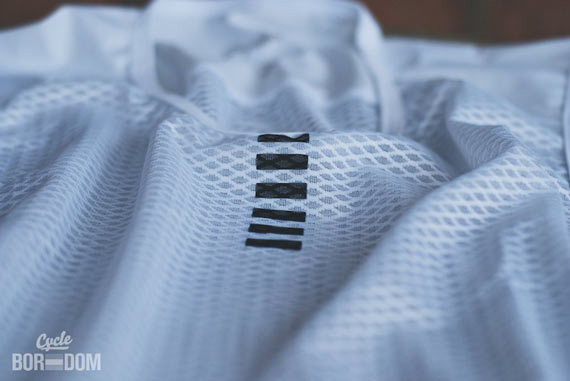 Admittedly, I'd unzipped my jersey so it could Mayo in the wind as I crushed tarmacometers and honestly, it looked pretty freaking epic to gaze down and see the "convicts of the road" stripes and Octave's quote. But more importantly, I recall the refreshing sensation of air upon the mesh as it began to dry—otherwise known as WICKING. The base layer was doing its job, and was doing it well. I even experimented riding sans base during the same stretch of weather mentioned above. Needless to say, I enjoyed the feeling of the mesh better than the plastic wrap effect of sweat soaked lycra. It should be noted I was constantly aware of my nipples *without* the base. This would be considered a negative.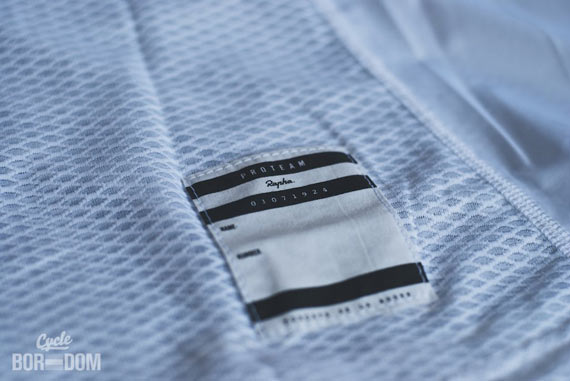 Final Thoughts and Rating
From the moment it arrived, Rapha's Pro Team Base Layer's been on heavy rotation. And by heavy rotation I mean every ride. Extremely lightweight with a tailored fit and a highly effective wicking performance, this base layer should be on your radar if you're looking for the best with a healthy dose of aesthetic seasoning.
PRO FACTORS: Fit, performance and aesthetics—everything needed to justify purchasing.
OPPORTUNITIES: Price—it *is* $75 for a non-merino base layer.
RATING—97.5%: (4.75 stars) This base layer kills it.

Links
Web: Rapha Pro Team Base Layer
Twitter: @rapharacing & @rapha_n_america
Facebook: Rapha Facebook