Those of you who know me, know I'm prone to fits of aesthetic-induced swooning. Regardless of its need, usefulness, or price, if it's designed right it'll hit that magic swoon spot.
Also, those who know me, know Rapha's clothing has that effect on me quite often. However, when the Super-Lightweight Jersey ($160USD) was released, I unleashed swoonage unparalleled. The light blue/red St. Raphaël inspired colorway was truly exceptional, and I knew then and there, I had to meet this remarkable article of clothing.
The Rapha Super-Lightweight Jersey
The aesthetics obviously have won me over. However, you can't base your decisions by looks alone. What kind of personality does this garment have?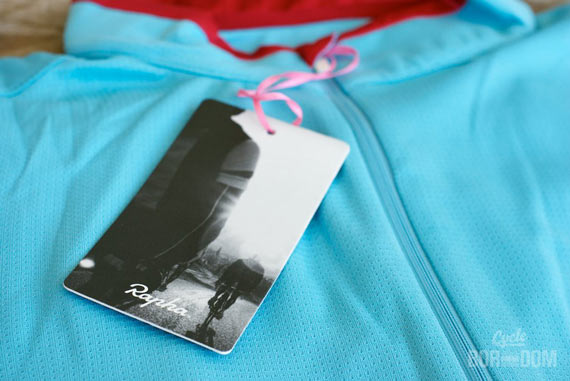 If the Classic Jersey is a strong voice, the SLJ is a whisper floating on a mid-summer's day breeze—it's *that* light. And it's not just the weight of the jersey that's light, it's also the feel of the fabric. Soft to the touch, it's comfortable enough to be worn directly on the skin, sans base layer. The tactile nature of the fabric is single-mindedly focused on not only keeping you cool physically but mentally as well.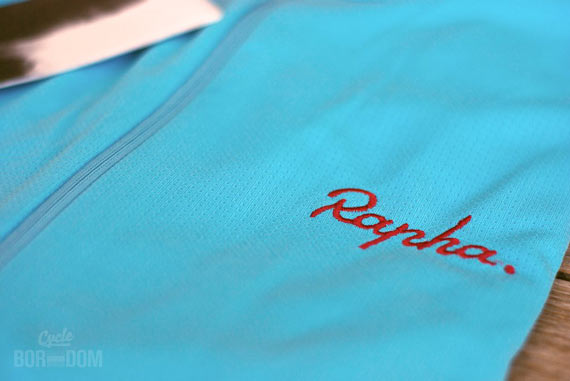 Ethereal Fabric
Rapha's proprietary fabric maximizes the sensation of staying cool. The inside collar and sleeve cuffs use a denser thread count that feels cooler on the neck and gripping the arms. The perforated body fabric intensifies cooling by allowing vapor to escape more efficiently. The inside knit of the jersey sits off the skin ever so slightly. Whereas many jerseys hermetically seal themselves to your skin in heat and humidity, this gives an impression of aerated suspension. Finally, the mesh side panels resemble that of a base layer—its main job is to usher heat and sweat away from your core.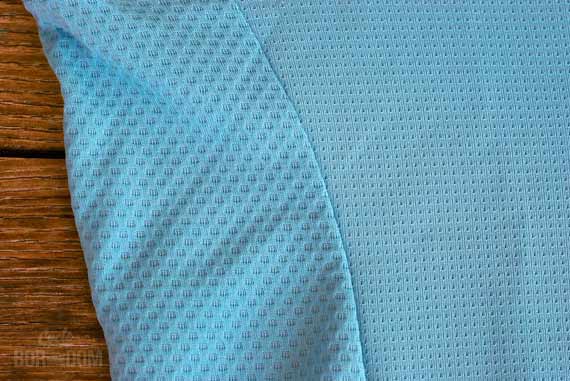 This technically isn't Rapha's thinnest material—that's saved for their Pro Team jerseys. Although, the Pro Team material doesn't *feel* quite a light as this.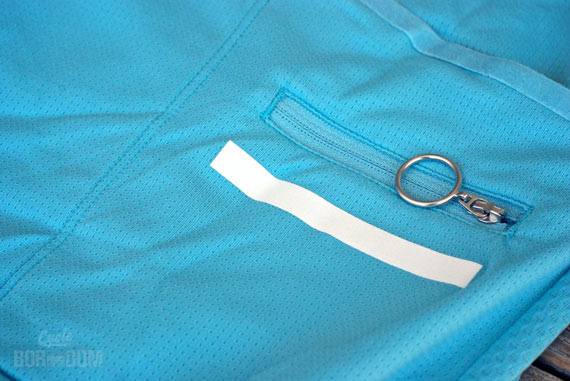 However, there's a trade-off that needs to be addressed. The Super Lightweight Jersey material isn't focused on compression. Think more along the lines of the Classic Jersey—definitely form fitting and refined but not tight like their Pro Team line. This is obviously the point of the fabric construction, not to be oppressive.
Lightweight Jersey, Heavyweight Performance
Much of my performance experience with the Super-Lightweight Jersey is covered above. It simply did the job it was created for. I was able to ride it in the DC Metro area's nastiest, high-humidity, 100˚F days and it didn't break a sweat with the sweat I was breaking. I don't recall needing to unzip this as I normally would with traditional weight jerseys.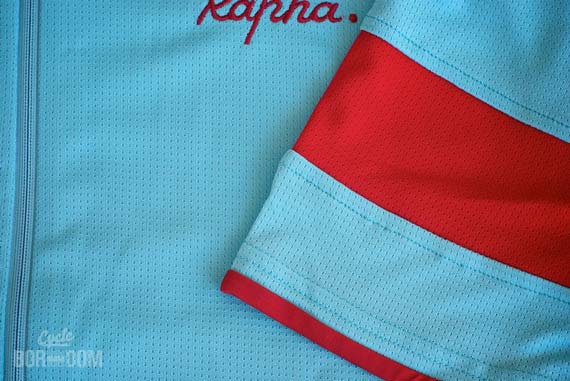 Opportunities
This, for me, would've been the perfect summer jersey if not for one weirdly annoying issue. The jersey pockets hang too low in the back. At first I thought it was due to the thin nature of the material, but it also seems as though the pockets are too big. It's probably unnoticeable if you're a seat bag rider, rather than a jersey pocket rider. I carry a mini-pump, a multi-tool, tire levers, a tube, as well as my phone, and monetary/ID essentials. Most jerseys handle this without a thought, but this one hangs low.  It's most noticeable during efforts out of the saddle—the jersey slumps below my ass.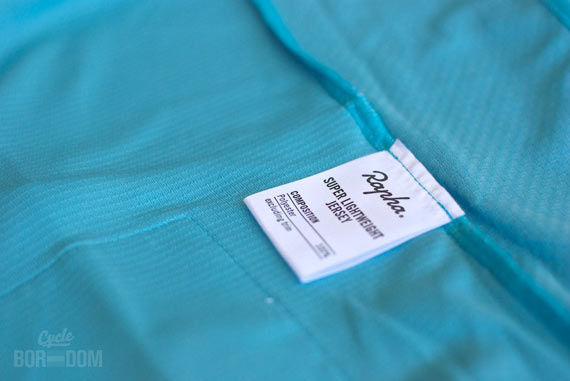 Rapha's product description refers to the central pocket being designed to carry a third bidon. Perhaps this is the reason for so much slack in the rear, although I don't know if I'd want something that heavy pulling the pockets as low as I'd expect it would.
Note: I shot these just after receiving the jersey, so no, I have no images of it slumping over my ass.
Lastly, the material is so sheer and delicate it seems to snag easier than other jerseys. I haven't had too many issues, but I've noticed it more than with other materials.
Final Thoughts and Rating
As I said above, if not for the issue with the pockets and snagging, the Rapha Super-Lightweight Jersey would be perfect. The breezy feel, Rapha's traditional fit, and the subtle retro nod are a tantalizing combination that's nigh impossible to beat for sun drenched day long grinds. Tighten up the storage and Rapha's locked down the podium step once again.
PRO FACTORS: Looks and feels amazing, works hard to keep you cool
OPPORTUNITIES: Pockets seem a bit too loose, fabric snags easily
RATING: 90% – A swoon-inducing aesthetic paired with Rapha's traditional fit is marred ever so slightly by loose pockets and a potentially delicate material.

NOTE: A rating of 90% is equal to 4 out of 5 stars. I'm working on clarifying/simplifying my rating system in the near future.
LINK: Rapha Super-Lightweight Jersey