Admittedly, I've only had the tires mounted for just about a month. However, in those four weeks these gnarly fuckers have paid their ticket into the permanent Boredom Service Course.
Up until the end of January, we had a mild winter in #BikeDC. Lots of riding outside and the small bit of snow we received was easily handled by regular CX tires. Yet, there was a foreboding chill on the horizon—dark clouds emanating from the mountains to the west. In anticipation of an unrelenting trek through the realm of the Vortexxx I called Schwalbe and finally ordered the studded tires I said I'd order every damn year I rode through this shit and cursed poorly maintained trails, paths, and bikelanes.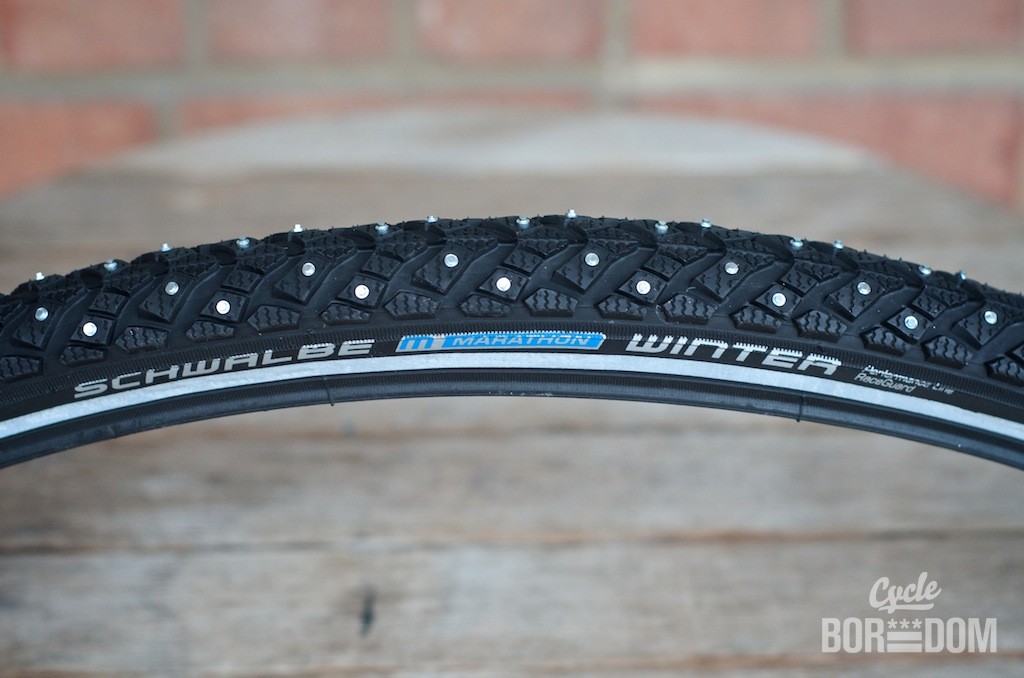 Schwalbe Marathon Winter HS 396 Tires
The Schwalbe Marathon Winter HS 396 Studded Tires ($85USD) are built on the legendary Marathon platform with a modified tread pattern specific for their arctic purpose. What does that mean? It means you have a reliably durable, carefully thought out tire that won't (hopefully) let you down when you need it the most. As you would expect of a wire bead, studded tire designed for non-failure, it is heavy—910g for the 700x35c version I installed on my SuperX CX fiets.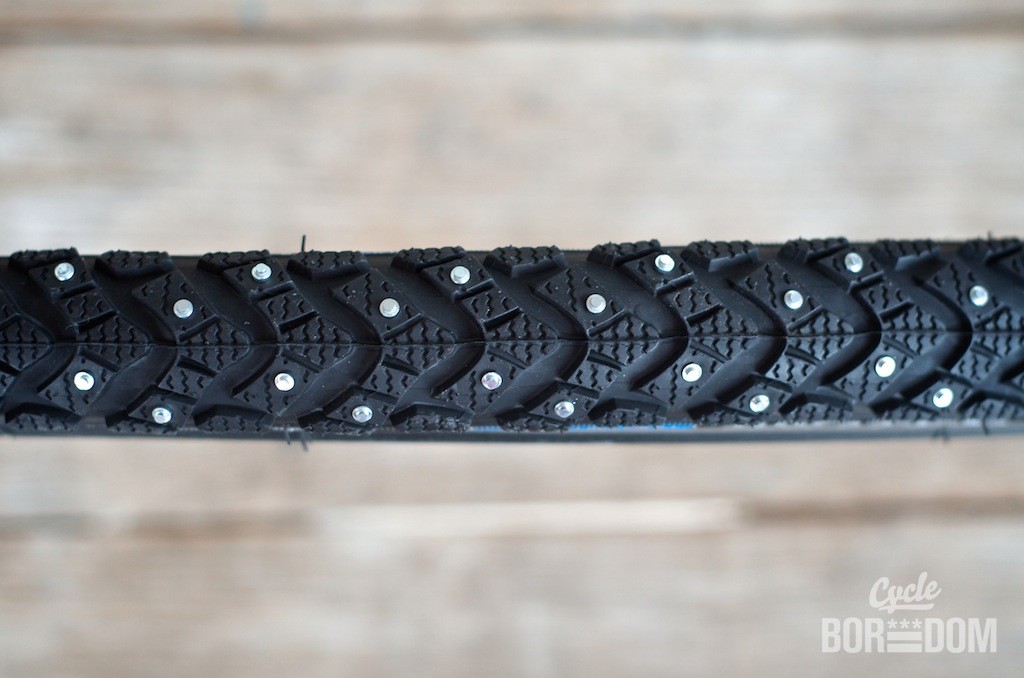 Performance
This is easy. Also, nothing nieuw. Let's just do a list of truths:
TRUTH: studded tires work on ice. In fact, they work EXTREMELY well.
TRUTH: studded tires are loud on pavement. In fact, they are EXTREMELY loud.
TRUTH: studded tires provide an extreme amount of resistance. Because studs.
TRUTH: studded tires are a one-trick pony. But they've MASTERED that trick.
TRUTH: studded tires are expensive given their limited application.
TRUTH: the first time you hit a patch of ice at full speed and realize the tires are going to stay underneath of you they immediately pay for themselves.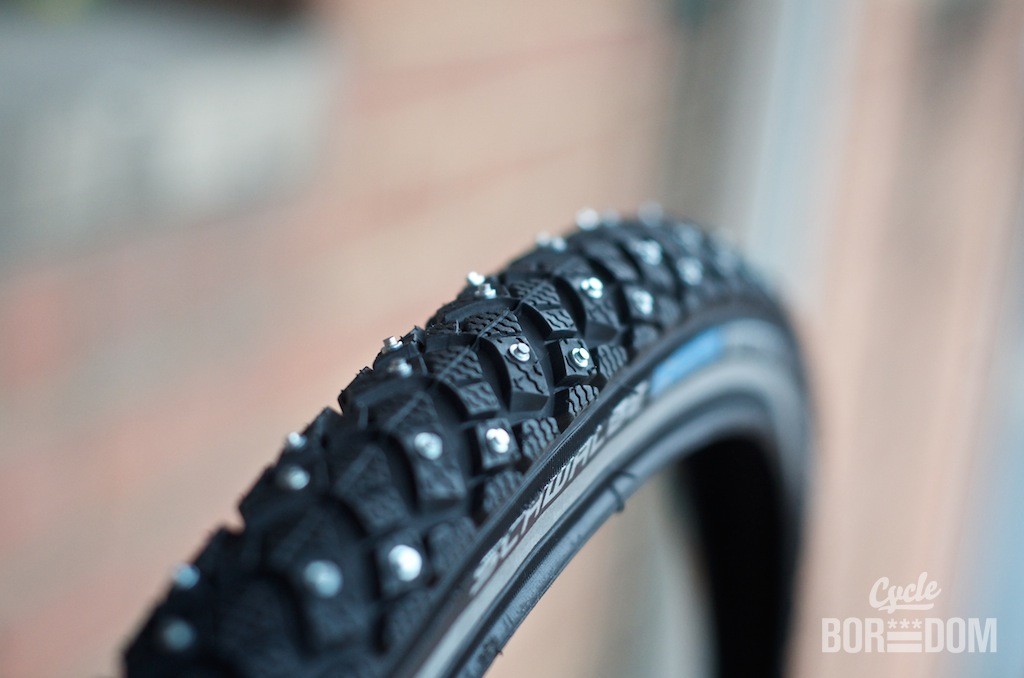 The sound they make on pavement reminds me of the plastic wheels on a Big Wheel riding over grains of sand. Any time I rolled up behind someone they most definitely heard me coming—no need voor a bell.
On non-frozen surfaces they handle as well as you'd expect a tire inflated to around 35psi (lowest recommended pressure) with a hard inner casing and a bunch of spikes—sloppy and confidence crushing. You can feel a distinct edge as you transition from a straight line and lean into a turn. I don't push their grip, usually slowing down rather than chance sliding out.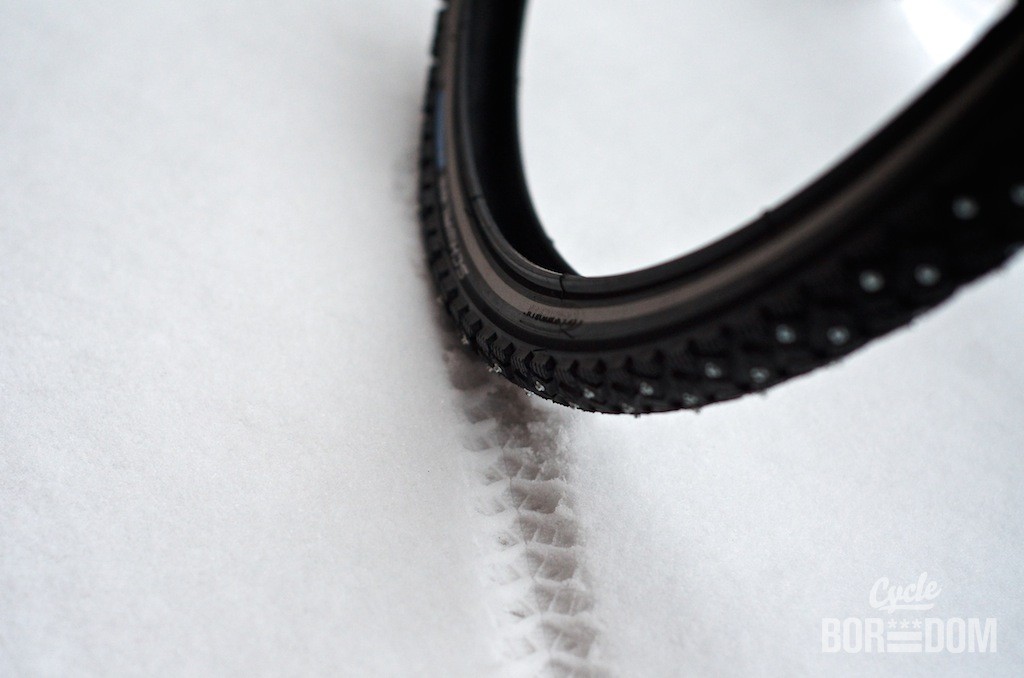 However, the moment you hit the ice everything changes. Where once they felt laborious to maneuver they suddenly light up and blaze through sections of near frictionless, sphincter puckering ice. Obviously this is mere perception since you haven't technically sped up, it's that you typically slow down and make sure you're balanced as you freewheel across. When they're deflated to 35psi the tire flattens out and allows all rows of the studs to claw into the offending substance. It's at this point where they become confidence inspiring. They not only work well on ice, but also on varying types of snow. One of my favorite tests recently was on the streets where cars had packed down the snow but it was still loose enough to allow movement. You still had to focus completely on staying upright but the spikes were able to dig in and provide forward momentum despite moments of complete sideways BRAAPNESS.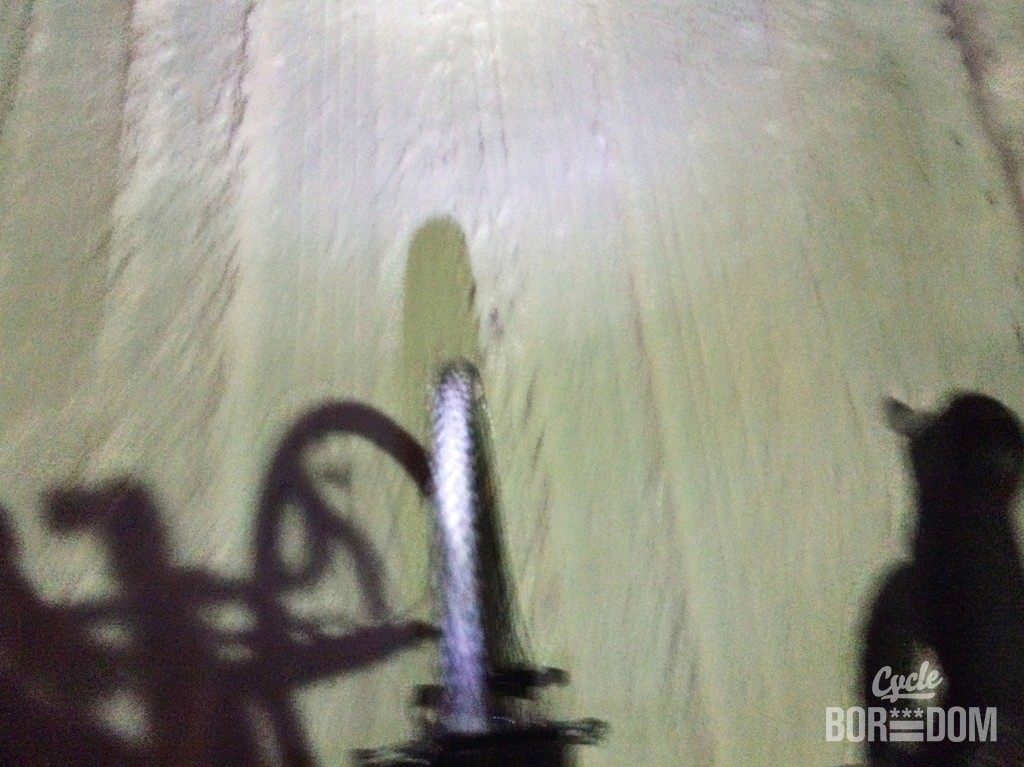 Opportunities
Honestly, who cares. Anything that could be changed to make them "better" is directly related to how well studded tires perform on their one intended terrain. They're heavy: it's an overbuilt tire that you don't have to think twice about during your coldest rides/commutes. Plus, THERE'S 200+ CARBIDE STUDS INSERTED INTO THE TREADS. They're slow: again, the overbuiltedness AND THE 200+ STUDS ALLOWING YOU TO MIRACULOUSLY RIDE ON ICE.
My only issue is both of the tires I was shipped seemed to not be perfectly true. As much as I tried to reseat the beads, there always seemed to be a slight, distinct wobble in the tread as they spun. This hasn't affected their performance but it's kinda annoying when you pay for a product at this price.