There used to be a time where I thought looking like a "cyclist" in every aspect of life was the definitive declaration of who I was. And while I most definitely still definitively declare myself as a cyclist, I no longer want to look like someone going to, coming from, or in the middle of a ride, unless of course, I'm actually out voor a ride (distinct difference). Whilst commuting I tend to gravitate towards cycling clothing styled for both "ride and destination" as fellow velo-clothier Vulpine so deftly puts it.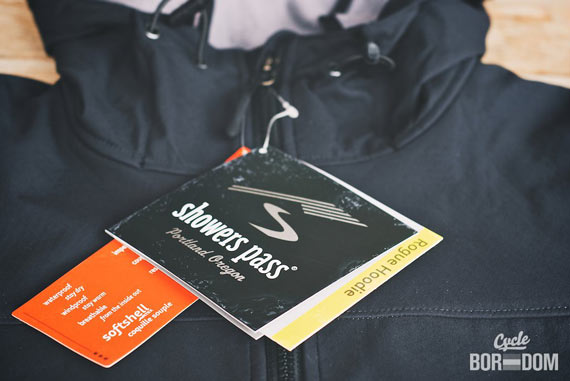 That means, I want my stuff to work well on the bike, and look friggin' sweet off. The Showers Pass Rogue Hoodie seems like it might fit that bill pretty well, so let's take a look.
The Showers Pass Rogue Hoodie
I'm a fan of technical-looking fabrics. Don't know why, and not that it has much to do with overall performance, but I dig the patterns and textures. The Showers Pass Rogue Hoodie ($160USD) didn't disappoint in that regard, nor really any else for that matter. Street cut, urban style. Clean, minimal lines. It's designed voor life both on and off the bike and honestly it's seeing a fair bit more "off bike" duty considering I'm wearing it all the time.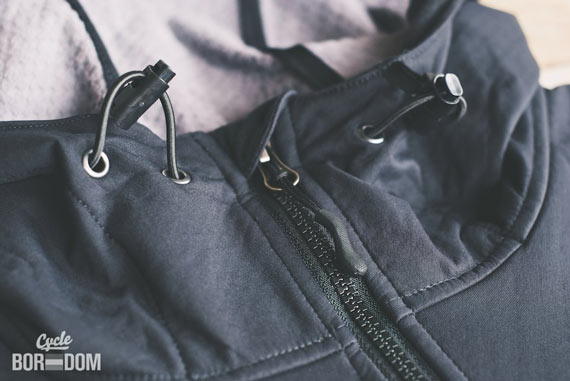 I've become accustomed to cycling clothing's form fitting style and the Rogue Hoodie follows in that tradition. It's not tight around the midsection but it's also not boxy and loose. There's enough room to layer appropriately underneath if need be.
Collar zips up high enough to cover your neck just under your chin but without wrapping tightly. This allows for some heat to escape in an area, at least on me, that gets sweaty and nasty mid-ride.
The large hood is designed to accommodate a helmet (or fit under) if conditions warrant, yet can be pulled down tight around your head during non-bike use.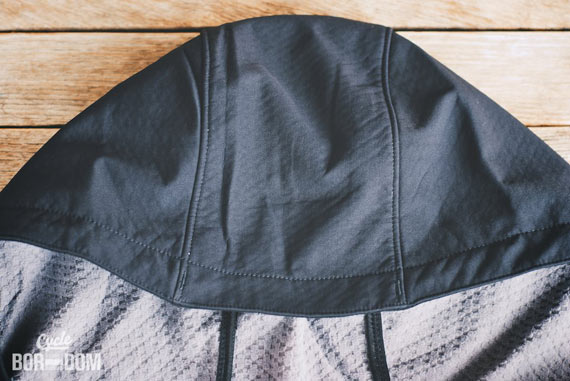 Pockets are fleece-lined which is a necessary feature not nearly enough outerwear brands implement. A single vertically oriented and zipper enclosed pocket is located on the rear as is de rigueur reflective piping. Speaking of zippers, I love their use of the contoured, textured pull tab making the action of zipping and unzipping probably more pleasurable than necessary.
Rogue Hoodie Technical Performance
Showers Pass claims it's a "fiercely weather resistant technical hoodie" and they'd be correct. While the Artex 3 layer waterproof softshell material is, in fact, waterproof, its non-seam sealed/taped application won't allow for a fully waterproof designation. However, after Mother Nature dropped rain hammers during one my 30 minute commutes home, I can safely claim it's *nearly* waterproof. Everything on me was dripping after the ride, but my shirt was dry and I was warm. The seams had only started to get moist. Hell, they weren't even really moist, more tacky than anything. Moist would've shown up on my shirt.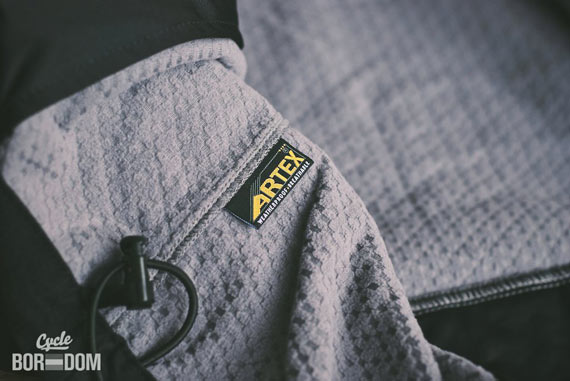 Interior lining is lofted for your pleasure. Not only is it lofted, it's done so with a technical pattern, which as you know, makes me hot. The Rogue Hoodie doesn't have any vents to unzip if the hotness is too much to bear but I haven't found myself in a situation where I lamented their non-inclusion. Besides, the large, full length zipper on the front does the job adequately. Additionally, it limits entry points voor de wet stuff.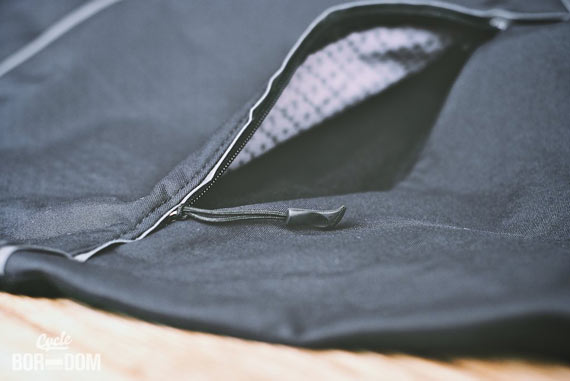 Wind ain't no thang voor de Artex fabric; handling gusts and gales with aplomb. When the temperatures dip, the tag team combo of the lofted interior and windproof exterior are capable of providing comfort in a broad range of weather. I need a jacket with more loft when I get down towards the low 40s and into the 30s but anything above that this piece can handle.
Opportunities
Interior wrist gaiters with thumb loop are a fantastic idea, but they're simply too tight for me. Even though I have skinny wrists and the gaiters do their best to apply tourniquet level (not really) pressure in an effort to remove my hands. Thumb loop is too far up the sleeve that I can't leave my thumb in for fear of dislocation (again, not really). I'm not sure I can fully call this an opportunity as this may only affect me, but it's definitely something to be aware of. I'd love a little more room in the wrist.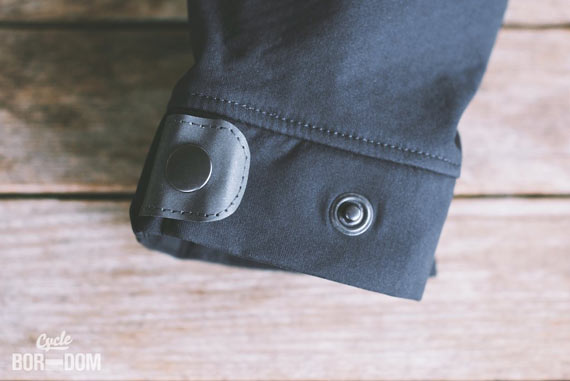 Part of me would like to see a longer tail or a fold out flap to protect 'DAT ASS but I imagine that would complicate the construction and raise the cost. The collar/neck area pushes in on my Adam's apple which happens to be fuggin' huge but that's beside the point. This is more of an issue when I'm standing rather than when I'm riding. I have noticed that the sensation has decreased with use.
Finally, the hood is large. And when I say large, I mean FUGGIN' HUGE. Perfect when trying to fit it over a helmet, but when not in use it turns into a sail at speed. I tend to stuff it under my backpack when I'm using one, but otherwise it catches the wind. Not detrimental, but it can be distracting. Perhaps adding some way to secure the hood when it's not in use would be useful. Although, again with complicating the simple.
Final Thoughts & Rating
Honestly, when I first heard of this piece, I wasn't exactly sold. It seemed too limiting while simultaneously being not enough. It's turned out to be exactly opposite. The Showers Pass Rogue Hoodie has a broad range of temperature uses, gets you through all but the harshest downpours, and looks fantastic both on and especially off the bike. Like I stated above, it definitely has some opportunites but despite them I routinely am drawn to this garment whether I'm commuting or simply walking out the door.
PRO FACTORS: Fit, excellent technical performance in broad range of conditions, style.
OPPORTUNITIES: More room/give for wrist gaiter/thumb hole, containment for hood.
RATING—4.5 Stars: All-around performer for life on and off the bike.

Links
Web: Showers Pass Rogue Hoodie
Twitter: @ShowersPass
Facebook: Facebook.com/showerspass