Considering this has been a long term test and there has been little washing of the testing subject, you might be able to smell these through the screen if you get close enough.
In my first review of a swrve product, I was blown away by how well it worked on-bike, especially when compared with regular clothing. The Softshell Trousers were my go to piece when I commuted during most of the winter. When I got to work and they were too hot, I stripped down and shod my legs with Cordura, stretchy CORDURA®. Now before you get all "WTF?!" on me, this ain't yer messenger bag's CORDURA® (yes, it's CAPS LOCKED. Just like LYCRA®.). This fabric has much of the same wear-resistance characteristics but none of the hardcore chafing you might expect. No, it's soffffft—seriously soft.

The swrve CORDURA® Skinny Jeans
I previously wrote re: the Softshell Trousers and how they game me that, "Oh s***!!" feeling. I can say the same thing re: swrve's CORDURA® Skinny Jeans ($100USD), but it would go more like, "Oh S***!! So THAT'S how jeans are supposed to fit!" Amazing what 2% of spandex will do for an otherwise inflexible material.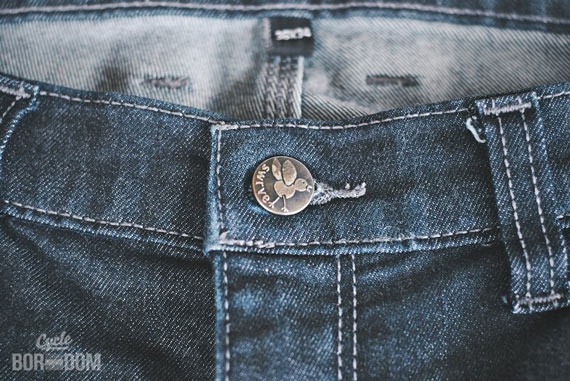 For those of you hopelessly hung up on the fact that skinny jeans = hipster wear; one, get over yourself. And two, swrve also makes a Regular Trim Fit version of the CORDURA® jeans. However, if you're looking voor relaxed fit, I'm sure you could ebay some JNCOs somewhere.
These jeans may say skinny, but they're definitely not painted-on-tight. In fact, I haven't experienced any tightness issues whatsoever. It should be noted I don't have sprinter's quads or massive calves and as of this review, I'm hovering in the mid 180s.
My only gripe re: their fit is that they don't always stay on my ass. However, that's more likely due to that fact it's non-existant. My ass, that is. But, I do find myself having to hike them up sometimes during life living or sweet fixie sessions. Not a big deal, but I have a moral obligation to report all I find.
Skinny Jean Performance Wear
They work. As I've experienced with all of the products swrve has sent me for testing, they make me want to wear them. And that's not just for riding, that's all the time. I even want to wear the knickers when it's clearly not socially acceptable. They're *that* comfortable. Yet while they're fantastic off the bici, they're that much more impressive on the bici. Much like traditional cycling wear that's dialed 100% for the task at hand, so is swrve's Cordura Jeans.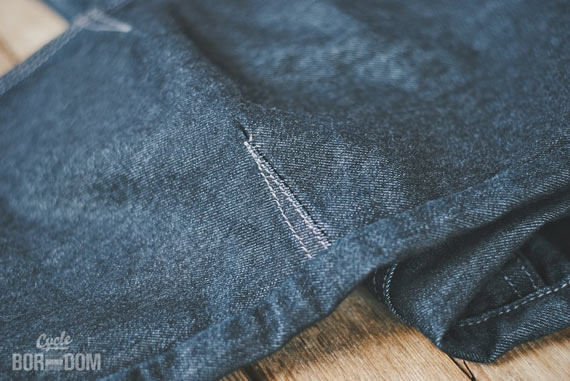 During the dark times when I wore inferior slim cut jeans, they'd compress my kneecaps whilst kneeling or whilst riding my sweet fixie to and from work. If you're unfamiliar with how the human knee works, compression isn't in the user's manual. The articulated knees provide the necessary give and flex needed for the motion of pedaling. Plus, the stitching details look like something Pippo Pozzatto would rock while sipping espresso or negroni waiting for Sysmex results from the local gyno.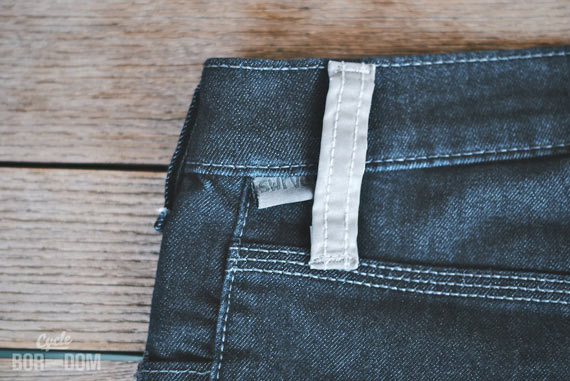 Inferior slim cut jeans are notorious voor making it impossible to sit on the saddle when I'd ride my sweet fixie to and from Trader Joe's. The seamless gusseted crotch design of swrve's products allows for positive engagement of the sitting device without feeling like you're hovering on a hammock of crappy denim.
Skinny Jean Work Wear
Hill-types (DC) or corporate desk-jockeys may have a hard time integrating these into their business attire, even during casual Fridays. Voor everyone else, these shall do nicely. I wore these repeatedly to the point of unhealthy. But you'd never know—this color is a grime hider.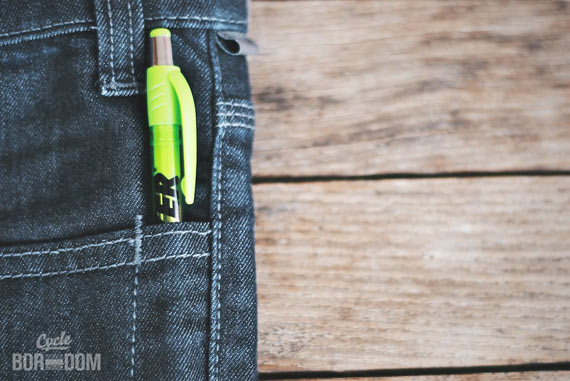 As I mentioned above, due to the articulated knees it's easy to kneel. So if you're bending, kneeling, lifting, climbing ladders, or delivering that PREMIUM RUSH on your sweet fixie, these pantalones flacos will not get in your way.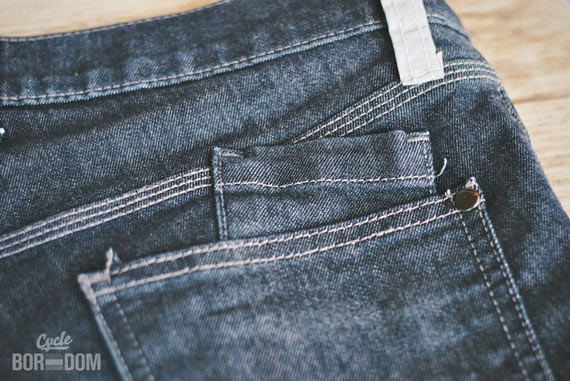 Wear And Tear
As I said above, I wore these. A lot. Wore them in the shop, during commutes, out to dinner, picking up The Bug, whatever—and they never complained. They look nearly as good as they did when they first arrived. There are some areas of wear, though.
The crotch gusset, typically the weak point of most jeans, has finally showed some pilling and fading from buffering my ass from my saddle. Although, the saddle may have a bit to do with the negligible amount of wear—the Portland Design Works Dios Thronous is a sticky post topper and as a result, is ruthless to anything found between it and 'DAT ASS.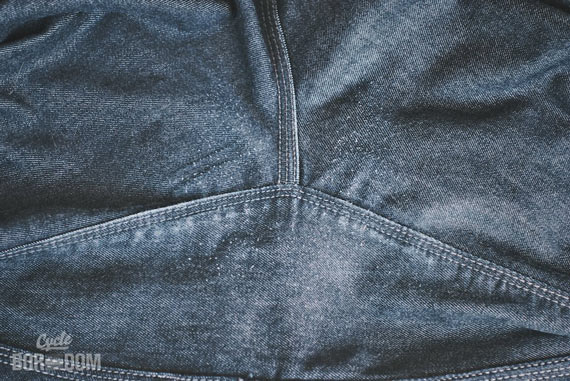 I also had a durability issue with the interior reflective strip. Once the cuff settled into its natural state, I eventually wore a thin area of the strip off. No big deal, as the  area not in contact with my shoe (read: most of it) is still intact. It also appears that even after several washes, the worn area didn't creep further. I'm not sure if this is something that can be made stronger, but it would be a welcomed change.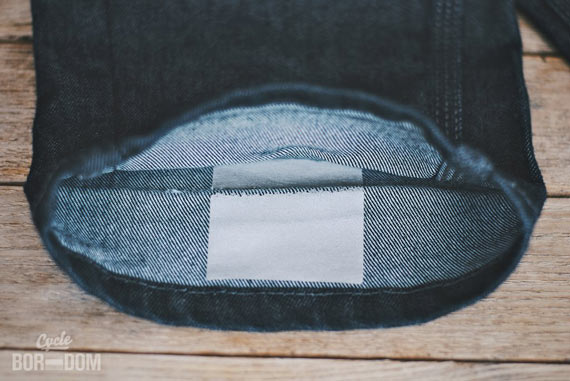 Final Thoughts & Rating
There aren't many, if at all, opportunities voor de swrve CORDURA® Skinny Fit Jeans. If only they could either hold onto my non-existant ass, or accentuate my non-existant ass then we'd have a 5 star, 100% PRO rating on our hands. But seeing as they aren't miracle workers (which is what a 5 star 100% PRO product must achieve)  I can't go there. Also, there's that reflective strip wearing off thing. So, considering those two hits I'm thinking these are a solid 4.75 stars or  97.5% PRO.
I'm really starting to dislike the percentage rating these days…
PRO FACTORS: #GUSSETDOPING, 'DAT STRETCH, effortless on-bike fit.
OPPORTUNITES: Make my ass look better, more durable reflective strip.
RATING—97.5%: (4.75 stars) An essential part of my wardrobe that excels on the bike.

Links
Web: swrve CORDURA® Skinny Fit Jeans
Twitter: @swrve
Facebook: swrve Group