Overall TDF
As the inevitable post-TDF blues sets in while waiting for the inevitable post-TDF bombshell positive to drop, I've decided to wax lyrical and type some nonsense. In my not-so-humble opinion, what we witnessed was, by far, the cleanest least dirty Tour in the past 2 decades. And by least dirty, I mean: either there weren't as many dopers, or it was still rampant but they all were micro-dosing their way to spectacular mediocrity (or a mix of the two). Whatever the case may be, the race was exciting for all three weeks until it was brutally obvious the skinny Schleck still sucked at time trialling. We saw failed bids for glory by not just the lesser teams, otherwise known as French, but the GC contenders as well. Finally, they were willing to lose it all in order to win. Here's a rundown of what I can remember…
Obviously Cadel
With this win (which I'm huge fan of), Evans can now can say in an excruciatingly high-pitched voice, "Suck me!" to all the wheelsucking-accusing-naysayers (besides, Bottle's WSLs are much more pronounced). That boy raced the cleft off his chin this year winning a road stage, pulling the peloton across the mountains 2x, and crushing the dreams of a teenage boy in the final TT— Cadel is the man, mate! And considering all the near misses he's been through, I can't imagine a more worthy and deserving Tour champion. Except, of course, ★Lance Armstrong★.
DosSchleckies™
The Frandy twins proved all doubters right by demonstrating what #trueracing means: to attack with the ferocity of a wet towel. If they weren't breaking their necks pining for each other, they were #truewhining about the parcours. Luckily Andy is only 15. He's got plenty of time to come in second for the rest of his career. But hey, I keed. The brothers did make the final podium. So maybe, just maybe, in a land far, far away—Andy will climb that top step.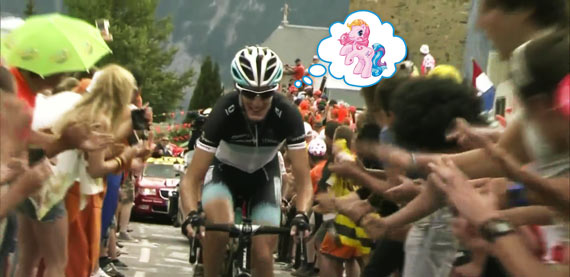 Voeckler
Unbelievable. He. Did. It. Again. It would've been a 2004 redux, if not for a few eyebrow-raising moments when he was covering Andy and Bertie's attacks with shocking aplomb. However, we once again were treated to le Petit Blanc's poop-grind climbing style and subsequent sufferface in the Alps. His freakishly tight grip on the yellow jersey was only matched in tenacity by the sheer strength it took for his sphincter not to blow his innards into his bibshorts, as he repeatedly dug deeper than ever to climb onto the podium.
Albuterol Clentador
I confused the **** out of my followers as I transformed from a vehement Anti-Bertie, to actually calling him Alberto. I think my softening can be traced to the moment he was Karpets-burned by the Iteraean hit squad. When he struggled in the mountains I nearly sent my 50¢ a day in to sponsor him as my doe-eyed monetary foster-child. Finally, a futile long distance attack spiced with a backhand to a spectator, followed by zero complaints and only congratulations for those who defeated him sealed the deal. However, I'm still calling him Clenty until CAS decides his fate in 2015.
Thor for the Memories
See THOR SMASH stage. See THOR ROAR! See THOR HONOR maillot jaune! See THOR EPIC SMASH mountain stage in WC stripes. See THOR AUDITION (via: @nyvelocity) for BMC.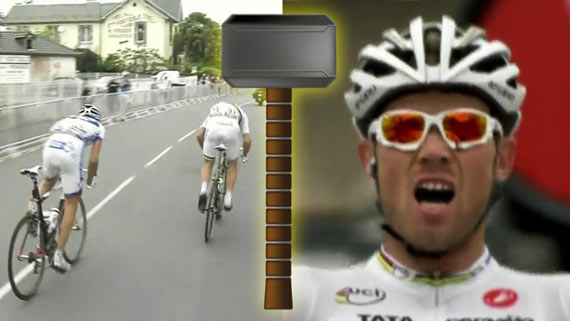 Hoogie and Flecha
Versus immediately licked their lips in anticipation for next year's 2010 TDF promo spots the moment these two were jettisoned from the break by a motorist enraged that "those damned cyclists" weren't riding in single file. Snarkfree: it was truly inspirational to see those two continue in the Tour after that horrific incident.
Jeremy Roy
Roy made the break in 32 of 21 stages during this Tour. Kid mad the futile breaks more interesting by making them less futile-er. Deserved an honorary Maillot Jaune on general principle, but instead was bestowed the Maillot l'Amour by the adoring French public and @FestinaGirl.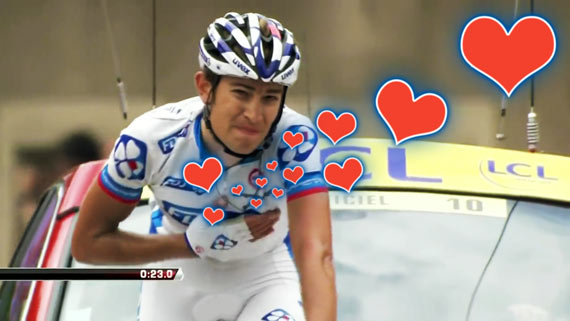 Mark Cavendash
Meh. He won, he said some stuff, he lost, he said some stuff, he rode in gruppetto, he said some stuff… In the end, you can't deny the Manxshaw isn't fast.
The Crashes
The roads of the 2011 Tour de France simultaneously ended both aspirations and careers of many of the GC contenders and race protagonists. The press and Twitter were all atwitter searching for an explanation behind all the crashes. Why, because so many "big names" scattered themselves into le ditches? No one would've batted an eye if the majority of those who abandoned were from the Saur-Sojasun team. My feeling is the main reason for all the crashes were accidents. Especially Karpets and Contador! *puts down phone slowly after receiving call from Russia*
Twitter
I've done 4 or so Tours on Twitter, and this by far was the most cracked-out, meme-saturated, pontificated edition yet. We've honed our crafts of snark, observations, insight, hate and love into 140 characters (except for you deck.ly outcasts) of perfection. It would be too herculean of an effort to justly include and highlight all the fantastic tweeps in the Twitter #cycling community, so I won't. I will, however, say that it was a pleasure serving with you all, and thanks to all my followers who interacted and/or put up with my incessant #tdf blasts.
Now onto the rest of the season.