A Few Words Before A Lot Moar Words
At first this was going to be a few shots of some sweet fiets courtesy of Matt Moore, someone #BikeDCers will recognize from CycleLifeUSA. Turns out Matt had A LOT more to offer. He recently left CL to start a nieuw venture which he describes below. So this post has essentially morphed into an impromptu press release via bikepr0n. The rest of the post is in Matt's words.

DCW Does NAHBS14
This past weekend was my second time attending the North American Handmade Bike Show, better known as NAHBS. As my knowledge and understanding of the cycling world has grown, so has my respect for what handmade frame builders do. I was born and raised in Washington, DC, and bicycles always have and always will be a huge part of my life. The first time I threw my leg over a 24″ Pacific mountain bike and rounded the bases at a local playground with friends, I knew that I was going to be in for a long and crazy ride (sorry, I had to). Bike shops have been my second home since the age of 13, and I recently decided it was time to set out and build my own dwelling: District Cycle Works.
District Cycle Works will exist as a studio space serving people looking for honest bicycle service, fits, events, rides, hands-on classes, coffee and community. I won't be stocking bikes; instead, I'll be working with the bicycles people already have and are inspired by, and I'll connect others with talented frame builders nationwide. Bicycles are powerful and beautiful tools that, as a good friend once said, "have the power to change the world." They certainly have changed my world, and my goal is to help figure out how they can help you. That mindset is what attracted me to the world of custom-made and hand-built bikes, where it's important to take the time to understand the user's needs and build accordingly. The many talented folks I met this weekend taught me that building and painting a custom frame is as much about the customer and their vision as it is about the actual welding and layup.
611 Cycles
The story of 611 Bicycle Company has to be one of my favorites. Named after the 611 JClass Steam Engine, Aaron Dykstra's frames each have their own personality but still maintain an authentic and classic theme. I hadn't heard of 611 prior to NAHBS, but after one look at their website and opening image of a craftsman's hand,  I knew I was going to like them. They won the NAHBS "Best Track Bike" and "People's Choice" awards, and meeting Aaron and learning about his frame-building operation in Roanoke, Va., was a highlight of the trip. I wish I had more photos to show off his beautiful work, but be sure to check out his website and its "Recent Work" page. Aaron really has something special going on in Roanoke, and I hope to see some of these coming through the DC area soon.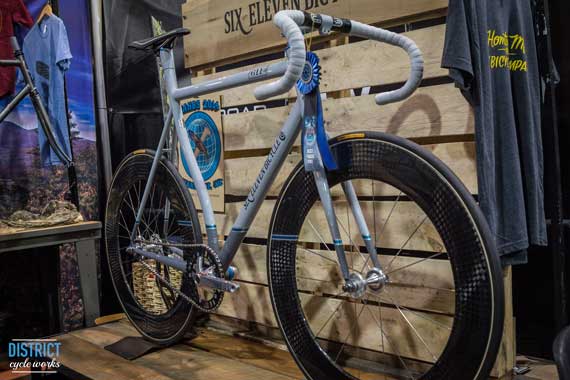 Web: sixelevenbicycleco.com
Instagram: @611bicycleco
Alchemy
Alchemy had worked on a beautiful bike for a build-off (http://www.bikerumor.com/2013/10/02/c-bear-buildoff-part-two-nie-brothers-x-alchemy-helios-custom-road-bike/) in collaboration with C-Bear. This, and the fact that Ben Serotta had joined their team, made me excited to see what they had brought to Charlotte.  Alchemy is a great group out of Denver who offer a quality product with a personal touch, as loud or subtle as you would like. I had the opportunity to chat with Shane Haberland, who had produced some amazing graphics and paint that were on display, and there are few things better than hearing someone explain their craft and seeing their face light up as they tell their story. One of my favorites was the Serotta-inspired electric/ghost blue paint scheme on one of the displayed road bikes.
Web: Alchemybicycles.com
Instagram: @alchemybicycles
Argonaut
Best in Show — with good reason. Ben Vemor's frames were really something else. Aside from the cyan blue accents (though I may be a bit biased), the lines, angles and subtle details really set these frames apart from the rest. Their construction process is thorough and ensures each rider receives a bike that is truly tuned to them — custom bikes at their best. I love a bike that is subtle yet beautiful in its construction, letting its ride and well-chosen components do the talking.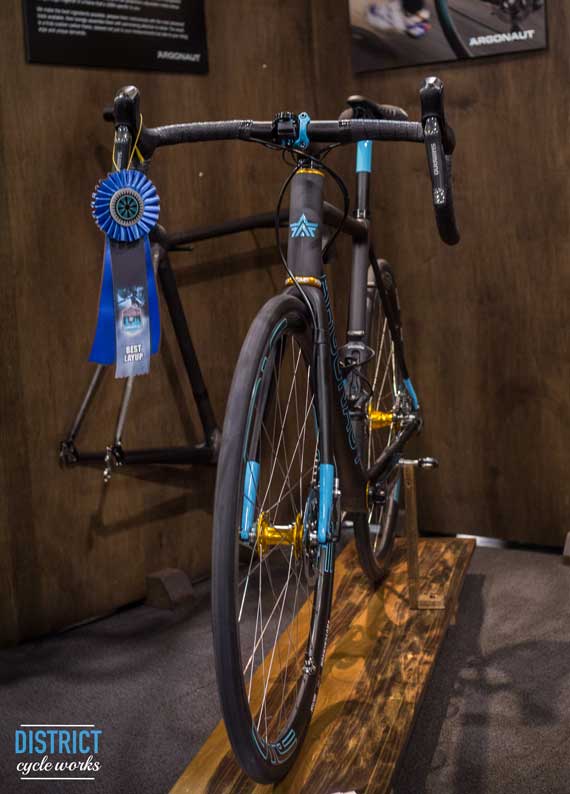 Web: Argonautcycles.com
Instagram: @argonautcycles
Boo
Boo was best described to me by my friend Rob when he said, "These guys are about bikes and fun." A quick look at their blog makes it clear that they embrace all forms of cycling and can make you a bike for whatever adventure you choose. Plus, any company that lends a custom school bus to events has to be awesome! I'm excited to see and hear more about the AluBoo, which will allow a rider to run one frame through road, cross, touring and fixed seasons. I believe a touring company that just picked up a fleet for use in North Carolina. Thanks to Adam Wolf for taking the time to chat and tell me your story.
Web: Boobicycles.com
Instagram: @boobicycles
BreadWinner
Having had the honor and pleasure to work on some good friends' Ira Ryans, I was excited to see what these guys had in store for Charlotte. As I approached the booth, I immediately noticed the B-Road gravel bike's brilliant orange paint job. Its clearance for a larger tire, thoughtful tube selection, and rack/fender mounts leave the owner with a wide-open canvas for rides. In a world where Di2 has taken over many modern builds, the down tube shifters were a great accent. They made for clean lines and a classic look, which have I have always appreciated about Ira's bikes. The award winner for Best Mountain Bike complemented its neighbor well. Clean lines with a modern features, such as internally-run housing, reminded me of the steel mountain bike frames I grew up lusting over. I would love to have either ride leaning up in my living room or out on the trail with me on my next adventure.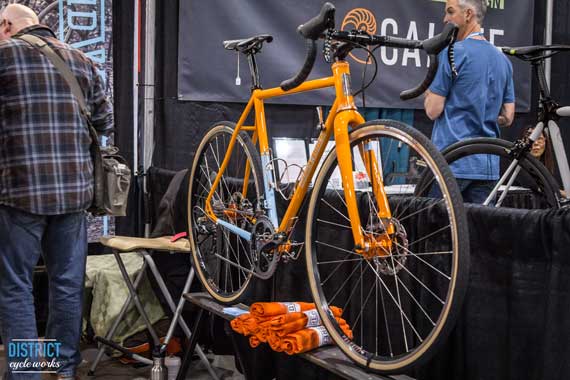 Web: Breadwinnercycles.com
Instagram: @breadwinnercycles
Cielo
I didn't get the chance to spend too much time in the Cielo booth, but there is no question that these are some beautiful machines. Any frame that can make Chris King components the secondary subject of focus are truly something special. They have also released a semi-custom stem offering, which allows you to really set off your build. I'm curious to see their approach to the growing "gravel" bike category.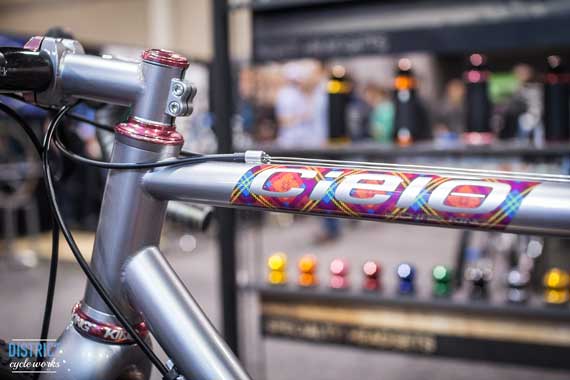 Web: Chrisking.com
Instagram: @chriskingbuzz
Ellis Cycles
I would have to say that Ellis Cycles was the most pleasant surprise at NAHBS 2014. A frame builder out of Wisconsin with a Serotta background, David Wages owns the words "classic" and "lugged." The detail on these bikes were beautiful — from the Di2 eTube wire holder down to the sublimated designs in the paint, which my photographer Steve worked to capture. It was really neat to see a modern Di2 9070 equipped with a painted-to-match stem, built up next to a classic quill stem-equipped DuraAce 7700 bike. This contrast in components really showed off how an Ellis can stand out, regardless of the build.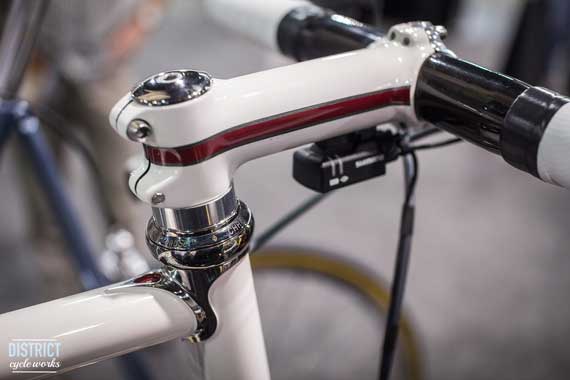 Web: Elliscycles.com
Festka
Colorful, bold, built with purpose. These are the first three things that come to mind when I think of this company. Each bike was a story which every component on the frame helped tell. A group of frame builders / mechanics out of Czech Republic, it took a good five to ten minutes to take in each bike. Spend a few looking at the two track bikes we snapped pictures of then check out the beautiful Rapha Continental bike which headlines their website.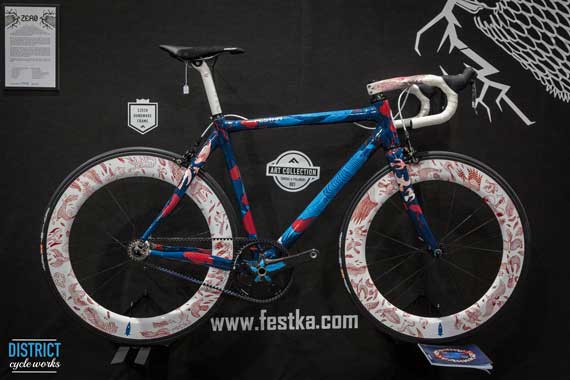 Web: Festka.com
Instagram: @festka
Geekhouse
I started following these guys on Instagram about a month ago, and have consistently double-tapped their posts. In a world of red, black and white, I have always felt bikes needed more color, and they get it. Marty Walsh told us the story of how one of the bikes on display was actually a surprise build for his father, with the goal of shedding a tear or two. Proudly built in the U.S., these guys understand quality, color and the importance of a good story and experience. Given the fact that their online store is sold out of every clothing item, I think others may agree. Marty's brand and booth left everyone smiling and wanting more. I hope to visit his operation (once the east thaws out a bit).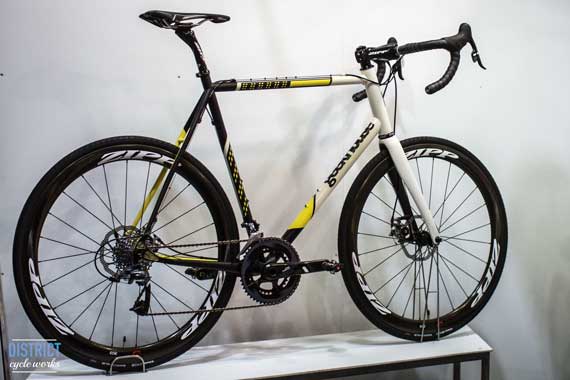 Web: Geekhousebikes.com
Instagram: @geekhousebikes
Moots
Any company that builds a bike that ties in a chain saw gets it — make your own trail. Moots has always been known for their quality frames with a custom touch. Brandishing the natural beauty of titanium, it seems these guys invent a new style of bike at every show. A company that makes something just because they can is the kind of company I would want making my bike.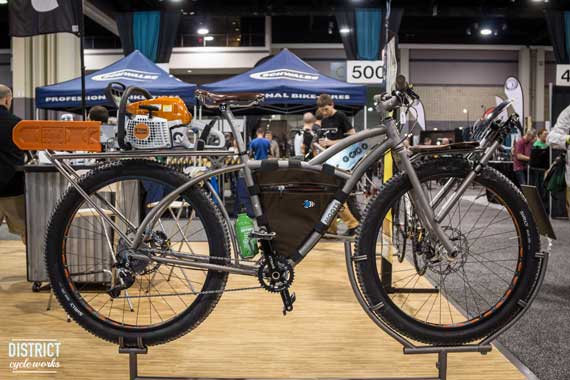 Web: Moots.com
Instagram: @mootscycles
Mosaic
When asking around and making my list of booths to check out, just about everyone mentioned Mosaic. About an hour into the show I understood why. My experience attending trade shows has always been that the "hot" new brands are often the most difficult to approach, but this didn't apply here. Kevin Batchelor and Jack Barcheck ran me through the models, the story and the vision behind Mosaic. Handcrafted in Boulder, Colo., these folks have a simple yet poetic process: tailor, draft, craft and compose. Whether a do-it-all disc brake equipped X-Series, a more classic Campy equipped, clean-lined R Series, or an off-road and adventure-ready M-Series is your flavor, these guys have an option for you. And if work has you racking up more airline than Strava miles, then be sure to check out the their travel/T-Series bikes for portable elegance.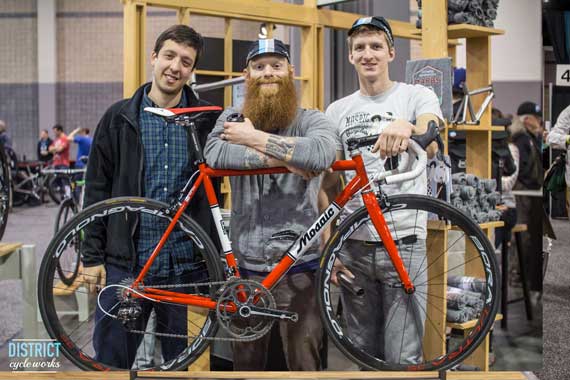 Web: Mosaiccycles.com
Instagram: @mosaiccycles
Community has been one of the biggest rewards in a life built around bikes. None of this trip would have been possible without the help of two amazing friends, Steve and Jenny. Steve, thanks for the photos, the 16+ hours behind the wheel, and for friendship. Jenny, thanks for keeping Steve and me alive and fed throughout the weekend. Chris, thanks giving the world what it might not need: another place for me to talk about bikes.
Drop me an email: [email protected]
Give me a like on Facebook: facebook.com/districtcycleworks
See what I see on Instagram: @districtcycleworks
Or share something cool with me on Twitter: @dccycleworks
Oh yeah, and there's a website (under construction): Districtcycleworks.com