Ahhh, de Ronde. So many goed memories have been born on de kasseien of Vlaanderen. Remember that one time when I fell on de Koppenberg and almost got my foot run over? Talk about a sticky situation!
Alright, I know I've been bitching about the previous Classics, semi-Classics, half-Classics, and the midweek Royales. Only a finite amount of platitudes exist to be slathered upon the undeserving. And by the undeserving, I mean de not-Rondes.
Holy Week awaits and it beginnen in Brugge.

Not Stijn Meaning #Stijned, But Stijn Meaning Goed!™
Stijn is totes gonna #Stijn Cancellara like Stijn #Stijned Boonen—twice. If you've been paying attention during the above mentioned races, you will have noticed a certain multi-Ronde winnar looking like a certain multi-Ronde winner when he was a multi-Ronde winnar.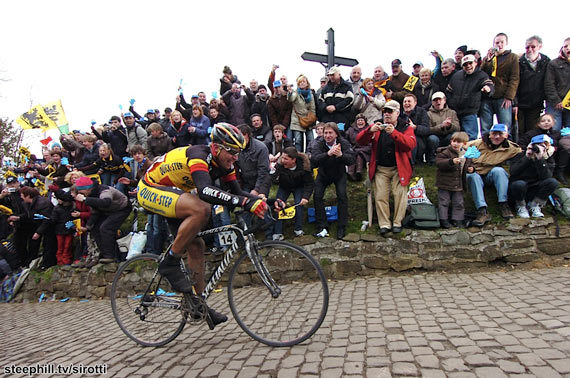 In fact, Stijn's looking even leaner than he did back in '08 and '09. He's also been butchering himself on the front voor Fabs which is also known as #secrettraining.
If Not Stijn, then BOONENSAGANCANCELLARAVANMARCKE. Also, Phinney?
There's no secret I have a heart voor Boonen. So another Ronde voor Tommeke would be goed. Sagan taking the top step would be pretty sick, plus it would seriously piss off all the tightly-sphinctered fans out there. You know who you are. Blah, blah, blah Cancellara. Maybe Vanmarcke. Maybe.
Just voor fun, let's throw some more weight onto the already genetically burdened shoulders of Taylor Phinney. Kid's got one of these coming. Whether or not it's this jaar, we'll see. All he has to do is shake his Gerraint Thomasesque luck of hitting the deck and he's goed for it. (Ed: Yes, I am fully aware BMC are all voor GVA and Minney-Phinney is much better suited voor Roubaix.)
Let Us Now Reflect…
How The Race Was Won – Tour of Flanders 2013 from Cosmo Catalano on Vimeo.
LINKS VOOR VIEWING
Cyclingfans
Steephill
ProcyclingLive