First look I got at this hot little number I knew public opinion could go 2 ways. The negative side would say something about it being everything that's wrong with the bike industry due to exclusivity of price, limited functionality from a lack of gears, and its inherent race-ready, go fast mentality. The positive (as well as me), would say it's the best of what the industry has to offer because it exists merely for fun, promotes commuting, and shows one of the most coveted US builders looking for ways to get his exquisite machines to a broader fanbase. And, as Sacha expands upon below, it's all these things, for all the right reasons.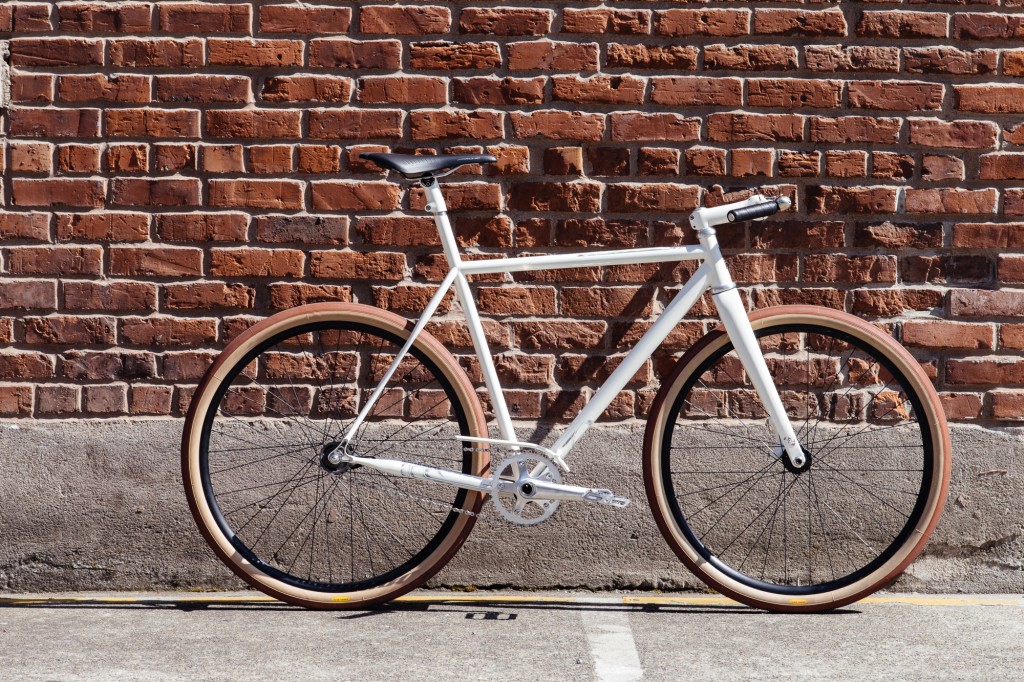 Sacha sez: "I used to think that a bike for getting around town could be as heavy as it needed to be and if that meant it had more utility (lights, racks, integrated everything), then the heavier the better. While there's a place for the mule, or grocery-getter in every stable, what I've gravitated toward with this new bike is fun. A light bike that has some good volume to the tires, has a minimalist, modern, sexy design and above all is something that I totally want to SHRED on.
I started putting pen to paper in early 2014, figuring out what makes sense for a bike like this: super light, minimal, industrial chain guard? Yes. Full racks and panniers? No. For a while now, I've been working out the bugs with prototypes I've been riding almost exclusively. In other words, red-lining everywhere I go. Riding over things that I probably shouldn't ride and totally rekindling my love of cycling. I think about this bike when I'm not riding it. I come up with excuses to run errands so that I can sprint across town! And I am happy to start releasing them into the world."

The Speedvagen Urban Racer ($4895USD) comes with a 2-speed SRAM coaster brake, is available in 3 sizes (s/m/l), comes in 2 distinctly Speedvagen-ish colors (Ghost and Distressed), and has a multitude of upgrade options available.
For #allthedeets visit Speedvagen and start building your own Urban Racer.
All images by John Watson/The Radavist (except, obviously, the one he's in below.)