Note: I've stopped and started, written and rewritten, and threatened to cuss out every tire manufacturer out there all while trying to figure out if this needs to be split into multiple posts. I still have no idea. But here's what I got…
Prologue, or, why I need new bike tires
I've finally blown through my cache of tires. Until this point, I had generally been running on tires I had been given from reps back when I was managing a LBS. Technically I did purchase new rubber for the Gunnar, but the Trek was equipped with tires I received back in 2004! So without an infinite supply of race rubber, I'm now faced with the search for a long-lasting, highly puncture-resistant set of tires. Otherwise known as training tires.
Tires, and the bike shop reality distortion
Speaking purely from my own experience, bike shop employees aren't in touch with reality when it comes to tires. I either got them for free, or paid only half of what the general public is forced to shell out. So yeah, a Conti GP4000 or Vittoria Pave CX is a fantastically long-lasting, puncture resistant training tire when you're not spending $60-70+ on them. Step out of the EP bubble for awhile, and the slow dull realization creeps into your consciousness—race-level tires, regardless of what the marketing says, are NOT good for training. And while I did get a few good recommendations, I also, amusingly, still got the Conti and Vittoria options stated above.
The (significantly reduced in size and scope) Rant
Why do bike tires cost the same as car tires? And why do they have 1/10th of the longevity? Forget marketing propaganda features and benefits, just compare the two and see how glaringly ridiculous it is. So what happens when you look for a cheaper alternative that doesn't have you compromising your monetary ability to provided sustenance for your family? You're offered a POS that feels not unlike the solid tires you might've had on your first bike back in the day. They have no road feel because the rubber's unforgivingly hard, they have a low threads per inch count, and they're typically extremely ugly. If they have puncture proofing, it's not far from being a steel belt that further isolates your senses from the road. This all translates to safety concerns as they don't grip as well as road tires, and they're more likely to bounce rather than track road surfaces when cornering. I could go on, buuut you get the point.
The training tire review hotseat
I'll be honest, training tires are a section that I hadn't really considered much before. Although, the Bontrager RXL Hardcases I got for the Gunnar fall under this catagory. Needless to say I've been reading review after review, and forum post after ridiculous forum post looking for feedback and trends. I've also been wandering around the DCMetro LBS scene to get some local input. And finally, I crowd-sourced my Tweeps, Facepagers, and G+'ers to see what they're riding. Based on the criteria of: 25mm, long lasting, still having road feel, and finally providing hyper-puncture-resistance, here's what I've found. Prices are MSRP.
Continental Gatorskin ($59.99USD – Folding): The G-Skins were the overwhelming favorite.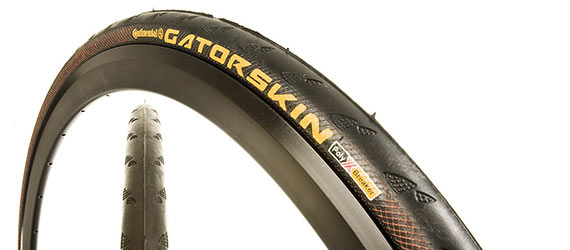 Specialized Armadillo ($44.99-$64.99USD): This came in second. Kind of the old standby of puncture-resistant "I don't want to think about my tires" tires. No one mentioned a specific version of Armadillo, as there are at least 85.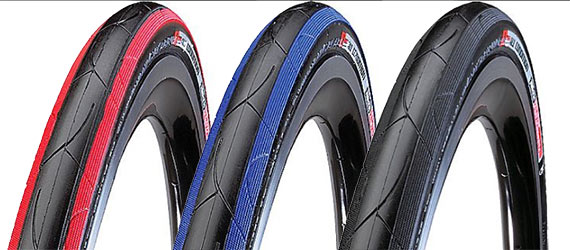 Specialized Roubaix Armadillo Elite ($59.99USD): This one excites me the most. 25 tube volume stuffed into a 23mm tire. The tire isn't a 23 by any stretch of the imagination. Looks more like a 25 on the outside, but the effective rolling area simulates a 23. Plus, we're talking a "supple-light" 120tpi for nice ride quality. Spesh uses the phrase, "game changer." I may take them up on their boast.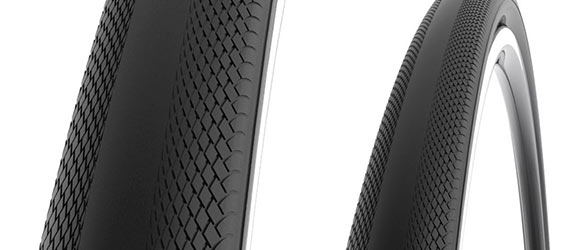 Michelin Krylion ($59.99USD): Decent showing. I had heard some good things about Michelin's training tires, and I'm definitely interested considering how much their ProRace line are puncture-magnets.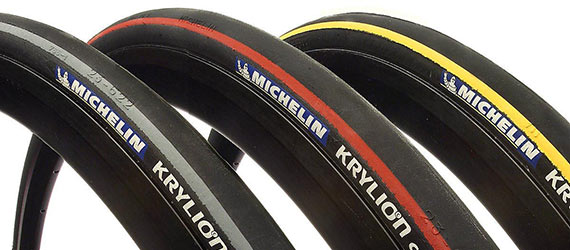 Continental Gator Hardshell ($59.99USD – Folding): Intrigues me nearly as much as the Roubaix, since I like Conti's road feel, but I've heard that the ride isn't as good as the Roubaix. Supposed to be everything that makes the Gatorskin awesome, but more of it! Anyone have experience with these?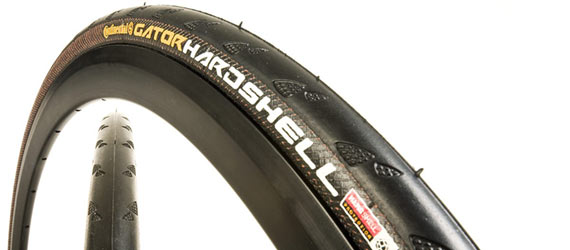 Schwalbe Durano HS & Plus HS ($41.95-69.35USD): The Schwalbe Ultremos were suggested, but are simply too expensive to justify as a high-mileage training tire. The Durano, however, has some wire-beaded options starting around $42. I'm bigger fan of folding, but those jump above $60. Schwalbe claims the Duranos, under normal conditions, will last more than 6,000 miles. Sounds perfect.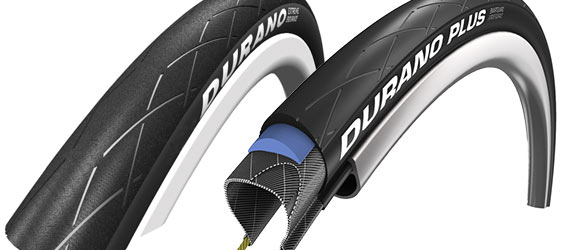 There were other tires that were recommended, or that I found such as: Vittoria Rubinos, Schwalbe Luganos, Bontrager Hardcases, and finally tubulars. Past experience with Rubinos says no, the Luganos sounded promising, no more Bontrager for me, and lastly I don't own tubular wheels.
What I'd like to see is someone doing the math on the value of expensive training vs. racing tires. If a $60 training tire lasts 3,000 more miles with little or no flats than a racing tire, then I think I'd be fine with the price.
Next step: submissions or purchase?
Truth: I'm in desperate need of tires, now. I clearly will be purchasing tires for the first time in over a decade at retail (ouch!). But I also review products, so it would be awesome for any of the above companies to submit something for the throwdown. I'll see what they say, and keep you updated.
If you have any experience with the above contenders, or have additional tire suggestions that I may have missed, let me know in the comments.
Images are courtesy of their respective company sites and BikeTiresDirect.com (not a plug, they just had the best images).