Official Tour de WTF
What started as humdrum affair with the peloton allowing a break to gain 15+ minutes ended up being one of the crazier Tour de WTF stages in recent memory.
Actually the cray started much earlier with Peter Sagan getting into the break. Honestly, I didn't even realize he was up the road, I thought the French cameras simply couldn't tear themselves away from their new love who was ensconced in the  peloton.
The #TdWTF continued as Cavendish and Eisel were leading the grupetto peloton to the foot of the final climb. I realize the pace wasn't exactly blistering, but still.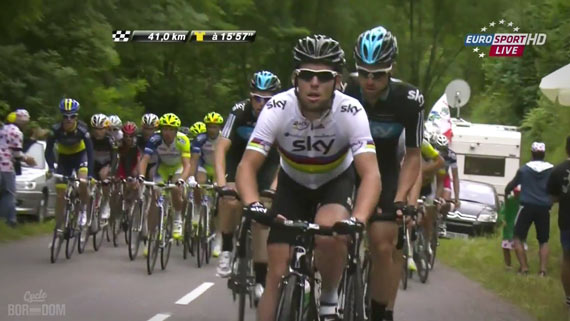 Ladies Love Sanchez had his own #TdWTF moment as he was caught and gapped by an unbelievable Sagan. The look LL gave Peter as he passed was priceless.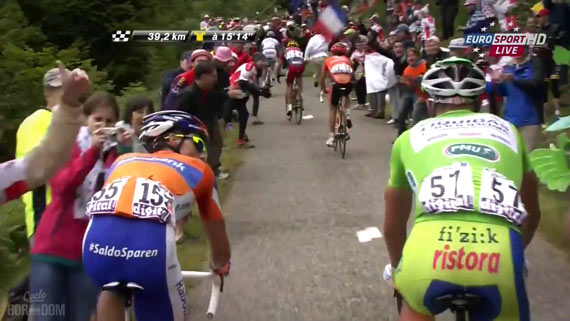 When WTF Gets Serious
Tacks. Why did it have to be tacks? Indiana Jones reference aside, that was a perfect opportunity for Wiggins to redirect his bone-idledness rage. To his credit, he donned the Fred Perry "Patron" collection maillot today, negating the stage after Cadel Evans punctured 128 times. It should be noted, NBC Cycling's coverage missed all 128.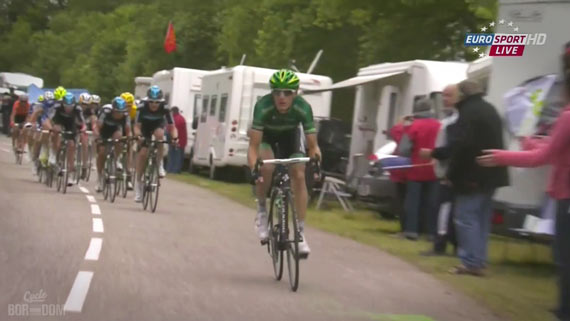 An incredibly malicious act, the tacks tragically sent Astana rider Robert Kiserlovski to the hospitalwith a broken clavicle—his Tour is over. Cadel, however, made it safely back to the group but not before a newly bone-idled Pierre Rolland decided to take advantage of the situation. First attempt looked innocuous enough—he couldn't have known. However, once Sky and Wiggins caught him it definitely looked as though he was apprised of the situation.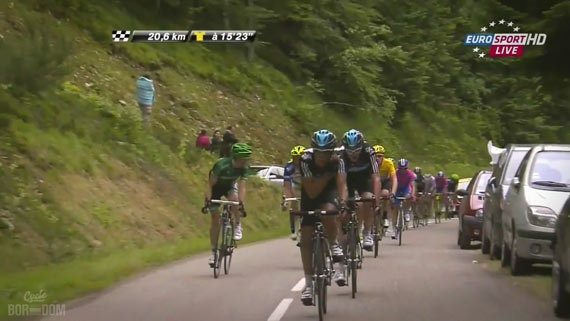 Then he took off again with a Sky rider dismissively waving his hand in disgust at the Frenchman. I had a different interpretation of the situation which turned out to be my 140 character Bieber moment:
Maybe Rolland misunderstood Cadel yelling, "A tack! A tack!" #tdf12

— Cycleboredom (@Cycleboredom) July 15, 2012
Guess I can quit the internet now.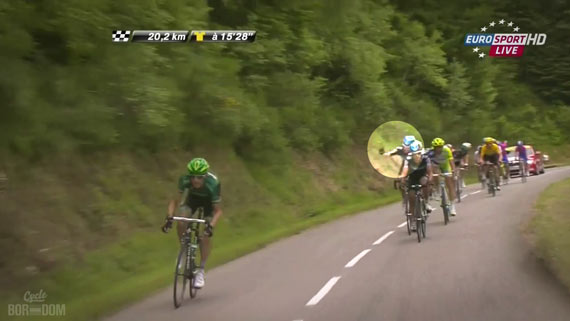 The #dramadoping didn't end there. As Cadel flatted at the top of the Mur de Péguère, he shouted to his young charge Tejay Van Garderen to stop. TGV, of course, didn't stop even though he clearly heard his name called.  I say of course because it falls perfectly in line with the Wiggo/Froome storyline.
Screencap Leftovers