There was a picture that fascinated me at my shop back early last decade. It was of the owner, a few other Trek dealers, and the man himself—disgraced cyclist Lance Armstrong. The group portrait itself wasn't what was fascinating. What continuously captured my attention was Armstrong's stance and facial expression. The Trek dealers were stoked and leaning in to their cash-cow hero. But Lance was noticeably uncomfortable. Being in the middle of this love fest didn't allow for him to lean away. Yet, his posture as he clutched his bottle of Shiner Bock was doing just that. His face finished the sentiment almost mouthing the thought, "Jesus f***ing Christ, get me the f*** out of here."
There was always something disturbing in that image. Now I know.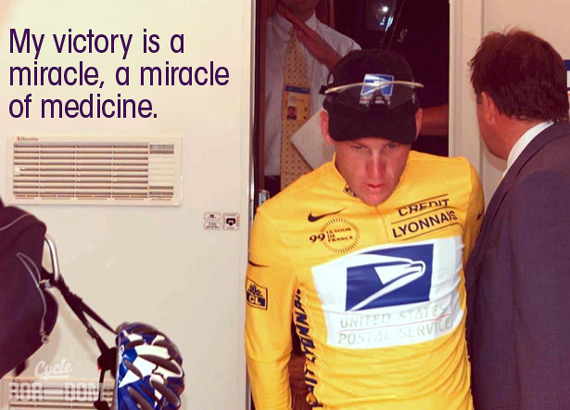 Full Disclosure
As I read through Reasoned Decision I find myself churning through a surprising myriad of emotions and thoughts. So, not unlike USADA witnesses, I decided to share.
[Note: This is the 4th revision of this post, started sometime back in 2010. Please bear with the disjointed elements, 'cuz that's exactly what this post is constructed of.]
First, let's get this out in the open: I was a fanboy.
I was a fanboy, a Lance-ophile, and an eager proliferator of the yellow word. Lance and the USPS Pro Cycling Team were a major part of my cycling world from 2000-2004. I purchased (mostly at wholesale/EP) copious product slathered in the requisite USPS flavor. I received numerous yellow-flavored gifts not limited to books, magazines, and calendars. In fact, it should be known that I was gifted Liz Kreutz's vomitous Comeback 2.0 as recent as December 2009.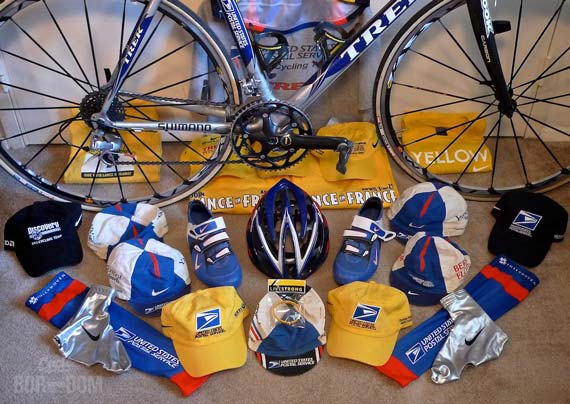 Just *some* of the stuff I acquired during the Yellow Years.
I managed one of the fastest growing Trek dealers in the nation from 2000-2004. I dealt pure, unrefined, Yellow. I never had to give the first hit for free—they came into my shop begging for it. Wonderboy's exploits primed them for monetary release. I can unequivocally claim myself as one of those directly profiting from the Lance Effect. My shop was lauded by none other than John Burke as one of the top 5 shops he had seen worldwide. John Burke taught me and my management team the concept of Kaizen so we could deal the Yellow more efficiently.
I believed in high-cadence, extraordinary VO2, smarter training, higher aerobic thresholds, anger as motivation, and weighing food. I even faltered slightly as Greg LeMond was painted as vindictive and crazy.
I read that book. I believed that book. I even bought Carmichael's book. I can't believe I bought Carmichael's book.
I saved all the magazines. I saved newspaper clippings. I saved signed posters.
The pervasiveness of the Yellow spread into non-cycling areas of my life. I'm ashamed to admit I was wearing the disgraced bracelet LiveSTRONG during my wedding. It haunts me every time I see images or video of that day. Also, when my grandmother passed due to cancer, I was pissed they removed the disgraced bracelet I gave her when she was prepared.
Ahh, those were the days.
Dealing With It
I can't possibly attempt to recall everything associated with the Yellow Years. Nor will I try to conjure up what began my path down what was termed "the dark side." Let's just say there have obviously been a multitude of points along the LA timeline that wore away the luster of the Yellow Years. Believe it or not, it started with the backdated steroid positive in '99. However, it merely tainted a win I was more than willing to accept. From then until I decided to dive into the murky waters of the Anti-Lance movement on Twitter in 2009, my admiration eroded as fast as the evidence and rumors intensified.
The release of the USADA files fulfilled a journey many of us both desired and feared. The sheer amount of evidence produced is simultaneously jaw dropping and rage inducing.
Yet, contained in that anger is something I wasn't expecting— dejection. Over the course of those 7 years, there were innumerable moments defining much of my "realtime" Tour memories. These were not mere observations of an interested fan, at times raw emotion was hurled at the images flickering before me.
The first explosion of Setriere, Ventoux with Pantani, feigning fatigue then giving Ulrich "Das Look", avoiding Beloki and disaster, overcoming disaster with Mayo, and the repeated crushing of the 2004 "No Gifts" Tour; all these and more produced considerable reactions. I clearly recall screaming in despair, "NO! NO! NO!" when the musette caught his handlebar. Then like a Phoenix on CERA, elation rose from the tarmac as he left everyone including a flapping jersey'd Iban Mayo in a fury of adrenaline and anger. I celebrated this with an emphatic scream of, "GO! GO! GO! GOOOO!!!" (Give or take a GO!)
During the Yellow Years I watched each one of these countless times, scrutinizing as I rewound each moment of attack soaking up the glory of absolute pelotonal destruction.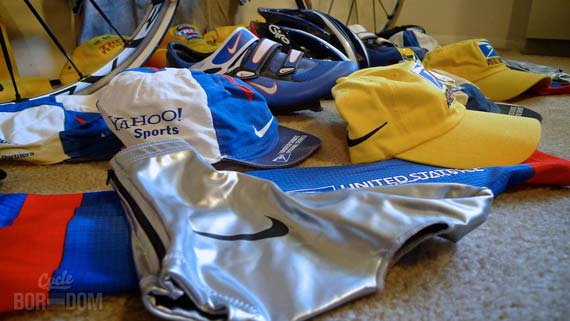 If there was a logo or association, I possessed it. Or, at least tried to.
What Next? (Open Letter Style)
So Wonderboy, WTF do I do with those memories? Granted, we've romanticized and idolized a host of riders tainted by doping. Yet we continue to revel in their hematocritical achievements with wild abandonment. But what about you? Although we've discovered 99% of the peloton had firewater in their blood, accepting many of these riders is infinitely more palatable than you. As we've come to discover, you are an asshole unparalleled. You've destroyed peoples' lives and careers, coerced friends/teammates into potentially fatal acts of substance injection, berated/belittled those that didn't, all while raking in massive sums of money under the pretense of a herculean lie to the entire world for well over a decade.
It's good to hear you're "unaffected" by those you affected.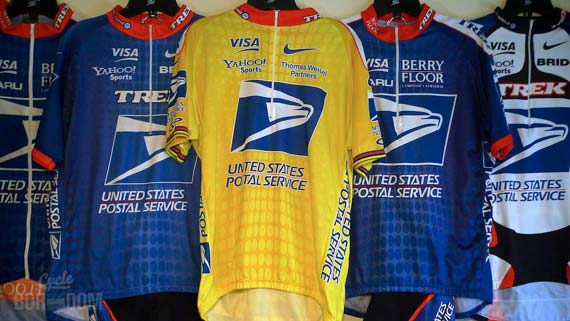 Although I may have rocked them with #prostyle, I still rocked them. A lot.
In the end, and in real life, none of this matters. We, as fans, simply deified someone who proved to be all too painfully human. We crafted an idealized perfect hero from a story that wasn't. This in the end, and not to trivialize all who suffered from his actions, is simply sport.
However, in this day and age, sport exists as it does because of fans. For this process to work, we have to be assured what we're seeing is true. If the cheating continues, the fans won't. Lack of fans give no incentive for sponsors to, well, sponsor. No sponsors means no teams. You see where this is going.
I'll admit one last thing—I'm still a fanboy of pro cycling. Let's hope this (necessary) upheaval produces the change we need for all of us to continue our love of this beautiful sport.

This ain't all of it. I didn't include the books, magazines, posters, calendars…