As much as I like cycling gear I don't always want to look like I'm wearing it, even though it's all I own. However, there are times when low-key aesthetics simply don't cut it for visual safety. Combining the two typically produce mixed results.
However, after seeing these pieces at Interbike, I was definitely intrigued. The Chrome Warm Vest & Work Shirt seem to tick off many of those boxes someone living the #bikelife needs.

What Is Chrome Warm?
Chrome says: "Chrome WARM™ technology offers a unique combination of insulated performance, reversible high-visibility, and classic workwear looks. Chrome WARM pieces are made with lightweight poly-fill insulation (keeps you warm even when wet), a water-resistant ripstop nylon shell, reflective details, a ventilated yoke, and more. Plus, they pack into a pillow for easy travel and naps. Chrome WARM line consists of a Vest and Work Shirt."
Brief Informative Video
Chrome Warm Vest
I'm a fan of vests until I wear them. Then it becomes a too warm/not warm enough battle. For those of you without vestal issues (not those dealing with the goddess Vesta or being chaste) the Chrome Warm Vest ($150USD) looks to be a well thought out piece.
"We built the Chrome WARM™ Vest to be our most versatile urban cycling piece of clothing. It can be worn alone or layered under Chrome Storm™ and Wind™, and over our Chrome Merino™. The Chrome WARM™ Vest has a high visibility rust orange side and a low-key black diamond quilt pattern on the other. Both sides are made with water-resistant ripstop nylon and our lightweight poly fill packs tightly. Bike specific features include longer torso, ventilated yoke and reflective details."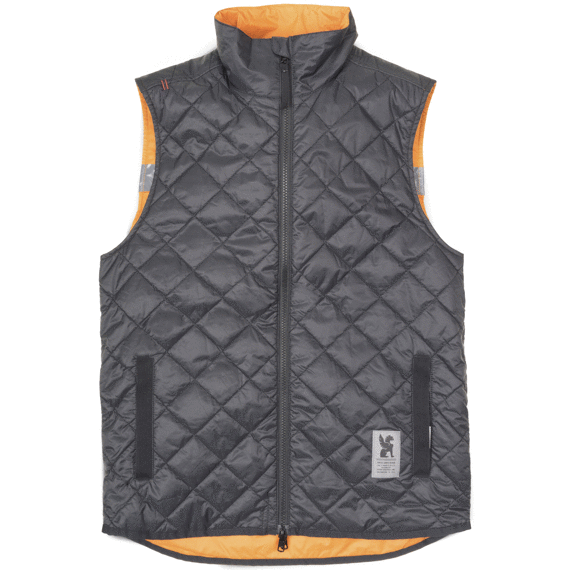 Chrome Warm Work Shirt
Not gonna lie, the first thing I thought of was Naughty By Nature. Then I thought of this beer distributor work jacket a super cute girl I was hanging out with out art school gave me with a massive Schlitz Malt Liquor blue bull patch on the back. However, while that jacket is winning the kitschy oversized patch game, it sucked for on the bike. The Chrome Warm Work Shirt ($180USD) does not suck on the bike. 
"The Chrome WARM™ Work Shirt is the most versatile insulated jacket we can make. One side is high visibility rust orange, while the other is black diamond quilted. Both sides are made with water-resistant ripstop nylon. Bike specific details include longer torso and arms, reflective details, and ventilated yoke. The WARM™ Work Shirt works on its own, or as an excellent mid-layer under our waterproof Storm™ Field Jacket and Storm™ Cobra."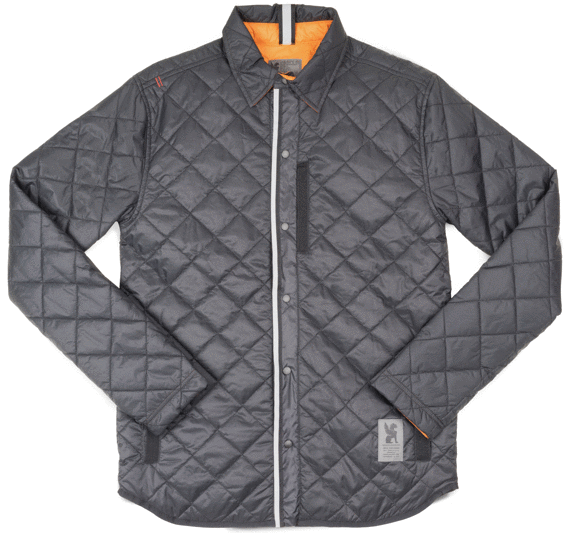 I Claim No Responsibility Voor This