Snark for the masses
Let's get right to the point. I didn't want to write this. I'd almost want to read nothing but Dalai Lama "enlightened" @FakeFloydLandis tweets than write something about this year's Tour de France. But for some reason I feel obligated to fulfill the insatiable appetite of my ever-increasing stable of fans. Plus @_Gavia_ pushed me over the edge. So with little or no ingredients, I'm going to attempt to serve up a steaming hot plate of French snark.
The Pontificator
Kicking things off with the post soundtrack. Replace 'Percolator' with 'Pontificator' and you're done.
#DopingsTour2011
@Bikezilla1 said it first and best, this Tour will be the most heavily doped race in years. Under the direction of the UCI, the potential for blood-induced equine fireworks is as sure a bet as Bottle racing sans panache. The past few days is proof as we've seen Lotto and BMC caught with their soigneur "man-pris" down around their ankles. The introduction of the now legendary TB-500 extends the "what's next" doping timeline deep into the future. Not to be outdone, Quick-Step got a cavity search by Le Po-Po today due to an ongoing investigation in part by the well-acronymed OCLAESP. Yes, the same groupement of letters who were trying to insert themselves deep within Astana's backside during the '09 Tour.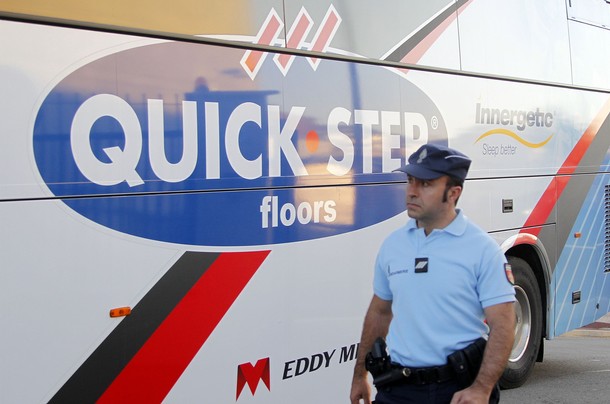 So what does all this mean? If you still have a yellow band on your Twitter avatar, it means that The Shack can do no wrong, and everyone else are traitorous reprobates ruining the Sport That Lance Built. If you're in the, "Lance is a traitorous reprobate that ruined the sport you love and each race your heart clings to the delicate hope that the rider you're cheering is of the chaste variety" camp, good luck with that.
The Pontificator's picks
Where do I stand? Well, obviously Lance is a traitorous reprobate, but Boredom's heart has hardened to the idea of hope. While I'm actually optimistic the sport is making gains in the anti-doping fight, I'm definitely not surprised when a racehorse is revealed to have lived their past life as a donkey. I could care less who wins—I simply want a race. This past Giro was rendered impotent from the moment Clenty first attacked, proving to the world he was on Aigle Performance Program for the Gifted and Enhanced. If we're to bear witness again to aberrations of nature, please let the rest of the field have access to the same training regimen.
So there, I wrote something. Vive le Tour!
Crédits d'image
Images courtesy of: AP and Reuters via Daylife